Tune Up, Turn Wrenches, Ride Out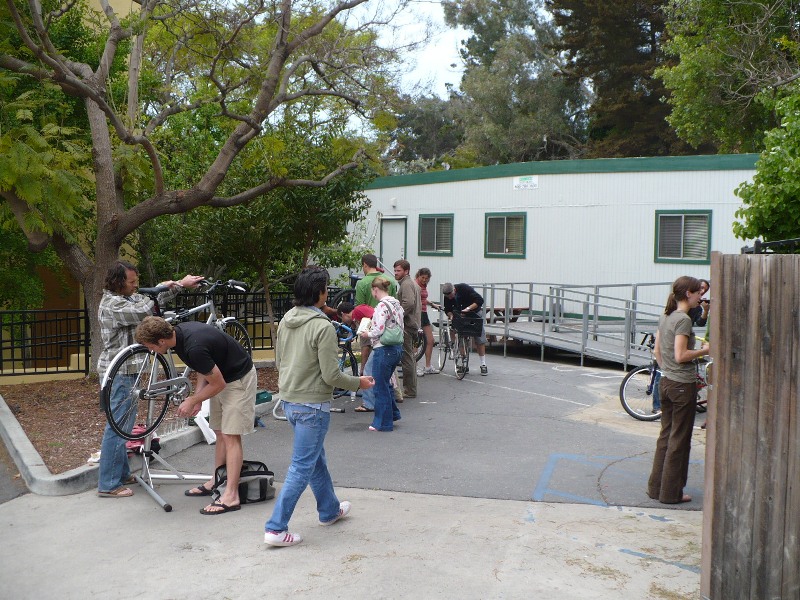 One of the perks Patagonia riders were given this week was the opportunity to get a free bike tune-up on Tuesday to make the crank turning even more joyous. The grease-monkeys in the company generously donated their lunchtime hour to help the rest of us who don't have the skills or the tools to properly care for our bikes.
Big thanks to the Ventura bike tune-up crew for all their hard work: Chad P, Damien F, Steve R, Maggy W, Steve S, Stuart B, Alex Y and Mike B.

It's high noon in Ventura and all the bike stands are full. Tune-up traffic steadily increased throughout the lunch hour. Photo: Free
From localcrew: Up here in Renoland, the great greasy light of bike love shone upon us as well. At left is a list of the week's events, complete with an ample sprinkling of tune-ups, safety tips, and how-to clinics.
The wrench turners among our ranks turned out in force to help their less-savvy brethren get tuned up and stay in shape. And as if that weren't enough, we had the extreme pleasure of multiple visits from über-cool self-propelled bike/ski mechanic extraordinaire, Matthew Larsen. Matt is the proprietor of The Stable Quiver, an on-call bike and ski-tuning service that comes to your door, your workplace, or your garage. Matt pedaled his person and repair equipment down to our digs on more than one occasion last week to lavish his loving bike touch on the crew's road-weary steeds.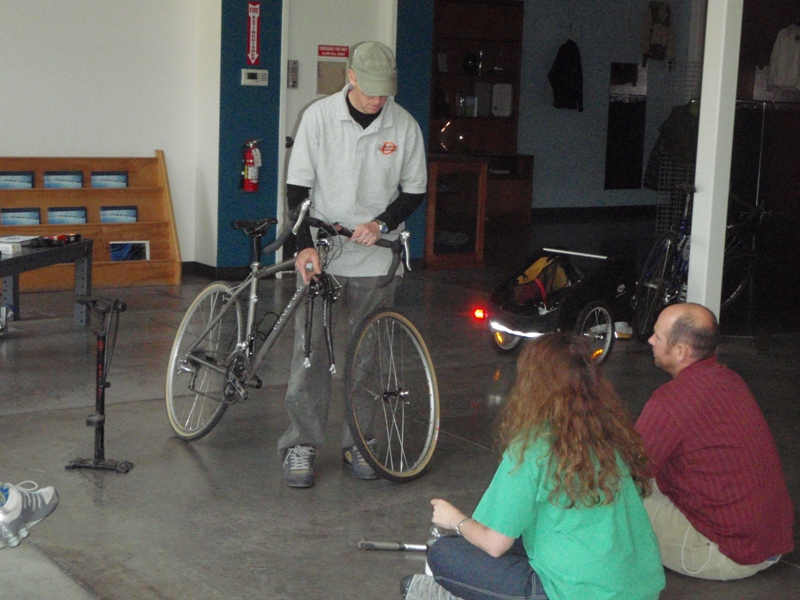 Many kind thanks go to Matt and the Patagonia grease-monkeys for making Bike to Work Week something to get excited about.
Matt Larsen of the Stable Quiver puts the personal touch on his bike maintenance clinics for Patagonia Reno. Photo: localcrew