"The Big Open" by Rick Ridgeway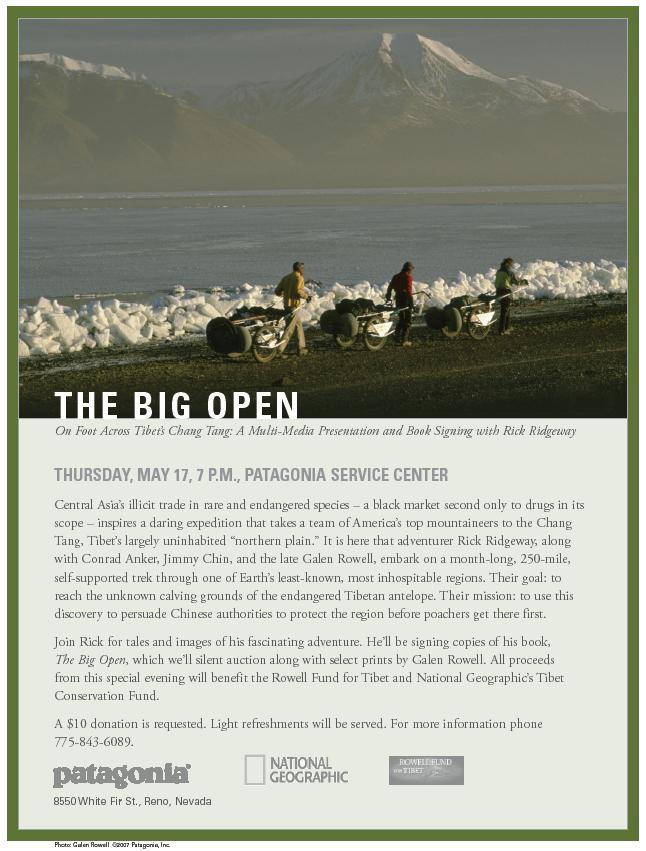 If you live in the Reno area or happen to be there on May 17, please join Rick Ridgeway for this special event at the Patagonia Service Center. Those not in the area can read about Rick's journey in his book The Big Open: On Foot Across Tibet's Chang Tang.
THE BIG OPEN
On Foot Across Tibet'€™s Chang Tang: A Multi-Media Presentation and Book Signing with Rick Ridgeway

Thursday, May 17, 7 P.M., Patagonia Service Center

Central Asia's illicit trade in rare and endangered species – a black market second only to drugs in its scope – inspires a daring expedition that takes a team of America's top mountaineers to the Chang Tang, Tibet'€™s largely uninhabited "€œnorthern plain."€ It is here that adventurer Rick Ridgeway, along with Conrad Anker, Jimmy Chin, and the late Galen Rowell, embark on a month-long, 250-mile, self-supported trek through one of Earth'€™s least-known, most inhospitable regions. Their goal: to reach the unknown calving grounds of the endangered Tibetan antelope. Their mission: to use this discovery to persuade Chinese authorities to protect the region before poachers get there first.

Join Rick for tales and images of his fascinating adventure. He'll be signing copies of his book, The Big Open, which we'€™ll silent auction along with select prints by Galen Rowell. All proceeds from this special evening will benefit the Rowell Fund for Tibet and National Geographic'€™s Tibet Conservation Fund.

A $10 donation is requested. Light refreshments will be served. For more information phone 775-843-6089.
[With thanks to Nate from Customer Service]