The Tin Shed Gets Tuned Up for Spring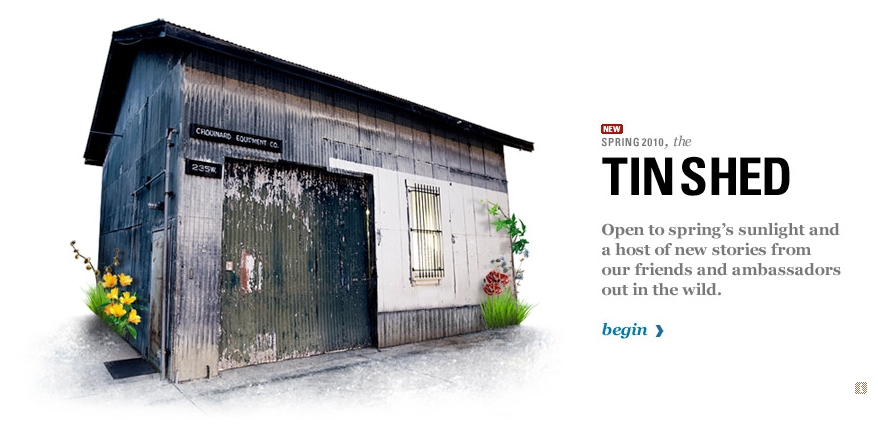 We're sliding open the doors to the Shed and sweeping it clean this spring. Tune into the season with a fresh batch of stories from our friends and ambassadors out in the wild – in videos, audio and written word. And don't worry, just like our favorite winter sweaters, we've found a place to stash all the cool-weather stories – you'll find all of them in the Tin Shed archives by clicking "View All Stories" in the top right corner of the Shed.
Here's a taste of what you'll find this spring:
Border Country
Jeremy Collins and Mikey Schaefer had been planning a new route on Yosemite Valley's Middle Cathedral when they learned of the deaths of their good friends and fellow climbers, Jonny Copp and Micah Dash. Collins said, "They showed us to never give up, to go light, to go bold, and always live with passion." He and Schaefer sent the route in their honor.

Mongo Metal Pirates
In Mongo Fly '08, Mikey Wier takes us to remote Mongolian rivers in search of the massive taimen. Check out the trailer for Metalheadz, a new video from AEG Media on steelhead fishing in the Pacific Northwest. And see an excerpt from the ESPN series Pirates of the Flats featuring Yvon Chouinard and Bill Klyn pursuing bonefish in the Bahamas.

Freedom to Roam and Awakening the Skeena
Freedom to Roam portrays a long-term initiative dedicated to establishing migration wildways in the Americas and elsewhere for animals now threatened by global warming. In Awakening the Skeena, a young woman swims the length of a cold northern river to inspire communities in its watershed to come to its defense.

Jeff Denholm: Ocean Calling
A twist of fate changed Jeff Denholm's life in the mid-90s, but his competitive drive hasn't diminished. Watch as he trains for, and competes in, his first Moloka'I Challenge – the 32-mile race that's considered paddleboarding's unofficial world championship.

The Simplest Solution
After seeing a wiry Nepali porter carry a 100 lb load with the aid of a tumpline, Yvon Chouinard followed suit and strapped one over his head to relieve the strain of his heavy pack on his injured neck. Following that discovery, Yvon said, "I learned to try to find a simple solution first, rather than a techno-fix."

Patagonia Surfers in Indonesia
Gerry Lopez, Wayne Lynch, Liz Clark, and Dan, Keith and Chris Malloy set out with Fletcher Chouinard on the Makimba to test his new boards in Indonesia's Mentawai Islands off the coast of Sumatra.

Northern Alps Traverse
In August 2009, Maxime Turgeon set off on his bike and pedaled up the high mountain passes of the northern Alps in search of classic climbs to solo. After three weeks, six peaks, 770 miles of cycling, and over 42,000 feet of elevation gain, he dove into the Mediterranean Sea at the end of this human-powered journey.

24 Hours of Horseshoe Hell
Team of two take on the steep, gritty sandstone near Jasper, Arkansas, during a 24-hour climbing competition. Patagonia ambassadors Brittany Griffith and Kate Rutherford team up to show the boys some sass. The self-proclaimed alpinistos gordos, Colin Haley and Mikey Schaefer, used the marathon competition to jump-start their training.
Drop by the Shed to feed your roots with classic tales, check out fresh footage from the cutting edge, and maybe find yourself a sweet deal on your next Patagonia purchase. Thanks for tuning in!