Precarious Predicament for Pollinators?
Lynn Hill
/
July 26, 2007
/
3 Min Read
/
Activism
by Lynn Hill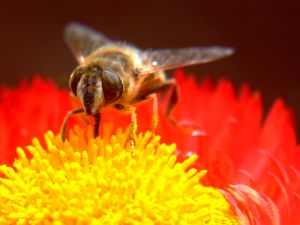 I've been reading and hearing a lot of talk recently about the ominous phenomenon of bees dying all over the world. Most of what I've read on the subject points to pesticides as a possible reason why the bees are dying. Apparently, many farmers are spraying pesticides on their crops at the wrong times, despite the fact that spraying at these critical times can have a profoundly negative effect on the bee population and consequently, the production yield of various fruits and vegetables. Obviously our society's current over-use of pesticides reflects a short-sided viewpoint on the natural life cycle since bees and other pollinating animals are responsible for 80% of the world's crop production.
Pollinators, mostly insects, are indispensable partners for an estimated one-out-of-every-three mouthfuls of all the food, spices, or condiments we consume. This is an estimated twenty-billion dollar industry in the U.S. and pollinators are threatened by a variety of factors besides pesticide misuse. The loss of their natural habitat in dead trees or fence posts on ever-decreasing farmlands across the country has also contributed to the decline of bee populations.
[Photo: Márcia Grilo]
According to a friend of mine who is currently cultivating bees and honey in his own backyard in Salt Lake City, it has been theorized that the increased use of cell phones and other communication technologies, may be causing some kind of interference with the bee's ability to communicate, and consequently, to find their way back to the hives. More study needs to be done on the subject of cell phone use and other radio frequencies that are being emitted into the atmosphere and how this effects our ecosystem.
In the meantime, one way that we can support the natural life cycle is to either buy or grow our own organic foods. Even when I was a poor college student barely able to support myself, I never considered the price of the foods that I put into my body. Food is such as essential part of life and I will continue to pay more for organic meats and vegetables because I care about what I put in my body and about how these foods were cultivated for the long-term health of the entire planet. Organic production has proven to help protect the environment and wildlife habitats while helping to conserve and promote species diversity. These are just a few of the reasons why I believe that organic agriculture is not only the best way to maintain my own health but the best way to support a sustainable future.
For more information about bees and pollination, check out the following web site: www.pollinator.org
If you are interested in reading more in the following topic, "Pesticide suspected in global decline of bees" (scroll down for article)
The United States Post Office Postal News published an article entitled, "The Birds and The Bees," online at www.usps.com.From the article: "Populations of some animal pollinators appear to be declining."
Do you think cell phones and other communication technologies have any kind of negative effect on the bee population or the animal world in general?