Climbing in Algeria: The Essential Clothes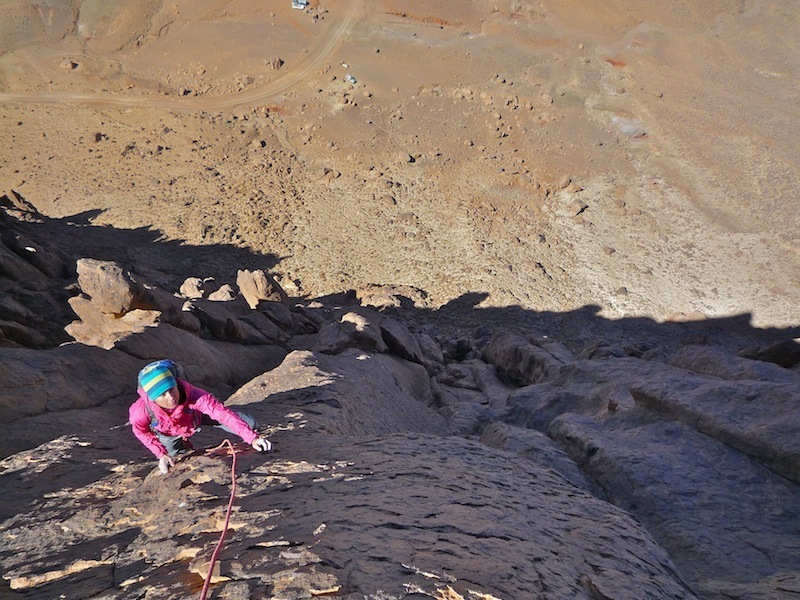 "March is a killer month in the Sahara. Temperatures rise and fall with such rapidity that the body has difficulty adjusting." This sentence from the book I was reading (The Conquest Of The Sahara, by Douglas Porch) made me more anxious than the current kidnapping news. How was I to pack two weeks of clothes into an MLC for our climbing trip to southern Algeria, knowing the temperatures there could rise and fall by up to 70 degrees Fahrenheit?
Editor's note: Fresh off her trip to Algeria with Jonathan Thensenga, Brittany Griffith shares her clothing choices for climbing in the desert. Most of the links cover both genders so men can benefit from these recommendations too. As with all product posts, availability can be limited. Don't hesitate to contact Customer Service if something you're interested in isn't available on Patagonia.com.

Not only would I need to pack clothes what were incredibly (impossibly?) versatile, I needed the clothes to be durable and resilient. I've been on climbing trips to the African desert before (Mali) and realize how scarce water is, so I knew that washing my spoon, much less my clothes, would be completely out of the question. After much thought (best described as fretting), I ended up with neat, little stacked piles of clothes all over my bedroom. Here's what they were:
STACK ONE—PANTS
Rock Guide Pants (NOT the zip offs): With the lightweight, breathable but burly fabric, they are great in warmer weather climbing conditions. The classic jean styling of them makes for a respectable travel pant, too.
Escala Pants: These are my all-time favorite climbing pants (I brought two pairs). They are heavy-duty enough for chimneys yet allow freedom of movement in a delicate high step.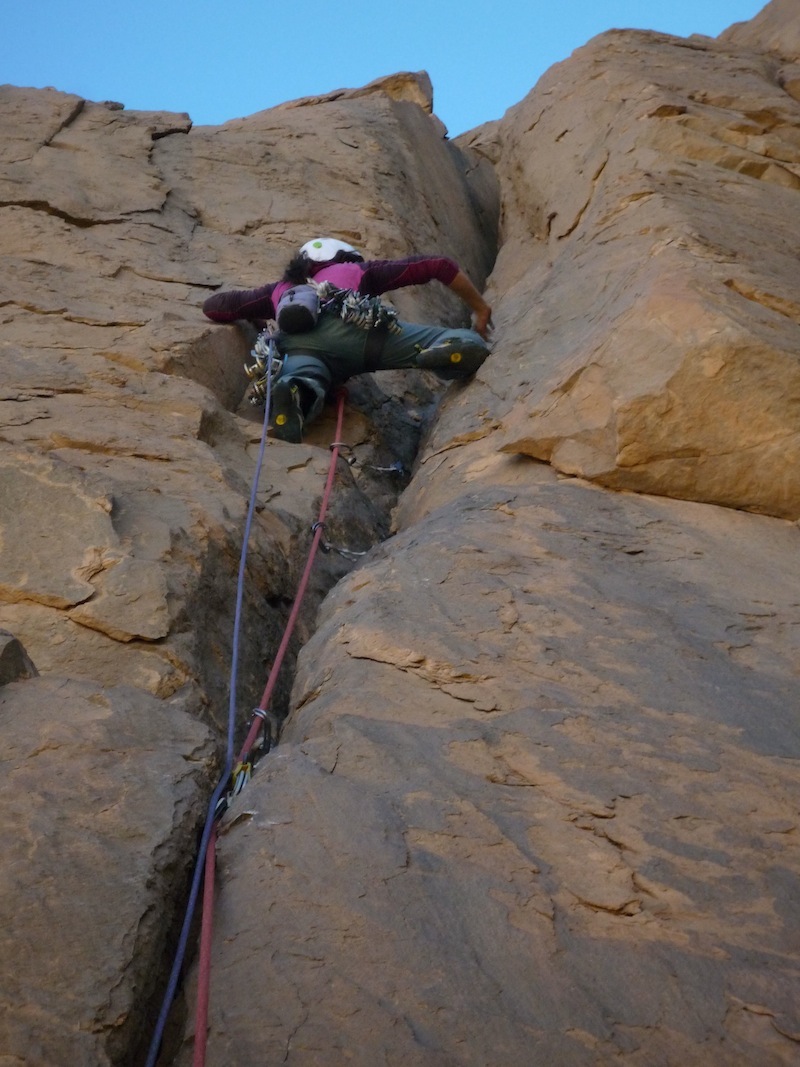 About to enter the crux slot during the first ascent of Astro-Tuareg, Clocher des Tizouyag.
What does a pair of Escalas look like after six days of climbing, traveling and camping in the Sahara? See below and witness the level of abuse these pants can handle! There's about six DNA samples, tuna juice, donkey poop and goat butter on them.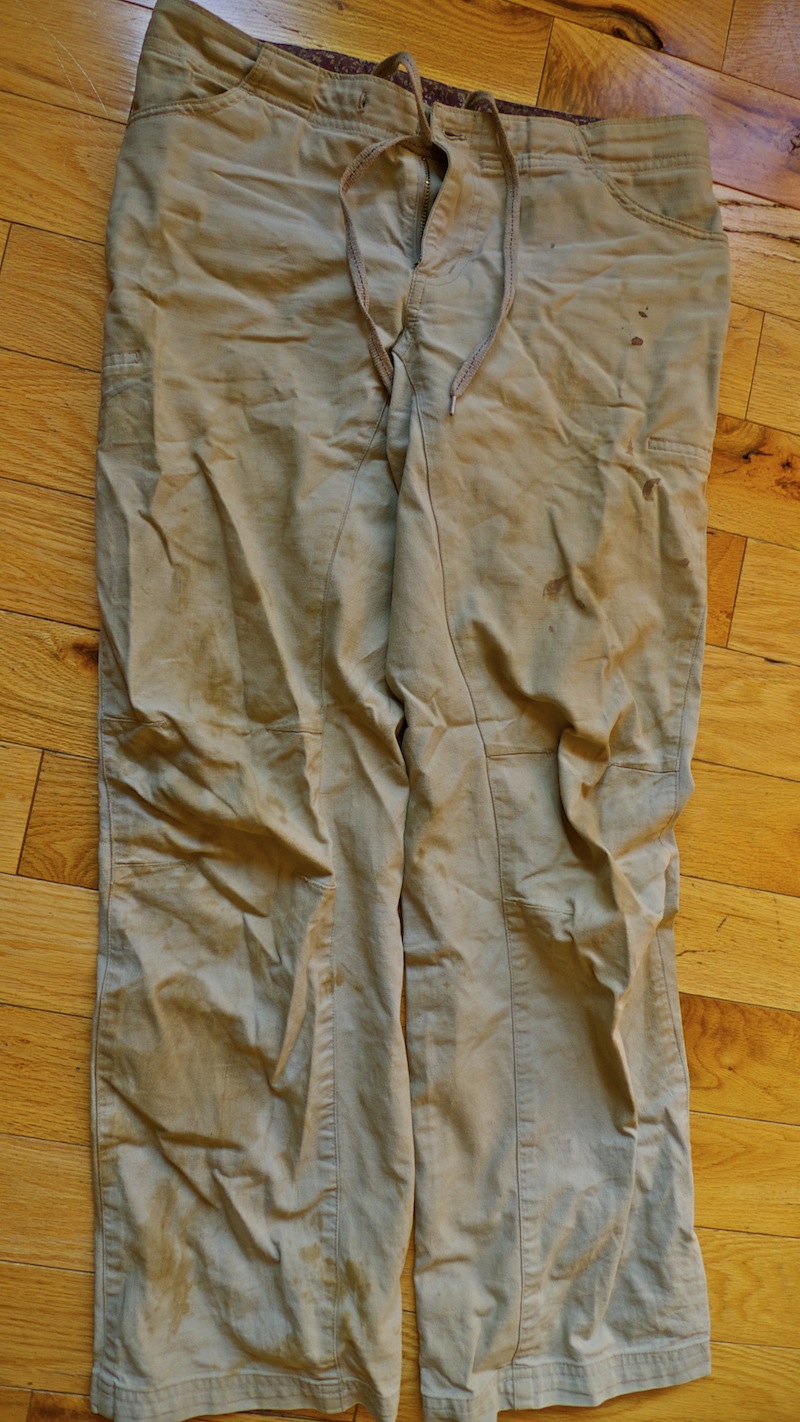 Escalas in need a good washing.
STACK TWO—TOPS
Capilene 1 Silkweight: I climbed in this layer everyday. It offered sun protection and was the perfect next-to-skin layer There's a lot of blood, sweat and tea stains on this one!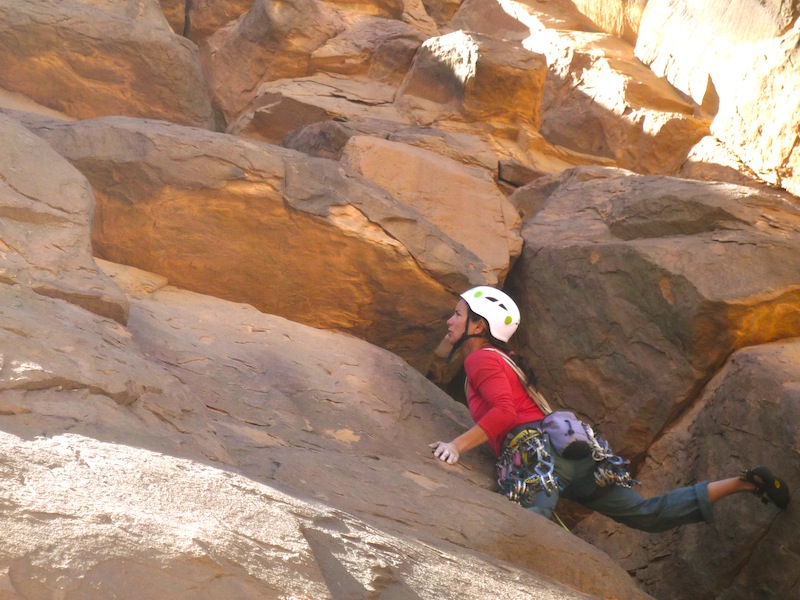 Looking for the line on the first ascent of the 700-foot Dead Goat Soup, Aoukenet.
Merino 3 Hoody: Probably my favorite top for coldish multi-pitch climbing. I can pull on the hood at belays and slip my thumbs through the low-profile opening.
Capilene 4 Expedition Weight Zip-Neck: I have a very unscientific methodology of carefully choosing my climbing pieces based on a "warmth per weight" ratio. That is, I take the lightest weighing thing that feels the warmest on my body—and that's this Cap 4 shirt. It's also really stretchy and virtually snag-proof.
STACK THREE—COATS
Ultralight Down Shirt: The latest and greatest from the big brains at Patagonia. My little green guy scored five summits. Stuffed into its tiny stuff sack and clipped to my harness (it was smaller and lighter than my chalk bag) for easy access when I needed a defense against chilly winds during belays on the wall.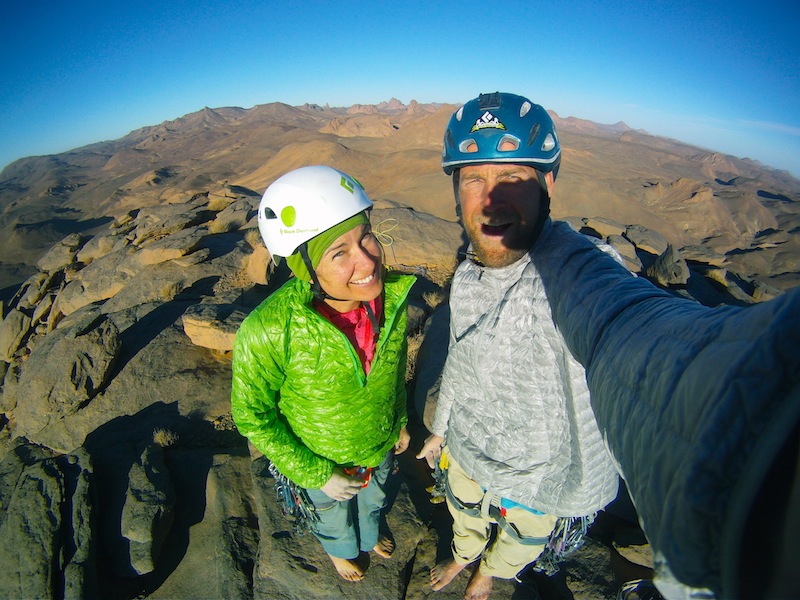 On the summit of Aoukenet an hour before sunset.
Down Sweater: Double down on the down!
Nano Puff Hoody: Worn over all my other layers, I stayed warm during the below chilly, windy nights and mornings.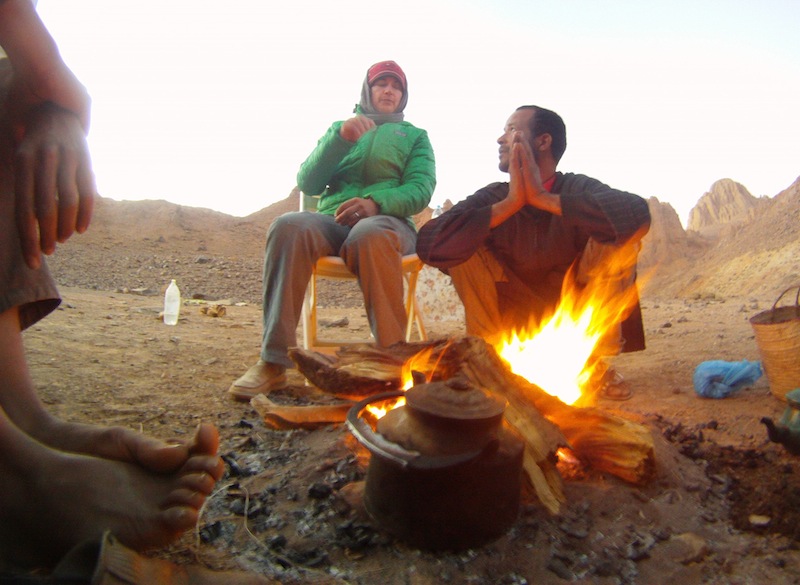 At camp with Zaoui.
Houdini: Never leave the ground without it. It weighs less than a quickdraw but keeps you a lot warmer!
STACK FOUR—TRAVEL
Kamala Skirt: A loose and comfortable travel skirt for all day and every day.
Serenity Tights: I wear these underneath the skirt (both in black), for plane and in town.
Sunshade Hoody: I was never a believer in this concept until now. Hats off to the fabric developers and product designers on this one. This was such a crucial piece during the trip. I wore it everyday. It sheltered me from the sun and magically kept me cooler while wearing it. It's also a great airplane piece since it has a hood and a front pocket. I got mine in a bright fuschia color (Amaranth) so that JT doesn't lose me in the airport.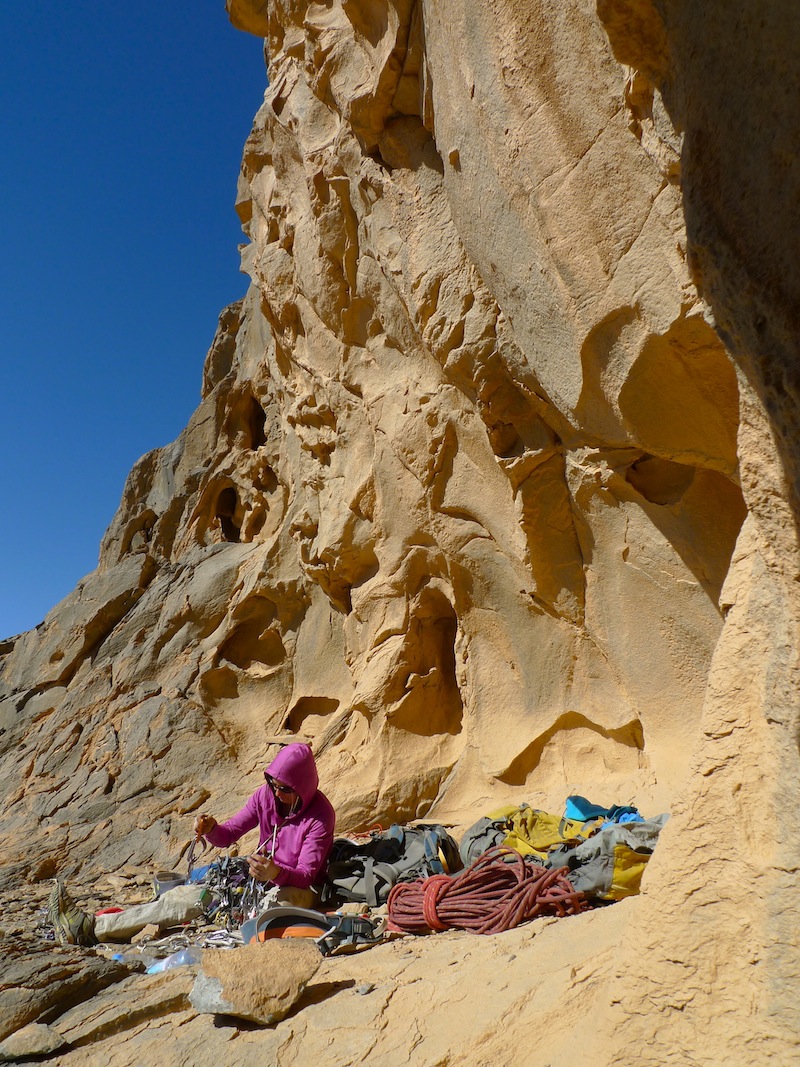 Racking and packing in the mid-day sun after climbing Adaouda.
Merino 3 Scarf: I always had something on my head to protect it from wind, sand, sun and chill, as well as to be respectful of the cultural standards in Algeria. [Note: Merino returns in fall 2011. -Ed]
STACK FIVE—UNDERTHINGS
Active Cami: The fabric is so amazing, incredibly soft and mine never seemed to get crusty, despite wearing it every single day.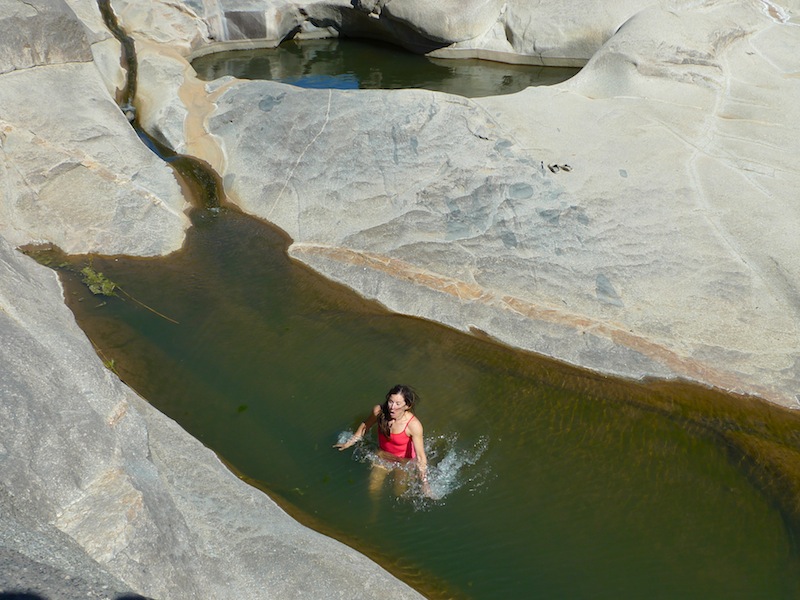 Taking advantage of the only water we saw the entire trip.
Capilene 2 Lightweight Bottoms: Believe it or not there were two days in a row when we were at 2900 meters that I didn't take them off. I even climbed in them it was so cold!
Barely Hipsters: Since mine are the size of a cocktail napkin I allowed myself seven whole pairs!
Socks: two pairs Lightweight Hiking, one pair Lightweight Endurance Ankle and a midweight pair Walker Ferguson gave me to test.
STACK SIX—SHOES
Release Mid: They are sturdy hikers yet lightweight and breathable. The pair I have now have been on four continents, from Down Under to the Venezuelan jungle to the Sahara to the streets of London. Throw them in the wash and they come out good as new.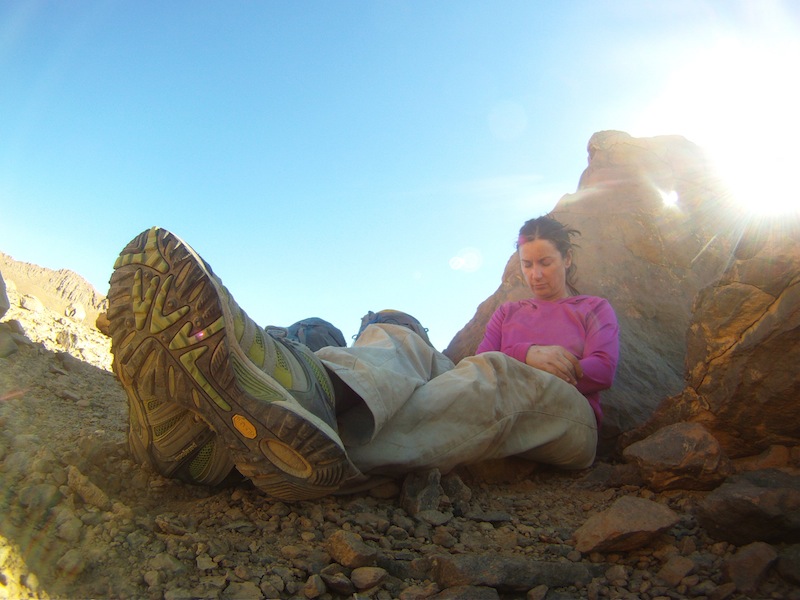 Resting in a slice of shade during the hike back to camp from Adouada during the midday heat.
Maui Air: These shoes are so versatile—I wore them on the plane, at camp and on the scrabbly descents (they are so light you can barely feel their weight in the climbing pack and are deceptively durable).
STACK SEVEN—BONUS CLOTHES
I had a little extra space in the MLC, so I squeezed three bonus items.
Kamala Pocket V: Having a cotton layer on when everything else is filthy just feels so decadent.
Merino 3 Pants: Loose like 'jams! [Note: Merino returns in fall 2011. -Ed]
Necessity Top: I also got to bring this long sleeve cotton shirt, which proved it's appropriately named! It was really nice since my hoody was beyond ripe at the end of the trip – even though fabric technology has come a long way in regards to the Capilene stink – and no doubt would have offended passengers from any and all countries if I had worn it on our 39-hour TAM-DJN-ALG-CDG-ATL-SLC return flights.