Listen to "The Way of the Underdog" Dirtbag Diaries Podcast Episode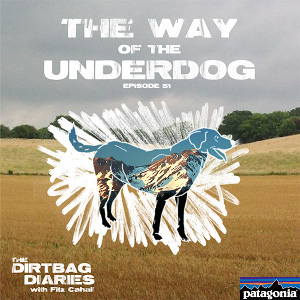 After a well-deserved summer break, Fitz is back with another episode of The Dirtbag Diaries.
The Underdog is the most potent myth in America. It pervades film, pop culture, music and sports. Politicians use it to frame their campaigns. Professional sports teams use it to psyche themselves up before big games. In theory, we've always liked the long shot. Is this special type of hero just a myth or is the underdog real? Contributor Brendan Leonard thinks it's real because he's seen it in person. Jayson Sime was a small town Iowa kid from the tough part of town. He was told he wouldn't amount to much by his teachers and hazed by his peers. The greatest successes require the most difficult obstacles. From north of nowhere to a career in politics to Mount Shasta's summit, Jayson has overcome. Maybe heroes are real. To be in their presence is a powerful thing. Can you learn how to emulate the underdog by watching one?

Listen to "The Way of the Underdog"
(30:38 – right-click to download MP3)
Actually, Fitz wasn't totally relaxing over the summer. He posted his annual Dirtbag's Playlist Volume 6, a special episode that highlights the music from all of last year's podcasts. He and his partner Bryan Smith also released The Season 2 video series.
Visit dirtbagdiaries.com for links to download the music from "The Way of the Underdog" or to hear past episodes of the podcast. You can subscribe to the show via iTunes and RSS, or connect with the Dirtbag Diaries community on Facebook and Twitter.