Deep Water Soloing on Mallorca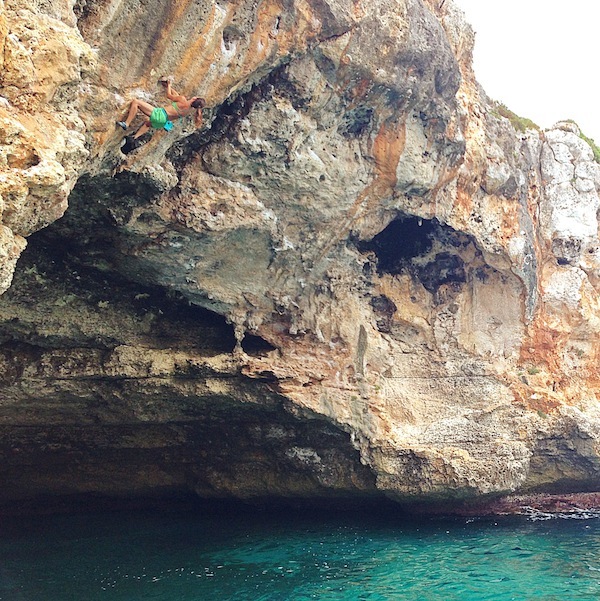 My ADD extends beyond the fact that I can't finish vacuuming a room before checking my email, watering a plant or making fried rice from leftovers. It's present in my climbing endeavors as well. But I do recognize what it is about, the different disciplines I appreciate most. My favorite thing about trad climbing: the adventure; my favorite thing about sport climbing: the movement; my favorite thing about bouldering: the no-hassle factor; and my favorite thing overall about climbing: it makes me try harder than anything else in my life. And yet, despite my love for all those forms of climbing that are typically found in the mountains or desert, I prefer to be on the beach. The seas and oceans somehow vitalize me more than the mountains.
Enter deep water soloing on the Spanish island of Mallorca. It's got it all: adventure, movement, low-hassle, you gotta try hard, AND it's on the beach! After two weeks of climbing on perfect limestone above the sea I was hooked. Sign me up for Spanish classes, I'm moving to Mallorca. (Locals speak in Mallorquin, which is a form of Catalan, which, I'm told, is a mix of both French and Spanish. I speak French, so I figure I'm halfway there.)
Wait a sec, back up… you may be wondering, what is deep water soloing anyway? Think of it as bouldering with the water as your crash pad. In theory, the water is more forgiving than six inches of foam so one is able to fall safely from greater distances. Deep water soloing can be done five to 50 (terrifyingly more, actually) feet off the surface of the water. Sounds simple, right? No need for gear, rope, belayer, or spotter.
But what I didn't realize before this trip was that deep water soloing can actually be quite logistically challenging. How to get to the base of the climb? Rappel, down-solo 80 feet of 5.10, or swim to the base towing a dry bag packed with your climbing shoes, chalk bag, and towel? They all present their logistical challenges. One particular day the climb I wanted to do required down-climbing a 5.10 followed by a 5.11 traverse that was damp with sea spray. Then I would try the route, fall 35 feet off the 5.12 crux, swim along the cliff for ten minutes to a get-out, and hike for five minutes to return to the top of the cliff… where I would dry out my gear for 20 minutes before starting the process all over again.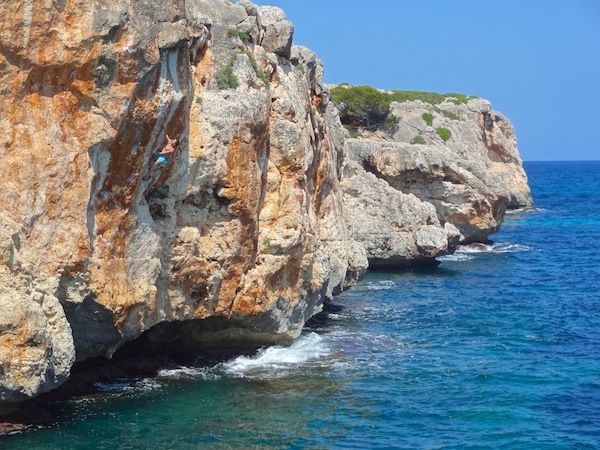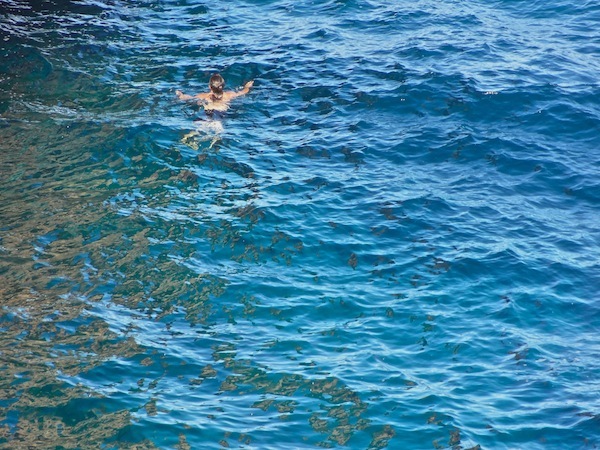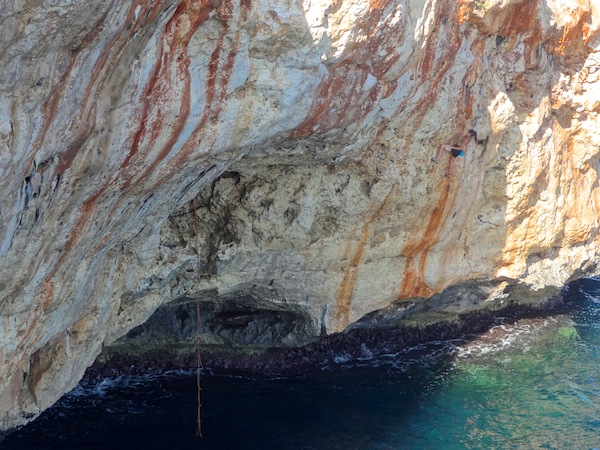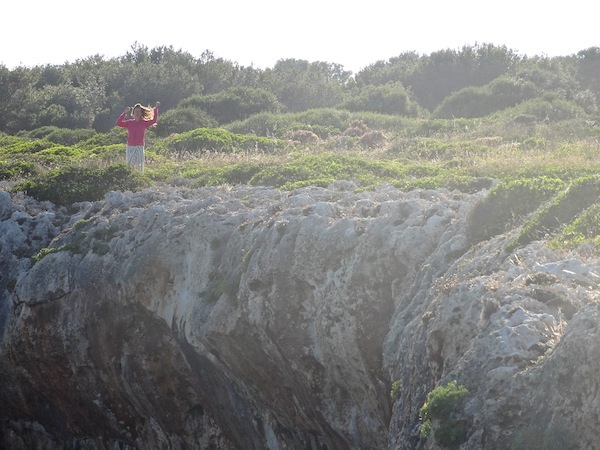 JT and I, despite our lust for international travel, are always on the look out for exploring/establishing new terrain/routes. A beach holiday only holds my attention for so long, which means that despite my fantasy of packing only bikinis and board shorts for a climbing trip, I had to consider the fact that despite being the world's premier arena for deep water soloing, the island also offers five-star sport crags and 250-meter multi-pitch walls. So depending on conditions or whim, the sort of climbing we were doing could change at the last minute. And since we embraced the typical Spanish schedule of breakfast at 11am and dinner at 11pm (and no bed before 3), it was critical that I did not leave our idyllic finca up in the mountains without the wardrobe for all of the above mentioned activities. Even though I get to check 100 pounds of free baggage on Delta, I still like to travel light when it comes to clothes, and so I compiled an assortment of clothes that were lightweight and versatile.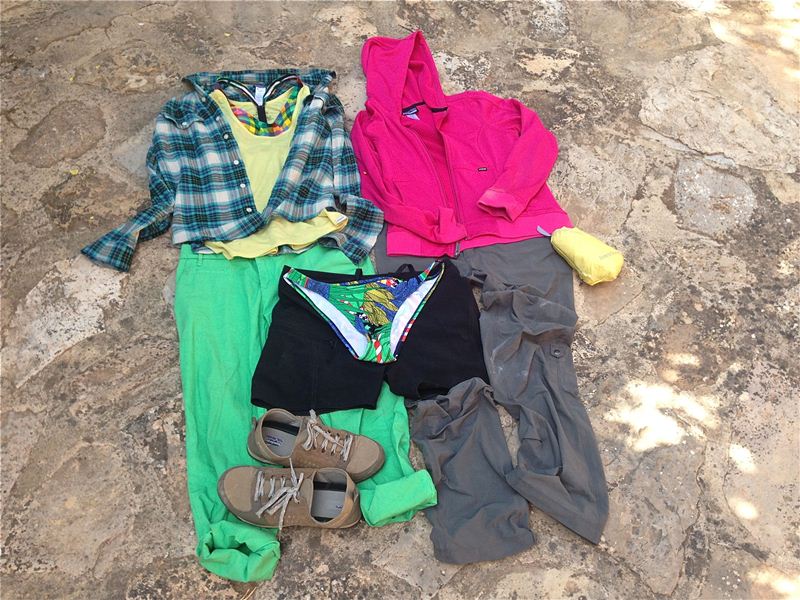 Here's basically what I brought with me every day in my pack:
Bikini base layer: Adour Bottoms, Bottom Turn Top. Both stayed secure on long falls into the water and the Bottom Turn Top passes as a climbing top/sports bra when not at the beach.
Meridian Board Shorts: These are short enough to deep water solo in, but long enough to wear under my harness.
Rock Craft Pants: For multi-pitch climbs I always wear long pants with technical features and fabric. These pants are made with a really lightweight, stretchy fabric, have good pockets and can be rolled up into capris.
Stretch All-Wear Capris: I typically like to wear cotton when sport climbing and since we spent a lot of time in town before and after climbing, these were perfect for both. They are really soft, stretchy and smart looking. The bright green color ensured I fit right in as a tourist!
Merino 1 Silkweight Tank (coming spring '14): Until this amazing fabric came out, I would have never thought to choose wool for a hot destination. But this is the perfect fabric since it is natural and technical all at the same time! It floats over sun- and saltwater-abused skin and doesn't look too techy so it can be worn at dinner after climbing.
Men's Long-Sleeve Steersman Shirt: The XS fits my big shoulders perfectly! I'm really bad at putting on sunscreen, so I usually end up wearing my sun protection in the form of clothing. And I also have a thing about wearing men's clothes…
Upslope Hoody (also coming spring 14): Temperatures on Mallorca are blissfully Mediterranean, never dipping below 65, so this was the warmest layer I needed. It's the classic hoody made with technical R1 fabric so it was just right for both climbing and hanging out.
Splice shoes: These shoes are super versatile. I wore them on the plane, in town, and on the approaches. They look casual but have sticky rubber and a lightweight, yet durable, upper which makes them great for hiking on sharp limestone and whacking through thorny brush. The fold-down heel is convenient for long car rides and air travel.
Houdini Jacket: Because I never leave home, or the ground, without it.
I go to a lot of cool places with amazing climbing and culture, yet leave knowing I'll never return because there are just too many places and people in the world I want to experience. But Mallorca is a different story. Volveré.