Brittany Griffith on Climbing, Catering, Community and Quinoa in Algeria
When JT and I were in the desert of Algeria, our Touareg guides, after preparing an elaborate four-course meal for the two of us, would prepare their own and then eat it from a single big bowl. They'd sit on the ground, in a tight little circle, each with their own spoon, sometimes no spoon but a bit of bread instead, bent over the bowl, chatting, laughing and eating. Each time I watched them do this, I felt a bit left out and pined to be sitting there in the dirt with them. There was something about their closeness, both physical and intimate, and the cooperative sharing of food that was extraordinary.
[A warm bowl of soup shared high in the Algerian Hoggar region. Photo: JT]
I thought about all the meals I've shared throughout the years with my climbing friends and although we don't eat from the same bowl (well, not usually) there is profound harmony between us, as well.
One of the meals I prepared and shared involved burying a whole turkey under the sand in Indian Creek. During pre-Gypsy Van times, I'd load up the back of my pickup with every pot, pan, campstove and cooler I owned and drag it all out after a day of climbing and get to cooking – preparing Thanksgiving dinner by headlamp for the gang or hustling over three Whisper Lights and a wood-burning stove in the old, dilapidated, leaking, dripping hut up at Campamento Bridwell in an attempt to cook for a dozen people of five different nationalities.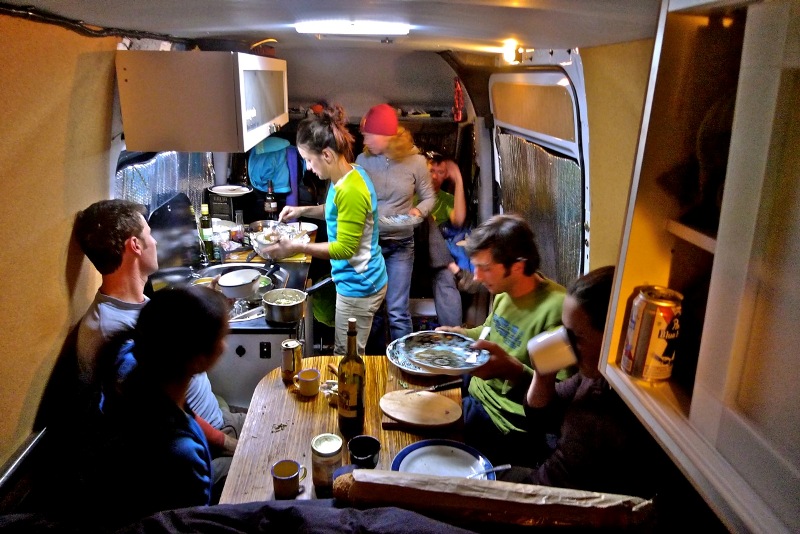 [Thanksgiving dinner for eight at Red Rocks in Gypsy Van. Photo: JT]
During the past two weeks, I've had a lot of catering going on. What? You didn't realize I was a caterer? Well, technically I'm not, but because of this eclectic congregation of souls we refer to as a climbing community, I'm able to live out my dream as climbing's Barefoot Contessa/Julia Child.
What I mean is this: We look out for one another. We seek aid and assistance and wish to support one another. More importantly, we inherently trust one another. A simpler explanation is this: I would rather give my money to a climber. Example: I need a plumber, I call Lance. Need an electrician? Call Shane. Need a lawyer? Call Mike. Need a realtor? Call Dave. Need a carpenter? Call Noah. Need an orthopedic surgeon? Call Amy (well, her dad is one, that's close enough).
I just catered, local climber and Backcountry.com photo editor, Tommy Chandler's wedding. His bride, Shannon – who had to be the most laid-back, non-stressed, low-maintenance, chillest bride ever – nonchalantly said to me, after I asked her before the wedding if she was stressed about the planning, "Nah, not really. The food is the most important thing to me, and everything I've ever tasted of yours has been delicious." She then sweetly and confidently smiled at me.
Seems like a lot of pressure, right? I mean, after all, I'm a professional climber, not a professional chef! But I wasn't worried. I have an unwavering belief in the Good Housekeeping quote: "The essential ingredient in every successful meal is the love you put into the planning and preparing of it."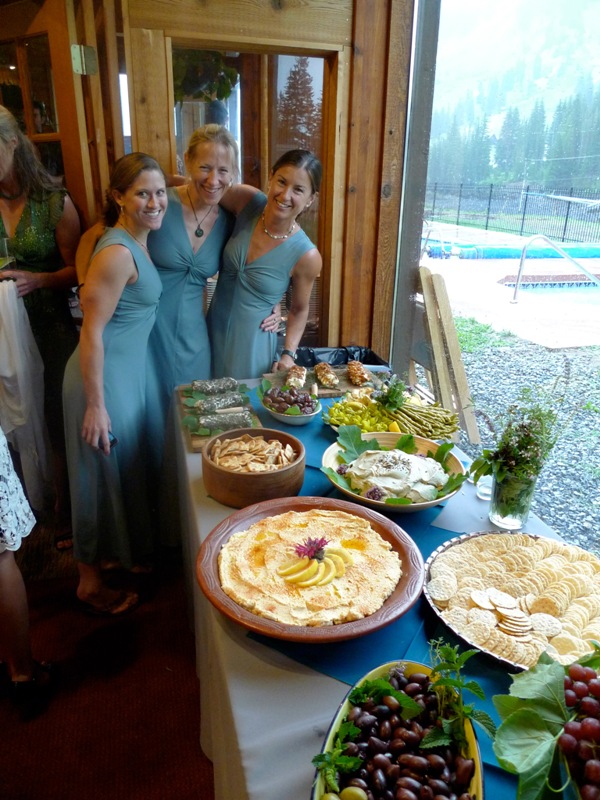 [The hired help: East-coast climbers Whitney Boland, Amy Pickering and myself, in matching Bandha Dresses, proudly pose by the appetizer table. Photo: Kolin Powick]
The recipe I want to share with you here, I've made for everyone from 150 wedding guests to 75 Black Diamond employees (they could order out for bagels and burritos, but they also choose to support someone from their community) to my own pre-tradeshow climber gathering/blowout house party. I learned this recipe, ironically, from the Algerian immigrants that owned the restaurant I worked at in college. The original recipe uses couscous, and I still do sometimes, but since quinoa is gluten free and healthier, I've been using it.
Don't let the word "quinoa" scare you; this recipe isn't haute cuisine. The next time you and a crew of climbers need to eat dinner, grab your knife and a big ol' bowl and remember: the community that eats together, stays together.
Serves six:
4 cups uncooked quinoa (Cook it just like you would rice. I actually cook mine in my rice cooker.)
1 can garbanzo beans (or chick peas – depends on where you're from), rinsed
1 red bell pepper, diced
1 bunch scallions, thinly sliced
1 big bunch parsley, coarsely chopped
1 cup raisins (Don't laugh, but I make homemade raisins from the grapes that cover the front of our house.)
1 cup pine nuts, pepitas or shelled sunflower seeds (Pine nuts are really expensive now a days, so I've been using pepitas, which I think I like better anyway)
1 pint of cherry tomatoes (but only if they are in season, otherwise, omit. I never use store-bought, out-of-season tasteless tomatoes), halved
Dressing: whisk 1 cup olive oil, ½ cup freshly squeezed lemon juice and 2 tablespoons curry powder.
Toss everything together in a big bowl and serve – or just hand out spoons and dig in, Touareg style, and there'll be no fight over who has to do the dishes!

For more cooking tips from Brittany (especially you bachelors out there), check out her previous post "Secret Weapon."