Worn Wear – a Film About the Stories We Wear
We would like to invite you to be among the first to watch Worn Wear, a new film from Keith, Lauren, Chris, and Dan Malloy.
Worn Wear is an exploration of quality – in the things we own and the lives we live. This short film takes you to an off-the-grid surf camp in Baja, Mexico; a family's maple syrup harvest in Contoocook, New Hampshire; an organic farm in Ojai, California; and into the lives of a champion skier, a National Geographic photographer, and a legendary alpinist. It also features exclusive interviews with Patagonia founder Yvon Chouinard.
Released as an antidote to the Black Friday and Cyber Monday shopping frenzy, Worn Wear is an invitation to celebrate the stuff you already own.
[Video: Worn Wear – a Film About the Stories We Wear]
On Black Friday, select Patagonia Retail Stores across the country will be hosting Worn Wear parties. Please join us at one of the parties to watch the film, taste our super-secret limited edition beer, learn how to repair your old Patagonia gear with iFixit, and enjoy food and live music. Black Friday Party details at: wornwear.patagonia.com.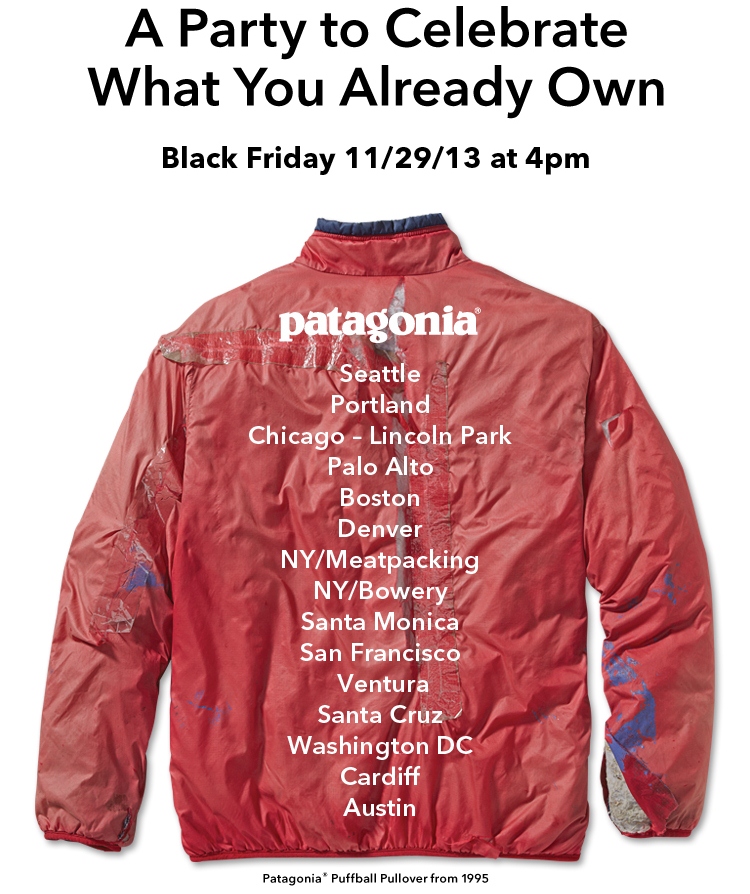 As always, you're invited to share your own Worn Wear story with us. Just click the "submit" link at the top of wornwear.patagonia.com. We hope you enjoy the film and have a Happy Thanksgiving.