Time On His Feet – A Former Runner Looks Back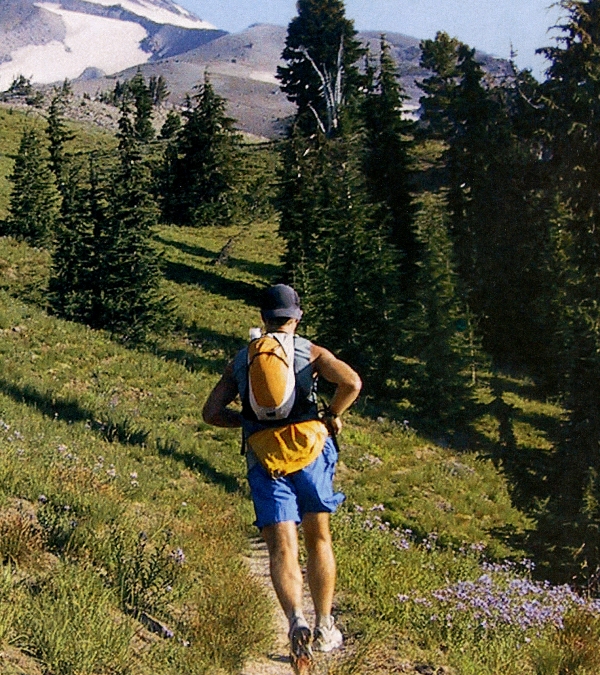 I ran my last ultra on a warm, spring day in Wisconsin five years ago.  The course was surprisingly tough – small roller coaster hills come at you like black flies. Crossing the finish line I didn't feel the exhilaration that I normally do after a race. I chalked it up to burnout and decided to take the rest of the year off. I didn't run the following year either and eventually packed all my running gear in a box and put it in the garage.
[The serene one, Craig Holloway, trots the Timberline Trail toward Mount Hood, Oregon. From his 2005 field report "Lost on Adrenaline." Photo: Scott Jurek]
Two years went by and I still hadn't laced up my running shoes. I knew it wasn't going to happen and decided to stop running – after twenty-six years. It felt like the right thing to do. Now I crew for friends and it's satisfying to be a part of their race day experience. But I do miss pacing and the responsibilities that come with that role. I'd like to share a few stories about the experiences I had with runners on their 100-mile journeys.
Pacer For Hire
Katie looks tired as she walks into the Fish Hatchery aid station during the Leadville 100. I'm with Katie's crew – her brother and a few friends. I'm there to pace her to mile 90. Katie sits down and is given a sandwich. She stares at it with bloodshot eyes, takes a bite and hands the rest of it to me.
"I feel worked after running 69 miles. God, I just want to end it here."
"You want to drop out now," her brother asks.
"I'd love a hot shower."
I interrupt to tell Katie she can shower at the finish. She replies with a long groan. Twenty minutes go by and she finally stands up and stretches her low back. We collect our gear, turn on our headlamps and say goodbye to everyone.
Crickets sing in a nearby field as we walk to the trailhead. Things seem to be going pretty well until Katie stops in mid-stride.
"I don't think I can finish. I feel beat up. Let's head back to the aid station."
"We're not going back, Katie. I'm going to get you to your brother, and he will pace you to the finish. You can do that…. right?"
"Yea…. I'll give it my best."
"Let's go," I reply.
We start to hike up the trail, a big power-line climb. Glow sticks hang from the trees, marking the course to guide our way. Suddenly, Katie stops, doubles over and throws up.  She pauses, dry heaves and finally straightens herself. I hand her a few ginger chews to help settle her stomach.
"I am never going to make the 30-hour cutoff time."
"You'll make the cutoff time, you'll finish, Katie."
After an unforgiving switchback we reach an aid station. The volunteers feed us chicken noodle soup, crack jokes, and send us on our way.
"My stomach feels a lot better," Katie says.
I tell her that she can break thirty hours, no problem. Katie gives me a big smile and we begin to fast hike. Gradually, we increase our pace through the night.
Now we're running through a grove of slender pines near Turquoise Lake. The cool air smells good in the early dawn light.  Looking at my watch, I tell Katie she's capable of breaking 28 hours. We pick it up and eventually arrive at the aid station where her brother is waiting to pace her to the finish. I wish them luck, hop into my rental car and drive to Leadville.
Standing at the crowded finish line, I anxiously await Katie's arrival. I scan the hilly street and notice a petite blonde, running by excited cheers. It's Katie. She pushes harder, sprinting across the finish, glancing up at her time.
The florescent numbers on the digital clock read: 27:28.
Grant Swamp Tango
"Jesus…Look at that, Keith."
A man and his dog are scrambling down a very steep section of Grant Swamp Pass. Keith and I stare wide-eyed as they make their way to the bottom without a scratch. The man walks over and introduces himself, "I'm Ace", and says he's shooting photos of the race. Then he offers advice on how to ascend the treacherous climb.
"Guys, don't zigzag. It'll be faster to go straight up. You'll save time."
Ace wishes us luck and begins a slow jog down the trail with his golden retriever. We look up-mountain to see if there is any trail to follow. There is none, not one carved by wildlife.
Keith says, "I did this section of the course a few years ago, pacing a friend and it's tough. And another friend broke his hand from a falling rock and still finished."
"Sounds brutal."
"It really is an ass kicker, Craig."
We reach into our packs and grab a couple of energy gels – eat them, and wash the sweet paste down with water.
"Ready to head up?"
"Yep," I reply.
Keith goes first. He climbs ten feet up and slides back down.  He collects himself, exhales loudly, and starts again. I wait for him to climb up a ways then start. I lift my body upward and forward like an inchworm, slowly moving up the mountain. Looking up, I see Keith struggle with his footing. He steps on the edge of a cantaloupe-sized rock, breaking it loose. The rock falls, missing my right shoulder by a few feet. My heart is pounding.
Keith stops and looks down.
"Are you ok, Craig?"
"Yeah, I'm ok!"
He readjusts his footing and resumes climbing.  I wait a few minutes for my breathing to relax then continue onward in the bright sun.
Two hours later we reach the top. Tired and filthy we sit down and pull off our running shoes, knocking out the dirt. Far below us is Island Lake, its dark navy water clearly visible in the grey and sandy brown earth.
"That was brutal. What's the elevation?"
"Just under 13,000 feet." Keith replies.
Putting our shoes back on, he talks about what the last part of the course will be like.
"There are rivers to cross  – the upper and lower South Mineral. There will be a fixed rope going across the lower South Mineral. It's colder and deeper than the upper."
We get up from our rocky perch adjust our packs and begin to head down the mountain for the last fourteen miles.
There is a large boulder from an old mine at the finish line in Silverton. It's a tradition for all Hardrock finishers to kiss that boulder.  At dusk we arrive at the finish. Keith makes a beeline for the rock, leans forward and plants a big one.