There Is Only Send or Fail. Just Ask Alex Megos.
Alex Lowther
/
September 2, 2019
/
18 Min Read
/
Climbing
He's on a mission to be the best climber in the world.
Alex Megos is driving his aging Volkswagen down the curvy roads that thread the valleys of the Frankenjura. It's June in rural Bavaria, where rolling green meets broad blue. The pavement reveals an occasional storybook village arrayed around a church steeple. Alex has made this hour-long trip, from his parents' house to the crag, more than a thousand times.
The windows are down. Taylor Swift's infectious, by-now dated single "Shake It Off" is turned up loud on the stereo. What Alex is doing along to it, at great volume and with great enthusiasm, could graciously be called singing. He knows the words by heart, as he does with most of her hits. He only started "listening to music" a couple of years ago, but she's his favorite artist and he has an apparent schoolboy crush on her. He daydreams about taking her climbing one day. "I mean, she might have fun," he says. "We could sing a bit in the car. She could help me out with the lyrics. Sometimes I don't get what she says because she's mumbling a bit so I could ask her, 'What was that line again, Taylor? Could you repeat that a bit slower, Taylor? Thank you very much, Taylor.'"
The plan today is to film Alex on a historic route called Wallstreet, which was the world's first 5.14b (8c). The climb was put up by local hero Wolfgang Güllich in 1987 and marked the midpoint of a nine-year period during which Güllich personally expanded the boundaries of climbing difficulty four orders of magnitude, largely here in the Frankenjura. It was a pattern of progress driven primarily by one person, likely unmatched in the sport's history. And it might have continued, had it not been stopped short by his tragic death in a car accident in 1992.
Alex, now 26, was 17 the first time he did Wallstreet, and he's repeated it several times since. It's not important that he properly redpoint the route for the camera today. We're working on a film project with him, and the idea is to show Güllich's legacy of hard climbing in the Frankenjura. Alex idolizes Güllich and, as a proud Frankenjura local currently considered among the best climbers in the world, he is the apparent heir to his legacy. Alex recognizes this and has, to some extent, made himself in Güllich's image. But today he has nothing to prove, least of all to the film crew. All he really needs to do is string a few moves together at a time. Low pressure, low expectations.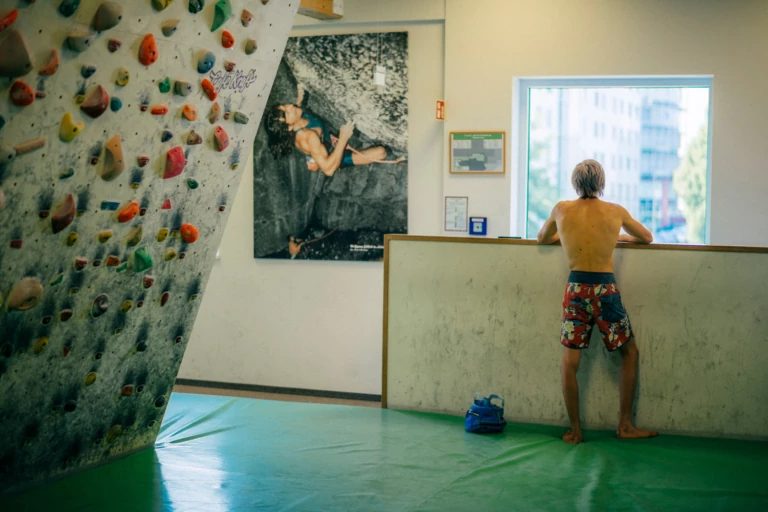 The crux of Wallstreet breaks down to six moves between minuscule holds on a bulge at the top of the 55-foot route. As Alex gets to the crux, things start to go wrong. When he falls off the second move, he reacts almost quizzically. "Huh. Well. That didn't feel good." The air in the woods is still, humid and, despite the canopy's shade, a bit warm—all bad signs for a climber looking to pull a long way between the route's small, slick pockets and edges. Starting from the beginning of the crux, he keeps trying. He's making long, static reaches to holds, barely catching them and then futzing with placement of fingertips for a long time before groaning in frustration, trying to adjust his feet and then just letting go. This happens several times. "I don't have it," he says. "I'm too weak." Alex gets quiet. The scene gets quiet. In his mind, he should be able to crush this route without a second thought. It's only 8c. He sits in his harness, limp, shoulders slumped, staring at the skin of his fingertips between efforts. "I'm just such a piece of shit," he says, almost under his breath.
Most climbers would chalk this up to bad conditions. Publicly, Alex has never blamed anything but his own weakness for failures. In the time I spent with him for this story, he never made any excuses privately either. "If it's too hot, too humid, the holds are wet, whatever. If you're strong enough, the route is still climbable," he says. "There are no excuses."
His climbing gets worse. He decides to go to the ground. A second try after some rest doesn't go any better. He's done. He packs quickly and leaves alone, making a dark joke when I bid him a safe drive on the Autobahn: "Don't worry about me. Only strong climbers die in car accidents in the Frankenjura." He heads for the gym where he trains for three hours before heading home.
After he leaves, Ken Etzel and I make eye contact. Ken is directing the film. The look on my face must have said, "What was that?" Ken replies with raised eyebrows and a quarter-​shrug of admission. At this point, he's spent nearly four months living with Alex and filming him, and he's been friends with him for years. He's been present for some of Alex's proudest moments, and also for some of his lowest. Ken says it boils down to this, "[Alex] just puts so much pressure on himself. His ultimate goal is that he wants to become the best climber in the world. That's it. And right now, anything else will be failure. And that's not acceptable."
In terms of finger-​strength-to-weight ratio, Alex is perhaps the strongest rock climber in the world. But he isn't the best. "Strongest" is relatively absolute. "Best" in climbing is more complicated. It involves innovation and consistency of performance over time, and it means pushing difficulty into dimensions the sport hasn't known before. Generally speaking, this involves lots and lots of failure over long periods of time, something Güllich was familiar with. Russ Clune, an American climbing patriarch who was good friends with Güllich during his golden decade, says, "Wolfgang took failure in stride, like anybody who's going to accomplish something difficult—​it's a road just littered with failures. And that's what makes the great climbers. They don't get beat down by failure. It spurs them to do better."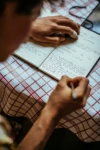 The next morning Alex is eating a leisurely breakfast in his parents' backyard, just outside of the prosperous university town of Erlangen, near Nürnberg. Alex wears a loud yellow Hawaiian shirt clashing unabashedly with flowered, bright-red boardshorts. Proportionally very skinny legs protrude from the shorts. Zero of the shirt's buttons are buttoned. The gap in the shirt displays a hairless torso strapped with the kind of striated muscle that brings to mind a medical illustration. Breakfast is tea (never coffee) and a tub of thick yogurt mixed with a fastidious assortment of plant-based protein powders, which he eats straight from the carton.
He's in a better mood than yesterday. "Yesterday was a fuckin' bastard," he says, taking a sip of tea. His English has a g-​dropping Yorkshire twang picked up from spending lots of time climbing in Sheffield; the Teutonic undertones are negligible. I ask how he slept. He says, as if it were mechanical, "Fine, yes. I fell asleep. I dreamed about the route. I woke up. Ready to train again." I ask which route he dreamed about. I assume he means Wallstreet or his big project at Céüse, France, which is where we were supposed to be days ago. But his answer surprises me: "Perfecto Mundo."
Alex made the first ascent of Perfecto Mundo in May of 2018. It was his hardest rock climb so far and likely the second-​hardest bit of roped climbing ever done (after Adam Ondra's route Silence), clocking in at the astronomical grade of 5.15c. But most significantly, at three weeks' worth of trying, it was his long­est successful project to date—a monumental achievement considering some climbers will labor for years over one route.
Projects where the outcome is uncertain contain an idiosyncratic cocktail of elements. Over time, they turn into sieges against the dissolution of belief, periods of regression and downright depression. They turn into anxious offensives against ticking seasonal or trip or life clocks. They're a real and true mindfuck that comes to a head every time you tie in to try the thing once again.
This dire situation is then exacerbated by the peculiar economics of rock climbing where, if you haven't redpointed the thing—haven't climbed to the top without falling off—then it doesn't matter how many times you've almost done it, or how many times you've tried it, or that you know the whole climb with an intimacy usually reserved for the nether regions of lovers. You might as well have never touched it. There's no grey area. Failure is total unless there is success.
This all-or-nothing equation makes projecting, which is such a fundamental part of difficult rock climbing, a forbidding prospect for a climber whose relationship with failure is as historically troubled as Alex's. He continues to struggle with it today. "I hate failure," he told me. "I fuckin' hate it."

Perfecto Mundo, it seemed, marked a turning point—a sign that Alex could face down the specter of failure, that he could put sustained effort into a route and get far enough out of his own way to eventually clip the anchors on something properly difficult. It was exciting.
I talked to him on the phone the day he did Perfecto Mundo. He said, "I don't want to sound arrogant, but this is the first hard route I've done—in a way this marks the beginning of climbing hard for me, I think." This remark raises some big questions: If it took only three weeks to do 5.15c (9b+), how hard could he climb given three months? What about three years? If 5.15c marks the beginning of hard climbing, where can he end up? Where is he expecting to end up? On the other hand, if three weeks of projecting has left him hungover—still dreaming about the route and avoiding taking on his next big goal—would he be able to persevere through a years-long project?
Up to this point, doing routes quickly was probably the most notable thing about Alex. It's what made him famous. Completing a route onsight is the opposite of a long-term project. It's walking up to a route with no prior knowledge, maybe checking it out from the ground, and then tying in and doing it. Onsighting something difficult signifies a level of mastery, and it's a hallowed designation. It's also what made Alex a household name when he made the world's first onsight of 5.14d (9a) in 2013. It was his specialty from a young age, largely thanks to his competition background, which places priority on doing routes correctly first try. (Climbing competition routes are set with increasing difficulty; essentially the winner is the person who gets the highest on their first try.)
Alex started competing shortly after his father (who learned to climb in a university program from Güllich) taught him how to climb at age 5. At 8, he was winning local youth competitions. At 13, he was part of a regional youth team, which is where he met the two men who still coach him today, Dicki Korb and Patrick Matros.
Dicki is 53, with a perfectly shaved head, a strong German accent and a penchant for aggressively colorful clothing. (This, I suspect, is where Alex gets it—the flowery jams, the ever-present yellow T-shirt; at one point Dicki espoused his aesthetic by cribbing dual-sport legend Neon Deion Sanders' line and twisting it to fit, "Look good, feel good, climb good.") Dicki watched Alex climb the day they met. "Really fast, we saw a prodigy standing there with his big shoes. Compared to the other kids—they were good—he was something completely different." This quiet, elfin kid, tow-headed and blue-eyed, who always asked for the music in the van to be turned down, Dicki says, never got pumped. "It was like, okay, we have to take care of this guy."
Alex never wanted to rest, and he never wanted climbing days to end. "My psyche level was 10 out of 10," he says about his early days. "All I wanted to do was go out on rock every day. I would go home at lunch and pack my backpack. After school I wouldn't even go inside. I would open the door and throw in my schoolbag, take my climbing pack and then I was off on my bike to go catch the train to go climbing." He did that for years. Dicki's main task was slowing Alex down, to have him build his base so the tendons and joints could keep up with his muscle growth. "Alex's gift is his motivation," he says. "It's an intrinsic motivation." He reenacted a scene explaining to Alex what a rest day was. "No, Alex, no. This is a rest day. 'What?' A rest day. 'What is a rest day?' A rest day is when you don't climb. 'What? No!' He doesn't want to hear this."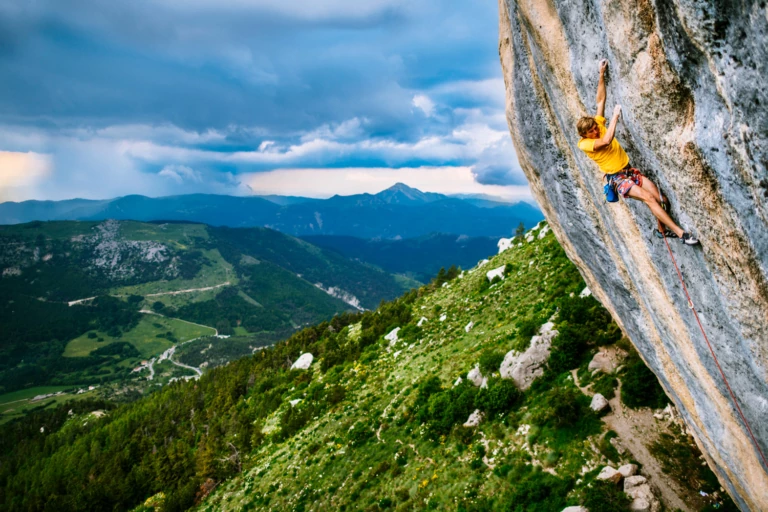 Alex was walking the forests of the Frankenjura, following in Güllich's spandex steps, ferreting out hard, somewhat forgotten routes, while the other kids were in padded gyms grabbing all the lime-green holds in a row. "This gives a lot of different impressions of different kinds of movements," his father Jorgos says. "It's like a library in his head, and he has thousands of different ways of moving on the wall. And in competitions, he just has to take the right book off the shelf."
When he started competing as a kid at the Europe-wide level, Alex dominated. Two years in a row he won the European youth championship, despite the presence of the young Czech juggernaut Adam Ondra, who is the same age. Between 2009 and 2010, he won nine out of ten European Youth Cups, which nobody had done before or has done since. This kind of success fed his obsession with climbing, his motivation and also his expectations, which were simple: Win. "As a child he knew he was having this feeling of being good, being exceptional," his father says. "And in the meantime he had so many successes, and this gives him proof to himself that he is on the right way."
But being a prodigy has its drawbacks. Alex's' parents said they used to be nervous watching him in competitions as a kid, not because they had high expectations of him or were anxious on his behalf, but because if he didn't win it would put Alex in a foul mood for days. "He just wouldn't speak," his mother, Anna, says. They could do nothing about it. "It was like a sickness."
At age 18, when he went from competing in the Youth division to climbing against experienced adults, he stopped winning—often failing to make finals. He took the defeats hard. He stopped competing for years after. Some people speculated that he'd burned out on the competition scene. Others said he couldn't take the defeats and quit. "There are some people who are really naturally good at stuff. And when you're really naturally good at something, that's great—for starting out," says Clune. "But you also miss, I think, a process of being able to suck. If you're gifted, in a way you are cursed because it's so much harder to learn how to not be gifted when you hit a wall. To pass further means you have to learn how to deal with failure."
Alex shifted focus to climbing outdoors instead, and in this less pressurized environment, where the competition is always more personal, and winning (and thereby losing) doesn't manifest in quite the same way, he thrived. He sent his first 14b (8c) in 2009. A month later he did his first 14c (8c+). To the outside world he would periodically show up in international climbing media as a young kid climbing high grades in a few tries. If he couldn't do a route, he would simply give up and move on to the next one.
Then in 2013, when Alex was 19, he made a trip to Siurana, a well-known limestone crag in Spain. On day two, he was looking for the famous route La Rambla, a benchmark 5.15a (9a+), when, confused by a guidebook, he found himself in front of Chris Sharma's Estado Crítico. It shares a start with another easier route, but breaks right at about 20 meters and gets the fabled grade of 5.14d (9a). The first person to climb 9a was Wolfgang Güllich when he did the FA of the most famous sport climb in the world, Action Directe, in 1991.
When it comes to onsighting, some people find a high vantage point to check out the holds, some bring binoculars to find small clues, some spend an hour or more sifting out what they think the beta will be. All sorts of sport-climbing shenanigans. Alex doesn't do shenanigans. They're kind of antithetical to his whole scene, his Weltanschauung, if you want to get German about it. No sticky rubber kneepads for kneebars, no stick clips, no two different shoes for sending, no tricky upside-down beta. If he can't do something, he subscribes to a consistent solution: Banish weakness. Get stronger. One of Güllich's most famous lines after all was, "There's no such thing as too much power."
Alex figured out where the first bolt was, put his shoes on and set off from the ground, not sure which of the two routes he would finish. "I got to the point where the route splits, and I was actually considering just, you know, taking the easy exit because I thought, 'OK, I've got a good chance of onsighting that.'" But he had come to Spain to climb harder routes so he figured he'd climb as far as he could until he fell off, then check out the rest and try to send the route quickly. "That's why I clipped every draw on the way up, because I was keeping in mind that if I fall I don't have to pull up as much." And then he found himself at the last bolt. "I was really pumped and really at my limit and looked up and saw the anchor." He clipped it. "I didn't realize, until after, what I'd done."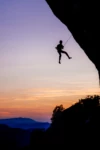 It was the first time anybody had onsighted a 9a. Alex didn't say anything about it. Toni Arbonés, who runs the climbers' camp at Siurana, heard somebody talking about it and called the Spanish climbing magazine Desnivel with the news. The magazine called Alex and wrote it up. Alex went climbing the next day as usual. As soon as he got back to the campground that evening, "I felt it explode," he said. "Everything changed when that happened."
The day after Alex told me he was still dreaming about Perfecto Mundo, we are still in Erlangen waiting, nominally at least, for the weather to clear at Céüse, France, where Alex was supposed to be working on his project. In the meantime, he trains. Alex trains mostly by himself, frequently two sessions per day— one at the gym in Nürnberg that's good for climbing, and one at the gym that's good for training. It's actually sort of fun to watch him train, more so than most people anyway. For instance, he is very, very good at pull-ups: He'll take the smallest edge of the Beastmaker 2000, about a quarter-inch deep, and hold it almost a foot out in front of him for the entire pull-up. He just levitates, body perfectly still. And he doesn't stop pulling when his chin is level to his hands; he stops when his ribcage is. He has an uncanny ability to remember beta, too. I once watched him devise and memorize a 45-move sequence in three minutes. He remembered it the next day.
"I figured out that training is easier for the mind than trying a hard route. It gives the mind a break," he says. "I go to robot mode and just do four or five hours of training. As soon as you walk out of the gym it's fine again, you know? Your mind is not on the rings anymore. Not on the fingerboard. You're satisfied and not thinking anymore about it." Compare this to his mindset during a difficult project. "When you're trying a hard route your mind is constantly occupied by it. Twenty-four hours a day. You go home and you think about the route. You're lying in bed and you can't fall asleep, you're thinking about the route. You dream about the route. You get up and you again think about the route. And that is hard for the mind, being occupied all the time by that one thing."
But even at the gym the undone route at Céüse haunts him. An unmarked series of custom-​shaped wooden grips tick tacks its way up the relatively secluded 45-degree wall at Café Kraft. (Kraft means "force" or "power" in German and the original Café Kraft was a restaurant in the Frankenjura that Güllich and his crew used to frequent.) The holds are a replica of the crux of his project, a V13 (8B) boulder problem, and they are predictably horrendous. The whole thing starts to seem impossible when you imagine the 5.14 climbing to get to it and the 60 feet of 5.15 climbing that comes after it.
Alex touches the holds lightly. "Well I think the project is hard. It's definitely harder than Perfecto Mundo, that's for sure. It's harder than anything I've ever tried, but that's all I can say."
Progress isn't always linear. A while ago now, when Alex was two weeks into working on Perfecto Mundo, Ken texted me a video of Alex on the crux of the route. It's a V10 or V11 boulder problem that involves a right-hand mono, a left-hand pinch and a right-hand pinch near the lip of a large 45-degree roof. Ken had pointed his phone at the screen of his laptop when he was reviewing some footage with Alex, so you can hear them reacting to what's going on in the shot.
He sticks the first joint of his right middle finger in the crux mono; adjusts it in its shallow holster three, four, five times; switches footholds, backstepping the left; and throws to the left-hand pinch, which, although I've never touched it, looks bad. Imagine a broad globule of limestone about the size of a melted hockey puck with tiny tufa lumps that appear to be the only things that make it usable on a 45-degree wall. The left hand moves a long way, maybe four feet, to this pinch.
He grabs the hold, gets his feet back on the wall and tries to readjust. The first pad of his right middle finger is still in the mono, at his waist. He stops. He looks quizzically at his left hand on the hold, then down at his feet. The skin on a fingertip can sense a difference in texture one one-hundredth the size of a grain of sand and, whichever corrugation on the glob isn't hitting the best spot, Alex knows he doesn't have the hold right. He won't be able to move off of it. But instead of just dropping off, he turns and gives Ken, holding the camera, a very German appraisal of his situation: "Do you see how my fingers is fucked up on the hold?" He pauses, gesturing with his nose at his left hand. He looks around, futile, the whole time hanging on. "I can't fucking move." He pauses another second and shakes his head. "I can't move. Take!" When he says "take," his voice goes up a register. He drops out of frame.
If you're watching the clock, his hands are on the crux holds of likely the second hardest route in the world for more than 13 seconds before he drops off. He goes from full bear-down hucking to a moment of silent contemplation, to a surprisingly reasonable analysis of the difficulties of his situation. The clip ends with Alex and Ken in the background cracking up at the sequence.
He still has work to do, but the laughter at the end of the clip is a good indication that Alex has improved his relationship with failure. He was in the throes of a hard project, already 10 days deep into it, and was able to look at one of his efforts and crack up at the absurdity of it. He sent the route a few days later.
We did finally make it to Céüse. After a few more days of training (and an impromptu trip to see Taylor Swift live at a concert in Manchester), Alex was ready to work on the route again. He didn't send the route on that trip, but one day, sitting under its mountaintop crown of perfect limestone, Alex reflected on the future.
"My goal is to climb as hard as I possibly can. Whatever that means. I know I haven't reached my limit yet, so I just want to test it out." He then promptly put it out of reach. "I'll never be satisfied with what I have climbed because I'll always feel that I should have been able to climb harder. Which is alright."
So far, Alex has made three trips to try the pro­ject, but hasn't managed to do it yet. In the meantime, he's been injured, recovered, and has shifted his attention on qualifying for the 2020 Summer Olympics in Tokyo.
This essay was featured in the 2019 Patagonia September Catalog.