Sock Testing with Ultra Long-Distance Walker Gregor Sieböck
/
December 1, 2008
5 Min Read
/
Design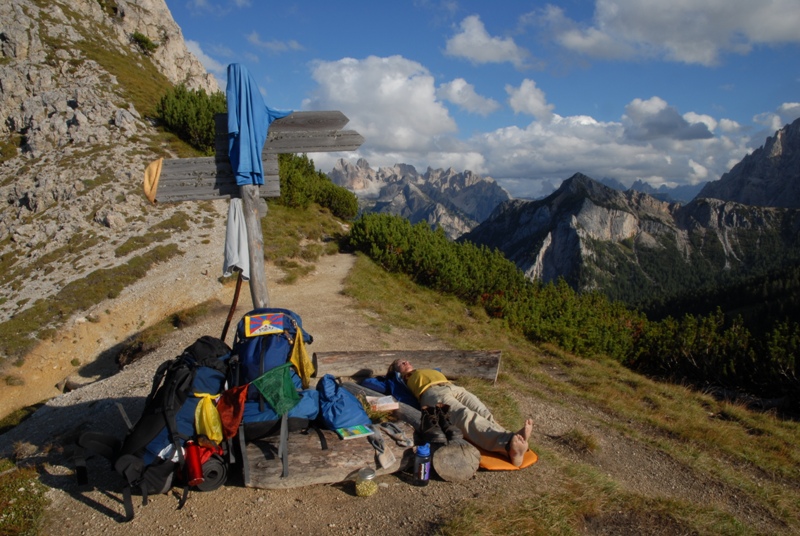 Earlier this year, I was introduced via email to Austrian ultra long-distance walker, Gregor Sieböck. An interesting individual, an even more interesting pursuit; what exactly is ultra long-distance walking? I came to discover that it's not a competitive sport, but more a way of life for Gregor and a vehicle to carry his message of sustainable living across the world, one (literal) step at a time. Inspired by the words of Mahatma Gandhi, Gregor has sought to "be the change you wish to see in the world," a walking pilgrim and ambassador for Mother Earth, encouraging others to lead simpler, more sustainable lives. Having already walked the world once, from Austria to New Zealand via South America (15,000 km), and currently immersed on a new walking endeavor across Europe on ancient pilgrim trails, Gregor has been walking his talk.
[Gregor Sieböck takes a break in the Dolomites, South Tyrol, Italy. All Photos Gregor Sieböck Collection]
In a moment of serendipity, Patagonia's Director of Product Testing and Development, Duncan Ferguson, happened to have received a stash of prototype Ultra Lightweight Hiking Crew Socks that same week which needed to be field-tested. So I put a couple pairs of socks in the mail to Gregor to begin an "ultra" field-test; all day long, day after day, for months on end. We got a lot of great feedback from a crew of field-testers; everyone spoke to the socks' comfort on runs, wicking capabilities, and blister-free experiences, but only Gregor's feedback came with validation gained from 1780km of non-stop abuse. He dropped us a line recently having concluded the sock test, and we've graciously shared his remarks and images here.
Sent on October 30th, 2008:
Hi Kristo!

It is finally done. I finished the testing of the ultra lightweighthiking crew socks. It took a long time, but in fact this was due to thehigh quality of the socks. They just did not want to get holes andyesterday the first holes in the front part of the socks appeared (seephoto) and that after 1780 kilometers of walkingfrom Vienna/Austria to Chamonix at the foot of Mont Blanc.

This istruly awesome that the socks have lasted so long, thus they are muchbetter quality than the lightweight hiking socks I have been using sofar, which always got at least one big (!!!) hole at the heel of thesocks (roughly a square inch of size) after only 1000 kilometers ofwalking. the ultra lightweight hiking crew socks did not show any holesat all at the heel (actually they still hold very well here as you cansee on the next photographs, all taken this morning after 1780 km). Only on top of the toes and on one sock I got two littleholes by the ankle (they appeared already after 600 km but did not getbigger and only appeared on one sock).

So that it was in terms of holesand durability. In terms of wearing them: fantastic. I did not get asingle blister, I did hardly sweat and even now as it is already winterin Chamonix they are still warm and comfy. Simple: PERFECT socks.

If you have any more questions concerning the socks no problem atall. I wore them all the time since Vienna, just this pair, washed themin the evenings and they were mostly dry in the morning or just driedright on my feet after a few minutes. (I washed them on average everyfive days in the last 3 1/2 months so you get an idea how often).

Yesterday the winter came to Chamonix. It is fantastic here. This morning there were almost no clouds and itwas sunny, the Mont Blanc shining in all the winter colors. Now I willwalk on to Annecy to pass by Patagonia Europe and then head North Westtowards the Cathedral of Chartres and its famous labyrinth: which willbe the final destination for this year.

[Photo: Mont Blanc in the morning.]

Next March I will take acontainer ship down to South America and then walk the entire length ofChile across I think 9 climate zones from the Atacama Desert to the icefields of Patagonia. 🙂 If you have anything else for testing I would bemore than happy to try it out for you. It can be both a long termendurance and quality test like with the socks or also a testing howthe equipment performs in different climates. Any time: just send thestuff you want to have been tested over to Austria, from where I willleave in March next year.

I wish you a nice winter time and send you my best regards from Chamonix,

Cheers,

Gregor

[Camping in the Dolomites.]

[On the road again, in the Italian Alps near the town of Bormio.]
To learn more about Gregor, his current "Crossroads" campaign orupcoming treks, check out his website at www.globalchange.at orwww.worldwanderer.org. Patagonia's Ultra Lightweight Hiking Crew Sockwill not be available until February 2009, but we do currently offer Ultra Lightweight Endurance Ankle Socks, and a wide variety of high-quality socksof all weights for all your bipedal pursuits.
Postscript: On November 18, Gregor sent a few more photos and this note: "I am walking across France now. It is getting colder and the Atlantic storms are blowing rain clouds over my trail, but it is still very nice and inspiring and I love walking … hope you are well and I send you my best regards from Burgundy! Cheers, Gregor"