Interview: Patagonia Employee Sets New Record on the Pacific Crest Trail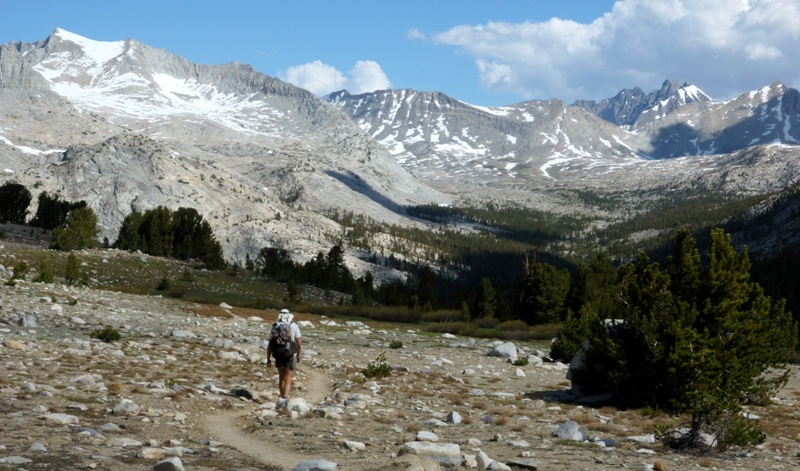 If you've ever called Patagonia's Customer Service line and asked a question about ultra-light hiking, then chances are good you've been referred to Adam Bradley. He's been working for Patagonia for years, during that time developing a reputation as one of the most fired-up, friendly, and knowledgeable customer service reps out there. He keeps his fire blazing by using his time off each summer to chip away at a personal list of long-distance, ultralight thru-hiking objectives. With each hike, he became more fired-up and serious about bigger and bigger objectives. This summer, he and ultralight-hiking guru Scott Williamson took their passion to a new level, setting the record for the fastest-ever thru-hike of the Pacific Crest Trail. We were fortunate to grab an interview with Adam shortly after his return:
– First the basics: Tell us what record you set, and how it relates to the previous one.
On the evening of August the 12th Scott Williamson and I set the unsupported Pacific Crest Trail speed record. Our time from the international border of Baja California Norte to the northern terminus was 65 days 9 hours 58 minutes and 47 seconds. This is 21 hrs faster than David Horton's supported 2005 Pacific Crest Trail speed record, and 6 days faster than Scott Williamson and Tatu Joe Kisner's 2008 unsupported record.
[Scott Williamson in the High Sierra, on his way – with partner, Adam Bradley – to a new PCT speed record. Photo, Adam Bradley.]
– How does it feel being the record holder?
It makes me take life more seriously. It comes with a tremendous amount of responsibility to continue to push my limits physically and especially mentally. As far as setting a new record goes, I am happy if hikers respect what we accomplished. I wanted to bring the record home for the hikers and make them proud.
 
– Have you spoken to David Horton? What was his reaction?
I have not spoke to David Horton directly but Scott Williamson emailed him. Scott was in contact with David Horton before we began our journey so David was aware of our attempt. His reaction was very congratulatory. He believed what we had accomplished was very important and that it should be recognized. He was surprised we hadn't gotten any media attention.
 
– It's notable that your record was set without any external support. How did this approach complement your experience?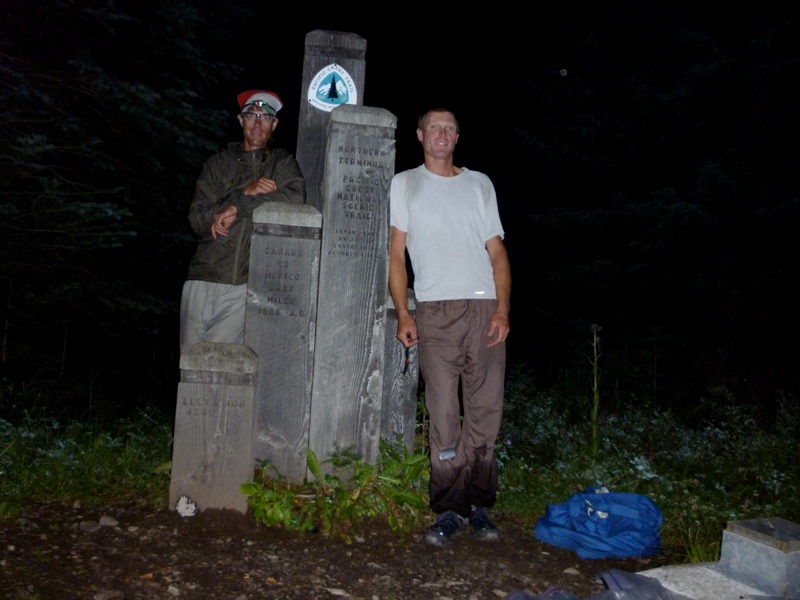 – What keeps you coming back home?
Running water, Greek Gods Yogurt, Betos carne asada tacos and my best friend and the life I share with Shelly Culbertson. She also ran base command and I couldn't have done any of this without her.
– How long are you usually home before you start thinking about the next trip?
I was already thinking of my next trip while I was on trail.  
[Photos, top to bottom – Scott Williamson makes his way down a tricky slope somewhere near Glen Pass in the Sierra. – The day of hurt, self-portrait of a man in pain. Says Adam "I took this picture of myself on the one day I was really in pain. I wanted to know what I looked like later."  – Scott Williamson takes a break to talk with a school teacher who was quite excited about the encounter. – Scott and Adam at the finish. All photos: Adam Bradley collection.]