Light Lunch
/
March 12, 2007
2 Min Read
/
Snow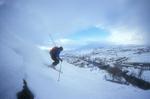 While parts of the West have been enjoying some of the best snow in decades, Winter '06-'07 in the Sierra has been among the worst many can remember. Recent storms close to our Patagonia Distribution Center here in Reno have been a balm to our wounded winter spirits, but we're still a far cry from the incredible snows of 2005. Fresh snow flying outside our office windows just the other day took me back to that amazing season, when fresh turns could be had literally right outside the office door…
Making the turns through perfect powder, or looking back on them? Skiers and boarders alike find their tracks to be great fodder for contemplation. Is greater joy found in the perfection of a single snowy moment, or in its refrain, as you look back on your tracks and replay them ad infinitum to the music of memory?
I'm asking myself this question as I skin through the flats, aiming for a small but steep bowl, bandaged by the low-slung grey gauze of a post-storm fog. It's a small shot, a feature that any Delawarean, Iowan, or Kansan would be proud to call their home mountain. If taken from the very top, there just might be 600' of turns to be had. Six-hundred quick feet, followed by a long traverse back across the flats, and final steep chute down to the river bank. Forty-five minutes of work for 600 feet of skiing in perfectly flat light. Right now, "the moment" isn't dishing out much in the way of greater joy. It'll get better after the story is told a couple of times.
Am I coming up here because I really think the skiing will be amazing? Or am I coming up here because I want to come up here, have come up here, over and over, waiting for the day when this little shot—visible from my desk—could finally be skied?
I'm up here because it's lunch time, and I've stared up here from a desk for years, knowing that if conditions were juuussst right, this little lunch bowl could offer up a modest feast. And damnit, how many times do the proletariat find thigh-deep powder within the confines of the workday? I am up here to realize an ultimate working-man's compromise: a punctuation of indulgence in the daily sentence of work. To skin, literally, right from the office door? On your lunch break? Today is a an answer to years of "what ifs?".
Fresh powder awaits, and the turns are good. The snow is light, offering face shots on a slope that hasn't held this much snow since 1916. I am in one moment. It is 600 feet long.
[Back to work. Tim Manchester drops in toward the Patagonia Distribution Center (far right). Photo: Jason "Chia" Snyder]