Dispatch from Fairy Creek
"A movement or an action doesn't always capture the entire story, the entire truth." —Kati George-Jim, T'Sou-ke First Nation
Since time immemorial, First Nations have stewarded the ancient forests of Canada's British Columbia, of which their culture, language and identity are inextricably bound. Yet today, less than 3 percent of productive old-growth forests capable of sustaining giant trees remains in BC. And at the current rate of logging, the few ancient giants still standing could be gone within a decade. Over the past year, the Ada'itsx (Fairy Creek) blockades have set out to defend one of the few remaining stands of Canadian old growth and confront extractive colonial forestry practices.
Forestry has been a major player in the provincial economy since the commodification and export of BC timber began in the late 1800s. Colonial capitalists have eliminated the vast majority of large old-growth trees in the province. In response, the widely publicized "War of the Woods"—protests to protect old-growth forests in Clayoquot Sound on Vancouver Island's west coast that began during the mid-1980s and culminated with over 900 arrests in 1993—became the largest act of civil disobedience in Canadian history. That direct action led to the protection of significant stands of old growth in the area. But it didn't stop the continued logging of ancient forests across the province.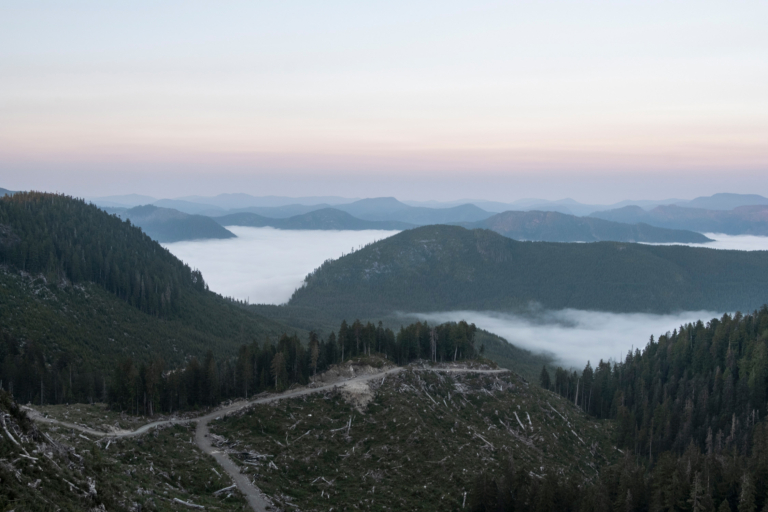 Nearly three decades later, in August of 2020, an environmentalist discovered a new road being built near the Fairy Creek headwaters east of Port Renfrew on Southern Vancouver Island. The BC-based forestry company the Teal-Jones Group was preparing to log within ancient forests in the pristine and unceded land of the Ada'itsx watershed, a remote part of southwest Vancouver Island where massive yellow cedars have stood for over a thousand years. In response, activists began the Fairy Creek blockades under the grassroots name of Rainforest Flying Squad. It grew into a series of camps occupying and blocking key access roads for logging operations. The movement has since surpassed the War of the Woods in number of arrests.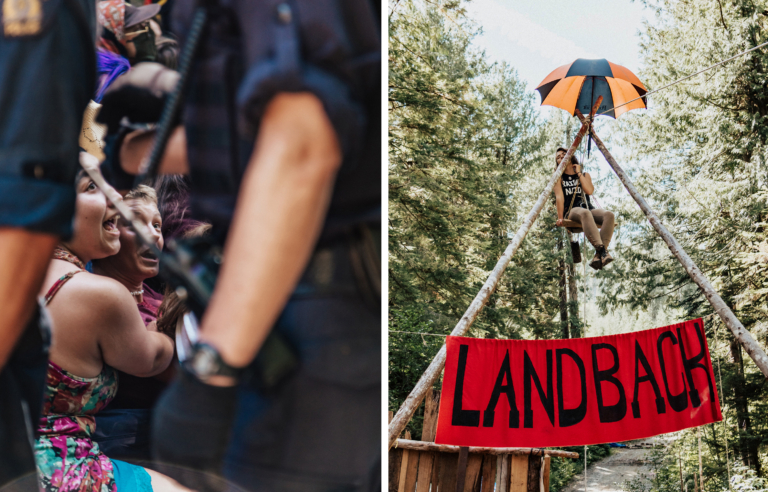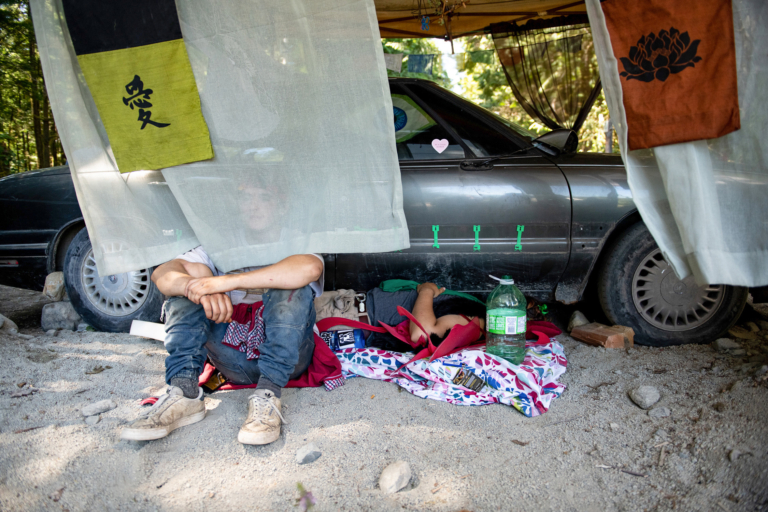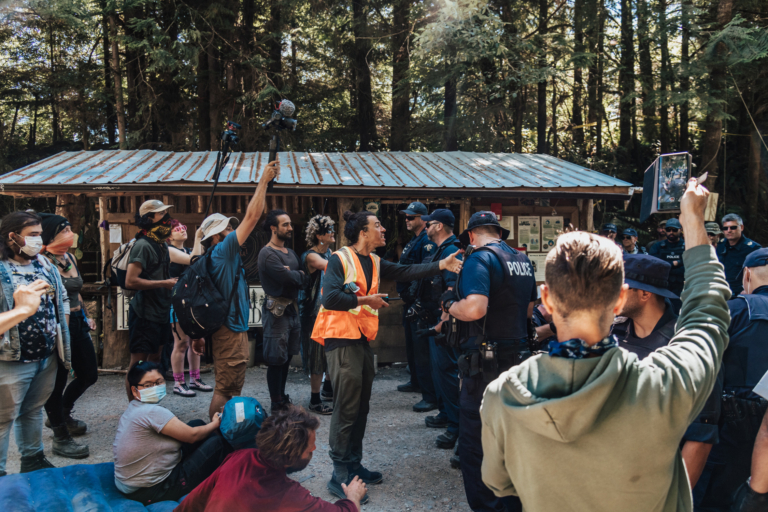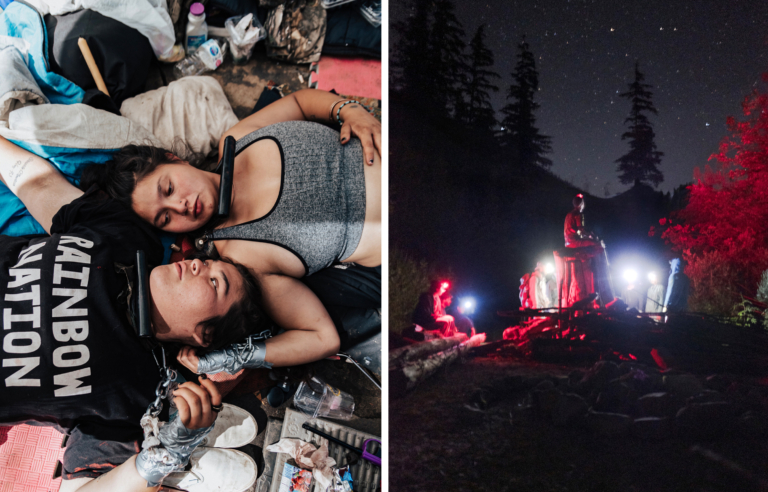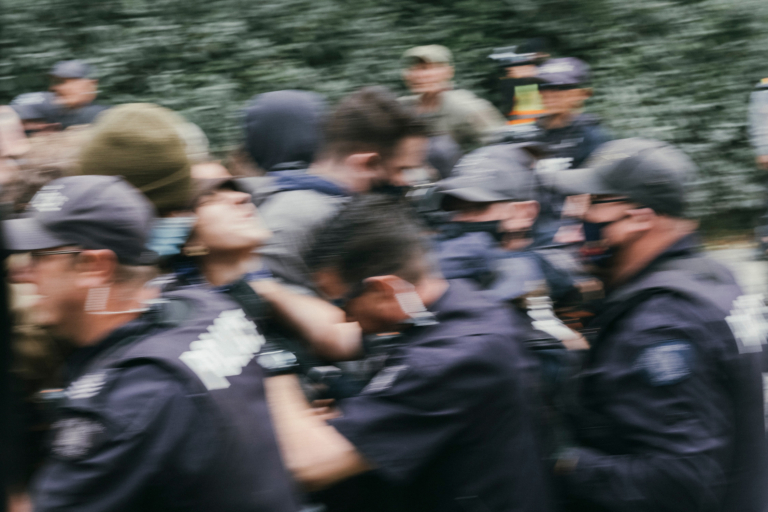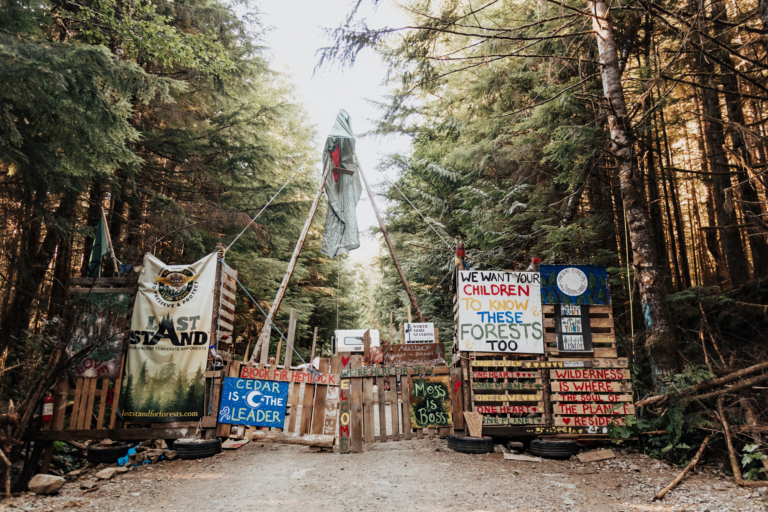 I have been visiting the blockades since late February, as a writer and an ally. What began as a small group of forest protectors blocking road building in the Fairy Creek watershed has grown into thousands of land defenders setting up camp, which has inspired further direct action to save threatened old growth in other areas of British Columbia. While the focus is on one parcel of ancient forest, the symbolic implications go beyond Fairy Creek. As Pacheedaht Elder and figurehead of the movement William "Bill" Jones explained, old-growth trees are "the last of our spiritual freedom that we have in this world … [Logging companies] don't have the right to take the children's heritage."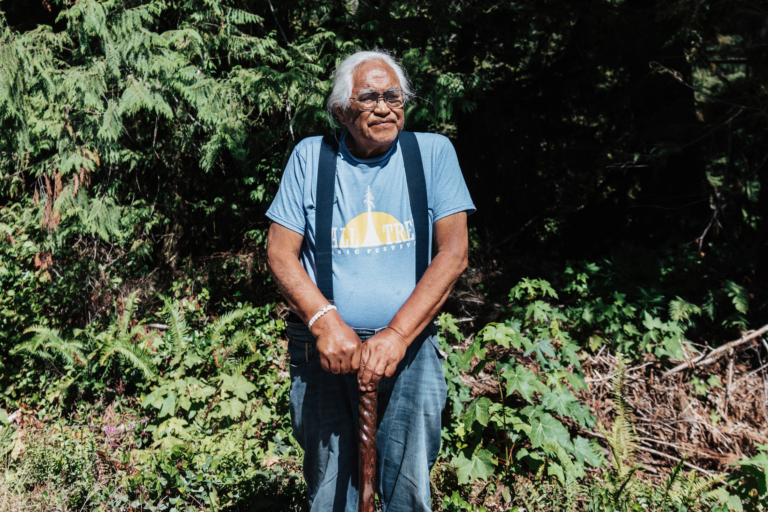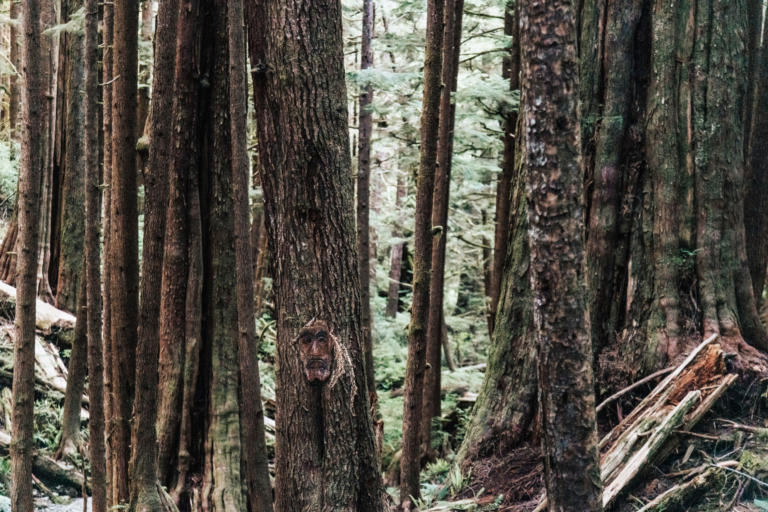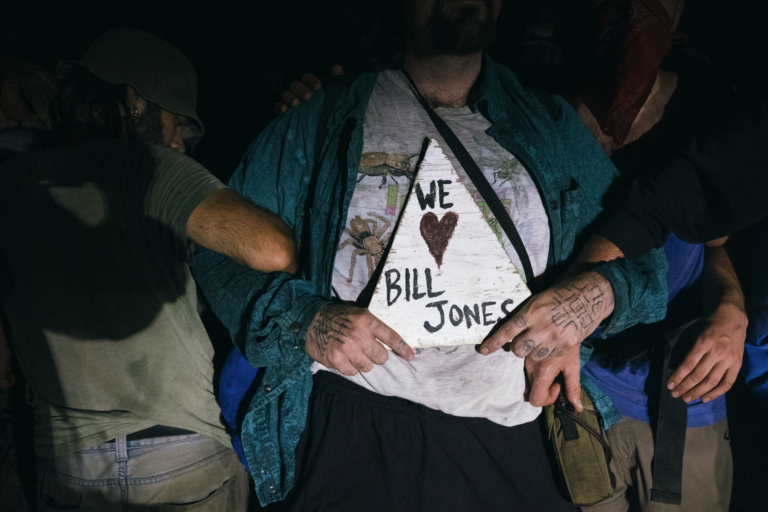 Despite outcries from scientists, Indigenous leaders, grassroots organizers and public officials, Teal Jones pressed ahead with their plans to log. In April 2021, they won a court injunction that deemed road blockades at Fairy Creek illegal, and police enforcement began to support logging activities. Then on August 9, the one-year anniversary of the beginning of the blockade, police aggressively raided land defenders' Fairy Creek Headquarters and made dozens of arrests. Even with a subsequent BC Supreme Court ruling that some of the RCMP's (Royal Canadian Mounted Police) enforcement activities are illegal, they have continued to use brutal tactics to quell forest defenders. As of press time, more than 1,000 arrests have been made.  And on September 13, loggers moved past the final blockade near the top of the road—Camp Landback—and chainsaws could be heard in the woods.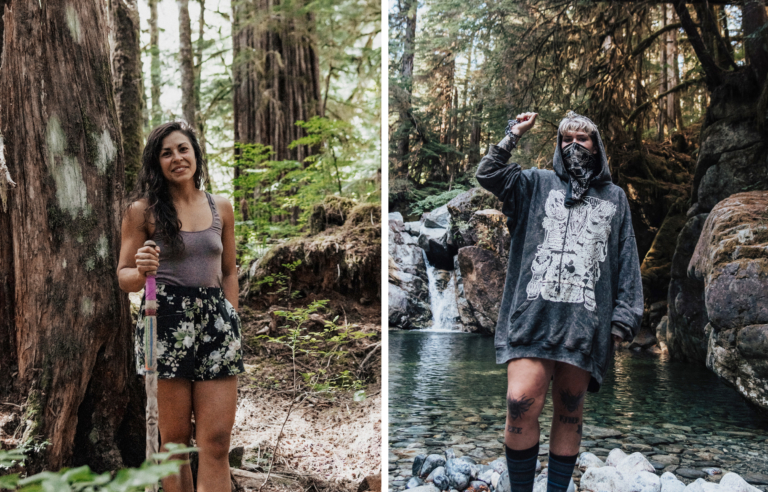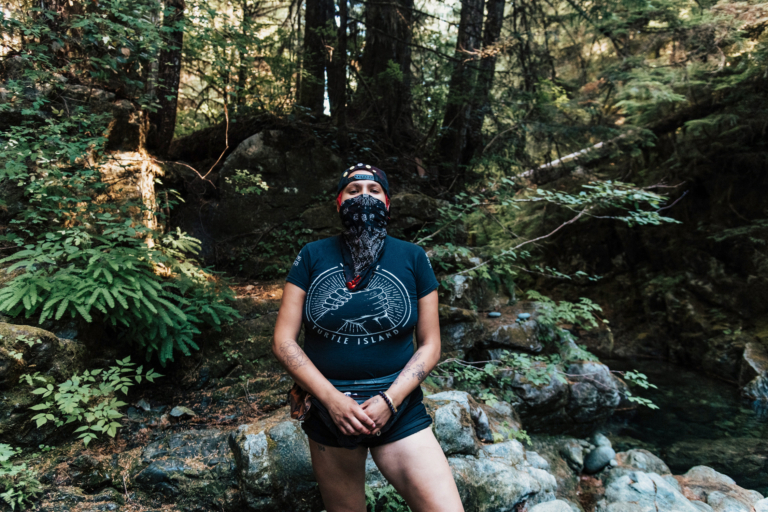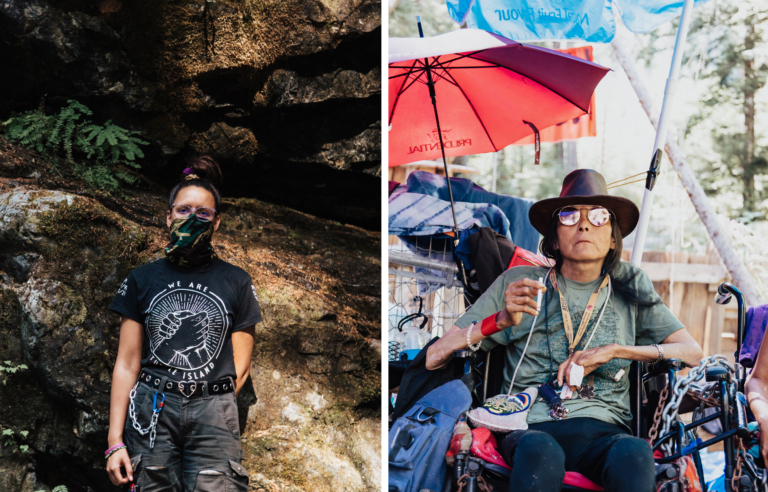 Although BC's governing New Democratic Party promised a "paradigm shift" in its approach to managing old growth during the 2017 election cycle, they have failed to implement any of the 14 recommendations from the province's Old Growth Strategic Review Panel report released last year.  In need of revenue, in 2017 the elected leadership of the Pacheedaht Nation leased the land at Fairy Creek to the government for logging. They argue that it is not up to settler environmentalists to impart their desires upon Indigenous lands even though many of the strongest voices of the movement are Indigenous folx themselves.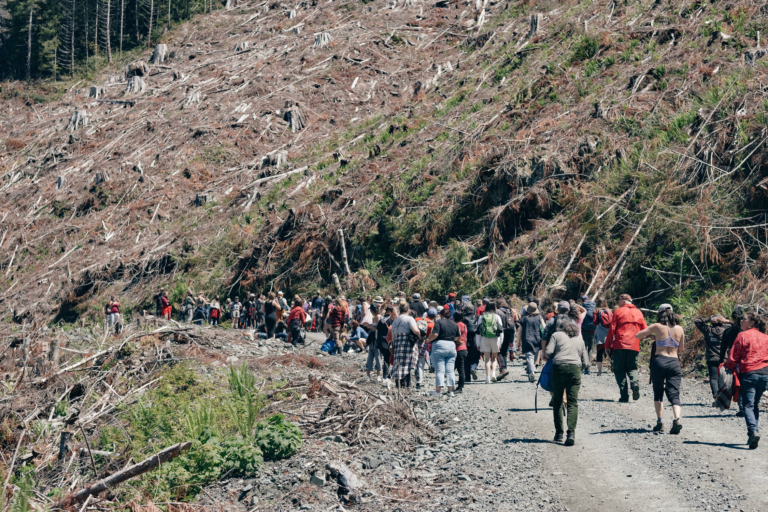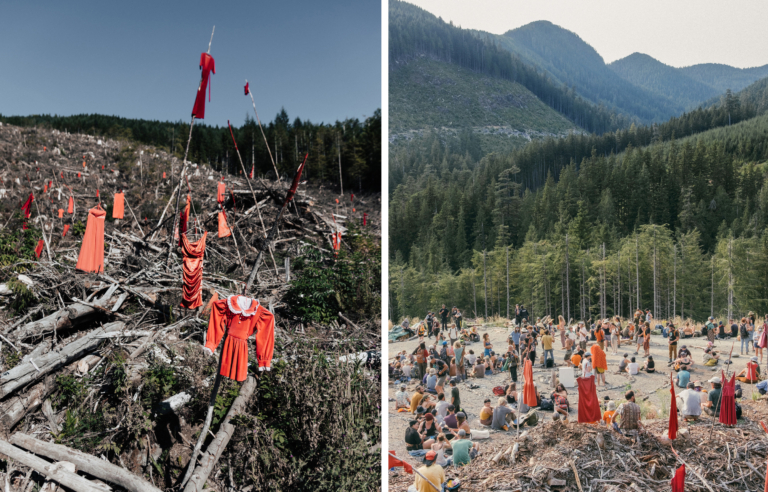 The ongoing actions at Fairy Creek cannot be separated from a deeper discussion of Indigenous sovereignty and the ongoing impacts of an economy built upon colonialism. The Union of BC Indian Chiefs said as much in the "Protect Our Elder Trees Declaration," issued in July 2021: "The current landscape of old-growth logging has been exacerbated over years by successive BC governments working to commercialize all old-growth timber and foster an economic dependence on old-growth logging in First Nations communities. They have achieved this by arranging agreements for revenue-sharing, employment, joint ventures and tenures for old-growth timber in contentious areas for First Nations, who face limited economic opportunities as a result of years of colonialism and racism."
Despite promises to protect old growth, the government and the police continue to support the destruction of endangered ancient forests. It's evidence of a colonial system that denies Indigenous sovereignty over their lands and culture.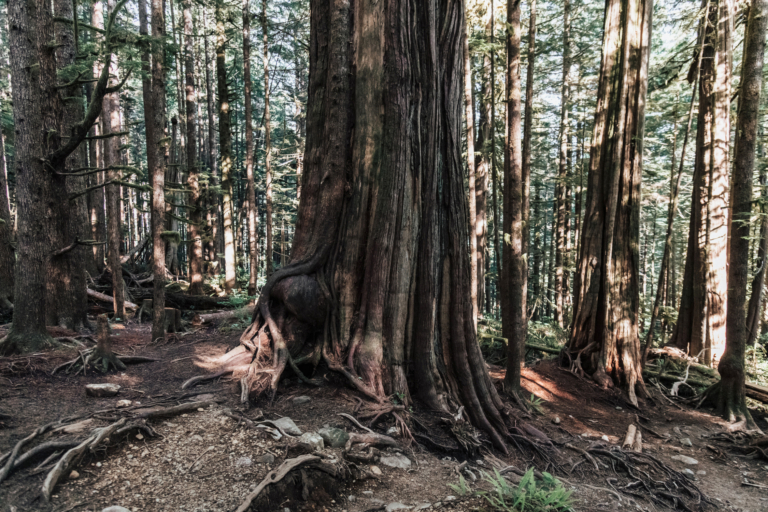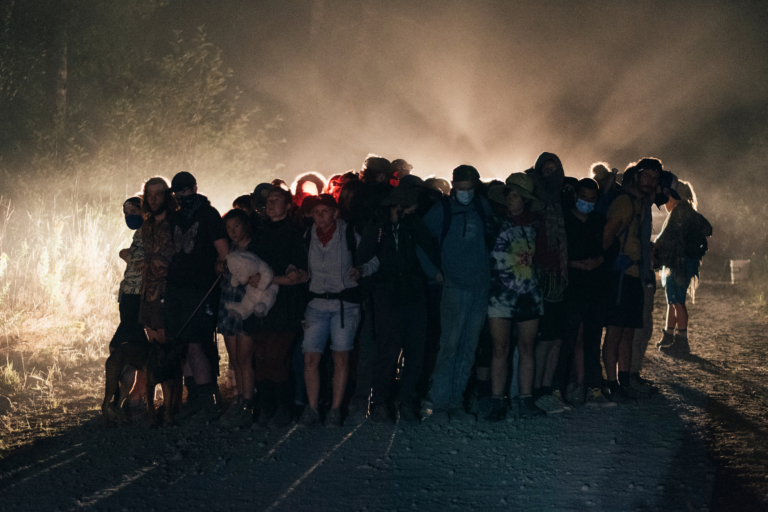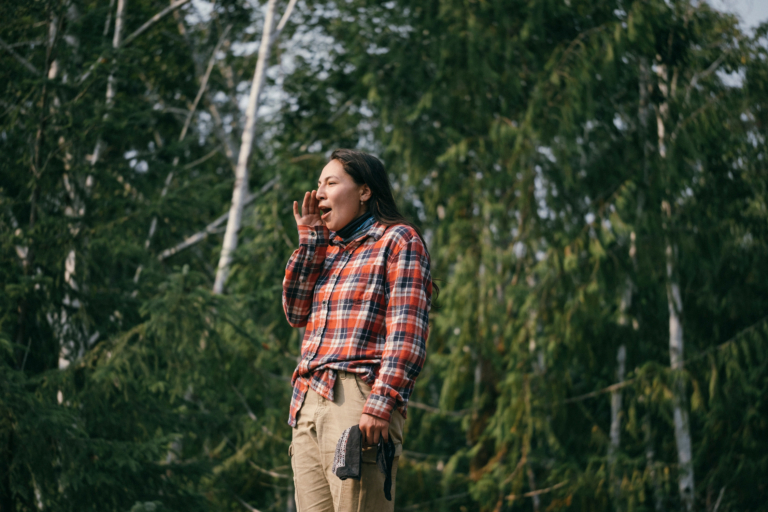 This summer, I visited Kati George-Jim, xʷ is xʷ čaa, to interview her for the podcast For The Wild. She is the niece of Bill Jones and an inspiring spokesperson and leader of the movement. We met at Sassin Camp on unceded Ditidaht territory, located several hours from the small town of Lake Cowichan. There, from the back of a pickup truck, Kati explained the deeper context of old-growth logging in Fairy Creek beyond big tree activism, while we watched giants fall in the nearby Caycuse watershed. What follows are key excerpts from our conversation, edited for length and clarity.
Maia Wikler: Can you share a little bit about where we are?
xʷ is xʷ čaa: We're in Ditidaht, unceded, unsurrendered, sovereign territory which is some of the most southern Nuu-Chah-Nulth territories on the west coast of what's now known as Vancouver Island. Sassin has really become a camp to ensure that on front lines, we're upholding what it means to be in relation to the laws of the land, whether you're from here or not. There are very few places where Native people can be seen and held by each other. We talk about land back, we talk about Indigenous sovereignty, and we talk about reconciliation or reclaiming identity.
All of those things are nice to talk about, but what does it actually mean in practice every single day? How do we hold each other accountable to making sure that these spaces aren't just a theory? We're giving that love to the land while we're giving that love to ourselves.
We want to practice what it means to be outside of colonialism. That isn't just something that you're reading or something that you're thinking about. But it's something that we can base off of our experiences together and transform.
As much as this fight is about old-growth logging, it is so much deeper than just an industry. It's so much deeper than one singular forest, one singular tree. It has everything to do with what is beneath the soil and what is being carried by the water. What is the entire cycle of the life that exists on these territories? That includes our relationship to the land and how we get to practice who we are as quuʔas, as coastal people. And how, as relatives, we need to stand for each other's territories and stand against colonialism, invading people's territories for the sake of very small profit in comparison to the actual value of the land, the value of our ancestors and the value of our culture and language and spirituality.
I've been to these places where they're stealing ancestors. They're stealing from these territories and robbing future generations. How can we be who we are if we have no land left? If we have no place to go?
The violence against the land is violence against our spirit, violence against who we are as Indigenous people.
MW: A lot of the last couple of weeks since the injunction and enforcement of the injunction has been colonial state actors doing whatever they can in their power to impede the ability to witness. Can you speak a little bit about why witnessing is important? And what have you been witnessing since being out here and a part of this larger movement that goes beyond the Fairy Creek blockades?
xʷ is xʷ čaa: Leading up to the RCMP enforcement on the sovereign lands, there wasn't the ability for many folks to see themselves in how the enforcement would go. It was very difficult for people to believe that the police aren't your friend, to believe that you'd be treated differently because you're a settler or a white person or that this is a movement where the police could respect these direct actions and civil disobedience.
And most of those people had an alarming wake-up call when the enforcement started to happen where there was an exclusion zone (areas where police restrict the movement of protestors)—and there still is an exclusion zone, illegally erected by the RCMP on these territories—and the type of force used. The RCMP has no jurisdiction on these lands, to forcibly remove anyone, let alone sovereign Indigenous people.
As an Indigenous person, and as a young woman, there was no doubt in my mind the type of violence and force that the RCMP are always prepared to use against Indigenous people, let alone people standing in the way of industry and profit.
It's been a steep learning curve with so many privileged white people at the Fairy Creek blockades who believe that getting arrested is fun or a family activity or something that, you know, you can check off your list. And, unfortunately, they've had to witness and be a part of the violence against Indigenous people out here. That is what it takes for their wakeup call: It is seeing violence against our bodies. We can see this echo in so many different parts of the world where trauma porn is where people only wake up when they get to see that violence. And that's sickening. As an oppressed person, we can acknowledge that violence without even needing to hear in graphic detail that it's real. So, our takeaway from any of this really should be the ability for us to hear or know about stories, without us needing to know graphic details for it to be legitimized.
A witness is not just a legal observer, or someone that can vouch or participate in some sort of Canadian legal system. To me, it's so much more important to be accountable to the laws of the land and witness, report to the peoples whose land this is and ensure that those people, those ancestors, those families, know what has happened. I'm a witness for them, and a witness for my own family, in all the territories and lands that I'm a part of and then also for the future generations. So that they can know what has happened here today. I can't wait to meet more and more of my relatives, and to continue knowing my uncle and live out our days fighting for these territories together.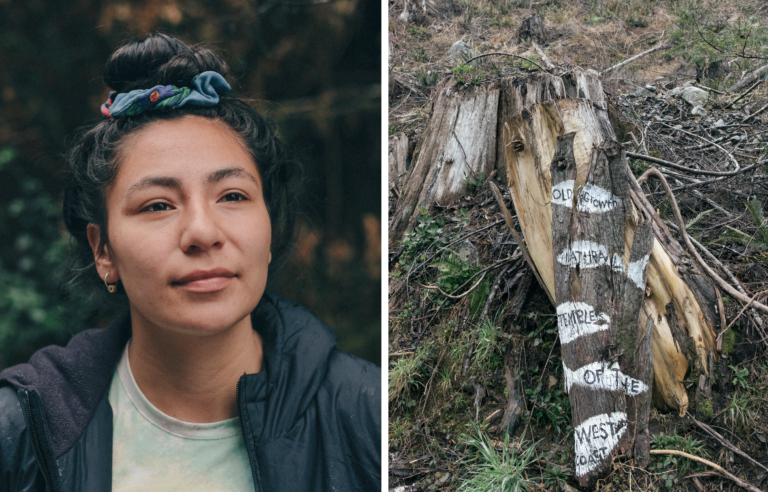 MW: You've spent weeks upon weeks being in these forests that are threatened and meeting new community, returning to old community. What does this movement mean to you beyond the less than 3 percent old growth that remains and all these statistics and ways of quantifying colonialism? What does it mean for you on a level beyond the big tree activism?
xʷ is xʷ čaa: To be a sovereign Indigenous person, to be a quuʔas, in this time and recognize it as it unfolds, is so powerful. When colonial systems have been introduced and imposed, and violently erected in our sovereign territories, not only is that a declaration of war, on the land and on the people, but it has been sustained and funded and legitimized through state occupation. We do not need to be recognized by any of the colonial bodies to exist. But the falsehoods and fantasies of these governments and the state and the British Crown distract people from the truth of sovereignty, from these truths of genocide and assimilation, in the form of respectability politics, recognition politics.
Even me talking in this way to define what these mechanisms are, that are imposed on Native people, is a part of the problem as well. Should I even need to explain it through this colonial tongue to talk about oppression, versus just accepting it as a truth, as a fact? A colonial system is the complete opposite of Indigenous society and systems, which is why the land, women and queer people, our children and these matriarchal systems are targeted so heavily by gender-based violence and by violence against the land that also rips our children away from our peoples.
We need to talk about the colonial reality, that falsehood, having real life consequences and intergenerational consequences on these lands and on these people. And then we also need to talk about the parallel reality of Indigenous sovereignty, Indigenous society, which has never ceased to exist. We don't need to be recognized by any state or province or foreign monarchy because we have always existed, and we will continue to exist in our sovereign way. The fact that we are required to engage through systems like the Indian Act, the Band Council system or treaty systems so that governments can interact with Native people in a contained environment, which can be controlled, is a part of a colonial narrative. That's a colonial reality.
We talk about just transitions for energy; we also need to talk about how we're going to transform and transition away from systems categorized in these colonial Western ideologies. We need to be asserting and uplifting Indigenous sovereignty in the ways that it is going to be—as it already has been—the past, present and future of this world. And that is what needs to be upheld as a "movement."
We need to be able to acknowledge the land as sovereign. The sooner we're able to acknowledge our limitations and how we impose that on the land, versus continuing to try to be righteous and try to have the moral position to rape the land, the sooner we'll be able to have a chance of surviving together.
---
Donate to support legal funding and relief efforts for land defenders at Fairy Creek.
Follow @fairycreekblockade, @rainforestflyingsquad and @camplandback on Instagram, and visit facebook.com/FairyCreekBlockade for daily updates from the front lines.
Volunteer your time and skills as a land defender at Fairy Creek.