Listen to "A Successful Life" Dirtbag Diaries Podcast Episode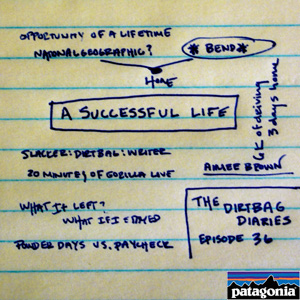 The Dirtbag Diaires is on the air and host Fitz Cahall is back once again to introduce today's podcast:  
Success. What is it? How does each of us define it in our lives? It's a question that has hovered over many of the stories we've told in the last three years. Aimee Brown has been many things in her life – a snowboarder, a hydrologist, a pastry chef, a goat farmer and a writer. Always a writer. Being a wordsmith and making a living as one are two different things. Last year, Aimee got the opportunity of a lifetime a job writing for National Geographic. Excited, she packed her Subaru, threw in her cowboy boots and moved east from her beloved Oregon towards an incredible career. After a few weeks of living in D.C. a nagging feeling set in. Were days looking out an office window, lonely treadmill runs and sun salutations without the sun success? Could you ever define it as such? It took six thousand miles of driving for her to answer that question.

Listen to "A Successful Life"
(mp3 – right-click to download)
Head over to the Dirtbag Diaries for information on the music from today's podcast. You can also connect with the show via Twitter and Facebook. Fitz also hosts a new Web TV show called The Season.