The pioneering and deeply influential climber Allen Steck passed away last week at the age of 96. Steck was known for the routes he established in Yosemite Valley, California, and for his first ascents around the world, including a first ascent of the Hummingbird Ridge on Mount Logan, Canada, a route that has yet to be repeated.
Steck also co-founded and edited Ascent magazine and Fifty Classic Climbs of North America alongside Steve Roper, and later founded one of America's first adventure outfitters, Mountain Travel.
He was generous and known for his good humor. Friends fondly remember his company with anecdotes about Greek music and dancing, dinners and, of course, time spent climbing together. Asked what words of wisdom he might have for the next generation on a visit to the Patagonia archives in 2017, Al replied, "Whatever you're gonna do: Study it and learn it. Learn as much as possible about it."
This excerpt from Steve Roper's 2013 book Camp 4, shared with his permission, captures some of Steck's accomplishments and shows him as a young man, in his element.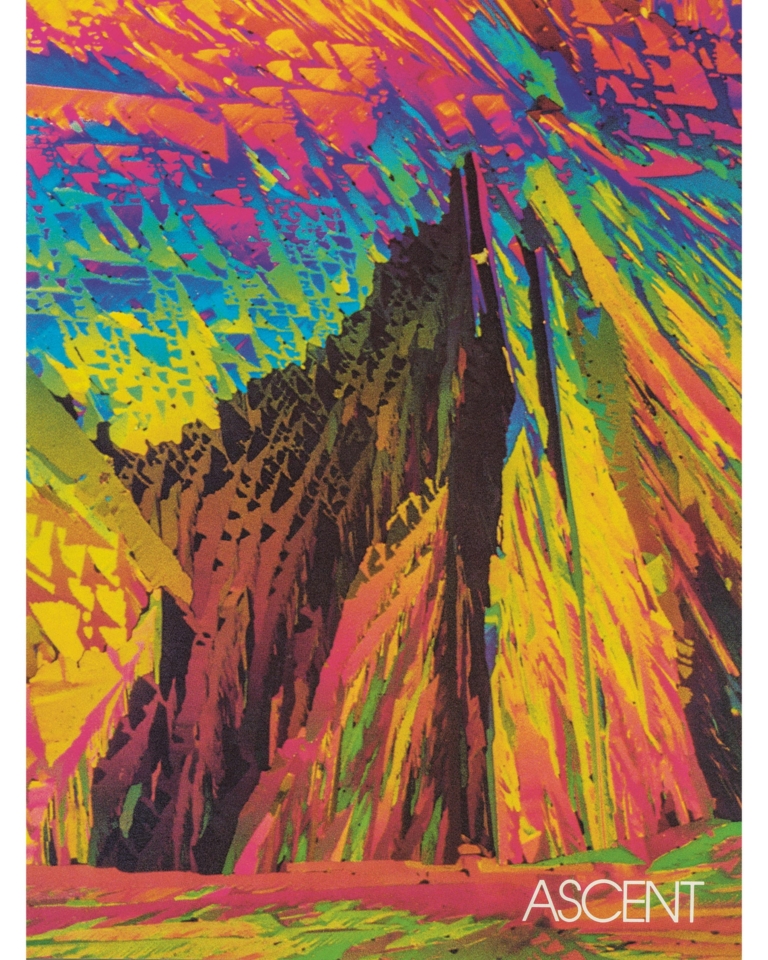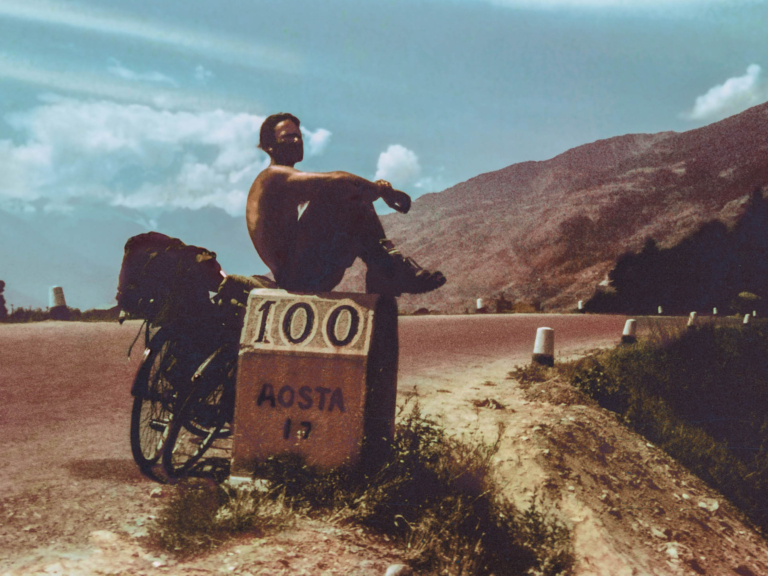 Steck was no stranger to difficult climbing. He had begun his career, as so many youths did back in those days, in the High Sierra, hiking along trails and scrambling up rocky peaks. Then came a stint in the navy, where he bobbed around the South Pacific on a destroyer escort during the waning months of the war. Discharged, he attended UC Berkeley, served as a ranger for the summer of 1948 in the Valley, and then spent the next summer bicycling through the Alps, climbing everything in sight. He became the first American ever to climb one of the fabled "Six Great North Faces" of the Alps when he did, with Karl Lugmayer, the face of the Cima Grande, in the Dolomites.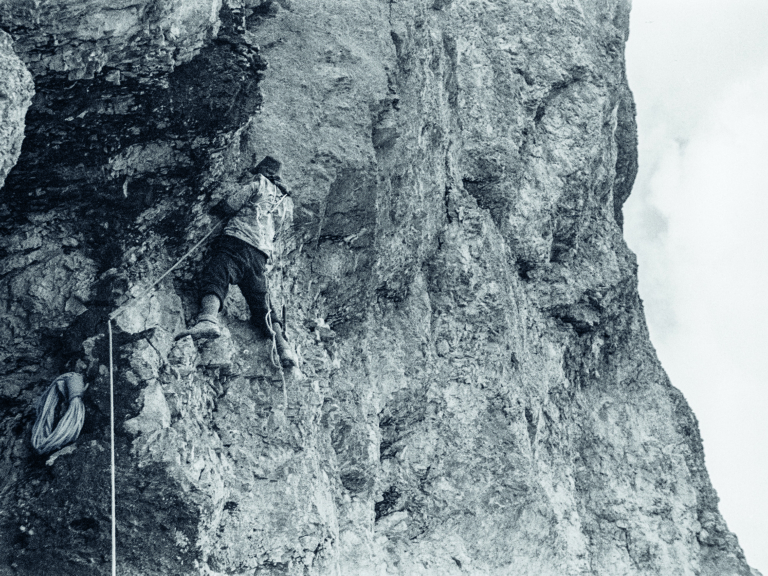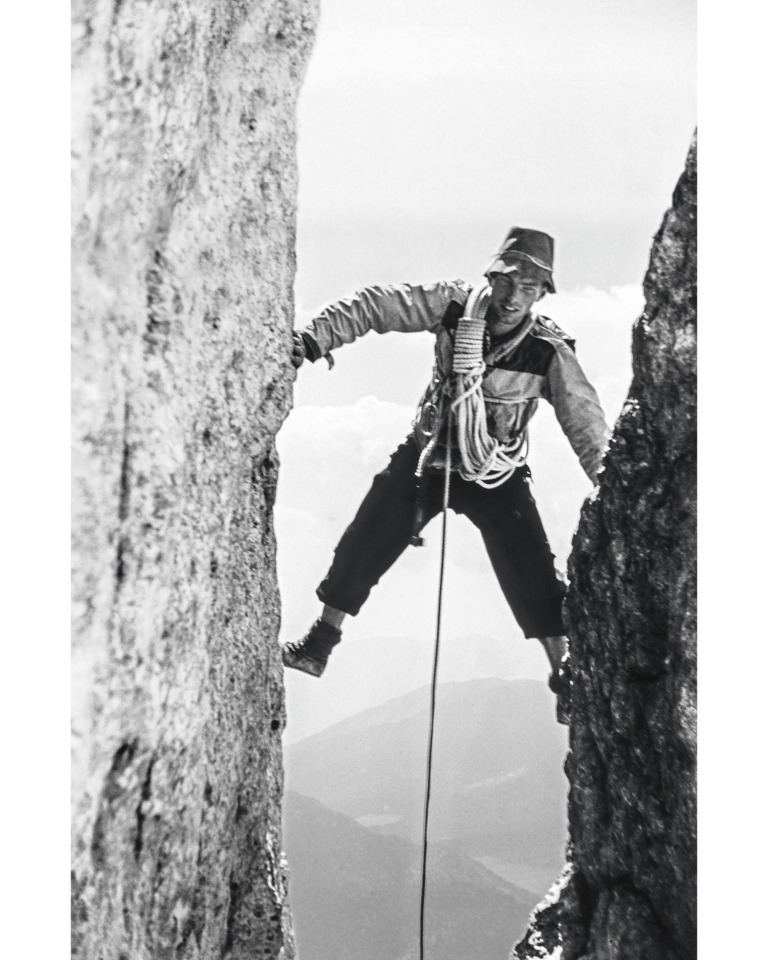 Steck's American record was not quite as bright. By the end of 1949 he had done many of the standard Valley climbs and established a new route on the Higher Spire. That was about it. But 1950 was to be his year: by May, following the first ascent of dramatic Castle Rock Spire in Sequoia National Park, the twenty-four-year-old Steck knew his time had come. Climbing mostly with his Berkeley friends, however, was not the way to success. Climbers such as Wilson and Bettler, lively people and excellent mountain companions, were not in the same league as Steck on a big wall: his season in the Alps had given him an enormous advantage.
Friendships are important, though, so Steck teamed up with Wilson to try Sentinel in June. They were in great shape, having worked out in the Berkeley hills as "charter members of the recently established 'Berkeley Tension Climbers' Running Club.'" The pair prepared for an all-out attempt but retreated almost immediately when a falling rock severed one of their ropes. (On October 23, 1949, a massive rockfall originating from a point just above and to the right of the Flying Buttress had smashed onto the third pitch of the route, and shards of whitened granite lay on every ledge, poised to fall.)
Where was John Salathé at this time? Though he had scouted Sentinel's north wall in 1948, with Nelson, he apparently displayed no further interest, regardless of what the angels had instructed him. Perhaps they nudged him in late June 1950, for when Steck asked him to go onto the wall, he instantly agreed. Though Steck had never climbed with Salathé except at the local Berkeley rocks, he had great respect for his abilities; the Arrow Chimney climb was legendary already. Most of the other members of the RCS had headed up into the High Sierra for the Fourth of July weekend, and Steck was getting antsy. Someone would soon make the climb: why not him?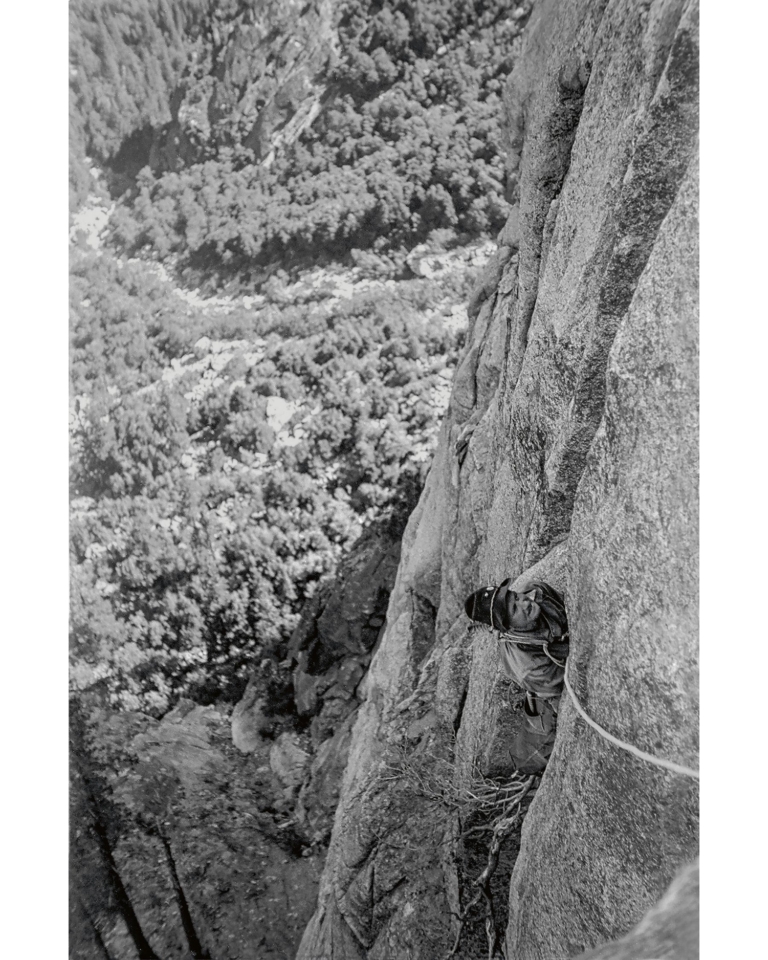 Steck and Salathé drove up to the Valley in the blacksmith's old Model-T Ford on Thursday, June 29, roped up on Friday morning, and reached the top of the Flying Buttress late on Saturday. Ahead lay new ground: the Headwall. Salathé labored for more than ten hours on this pitch, placing six bolts and many marginal pitons. Finally, the two men were able to work across a slab and enter the Great Chimney, the gateway to the summit. This sinister slot, however, was repulsively flared in its lower part and claustrophobic in its upper part. It wasn't going to be easy.
Meanwhile, the pair had to deal with an even more malevolent enemy: the heat. The Valley later became famous among climbers for its sweltering summers, but by 1950 no one had yet commented on this phenomenon. On a one-day climb, hot weather was rarely a problem; one suffered temporarily and then returned to Camp 4 for a beer. On a multiday climb, however, heat could be enervating, as the Sentinel climb proved definitively. Since one could never carry enough water to replenish the outpouring of sweat, fatigue and cramps resulted. One quart per day per man had been considered adequate up to this point, and, on cooler days and shorter climbs, this proved adequate. Yet the temperature reached 105 degrees in the Valley that holiday weekend, and by day three the pair was not far beyond the halfway point.
The wall became a furnace, and since the customary afternoon breezes of the Valley never arrived, it became a windless furnace. As if this wasn't bad enough, Steck had to watch vacationers frolicking in the Merced River, 2,500 feet below. "If only those swimmers would stop splashing!" he later wrote. The fifty-one-year-old Salathé was stoical, but Steck knew he suffered also. "Standing there in slings, with his hammer poised over the star drill, John would turn his head and say, 'Al, if I only could have just a little orange juice!'"
The two climbers rationed their water carefully, but this meant that food was unpalatable; Steck estimated that, "as a liberal guess," they each ate but a half-pound of food on the entire climb. Although Salathé had carried along a two-gallon tin of dates, his favorite food, he jettisoned this, half full, into the bottom of the Great Chimney, where for decades subsequent parties could see the container rusting away inside the dark labyrinth.
On Monday morning, the start of their fourth day, Steck discovered that the lower flared chimney could be bypassed by tunneling into the interior of Sentinel and wriggling upward for 100 feet, a dark and lonely struggle indeed. (Few have ever gone this way; the outer chimney, though scary and exposed, seems preferable to caving.) Salathé took the lead on the next pitch, and he also chose a line few have ever repeated. A perfect back-and-foot chimney led upward from a fine chockstone ledge. Then, ten feet higher, it stopped. Above, the chimney narrowed abruptly at a ceiling. A hole, about as dark as a house chimney and nearly as tight, shot upward out of sight. Salathé, an aid specialist, naturally wanted nothing to do with this horror, later known as the Narrows, so he worked his way sideways to look at the Valley side of the back-and-foot slot. Chimneys, after all, always have outer edges—and these edges were but ten feet distant. The chimney widened immediately, however, and Salathé began pounding pitons up under the ceiling and standing in slings. An impressed Steck watched the action from his chockstone: "Using pitons upon which only he would ever rely (the double variety—back to back!), hanging almost horizontal, he was barely able to reach around to the outside of the chimney. The piton crack that he found made the lead. The Narrows were behind us!"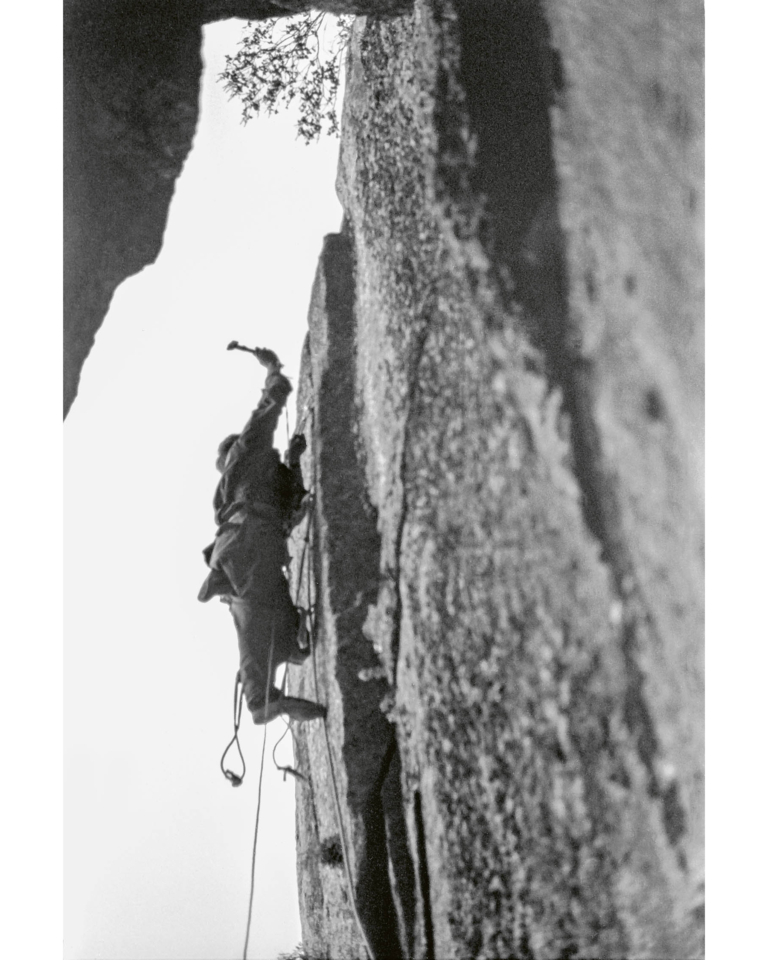 And the major difficulties were behind them, too, for steep sections alternated with easy chimney climbing and big ledges. Now only the heat could defeat them. At one point Steck spotted "a little bead of water" oozing out of a mossy crack. "It was barely enough to moisten my lips and wet my mouth," he wrote, "yet it was a wonderful sensation." Closer to the top, both climbers' mouths were so dry that they could barely speak. Steck tried not to watch as Salathé, at dawn on their fifth day, put his set of false teeth into a Sierra Club cup and used the last of his water to moisten them enough to insert. This was also the bivouac when an exhausted Steck was not especially pleased to hear Salathé say, "Allen, you should do the Arrow Chimney; now dot's a real climb!" By noon on July 4 they reached the top and staggered down the easy descent gully toward a stream below. Steck threw himself, fully clothed, into a shallow pool.

"The reason, the incentive, the motive for all this?" Steck asked in "Ordeal by Piton," his fine article about the climb in the Sierra Club Bulletin. "It is an intangible, provocative concept that I shall leave to the reader to explain." Steck was neither the first nor the last climber to avoid trying to illuminate the rationale for the peculiar sport of rock climbing. Steck's article, excellent though it was, contained one phrase he now wishes he'd never written: "… the second ascent should do better, if there should ever be one." Ironically, he himself was to repeat the route four more times during the next forty-four years.