Taking Bivies One Night at a Time
The transition to darkness scares me. Fleeting rays of final light linger on the horizon. I stare down thousands of feet, where immense shadows from ice-capped towers overhead cast dark shapes into the valley below. I barely make out the specks of our tents at base camp. A fire starts. Our cook is warm, comfortable, and will soon crawl into his sleeping bag. But here, on a rocky ledge, we settle down onto flaked-out ropes and into wafer-thin aluminized bivy sacks – those little two-ounce things they make for emergencies – and await the slow and sharp creep of cold.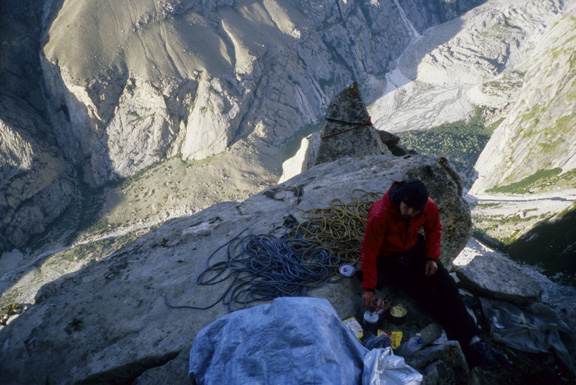 That's what seems to happen at the bivies, where we shiver through the night, so obsessed with the paradoxical notion of saving weight to go fast. I recall my thinking from a multi-day climb in Pakistan five years ago, playing the "one night at a time" psychology game, where you rationalize discomfort: Cold, sure, but you can endure most anything for one night when you know you aren't going to freeze to death. And then another night, well, that won't be fun either, but by then we'll be nearly finished. A third night, if all goes to plan, will be the final night of sleepless shivering and we can deal since it's the last one. If we get strung out and spend more nights out, well, then we'll suffer a little more.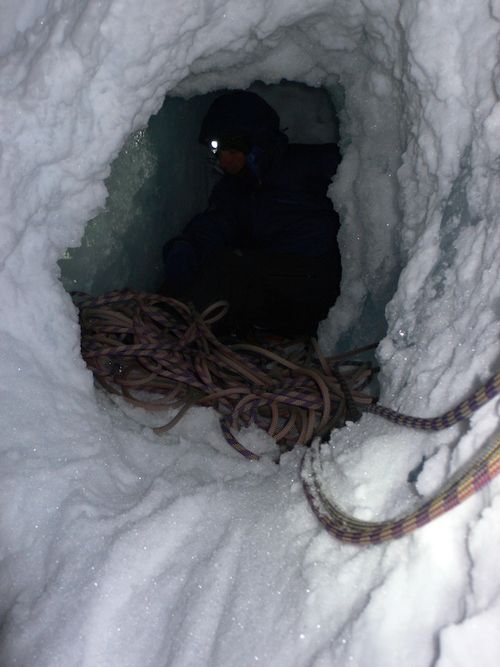 Colin Haley settling in for a night of lightweight shivering high on Cerro Torre, Patagonia. Photo: Kelly Cordes
Less weight means you climb faster, perhaps squeezing in a monster route before the always-short weather window closes. Sometimes it's just too cold, and you have to bring proper sleeping bags. But this adds weight, slows you down. Often our question is this: Can we survive without real bivy gear? Because if so, whether moving through darkness or sitting and shivering, you're going lighter, faster. But at what cost? No sleeping bags or ground pads means no sleep – no real sleep, anyway. Sometimes snoozing sleep, little naps, curled into a ball trying to relax enough to stave off the shivering on this side of hypothermia, to recuperate. Even just a little. If you were only comfortable enough to sleep on that shitty, rock-strewn ledge to begin with. Would it be worth it to go heavier, expending more energy and moving slower, thus dragging things out – or not – so you can recover better? On some routes you can climb through the night by headlamp. So long as fatigue from continuous climbing doesn't produce a mistake. Other times it's simply not reasonable, the route-finding too complex. So you try to decide before you leave the ground, and you live with the decision. Deal with it. Maybe it's not so much a matter of sleep or no sleep, comfort at the bivies versus comfort while climbing light, but a matter of whether you want it badly enough. Of desire, of toughness.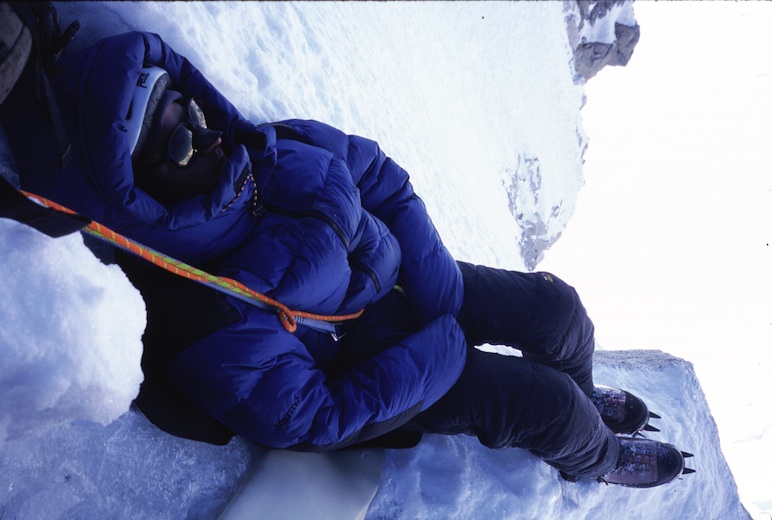 Scott DeCapio tries for sleep 3,000 feet up the North Buttress of Mt. Hunter, AK.
Photo: Kelly Cordes
No matter what, nightfall on a mountain always frightens me. I don't know why. It doesn't bother me at home. In the alpine – rugged, stark, stunning, cold – I fear the impending darkness like a child fears what's lurking beneath the bed. But once the sun finally disappears into blackness and the stars emerge so bright they almost take my breath away just looking at them, I surrender and a calm washes through me, and I gaze at the stars, infinite and illuminating space with such magnificence that my mind short circuits trying to comprehend it all. I always remember the nights.
And then, at some point, I start to shiver and fight in silence against the slow and sharp creep of cold. Only so we can get up and do it again.