Celebrating a Wedding with Patagonia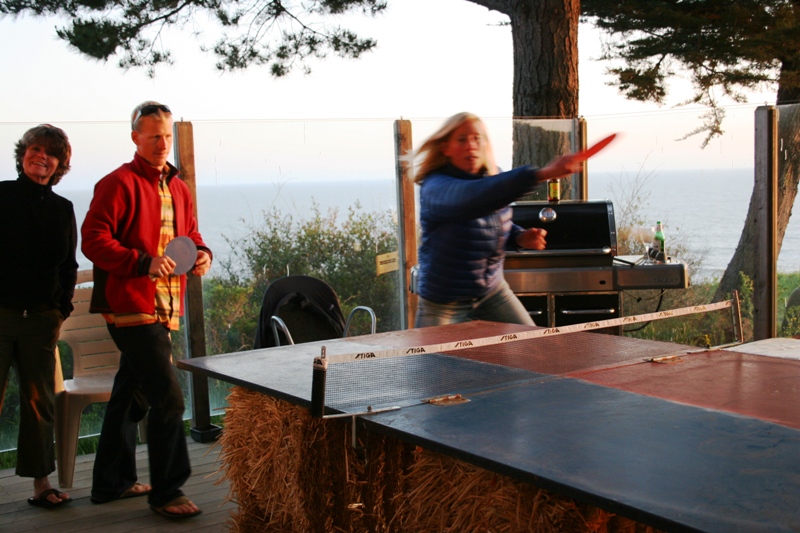 With Canada Day already happening on Tuesday (cheers Sonnie!) and Independence Day in full swing today, it's a great time to relax, share some tasty beverages with family and friends, maybe even play a few games of ping pong. Have a great holiday weekend everybody and thanks for visiting The Cleanest Line.
Update: Fixed incorrect date for Canada Day. Thanks Bradley!
Here's a sweet little story from Patagoniac Jane Lyon to get the good times started:
Greetings Cleanest Line! I am writing to tell you about a recent experience I had involving Patagonia clothing. My son Brad and his fiancé Becky were recently married. It was a small private wedding for the immediate families. There were 14 of us present for 4 days of festivities in the small surf village of Bolinas, CA. (about an hr. north of San Francisco) We all rented little bungalows high on a cliff overlooking the Pacific Ocean.
My partner and I hosted a celebratory BBQ the night before the wedding so we could all get to know each other and have some fun. Brad loaded some hay bales in the back of his truck and hauled them up to the deck of the house and proceeded to set up a makeshift ping pong table on top of them in the middle of the party. Everyone immediately joined in the competition. It was great fun.

As I reached for my camera to begin shooting the action it occurred to me that just about every single person was wearing a Patagonia product. Either a shirt, jacket, fleece or vest, the word Patagonia was clearly visible at every angle. I have attached some shots of the action. Clearly you can see the joy and happiness on everyone's face on the eve of this important event in our family. But you can also see the good taste we all have in clothing!What makes this so ironic is that the 2 families had never met before that weekend. And we all live in different regions of the country.

It was a perfect setting for a perfect wedding: ocean, sunset, family and outdoor fun, and of course plenty of Patagonia! Thanks for the great clothing and thanks for spanning generations and keeping families outfitted together!

Sincerely,
Jane Lyon
Thanks for writing in Jane. Congratulations to the bride and groom!
All photos byJane Lyon