From Shirt to Dirt: Thoughts on the Patagonia Design Philosophy
Miles Johnson, our senior creative director, oversees the work of all our designers in both technical and sportswear categories, as well as the product development and textile, graphics and color teams. We caught up with Miles recently at the picnic tables outside our child care center to ask him about his life and work and the role of environmentalism in the creative process at Patagonia.   
The road to Patagonia always seems to cross interesting terrain. Can you tell us a bit about your background and what drew you to the outdoors?
I grew up in Pattingham, a village near Wolverhampton in the English midlands. At the edge of our village I had many escape routes to the countryside. My siblings and I were close growing up, as we lived a few miles away from school friends and spent most of our time outdoors and around the surrounding farms.
My dad used to teach kids to ski and would take us each year, often for New Year's, to Alpbach, a town in the Austrian Tyrol. My favorite thing to do was to join a lot of other people for a ski down the mountain with flaming torches, to the enjoyment of the townspeople on the other side of the valley, who would watch us come down from the top like a snake.
I also love to travel with horses, carrying all our own equipment and provisions across mountain passes. My last trip was through the Tien-Shan range in Kyrgyzstan, close to China. For the next trip, I'm hoping to get up into the Carpathians in Transylvania, where you can study wolves with a couple who live up there.
And what drew you to design?
I originally wanted to be a painter like my grandfather. I went to the Bradford College of Art (where David Hockney studied). At one time Bradford had been a textile town that produced most of the U.K.'s woolen cloth. By the time I arrived, some of the old warehouses and mills had been turned into artist's studios and event spaces. Towards the end of my time there I realized that my main interest was in fabric and clothing design, so I wound up working for the BBC as an assistant costume designer on a production of Pride and Prejudice. We hand printed traditional cloth with vegetable pigments and worked on patterns to make historical clothing for the actors. It was fascinating to learn how clothes had been constructed 200 years ago, or why the pockets on miner's pants were placed where they were, or how something like the corset evolved. Years later I went back to school at St Martins College in London to study fashion and clothing design. It's odd because I love clothes but have never cared about fashion. But fashion schools are the only place you can study clothing.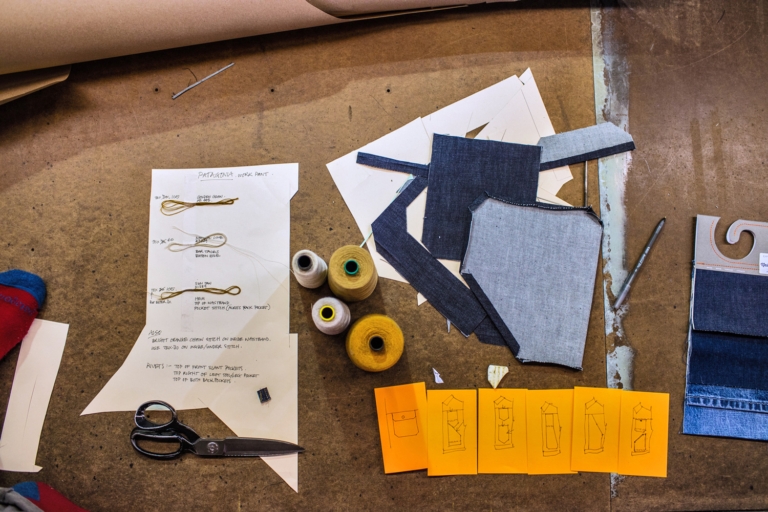 And from there you wound up at Levi's?
Yes, I worked as a creative director on their premium and vintage lines, then branched out from there. I worked at Levi's for 14 years before joining Patagonia over three years ago.
Can you tell us how Patagonia's environmentalism inspires you as a designer—and, in the opposite case, how our concern for our footprint might inhibit the creative process?
It's essential that the materials be right. It's wonderful to be positively involved in a thorough way with the development and improvement of materials to make sure they're made in the least harmful way.
But it is also restrictive to be so thoroughly involved with your fabrics. As a result, we work with a much smaller range of materials than most companies do. So if we have a problem, a shortage, a quality problem with the weaving or knitting or the dye, we can't just snatch or grab a substitute that might be lying around the factory and make an on-the-spot change. Nor can we change course as quickly as other companies; we have to be more thoughtful.
Quality testing is a huge part of our work. Sometimes it takes a full year longer than we would like to introduce a new fabric because it has to be right in the first place. We want to instill confidence in the customer.
Does this level of attention result in innovation and improved performance?
New fabrics have to pass a hard look through the lens of sustainability, and that can lead to gains in performance. But we have some heritage styles that perform very well and require no innovation, yet still use virgin polyester or nylon. That remains a challenge, to improve the environmental performance of these styles without sacrificing their other qualities, including durability.
We don't always make the mills happy when we ask for more sustainable fabrics. But they know we'll stick with a fabric longer than anyone else does, and that they'll eventually have a good market from new customers because we influence other brands.

We've spoken recently, around the tables at Patagonia, of going better than "causing no unnecessary harm" and actually doing positive good, helping to restore or regenerate ecosystems—to give back to nature more than we take from her. The focus of this effort is primarily through Patagonia Provisions and the food business, bringing degraded agricultural land back to health, reducing the need for water and even natural fertilizers, and creating the potential for ag land to draw down carbon from the atmosphere and get it back into the soil. Do you see any related potential in our clothing?
We see good regenerative potential in hemp, which can be grown with very little water and is its own fertilizer, pesticide and herbicide. It's very kind to the soil. Tencel® fiber, which we use in the women's line for its soft drape, is another interestingly sourced fabric, made from waste, scrap and natural ground wood pulp.
When you think about producing clothes, they'll be on the planet longer than we are, longer than our grandchildren will be. Eventually, clothes made of natural fibers should be compostable. At the end of a shirt's natural life, you stick your shirt in the ground and it makes your carrots more orange. The challenge is that every element of that shirt, from thread to button to interlining, has to be compostable, not just the base fabric.
Materials aren't the whole story; design and design details also shape the final product. How does Patagonia's design philosophy affect the process of you and your team?
Our design philosophy is restrictive, but, as with our environmental concerns, in a good way—the bias toward simplicity and utility helps keep us focused on intended use. It also makes Patagonia clothes identifiable; if you were to take the label off, you can still see it's ours. Other brands may adopt a clean look to their design, but subtle details still differentiate us: the placement of the chest seam out of the way of shoulder straps, whether on an alpine parka or fishing shirt; the way we block color, or use different fabric for the chest pocket.
The challenge is always to push ourselves outside our comfort zone, to try something new within the limits, or at the edge of the limits we set for ourselves. Our capsule collections, based on specific themes of all-recycled or all-reused materials, have helped with this.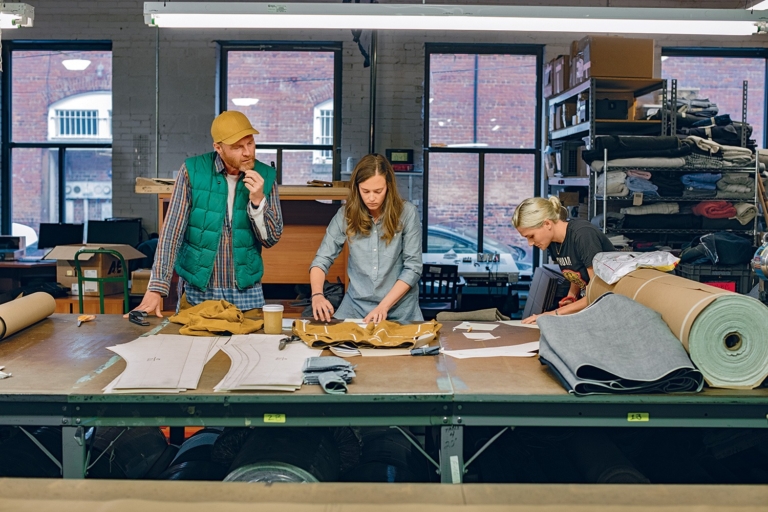 Can you speak a bit about how you work with your team?
When our designers work on a new style, I often ask to see two options: One that raises the bar—surprises, invigorates, inspires; a second version has only to be straightforward, to perfectly fulfill its intended purpose. Next, we'll ask the question, does it have to be one or the other? Are there elements of both that will create an original, exceptional product that's best in class?
Some of our best ideas now come from our archives, which holds many of the styles Patagonia has produced over the years. The collection offers us an amazing menu of ideas, perhaps not brilliantly executed the first time around, but still solid, something that can be made new and extraordinarily modern and forward-looking. That's the virtue of concentrating for so long not on fashion, but on timeless design and function.
What about the future?
We constantly work on technical innovations to improve performance. In the future, we should be able to make versatile clothing with a wider range of comfort. Imagine a jacket that keeps you comfortable in hot weather and offers sun protection, yet keeps you warm and dry when the weather changes. Extremely versatile clothing will require fewer resources and offer more to the user.
An abbreviated version of this story first appeared in the October 2017 Patagonia catalog.