A Gathering for Diversity, Equity and Inclusion with Teresa Baker
Back in November, a group of Patagonia employees and friends from around the country came together in Yosemite National Park to have some important and difficult conversations about diversity, equity and inclusion. The bottom line: We can, and should, be doing a lot more to actively engage with individuals and communities who are historically underrepresented in the outdoor community, the environmental movement and our own company.
While Patagonia has a history of championing gender equality, we also realize our own shortcomings when it comes to being more inclusive. We are working deliberately to create meaningful change by conversing with and listening to the communities we do not represent adequately. We know we'll make mistakes, and probably upset some people along the way, but our 40-plus years of building the best products while caring for the earth has taught us that doing the right thing takes time and practice.
Here are a few captures and quotes from the weekend. Through these conversations we saw that if we act together we can grow the number of advocates for the planet and increase equity and justice, not just within Patagonia but within the outdoor industry and the environmental movement at large. We look forward to sharing more as we put our words into action.
"This is a short glimpse of our time together in Yosemite where we gathered with folks from across the country who are working on diversity, equity and inclusion (DEI) to discuss what Patagonia can do to help move the conversation into action. We spent three days together, in service to the park and in meaningful conversation around efforts of DEI by Patagonia, a brand I felt could help lead the charge in the outdoor industry. We walked away with not only renewed hope, but new friendships and possibilities of future collaborations." —Teresa Baker, Founder of African American Nature and Parks Experience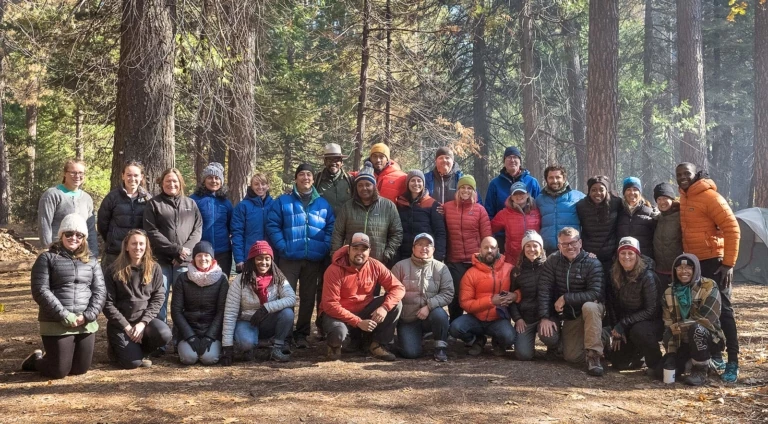 "At The Avarna Group, we always start with definitions. Without a collective understanding of what diversity, equity and inclusion mean, how they're different from each other and how they support one another, we might all be saying the same words but have a different understanding of what they all mean. Diversity means the differences between us, based on which we may experience disadvantages or encounter barriers. Inclusion is celebrating, valuing and amplifying perspectives, voices and values that have been disadvantaged and/or marginalized. Equity is an approach to ensuring that everyone has equal access to the same opportunities; it recognizes and addresses power dynamics." —Ava Holliday, Founding Partner of The Avarna Group

"Use business to inspire" is embedded in the center of our mission for a reason. If we only make change in our bubble at Patagonia, and don't inspire change for a greater good outside the company, then we have not lived up to the full extent of our reason for being. Not only do we need to make more progress on how we include and bring more historically underrepresented groups in to Patagonia, we need to do it in a way that broadens who we experience wild places with and builds a more representative community of stewards who will keep those places protected for the generations to come."  —Dean Carter, Patagonia Vice President of Human Resources and Shared Services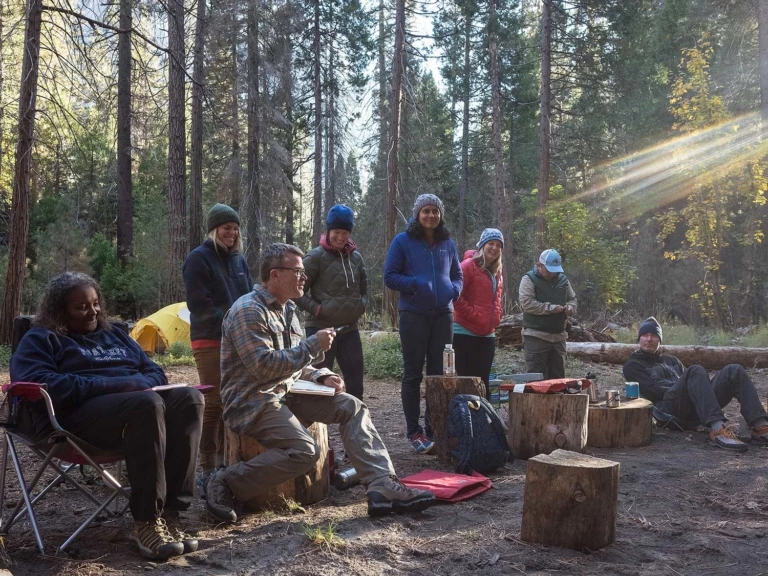 Kenji Haroutunian (Kenji Consults, Access Fund) and Len Necefer (Natives Outdoors) brought their unique urban and multicultural outdoor stories to Yosemite to share with the team from Patagonia. The retreat included difficult discussions about how First Nations people are treated like they're invisible, and the hard work that's necessary to actively recruit, retain and support people from diverse backgrounds in a globally relevant organization. Kenji and Len both had heartfelt and meaningful stories to tell from the perspectives of the outdoor industry and a community with centuries of experience in caring for wild places.
"Being new to the outdoor industry I knew that I needed to cultivate friendships and find mentors in order to be an effective advocate for indigenous people. I was so fortunate to have met Kenji Haroutunian at a panel at Outdoor Retailer in July. Little did I realize at the time that we would become close friends and share many of the same passions. The work that Kenji has done to increase diversity, equity and inclusion in the outdoor industry has allowed me to have a seat at the table." —Len Necefer

"I had the opportunity to get a true sense of who we are and what we stand for firsthand. To be perfectly candid, one of the first things I noticed when I stepped foot on campus was that no one looked like me. Even in the outdoor industry as a whole, I don't see much diversity or inclusivity. This retreat allowed me to meet some of the most incredible people who are often left out or are underrepresented in the outdoors. It reinforced the reasons why diversity and inclusion are so important. If we want to keep our public lands alive, it should be a priority that we represent and include everyone in the outdoors, especially as our country evolves. I am so thankful to Patagonia for allowing me to be a part of this experience." —Rahni Ragins, Ecommerce Project Manager at Patagonia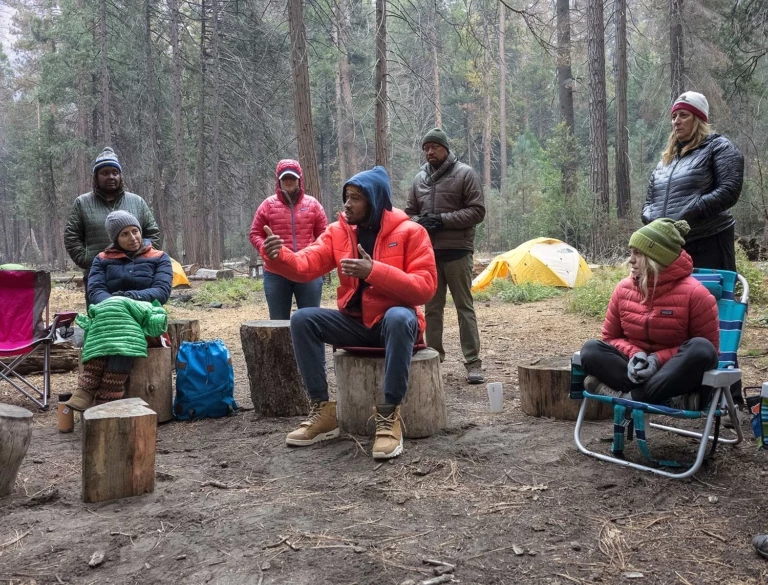 "Shelton Johnson is one of only two full-time African American National Park Service rangers in Yosemite, out of over 300 full-time park staff. His presence alone speaks to the need for greater diversity in our national park system. Shelton spoke about his experiences in both Yellowstone and Yosemite as an African American ranger and why it's important that people in the outdoor industry start to lend their voices to the work of DEI." —Teresa Baker

"Being on this journey to connect underrepresented youth and young adults to outdoor industry leaders like Patagonia, helps to create career opportunities in conservation organizations. Greening Youth Foundation was happy to play a role in connecting the pieces through this gathering." —Angelou Ezeilo, CEO and Founder of Greening Youth Foundation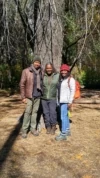 In the fall of 2011, NOLS brought together a group of nine inspiring role models from around the country to be the first team of African Americans to climb Denali, America's tallest peak. As Expedition Denali, this team of friends, leaders and champions for the environment set out to change the face of the mountain and the outdoors. During her time as director of diversity, equity and inclusion at NOLS, Aparna Rajagopal-Durbin led and nurtured this monumental project. Team members and friends, Scott Briscoe and Tyrhee Moore, travel around the country to this day sharing their stories with youth of color, inspiring them to climb their own Denali.

"This weekend represents one piece of the puzzle that will create lasting change at Patagonia and within the outdoor community. To integrate this work into the DNA of the company, every dedicated action by individuals needs to ladder up to an overarching goal. We came together to identify that goal, break it down into strategic components and learn from the leaders in this space." —Allison Rowe, Patagonia Retail Marketing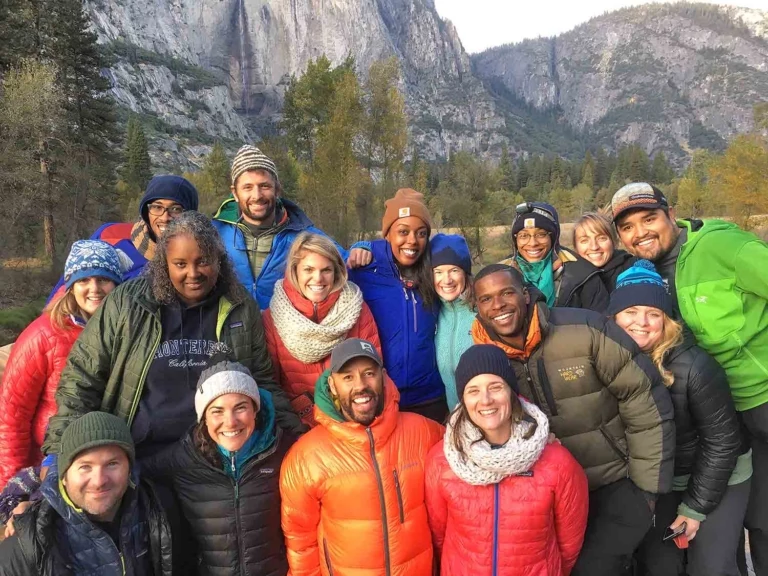 Big thanks to all of the attendees for their participation and help with this story: Allison Rowe, Dean Carter, Shannon Ellis, Corley Kenna, Sam Murch, Eugénie Frerichs, Cory Bayers, Lisa Hall, Liz O'Donnell, Brooks Scott, Justin Roth, Cheryl Endo, Alyssa Kessler, Rahni Ragins, Deanna Lloyd, Kenji Haroutunian, Scott Briscoe, Jordan Chatman, Angelou Ezeilo, Aparna Rajagopal-Durbin, Ava Holliday, Len Necefer, Cianna Walker, J.Chinedu Ezeilo, Teresa Baker,  Tyrhee Moore, Leah Evans and Whitney Conner Clapper.