Welcome Tommy Caldwell, Patagonia's Newest Climbing Ambassador
/
January 20, 2010
3 Min Read
/
Climbing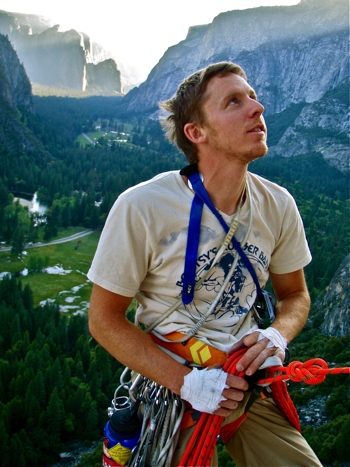 All of us at Patagonia are thrilled to welcome our newest climbing ambassador, Tommy Caldwell, to the family. And we at The Cleanest Line can't wait to share some of Tommy's stories with you in the coming days. Until then, check out the formal press release below and an extremely informal video after the jump.
TOMMY CALDWELL JOINS PATAGONIA'S AMBASSADOR TEAM

One of America's Most Adept All-Around Climbers Joins Patagonia as Climbing Ambassador

Ventura, CA – January 19, 2010.  Patagonia, Inc., the outdoor apparel company, announces today that American climber Tommy Caldwell has joined the company's impressive group of ambassadors. Tommy will work with Patagonia to help develop and hone the company's product line with an emphasis on functionality, durability, and minimal environmental impact. Tommy joins Steve House, Timmy O'Neill, Sonnie Trotter, Lynn Hill and other well-respected climbers in his move to Patagonia.

"We are so pumped to have Tommy joining our ambassador program," notes Kristo Torgersen, Patagonia's athlete liaison and grassroots marketer, "We have always held the greatest respect for his genuine and innately humble character in light of his unparalleled climbing accomplishments. It's refreshing."
Tommy, who is well known for his many first free-ascents on Yosemite's El Capitan, 5.15 sport climbs and V14 bouldering abilities, shares the company's ethos and philosophies – and has been a long-time fan of founder Yvon Chouinard. Notably, Chouinard made the first ascent of the Muir Wall in 1965; Tommy made the first free-ascent of the same route in 2002.

"In my eyes Patagonia has always been the role model. The benchmark. The company everyone looks up to," says Caldwell, "The company's genuine pursuit of environmental issues is a vision of what business can, and should, look like. Ever since my first days in Yosemite, Yvon has been one of my biggest heroes. I look forward to the opportunity to pursue adventures in the spirit of the Patagonia, and be part of a team of ambassadors that will push and inspire me. As a full time climber, I am honored and incredibly excited to be welcomed to the family."

"As arguably the most adept all-around rock climber in the world, Tommy will bring a mountain of experience and knowledge to the design and development of our technical climbing products," continues Kristo Torgersen, "His unwavering drive to push the limits of his own climbing, and in doing so the limits of the sport, is an inspiration to all of us here at Patagonia and something we look forward to sharing with our customers for years to come. This company was born from Yvon's desire to build the best equipment to accomplish the greatest climbs of his era, and although the products and technology have changed with time, the purpose remains the same, and we are eager to support Tommy in all of his future endeavors." 

CONTACT: Jen Rapp, Patagonia, Inc. (805) 667-4648  jen_rapp@patagonia.com
On a lighter note, fellow Patagonia ambassador Kelly Cordes may just be Tommy's biggest fan as evidenced in this video from Kelly's blog.
["Holiday Margs with Tommy" on YouTube. Video: Kelly Cordes]
Cheers Tommy!