Vote the Environment – On Tour With Jack Johnson

The Vote the Environment campaign is much more than a collection of ads and web pages asking you to think green this election year. We're doing everything we can to get out the vote, and to arm voters with the tools they need to make the environment a top issue. Toward this end, Patagonia sent a couple of employees out on tour with Jack Johnson this summer. What does this have to do with the environment and with voting? Elissa Loughman, of Patagonia's Environmental Dept. offers this answer: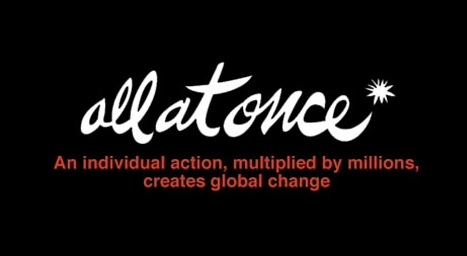 The Vote the Environment (VTE) was on the road with JackJohnson and his "All at OnceTour" this summer. Two Patagonia employees had the opportunity to travel with the tour to man the VTE booth and talk to concert-goers about the importance of registering to vote, getting informed and voting the environment on November 4th. I joined up with the tour on August 5th in Boston MA. We traveled across the US– through the Northeast, the South, the Midwest, the West andNorthwest—spreading the VTE message in 10 states and 15 cities. The last show of the tour was on August 31st at UCLA.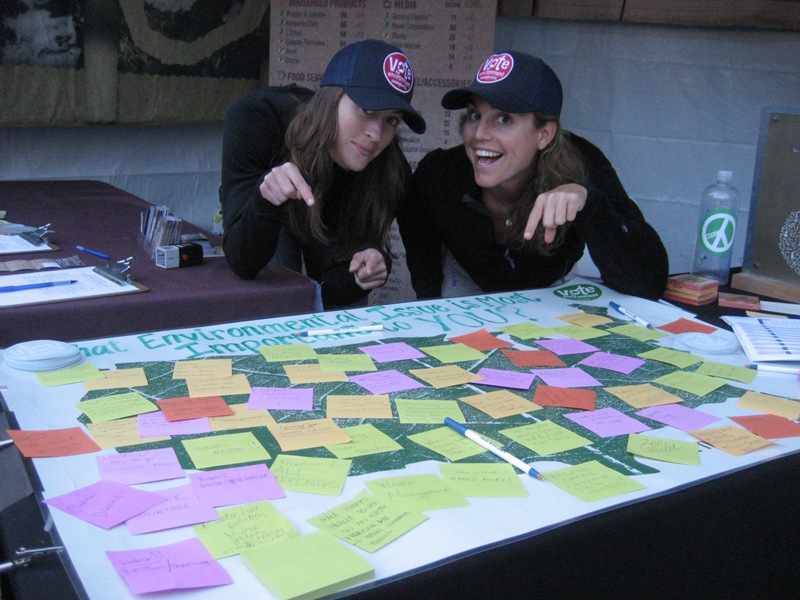 Since my return I have been asked countless times about the tour and the VTE campaign. To be honest, I have yet to come up with an answer that does justice to the experience. What I can say is that during those days on tour, two things stood out.
The ladies "man" the the Vote the Environment booth to much success during Jack Johnson's All At Once tour this summer. Photo: Elissa Loughman
One. Jack Johnson has created a community of people made up of friends and family that work with him, for him and around him. From whatI learned talking with the crew, most of the people on the tour have been part of Jack Johnson's music for a long time. He and his wife are truly good people and they surround themselves with good people. They are donating all the profits from the 2008 tour to the Johnson Ohana Charitable Foundation, which in turn supports the work of an array of outstanding non-profits.

Two. Patagonia has created quite a community as well.This became very apparent to me early on in the tour. It was the last day of the three-day All Points West Festival and there was an eclectic group of people running the VTE booth and educating concert goers about Patagonia's VTE campaign. In addition to our group though, several people came by the booth who either were currently working for Patagonia or had worked for Patagonia in the past. The feeling I had that day, surrounded by complete strangers all connected to Patagonia, confirmed the fact that the Patagonia tribe spans the US. This feeling remained with me through out the tour in the form of help from Patagonia employees at every show. It only solidified my feeling that the Patagonia community is a fantastic one.

These two communities were brought together because of a larger vision and a larger purpose. The Jack Johnson community and thePatagonia community have one very important thing in common: environmental responsibility is core to who we are and what we do. Both groups see everything through an environmental lens. We examine our environmental impacts and our options for for making improvements.

For this tour, the two communities teamed up with the hopes of creating positive change in this year's elections. Both communities feel awareness of the state of our environment needs to spread and that this issue needs to be at the top of individuals' lists of considerations when they go to the polls on November 4th.

Jack Johnson provided a venue for the three non-profit groups on the tour in an area called the "Village Green," a gathering area for these groups, and a host of local non-profit organizations, all focused on bettering their communities and local environments. Needless to say, this made the Jack Johnson tour very different than other concert tours. In addition to providing a venue for the sensational and local environmental non-profit groups at every show, Jack and crew demonstrated their awareness of the tour's impact. A concert tour can have a huge environmental footprint; Jack's was mitigated by encouraging recycling, using bio diesel, and sourcing local and organic food, etc. The focus was always to bring a positive impact to each town visited.

In a short video created to highlight the tour,Jack was asked how important hosting the concert's "Village Green" and the All At Once Community was to him. He replied"Music is a funny thing, you go out, bring all these people together, play music and after a while it just sort of feels like, 'What is everyone really getting together for?' You might as well be trying to focus that spotlight on something else."

He continued, stating that including the Village Green in the tour is what makes it all make sense to him. It is a similar situation for Patagonia.Patagonia is a successful outdoor apparel company, it does not have to run campaigns, give grant money away to environmental non-profit groups, send two employees on a music tour, or care if people vote. We could just make clothes.

Both Jack and Patagonia have a unique platform and have chosen to use those platforms for what they believe to be a good purpose.

Perhaps you're wondering if these efforts were successful. I think they were. There is no replacement for meaningful one-on-one conversations with people, and as just one person from among the host national non-profit employees involved in the tour, I know we had many.

Reactions from the public were definitely mixed, both positive and negative. Over half the people I spoke with automatically responded to my question of "Are you registered to vote?" with a quick "Of course." This made me feel good; the sense was that most of the people I spoke with thought registering to vote was an automatic thing all people did. Most people really supported the work of non-profits, and I received plenty of"thank you for doing this" comments from concert-goers. I definitely appreciated those thank you's, they gave me the feeling that people truly care.Jack Johnson attracts a fairly young crowd, and most of the future voters who approached our booth said they planned to register once they were old enough.

On the other hand, there were people who told us they weren't registered to vote and had no intention to register. These people truly bummed me out. Reasons for not registering typically included some combination of the following: they just didn't care, they didn't want to spend the time to register, didn't want to learn about the issues, or to vote. Though these folks were in the minority, such attitudes have a powerful impact.

Some numbers to help give an idea what we accomplished on the All At Once Tour this summer:

– Our VTE message reached over 4700 people directly.

– Surfrider Foundation received 6545 pledges to avoid using plastic bags and reusable drinking containers and 637 signatures on theirSave Trestles petition.

– Climate Counts collected 5895 signatures on their pledge to encourage Burger King and the Yum brands (KFC, Pizza Hut, and TacoBell) to make an effort to reduce their environmental impacts and put more effort into being an environmentally responsible company.

– Lastly, and most impressively, the HeadCount representatives and volunteers registered 7411 voters and collected 2546 pledges to vote.

Have there been other musicians or companies who've made similar efforts for causes important to them? No doubt. Will this idea of using unconventional platforms to educate the public on important issues spread? I hope so.
Bottom photos: Before and after – Concert-goers make their environmental concerns known to the VTE crew!