When we move through the forest in winter, we're often left wonderstruck by snow-shrouded trees bent and morphed from years of wear in silent solitude. Their depth of character becomes evident as we weave ourselves into their lives and ecosystems. But we often tell our stories and not theirs. Our new film Treeline follows skiers and snowboarders as they move through three extraordinary forest landscapes across Japan, British Columbia and Nevada, exploring the connection between humans and our oldest living companions. Below is an essay from Garrett Grove as he moves through Nevada's Great Basin National Park, connecting with the indigenous trees of the area. This essay is part four of a four part series.
From Los Angeles, we'd driven through Las Vegas and onto the loneliest stretch of highway in America toward Ely, Nevada. It was meant to be a trip spent skiing and shooting photos in the bristlecone pine forest high in the peaks of Nevada's Great Basin National Park. By the end of the eighth day, we would retreat sick, exhausted, empty-handed and a little spooked.
Filmmaker Jordan Manley and I had come from sea level and figured we must have altitude sickness the first day. The town of Ely sits at over 6,000 feet, and after we'd hiked to the summit of Mount Washington at 11,658 feet to find the bristlecones, we both felt terrible. We thought it was a moment of recalibration—adjusting to the harsh climate where the trees thrive. We skied down and turned in for a rotten night's sleep. The next day we were snowed out, and for our third day Carston Oliver joined us, fresh from a trip to India. Partway up that day's 5,000-foot ascent, he was violently ill, puking and shitting nonstop (very likely a dose of cholera, which a partner on his trip had already been diagnosed with). Jordan and I continued on to the bristlecones and stood quietly for a few hours, staring at the trees. It was cold. Windy. Rime covered everything.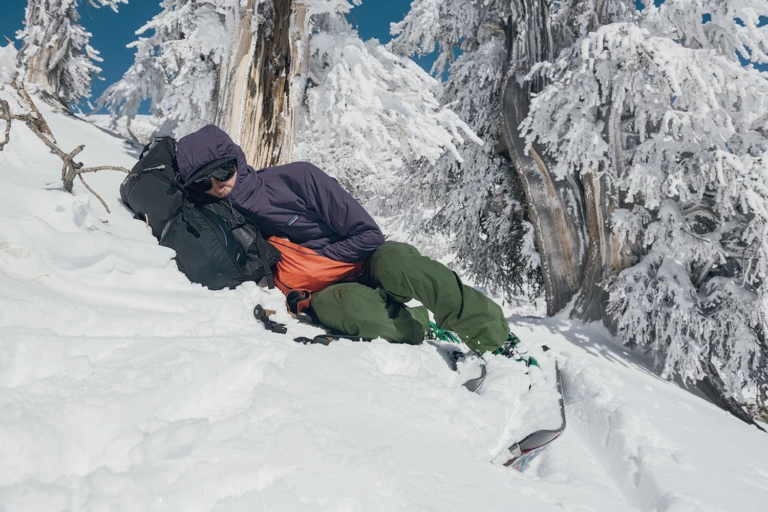 The bristlecone pines in that area are 1,000 to 3,000 years old, and it's eye-opening to think of all that has happened in their lifetimes. In just the last 150 years, they've patiently watched humans migrate into the valley below and start mining the very mountain they have sat upon for millennia. Within a few decades those mine shafts sat vacant, and now wind turbines populate the flat expanses of land that were once ignored.
In that grove, time changed, but I'm not sure if it sped up or slowed down. All I know is that we were in their place. The view from where we sat was of the valley bottom miles below, sparsely dotted with sage and juniper. Brown. Dry. Being up there with the bristlecones was like seeing from an enlightened being's point of view, removed from our society and its "knowledge" in an unaltered zone.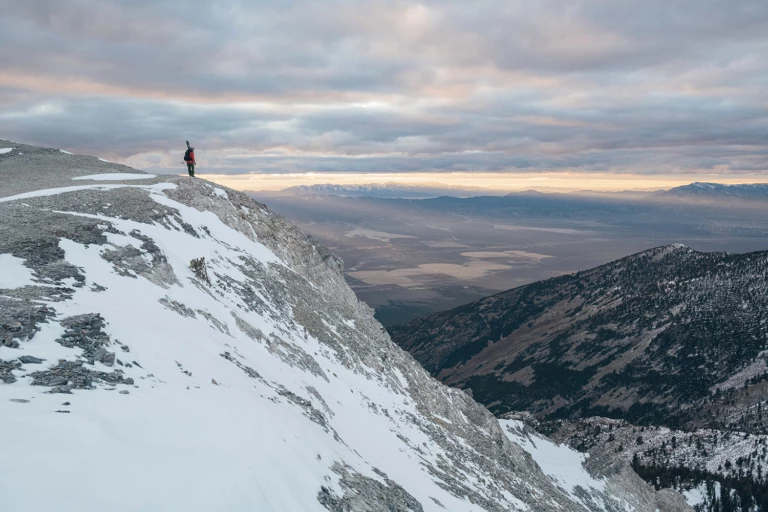 During those hours of waiting and staring, I wondered how many people have stood with these trees in the winter. It's not an easy place to get to in March—or anytime, for that matter. This forest exists in the middle of nowhere. How do the trees survive? There's no soil. It's all rock. What are they rooted in? How do they get their nutrients? They never have a good season—it's either extremely hot and dry, or brutally cold, snowy and windy.
Our small, beat-up team went through 12 packs of toilet paper in four days. Jordan and I had realized we probably didn't have altitude sickness, but rather food poisoning from one of the few restaurants open in Ely. Carston battled with the Indian malady day after day, lying in the snow, face white, lips blue. We all tried to rally, but it began to feel like we just weren't supposed to be there, like skiing shouldn't be shot there. A human, especially a skier, looks foreign in the bristlecone landscape anyway, and I didn't like feeling that we were pushing our own narrative on these trees. So we were done. In eight days there, I got one good ski shot.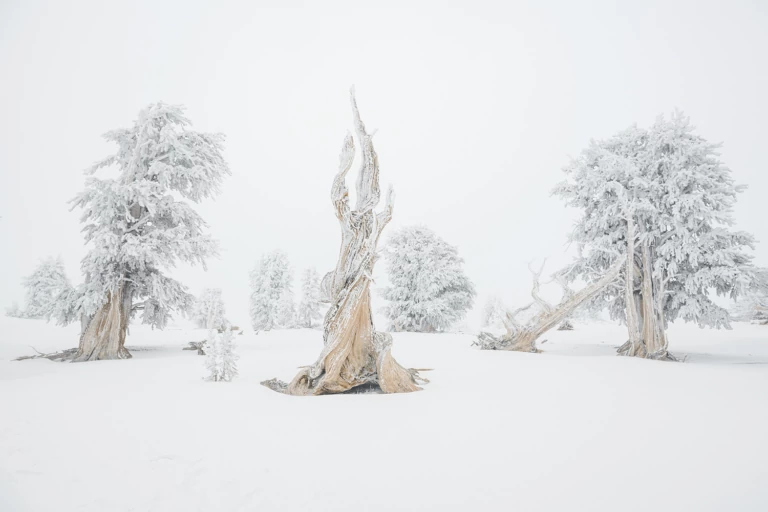 I'm not overtly spiritual. But I remember taking a photo of one bristlecone pine and instantly feeling pretty disturbed. Lying awake that night, I had the sense the trees were telling us to leave. Then I had a dream that echoed the same message. When I look at the photos now, I still have vivid memories of that dream. It's always superquiet, and just like in real life, there's nothing else there but the bristlecones. No shrubs or other trees. No wildlife. No skiers.
This essay was featured in the November 2018 Patagonia Catalog.