A Conversation with New Ambassador Josh Dirksen
greenewsurfer
/
August 8, 2011
/
5 Min Read
/
Snow
The Patagonia crew extends a hearty welcome to Josh Dirksen. Josh joins fellow snowboarders Ryland Bell, Forrest Shearer and Taro Tamai in our ambassador lineup. Josh is widely known as one of the great understated riders in the sport. With over 20 years snowboarding and a pro career spanning over a decade, Josh is one of the few athletes in the circuit who's been riding professionally longer than he can remember. We caught up with Josh recently in Europe, where he spends part of the year, the other parts being spent in the search for snow and surf. He can still be found in his long-time home base of Bend, Oregon a few months out of the year.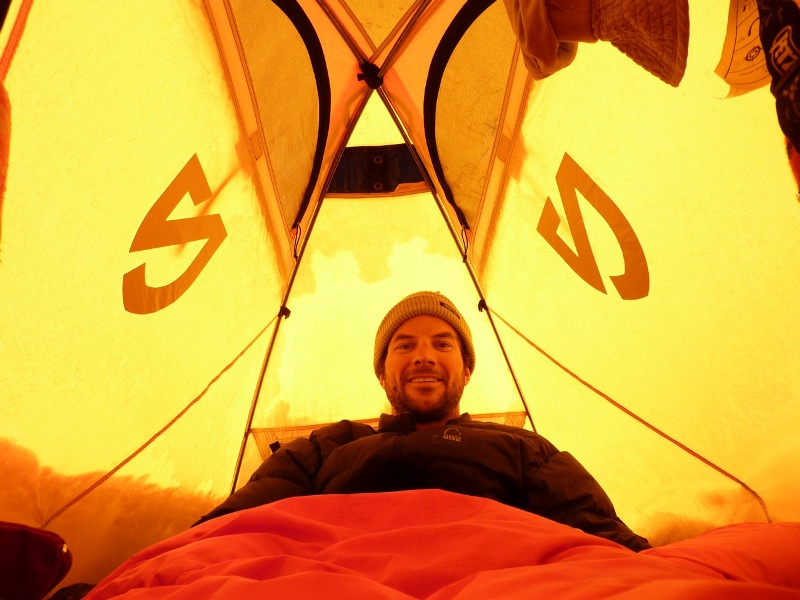 [Josh Dirksen, enjoying home-sweet-tent – his living quarters during 3 weeks of filming for Deeper in Alaska. All photos courtesy Josh Dirksen collection.]
TCL:  You have a home in Oregon, a wife in Switzerland and travel all over the world each year. Do you have a favorite place to come back to?
Josh: These days it does not really matter which place I head back to. It is more important who is around when I get there. I always look forward to seeing my wife, family, and friends wherever they are at.
TCL:  What's it like spending half your time in Switzerland and the other half in Bend, OR?
Josh: I would not say it is exactly half and half. I usually spend about 2-3 months a year at my home in Bend, Oregon, then the rest of the year is spent traveling around the world searching for good snow, uncrowded surf, or my lovely wife. At the moment, my wife lives in Switzerland, so I end up traveling there a lot. But every year ends up being a little different. The only thing that is consistent is that I never really stay in one place for very long.
TCL:  You've been doing design work with Salomon for years on boards built for powder riding, and also doing your own split board conversions. What have you learned from board designing and making splits?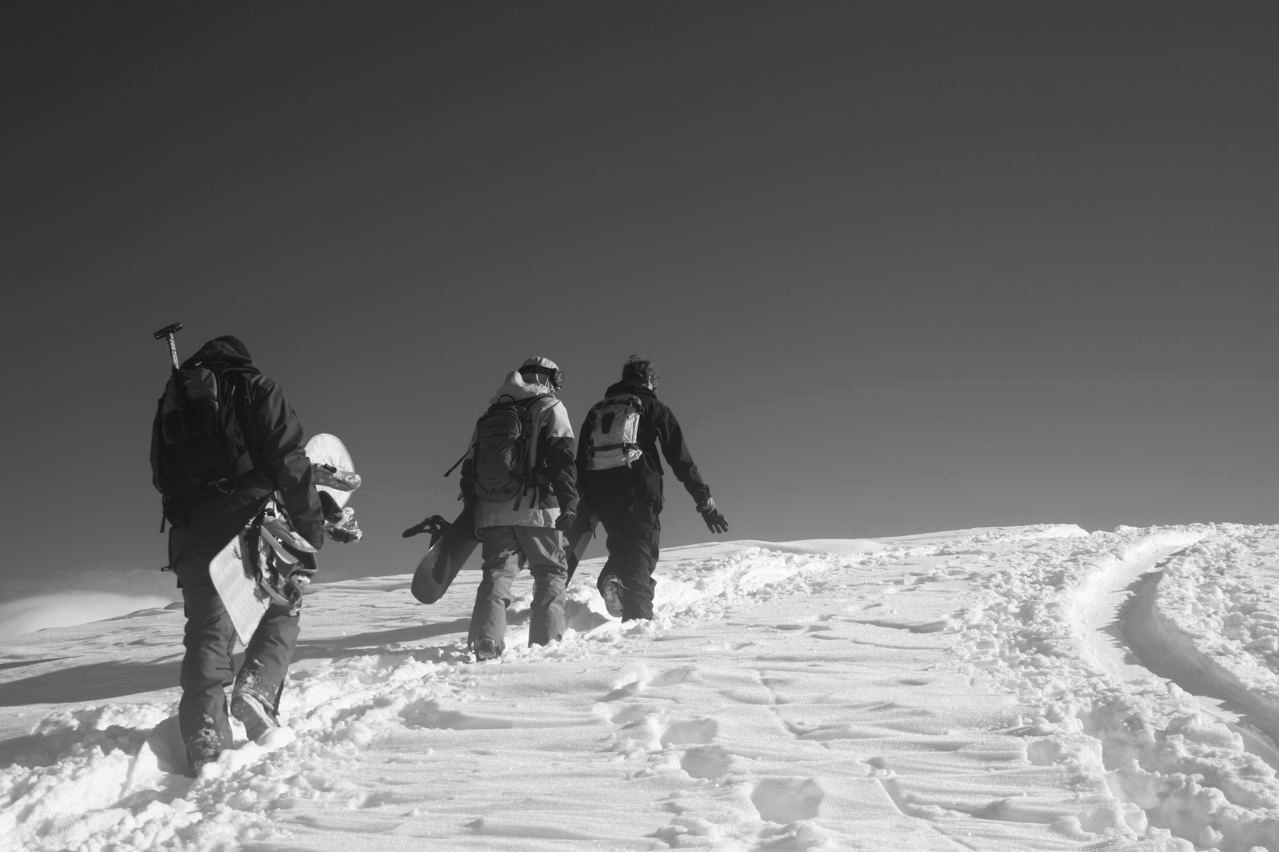 [Not always splitboarding, Josh D and friends hike The Arm at Mount Baker.]
JD: Over the years I have been able to design and test a lot of new ideas with Salomon snowboards. The greatest part about riding for them is having the opportunity to test so many new ideas and also to reconsider the old ideas. It gives me the chance to find the perfect board for specific terrain. Lately, I have been searching for the perfect board to make solid, consistent turns in deep untracked pow. Salomon has been quick to provide with the Sick Stick 166cm. As for the splitboard stuff, I just order up my normal boards a little bit stiffer so they are perfect flex when I chop them in half with a circular saw. 
TCL:  How has your long history of doing R&D for so many different manufacturers affected the way you look at clothes and gear?
Josh: After paying so much attention to the details and quality of products, I have noticed that I have become almost annoyingly picky. I sometimes wish that I could go back to the time I enjoyed snowboarding in a cotton sweatshirt and rubber pants and golashes, but I know better now. The correct products can make any day better.
TCL:  You've had magazine cover shots that ranged from busting record setting 1-footer airs to one of the first splitboard air shots. Does this represent a shift in your riding style over the years?
Josh: I have always tried to promote the things that I love the most in snowboarding. The magazine covers that I have had definitely represent the times that I was having a lot of fun riding.
TCL:  How did the terrain you were riding in Deeper affect your riding style?
Josh: When I started filming for Deeper, I think the biggest change was when I realized that falling is not usually a good option. In the past, filming video parts meant jumping, tricks and plenty of crashing. Some filming days would go better than others, but pretty much if you were not crashing, then you were not trying hard enough. After filming with Deeper, my style of riding has changed to be more cautious and calculated. The terrain we are able to access can have some serious consequences and I want to plan accordingly.
TCL:  You have talked about the new direction you've taken in recent years in other ways … from caring about the things that will make a better day to caring about the things that will make a better world. Did any experience(s) lead to that change?
Josh: I guess it was more than just one experience. I have always tried to stay open-minded in my beliefs and my views of the world. It is hard not to notice all the glaciers melting away, or the thousands of plastic water bottles piled up on the beaches in Indonesia. When I die, I just want to know I was paying attention and that I tried my best to fix the problems that presented themselves. 
TCL:  How did your home in Bend come to be known as Rancho Relaxo?
Josh: It has a lot of natural wood on the inside, which gave it that "Rancho" feel. And the "Relaxo" just came naturally. Every good house should have a name.
TCL:  How have changes in your riding influenced your clothing needs?
Josh: On our trip to Alaska last year for Deeper, we camped out on a glacier and splitboarded in the same set of snowboard clothes for over three weeks. After a trip like that you really start to notice and appreciate the differences in quality and construction of outdoor clothing. Patagonia was a brand that caught my attention.
TCL:  Why did you want to get involved with Patagonia?
Josh: I concluded that Patagonia made the best gear for splitboarding, which is my main focus these days. The wetsuits and surfboards were also very appealing.