The Sierra Snow Wolf: Snowboarder Nick Russell
Max Hammer
/
May 24, 2019
/
4 Min Read
/
Snow
On the west face of Mount Whitney, just off the summit of the highest peak in the lower 48, we had to traverse right. For us skiers it was no real issue, a bit of sidestepping and poling would do the trick. Yet, our group was comprised of both two sticks and singular planks, and traversing is often thought of as the standard reason for not using a snowboard in big mountains. At this critical juncture, would we see a separation in the group or perhaps the emergence of a dominant species? Enter Nick Russell, snowboard extraordinaire, who calmly and deftly pumped slalom turns ever so slightly up and across the hill for hundreds of feet, dodging rocks and cashing in on soft patches. In this fluid motion, he both navigated our group to the next hidden couloir and blew my mind as to how someone could be so connected to their tool. "Grace" is the word I'm looking for. Nick is pure grace on a snowboard and traveling through high peaks with him is a one-of-a-kind experience.
Snowboarding on the East Coast demands a take-it-or-leave-it attitude, and hailing from Connecticut, Nick took it every opportunity he could get. At Stratton Mountain School in Vermont, he learned how to ride halfpipes with the best of them, including his good friends and now pipe legends, Danny Davis and Kevin Pearce. Trapped inside the slick, 22-foot high walls of an East Coast superpipe, you have to earn it if you want to break free. Edge control, air awareness and flow from one transition to the next must be mastered—no easy task. Nick caught the bug of progression, and with his trademark enthusiasm, rode as much as humanly possible. To maximize his time in the pipe, it was most efficient to hike it. Now, watch Nick navigate a mountain from bottom to top to bottom again, and it's the very skills he honed back East that shine.
That day on Whit Whit (our energy deprived nickname for the beautiful peak) started two weeks earlier in Reno, Nevada, when our assembled crew loaded up on a fleet of bicycles and set forth on one hell of an adventure. When I asked Nick if he would be down to bike from Reno to Mount Whitney, riding peaks along the way, he said yes without any hesitation. Next, he stated that although he didn't currently own a bike, he could probably borrow one from his roommate. If it involves high alpine peaks, suffering and the potential for good snow, Nick is down to make it happen. On our bikepacking/peak-bagging/brain-grinding epic, he accidentally brought only one pair of socks, a small detail that could easily derail lesser humans. He did not complain once. As an adventure partner, Nick has an attitude that is as stout as they come. Team that up with his physical endurance, and you've got one hell of a mountain man.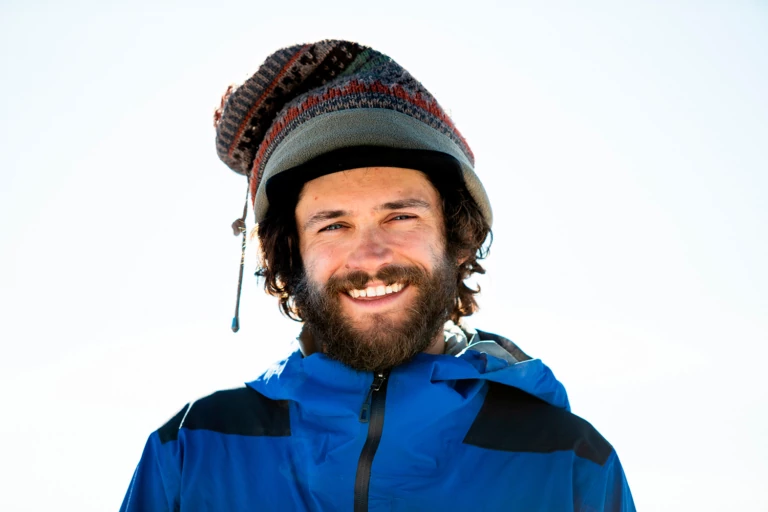 When most humans are slogging up an endless ascent, mind-numb and empty of lungs, Nick is out front freestyle rapping. Practically galloping uphill, he sets bootpacks with glee. He's always keen to go for another lap, even if that "lap" is 5,000 feet of vertical gain. On the Whit Whit trip, most of our crew was completely exhausted by the time we pedaled to snow line. Pushing to the summit meant really digging deep into a tank of fumes, searching for something to spark. I was quick to assume we would all be done after one glorious descent. Nick, per usual, would pick up the scent of another summit and begin tracking it uphill. We were left to either keep up, or watch the show. As we wrapped up our pedal-powered journey, perhaps the hardest stretch of physical endurance I have ever put forth, most of the crew spoke of sleeping for multiple weeks, only rising to feast. Nick, on the other hand, went home for one day, washed that pair of socks, repacked his gear and headed back for more, this time bringing halfpipe friends Danny and Kevin.
Nick told me that he had spent more nights that winter under the stars than in his bed—a winter in the Sierra with more than 800 inches of snowfall. I can imagine him in those massive storm systems, hunkered in a tent, cooking a veggie meal or perhaps working on his raps. After those storms plastered peaks and valleys with snow, he would calmly rise and reap the rewards, knowing he was in the right place at the right time—because he put himself there. This winter has been more of the same for Nick in the Sierra, plus he roamed into the Tetons during a wild February in Wyoming. Word from the locals there was that Nick devoured terrain in a way few had seen before, literally ticking off dream lines day after day for three weeks. In that short time, he accomplished what some take a lifetime to achieve. Where is he now? He's milking the end of another monster season out West, sleeping under the stars and adding more and more to his mental map of the infamous High Sierra, until the last snow is gone.