The Process and the Reward
Pete Geall
/
April 2, 2020
/
6 Min Read
/
Surfing
Greg Long, Al Mackinnon and Pete Geall's dusty search for uncrowded perfection at Location Redacted.
In the sun-dappled square, a bright sweep of bougain­villea creeps along whitewashed walls. A small fish market is bookended by hawkers peddling cheap plastic goods on the pavement. It's our first time in this unfamiliar port town, and Greg Long has decided he needs a haircut.
Our impromptu search for a barber brings us to an unmarked doorway, where we catch a glimpse of a wall-length mirror and a vintage barber chair with a hydraulic foot jack. Portuguese football (our soccer) is playing on a TV suspended in a corner of the tiny room. A weathered old gent is in residence, strumming mournful tunes by the back wall while nursing a small cerveza. Greg is clearly sold by the ambience on offer. He doesn't ask for a style, choosing to take a seat and put his trust in the process.
Later, with the haircut out of the way, we're only one boat journey and a 4×4 track away from a surf adventure that's been in the works for over a year—the result of detailed planning with photographer Al Mackinnon that provided us with much-needed motivation through the dark winter months at our homes in England.
The trip hinged on the potential we'd seen in photos taken unwittingly by a group of German hikers and posted online. Our eyes had been drawn behind the beaming smiles in their holiday snaps to a stacked lineup of overhead righthanders in the background, peeling along a basalt reef in the lee of an extinct volcano. The celebratory culmination of their personal journeys at this western terminus of land had provided the unintentional inspiration for our own.
After arriving by sea the following day, with Greg's newly shorn locks flowing freely in the breeze, our journey takes an upward trajectory. Climbing away from the wharf on a series of switchbacks in our hired 4×4 truck, we make out the boat that brought us here as it re-enters the wind-torn channel.
"The drawbridge has been raised," Al quips with a wry smile.
The low-gear crawl continues for a couple of hours until we reach a plateau. In the distance, a small village huddles in a narrow gully. It has an air of familiarity about it, the view merging into memories of the photos I'd seen and the research we'd conducted. A strip of green vegetation spills down the thin, vertiginous valley below us, the presence of fresh water facilitating life on this remote slice of otherwise barren coastline.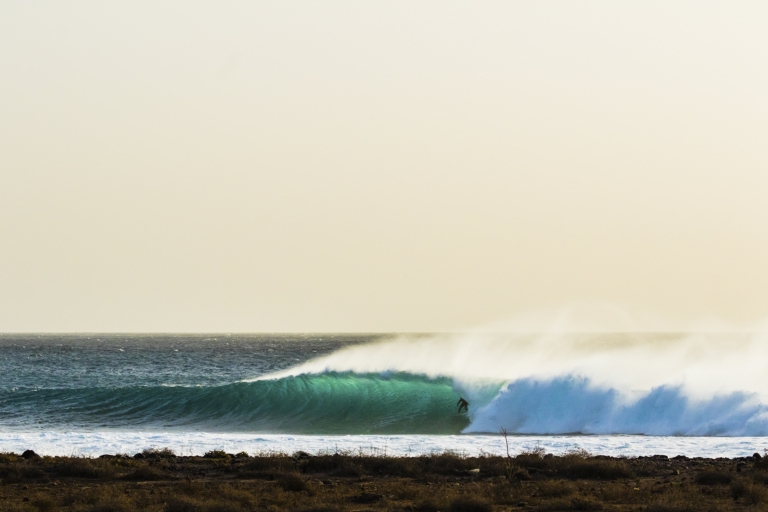 Laden with surfboards and a fallen tree we appropriated for firewood, our truck turns the heads of a clutch of workers breaking rocks at the end of the graded road. We discover that the austere landscape beyond is peppered with football-sized cinder blocks—rendering the final stretch (almost two miles) out to the point unnavigable by our vehicle—and start a slow process of hiking our supplies and surf equipment to our intended campground. Under the tropical sun, each item becomes imbued with value relative to the effort required to transport it by foot—a distillation of all that's unnecessary, with water elevated to a status above all else.
After the trek in, we set up a camp that consists of two tents and a tarp we splay over a thorn bush and weigh down with chunks of rock. A handful of inquisitive goats comes to join us before turning away in disdain at our pointlessness. As we survey the shoreline that will be our temporary home, I'm surprised by the narrowness of the intertidal zone, flecked by an array of plastic waste. In varying states of decomposition, flip-flops of every color line the zone—man's contribution to the landscape—an almost comedic spread of toxic footwear laid to rest like shoes outside a porch.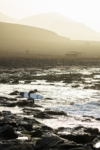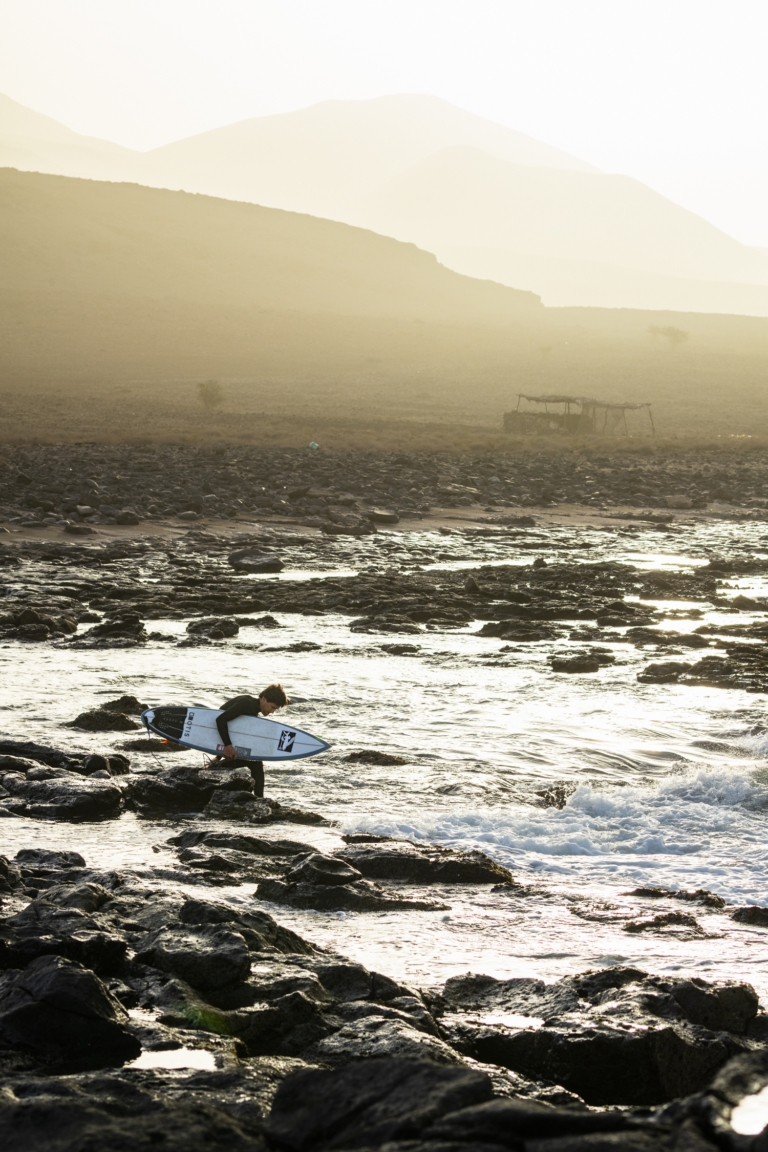 Overnight, the forecasted swell arrives. The rumble of large waves traveling down the point reaches a crescendo as they meet the dawn at the beach we plan to paddle from. The swell approaches the point at a 45-degree angle, causing whitewater to surge from each trough with what seems like a marauding anger. The reef is jet black, the water inky. I feel an upwelling of nervous energy, but Greg is a model of calm as we wait for a break in the sets before broaching the sizable shorebreak.
"I'm nervous, Greg," I sheepishly admit.
"I know," he replies, before looking me in the eye and suggesting that I "paddle, now!"
For the next week, we surf, eat and sleep, occasionally getting speared by urchins along the way. Our concept of time reduces to a primitive sundial as we move our gear around the shade cast by our increasingly ragged tarp, torn by the wicked wind and thorns. From the elevated vista afforded by the volcano, Al is able to shoot the kind of stacked lineup shots that are irresistible to surfers around the world. The surfing highlights occur in brief and seemingly random interludes from the relentless wind, with the best waves breaking not at the top of the point but an unexpected hip in the reef farther down.
In the downtimes, we huddle tight out of the harsh sun, reflecting on the elemental brutality of this place—as if each of its constituent parts has been reduced to their sharpest, windiest and hardest forms. Beyond the immediate challenges, we discuss problems far distant from our small wafer of shelter with a renewed clarity.
For the three of us, this trip is a meeting of like minds, intertwined with the smell of goat shit and superheated tarpaulin. We all have a shared passion for surfing, but deeper still, a shared philosophical approach—our desire to document and tell stories but purposefully leave some stones unturned. It's a nod to the search and presence of secrets. In this globalized world, where so much is geotagged and available for immediate consumption, we believe the treasures that exist beyond maps and search engines are often the most rewarding.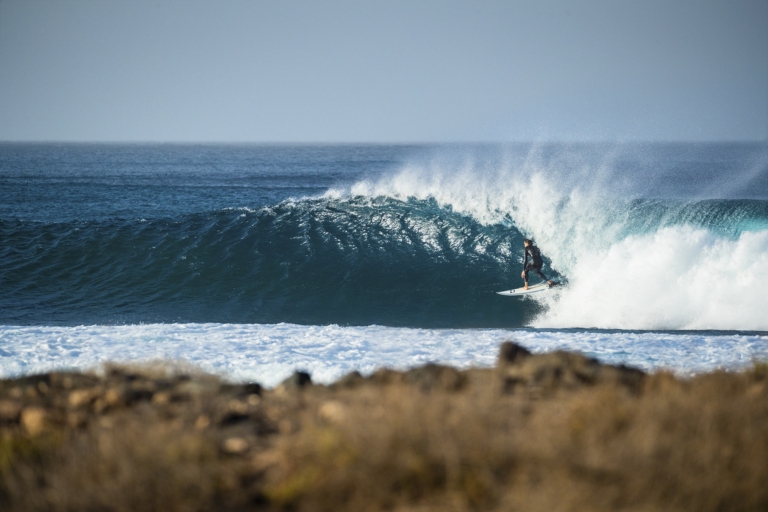 Some, of course, will dig deep like we did, embracing the full spectrum of technology to uncover this spot and its physical bearings. We're not revisionists—this is a wave that's been surfed before and will be surfed again—nor do we have a desire to stake our claim as surf imperialists, hyping a destination and denying the local community the potential benefits of responsible tourism as they develop it at their own desired rate.
However, if you're prepared to trust in our process, even temporarily, you might find what surfing still can be. Something distant, beyond the humdrum of daily life, where new horizons and sea monsters abound. An adventurous spirit soaring high above the trade winds, the waves ridden merely a way to explore beyond our skyline. And through it all, the incomparable reward of a simple camp meal and conversation shared at the end of another day spent surfing at the end of the world—a feeling as fine as a bee's wing.