Stepping from Sand to Pavement – San Sebastián Surfilm Festibal 2014
Tom Doidge-Harrison
/
July 9, 2014
/
6 Min Read
/
Surfing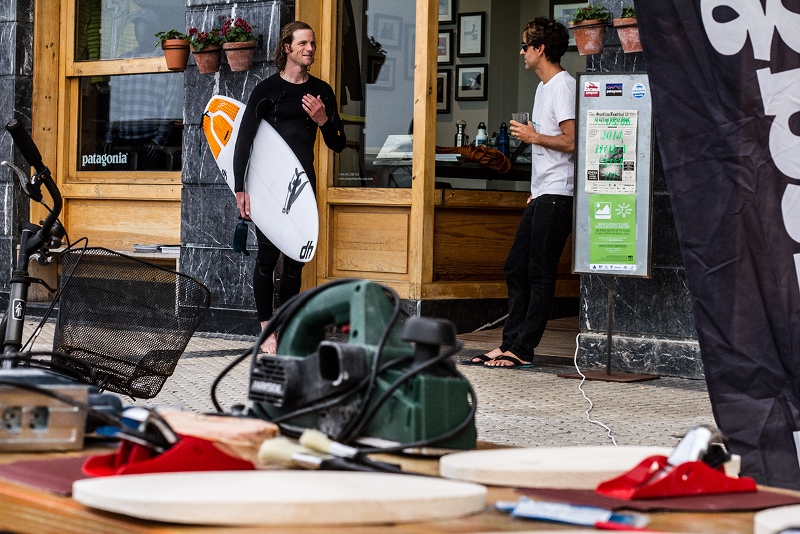 Travel in all its various guises is at the heart of surfing, so it was appropriate that there was a little of it involved for most of the people—Patagonia or otherwise—at this year's Surfilm Festibal in San Sebastián, Spain.
They say that change is good and that exploring new places nourishes the soul, but Nora, my three-year-old daughter wasn't letting on if it did. Changing time zones with a small child is a test of a parent's reserves of patience. From her perspective, though, once we were in country and with day time operations revolving around Patagonia's San Sebastián surf store—a casual glance away from the acres of white sand that make up La Playa de Zuriola—she'd died and gone to bucket and spade excavation heaven. Happy child, happy parents, happy days.
City beaches are amazing things and I've never really gotten used to them. San Sebastián has two, although from a surfer's perspective, only one of them really counts. It also clearly counts for the ten thousand odd people that flocked to its softly sloping sands and cooling mid-morning sea breezes each day—Ipanema without the highrise, or the close-outs for that matter. A mere glimpse of the old familiar solitude was possible, even in this metropolis.
There was a small pulse in the interval during our stay and I levered myself out of the bed at 6 a.m. in the half-light and crept to the seawall. Not a soul in the water, just a single prospector leashing up on the sand and head-high lefts running fast and crisp into the rip at the east end of the beach. One was all I needed, which was lucky because each minute brought another head to the line-up. It is odd how both extreme solitude and the opposite, found here, can make you feel a little lost. Lost in space or lost in numbers—or maybe the opposite, depending on how your day is going.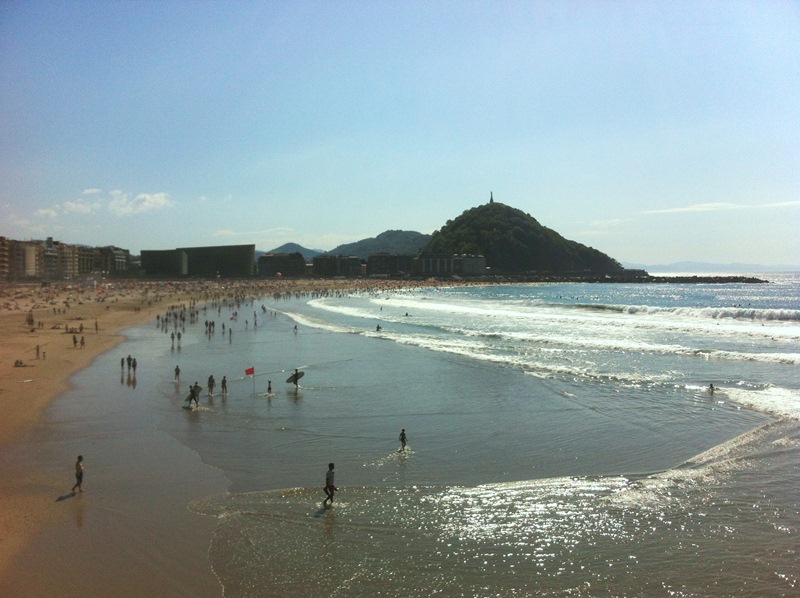 Zuriola, looking west. Photo: Tom Doidge-Harrison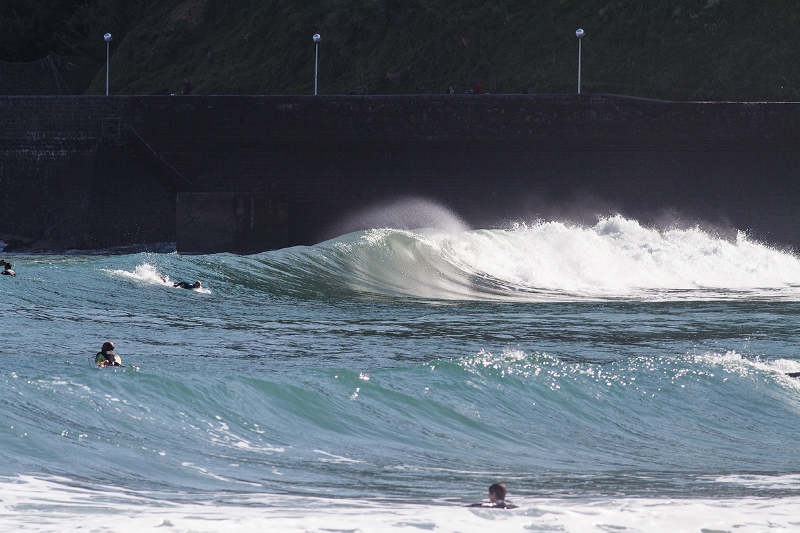 Zuriola, looking east. Photo: Mat. Turries / www.nordicsurfersmag.se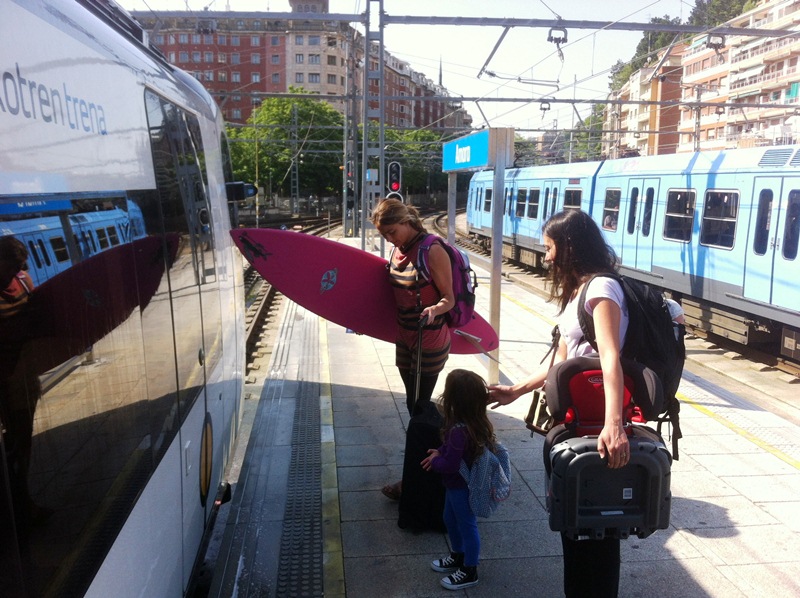 Headed home with Léa Brassy. Photo: Tom Doidge-Harrison
Something to make you feel found, though, are familiar smiling faces and one of the real pleasures of making it down to the Basque Country was, for me, in the spreading of social wings. As a Patagonia ambassador living in Ireland I sometimes feel that I operate in some form of a vacuum. So it was a joy to meet some of the other faces that peer out from the website.
Léa Brassy appeared from the fog of bodies in the arrivals hall at Biarritz airport and packed us into her perfect little camper van. Casually getting to know each other as we buzzed south for the border, we realised we had unknowingly spent a summer surfing the same waves 13 years before in what is now my hometown. Somehow it didn't feel that surprising!
Like us, Patch Wilson descended from the north, Kepa Acero from a couple of headlands along the coast. But the real miles were put in by Otto Flores whose Caribbean homeland lies well beyond the horizon. Other key players hopped down from the Alps and a handful crossed a continent and an ocean. A warm gathering of familiar names, if less than familiar faces, mixed and expertly blended by locals Arantxa, Gaizka and Sancho in a pool of old city streets, pinchos and Atlantic 'olitas.'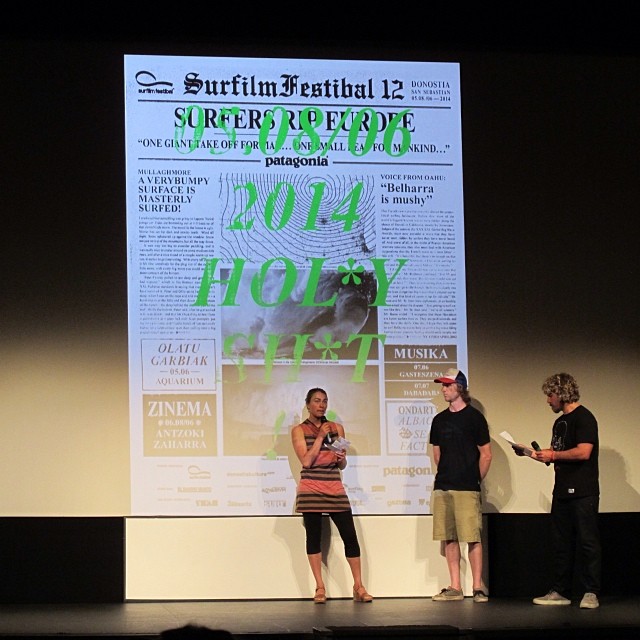 Léa Brassy introduces her film Catch It. Photo: @simplevoyage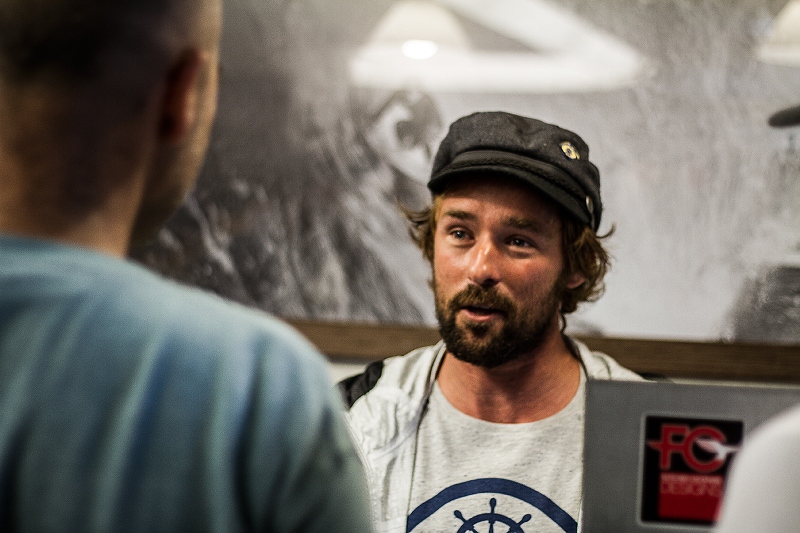 Kepa Acero. Photo: Mat. Turries / www.nordicsurfersmag.se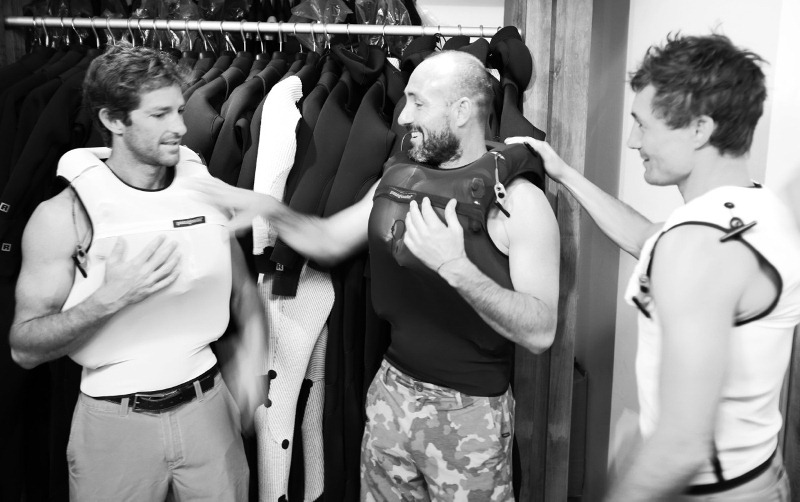 Alain Riou, Laurent Pujol and Patch Wilson during a training session for Patagonia's PSI Vest. Photo: ©Gonzalo Terreros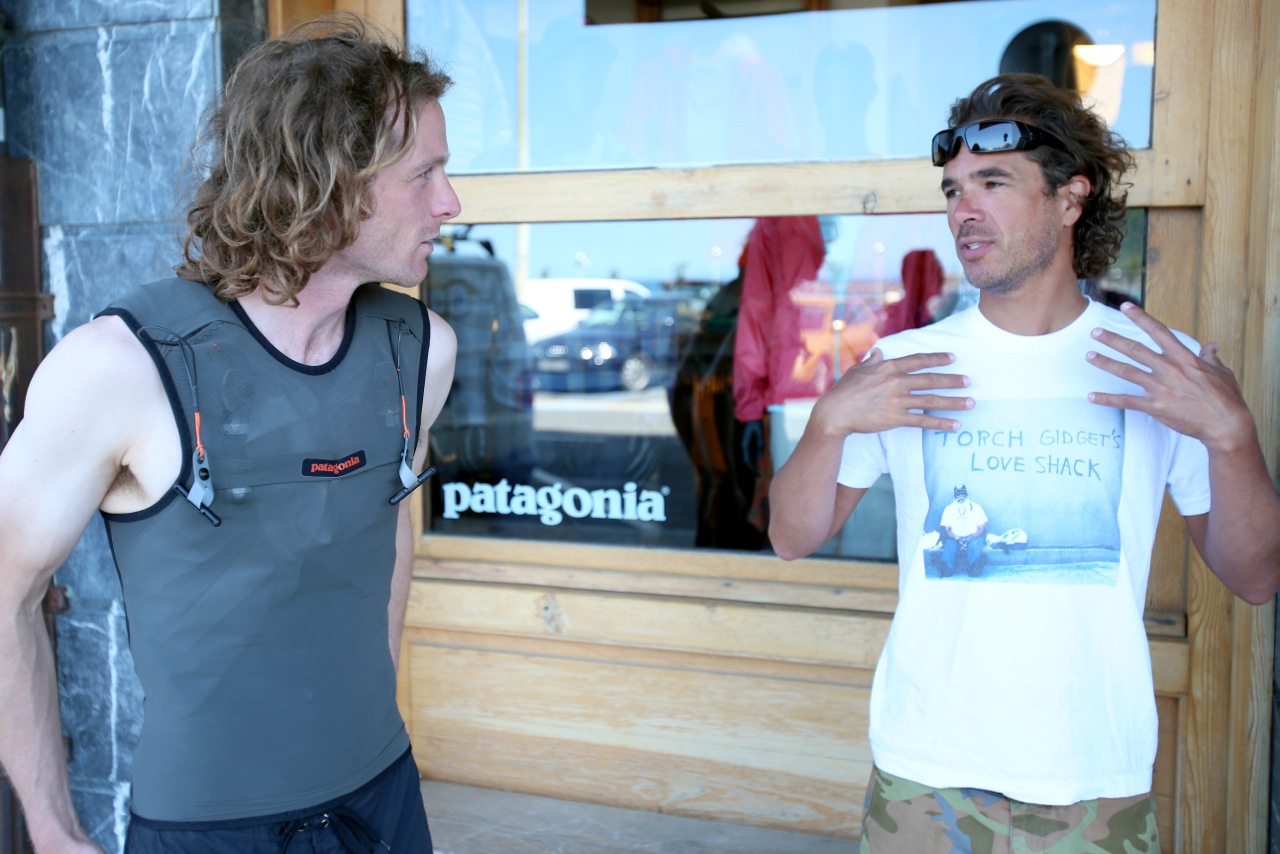 Tom Doidge-Harrison and Patagonia's global surf director Jason McCaffrey talk about the PSI Vest. Photo: ©Gonzalo Terreros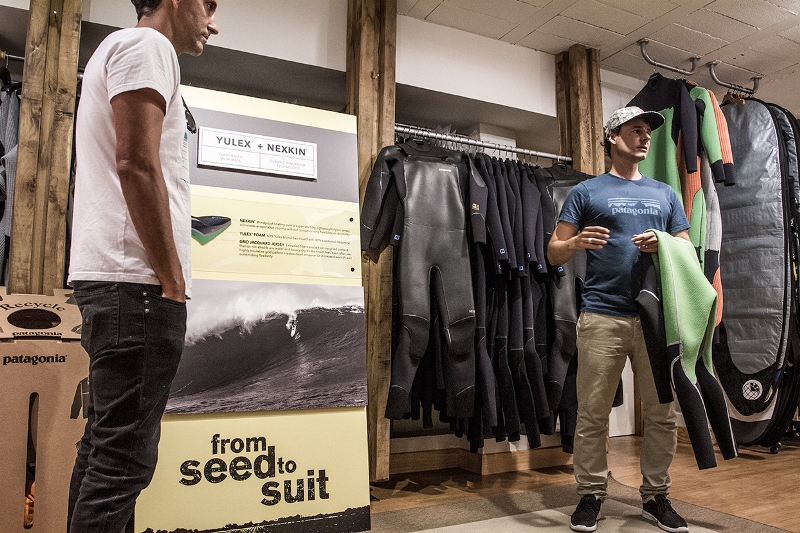 Presentation for Patagonia's new Yulex Wetsuits that are made from plant-based materials. Photo: Mat. Turries / www.nordicsurfersmag.se
With all that going on, it was sometimes easy to forget what the main event really was: surfing and the issues surrounding it, on film, in the delicious velvety cool of a gracefully aging auditorium. From soft focus, close cropped, slow motion grace, to high energy mountains of water. Arctic to Equator. Novice to expert. Indignant to indulgent. The full spectrum laid out for all comers—a veritable marathon of input, yet to be distilled.
Being no expert at or on this stream of documentary, I had to revert to instinct and braille my way through. And, amusingly, where worlds collide there is often the odd spark, not in a bad way, just gentle reminders that we were stepping from the sand to the pavement. A polite gesture from the manicured host to the salty visitor indicating that steps are for stepping on, not sitting on! And damn, these people look clean. I wish I'd remembered to get those new shoes before coming down here…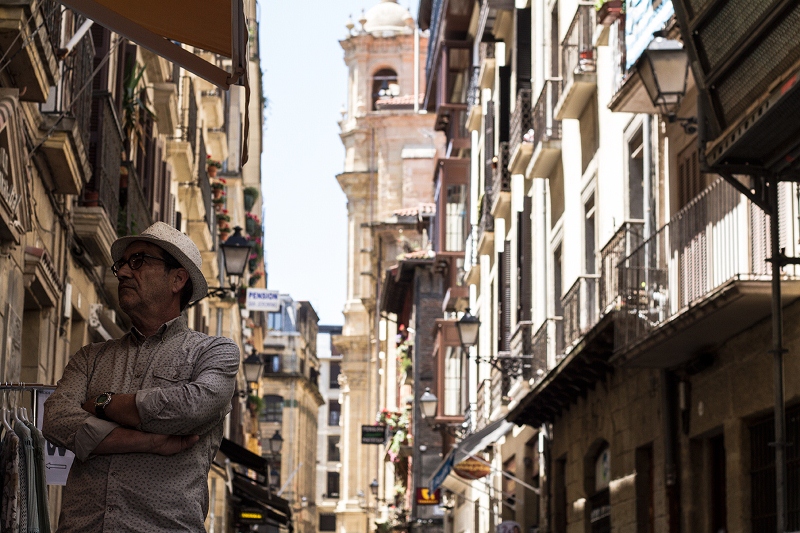 San Sebastián street view. Photo: Mat. Turries / www.nordicsurfersmag.se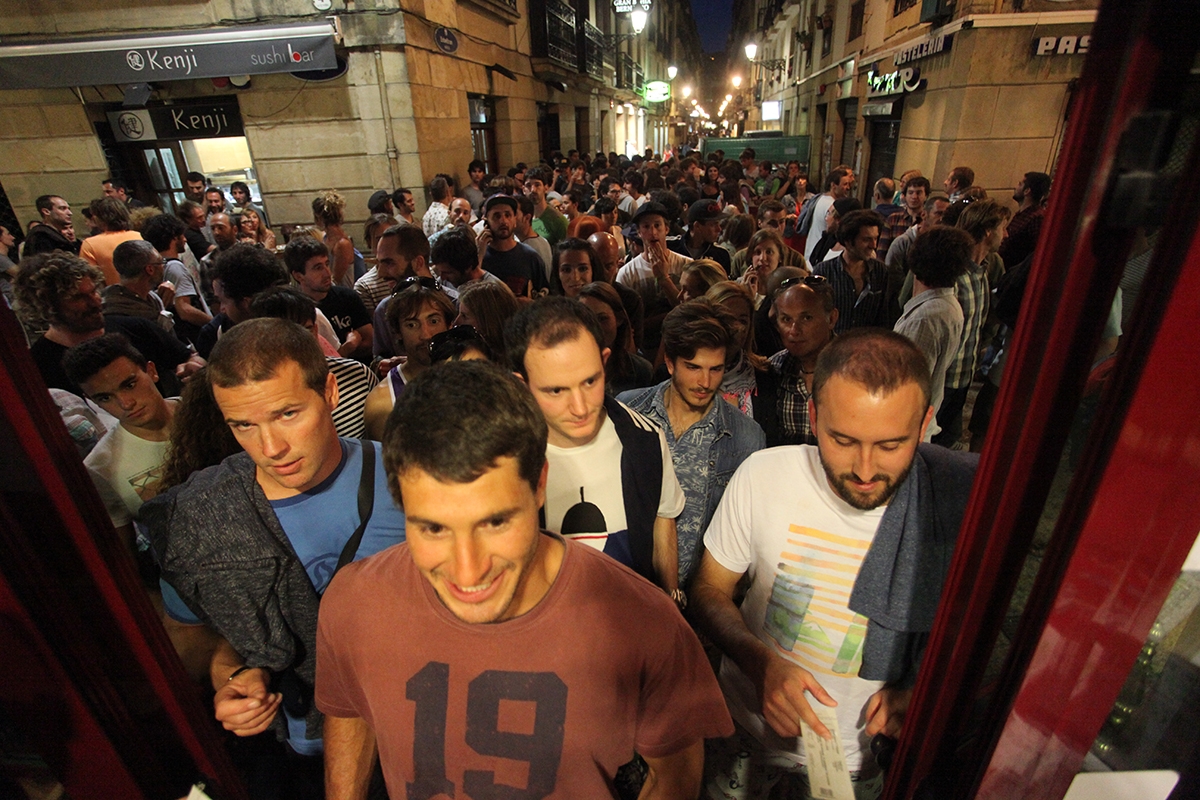 Crowd waits to enter the theater. Photo: ©Marc Gassó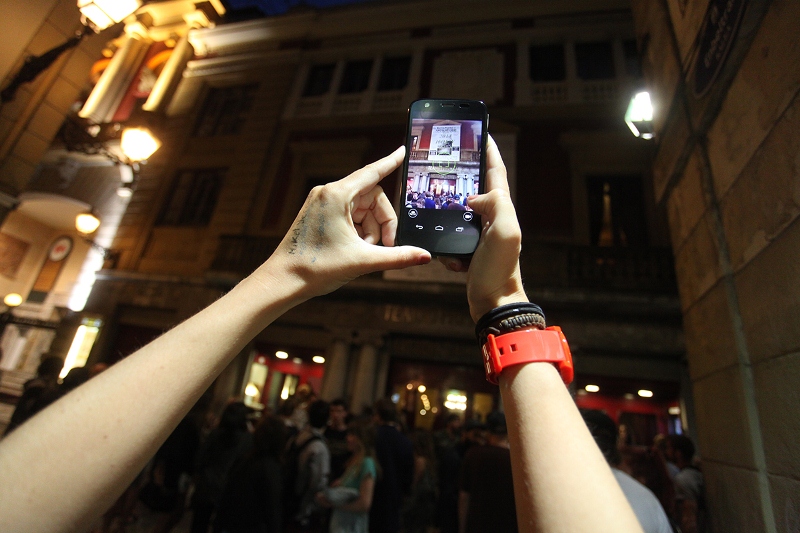 Photo: ©Marc Gassó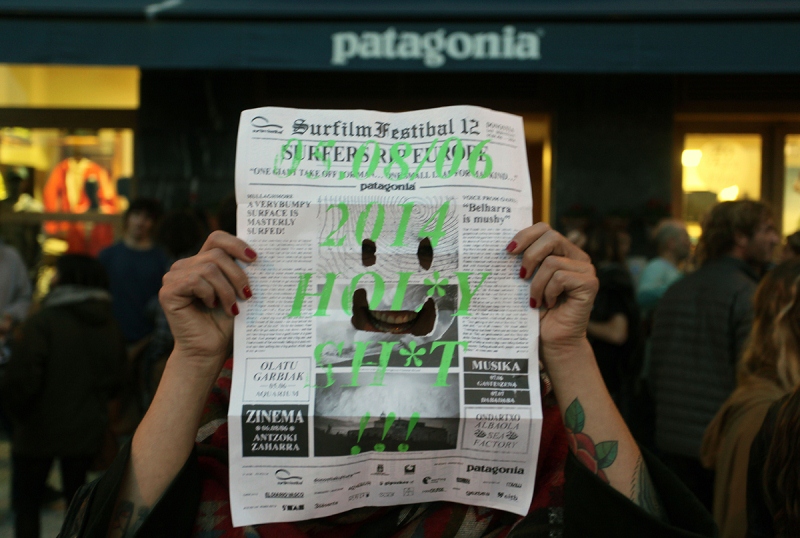 Photo: ©Marc Gassó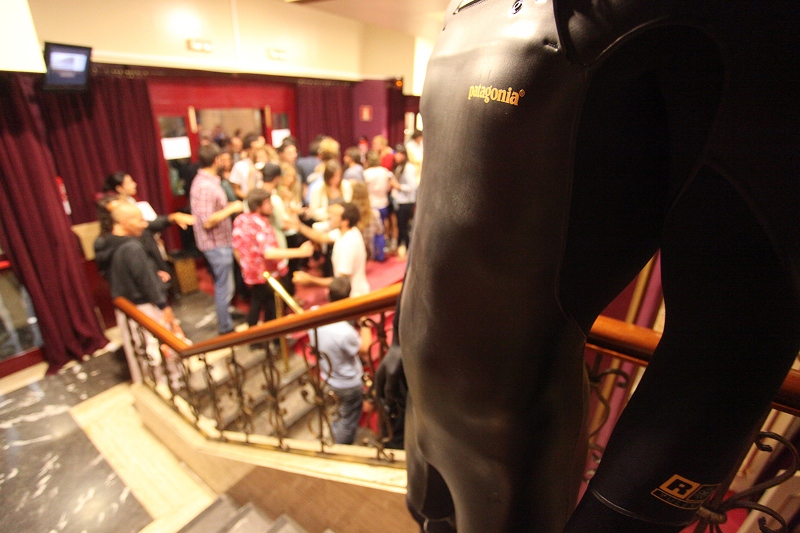 Yulex wetsuit display inside the theater. Photo: ©Marc Gassó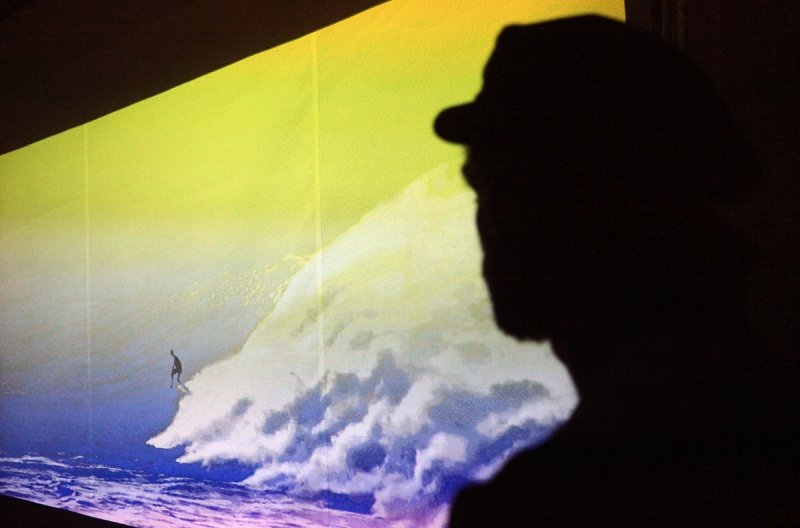 Kepa Acero looks on. Photo: ©Marc Gassó 

Fesitval trailer video from Surfilmfestibal


Festival recap video from NORDICSURFERSMAG.SE


Kepa Acero's film My Best Surf Session Ever was shown at the festival.

Thundercloud from onepalmMEDIA was another film shown at the festival.
That's it. That's why it is fun to get away. To look, listen and maybe learn. Absorb by osmosis and come away with a little more than you left home with. To be inspired, even if it is by something as simple as the wet footprints left by a surfer padding home on the still warm flagstones of a city street well after sunset.
Big thanks to Gabe and Lauren Davies and the rest of the Patagonia boys and girls for making a great event a memorable one.