Product Testing: Capilene Comparison
/
March 23, 2007
3 Min Read
/
Design
We test our gear on a variety of levels. Our athletes and ambassadors are responsible for putting the latest designs and fabrics through the paces before we'll add a new product to our lineup. But just because something reaches our shelves doesn't mean testing is over. Once a new item shows up in our catalogs, our Customer Service staff gets busy ground-truthing the latest offerings. They know the questions our customers will be asking, and turn that attention to our gear.
___________________________________________________________________
Product Report – Capilene® and new Gladiodor™ technology
3/9/07
Spelunking in Moaning Cavern, Vallecito, CA
Tested by: Michelle, Patagonia Mail Order Customer Service
My husband and I took a guided spelunking tour at Moaning Cavern, CAwhich required a 180-foot rappel down into the main chamber of thecavern. The cavern is mostly vertical, with tons of little nooks and rooms. The lowest point we traveled was in a room called the "RoachMotel" where Jay & I were 270 feet below the surface. We were toldthat this was a warm cave, so no matter what the conditions areoutside it usually stays around 64 degrees.
We were provided with coveralls, but had to dress accordinglyunderneath, and we also knew that there would be a lot of waterdripping, so it was important to wear garments that would be quick todry.
I've always tried out the heavier weights of Capilene layers for Alpineactivities, so I thought it'd be cool to try out lighter weights inthese conditions and see how they did.
Also, I thought it'd be fun todo a little experiment by comparing the old stuff to the new stuff.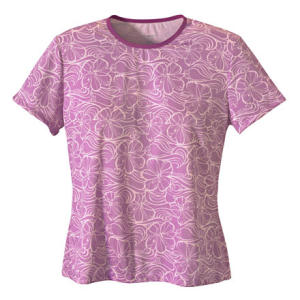 So, I wore a Spring 2006 Women's Silkweight Capilene T-shirt (Spring '07 version currently available here), and my husband wore a new Spring '07 Men's Capilene 1T-shirt. Then I also put on some Capilene 1 Bottoms, with some heavy cotton cargoshorts over them.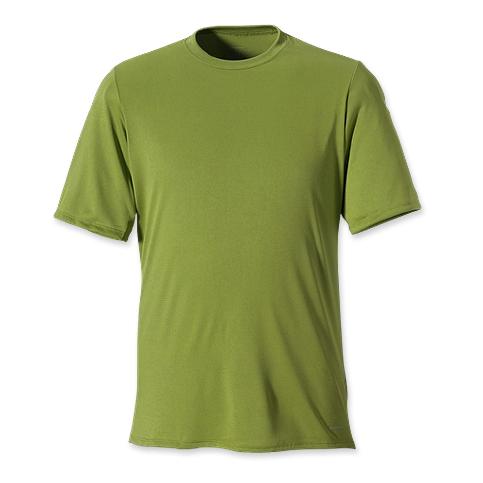 I was stoked on how this performed, especially when I saw the rest ofour group take off their coveralls afterwards and they were freezingand soaked.
Jay and I stayed nice and dry. There were times when we were workingpretty hard to squeeze through a crack and we were both sweating quitea bit. We found that the t-shirts performed almost identically as faras being quick to dry and fast-wicking, but we found a big difference inhow each held odor.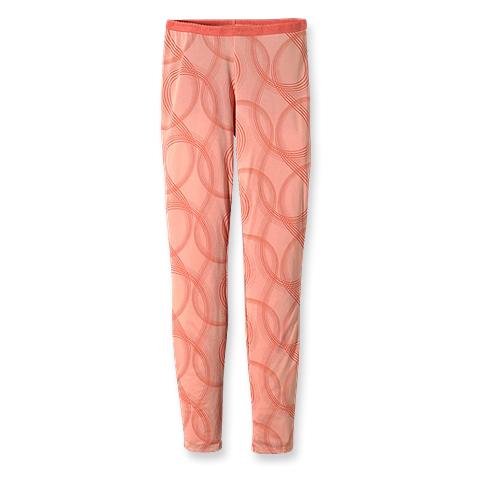 Being a cute girl I don't sweat much, and ofcourse, I NEVER smell. But I found that my silkweight-T smelled prettyfunky. Jay, being a (wonderful) stinky man, perspires much more than Ido. So when he asked me to take a big whiff of the pit of his shirt, Irolled my eyes. But then I realized I had to do it for this report so Idug my nose into it and went for the whiff. To my surprise, it didn'tsmell at all! I even went back for seconds to make sure I wasn't crazy.So I'mnow a believer in Gladiodor technology and feel that it is a significantimprovement to our Capilene line.
My cotton shorts were totally soaked in the back. I should've wornsomething like our new Nylon Stand-Ups. I was thankful to have had themon, I definitely needed some heavier protection in that area, but theyheld the water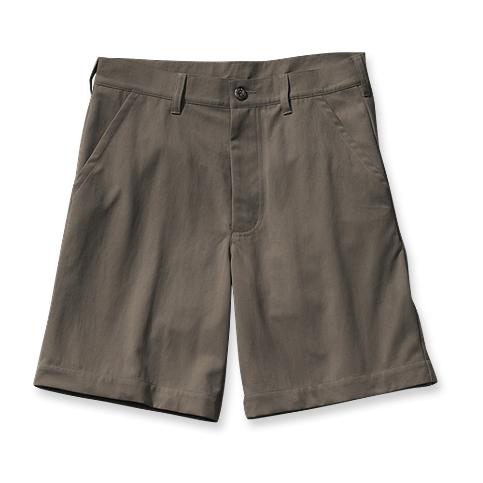 and were freezing. The Cap bottoms worked great, theystayed relatively dry and kept my legs warm and protected. One of ourco-cavers had bare legs and they were pretty torn up. This tripdefinitely gave me some great experience with theCapilene goods. And now my husband and I are hooked on caving, and we'regoing to do another cavern in the Fall.