Product Testing: New R1 & R2 at the Top of Colorado
We test our gear on a variety of levels. Our Athletes & Ambassadors are responsible for putting the latest designs and fabrics through the paces before we'll add a new product to our lineup. But just because something reaches our shelves doesn't mean testing is over. Once a new item shows up in our catalogs, our Customer Service staff gets busy ground-truthing the latest offerings. They know the questions our customers will be asking, and turn that attention to our gear.
___________________________________________________________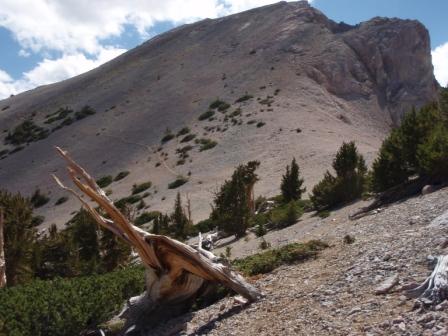 Field Report: Climbing Mt Moriah, NV & Mt Elbert, CO
Conditions: Cool & Windy
Products Tested: W's R1®, M's R2®
Tested by: localcrew and Dr. Liz
With help from our friends at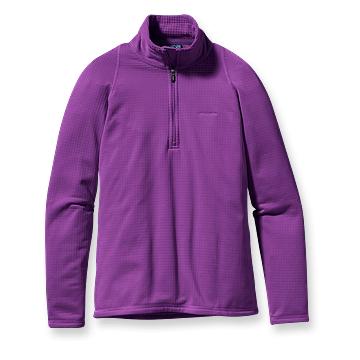 I, like many women I know, tend to have a very sensitive internal thermostat. I can go from chilly to burning alive in moments. For that reason, I am a fan of layers and I have a wide variety of layering options. The Capilene® 2 and 4 as well as the stretch velocity pullover are a few favorites for chilly outdoor running and hiking. For even cooler hikes, I always pack my Down Sweater and Houdini. When I was recently given the opportunity to test the R1® jacket, I was not sure that this addition could add a significant contribution to my array of layers. But I was wrong.
[The summit trail on the way to the top of Eastern Nevada's Mount Moriah. Photo: localcrew]
My first testing opportunity involved a trip to Eastern Nevada and a hike up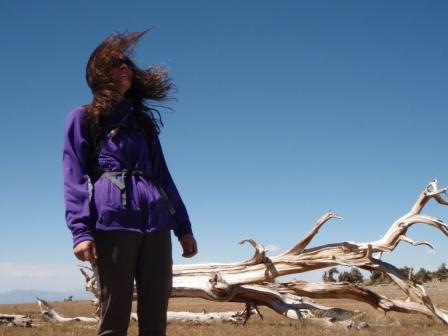 my Down weater or adding my wind jacket. As expected, the weather got chillier and windier with every step. Yet after adding gloves and a hat I remained surprisingly warm with only the R1®. The breathability of this jacket kept me quite dry, which no doubt contributed to keeping me warmer during our ascent. As we hiked higher and higher, I still did not desire my wind jacket and we ended up summiting Mt. Moriah, 50 MPH gusts and all, with the R1®.
 
One week later, a hike up Colorado's Mt. Elbert (14,440 ft.) provided another product testing opportunity for the R1®. A chilly early morning start, again at 10,000 ft., was perfect for the R1®. Once again, I expected to need more layers as we ascended Mt. Elbert, particularly after we left tree line, the wind whipped up, and we had 2,000 more feet to go until the summit. After adding gloves (with Crazy Hot Hands- another favorite of mine) and my hat, I thought about adding my wind jacket, but I had forgotten it back at the hotel. This meant my options were to stick with the R1® or swap out for my trusty Down Sweater. I went with the R1® and it ended up keeping me quite comfortable, even at the top of Colorado. Don't get me wrong, I would not describe myself as feeling warm at the top of Mt. Elbert, but I was not freezing and if I was I would describe that in dreadful detail because I am a really miserable person if I am too cold.
[Above – Liz enjoying the gentle breezes of Mt Moriah. Photo: localcrew]
 
Another advantage of the R1® versus the Capilene® 4 (or Capilene® 4 plus a wind jacket) is that it has functional zip pockets, which I found very handy for keeping my lip balm and tissues accessible, but not falling out, on the trails. I prefer hoodless tops, so this was also a plus. Not to mention that the R1® is also an attractive jacket and I have found myself wearing it to casual dinners and even to work because it is perfect for chilly mornings and evenings. (I live in Nevada- work attire is a little less formal in these parts).
 
Overall, I give the R1® two thumbs up. Being both functional and attractive, it added an unexpected boost to my wardrobe.
And now for the guys …
Men's R2® Jacket
I really tried to like our early versions of R2 but could never quite pull it off. Yeah, I 'got'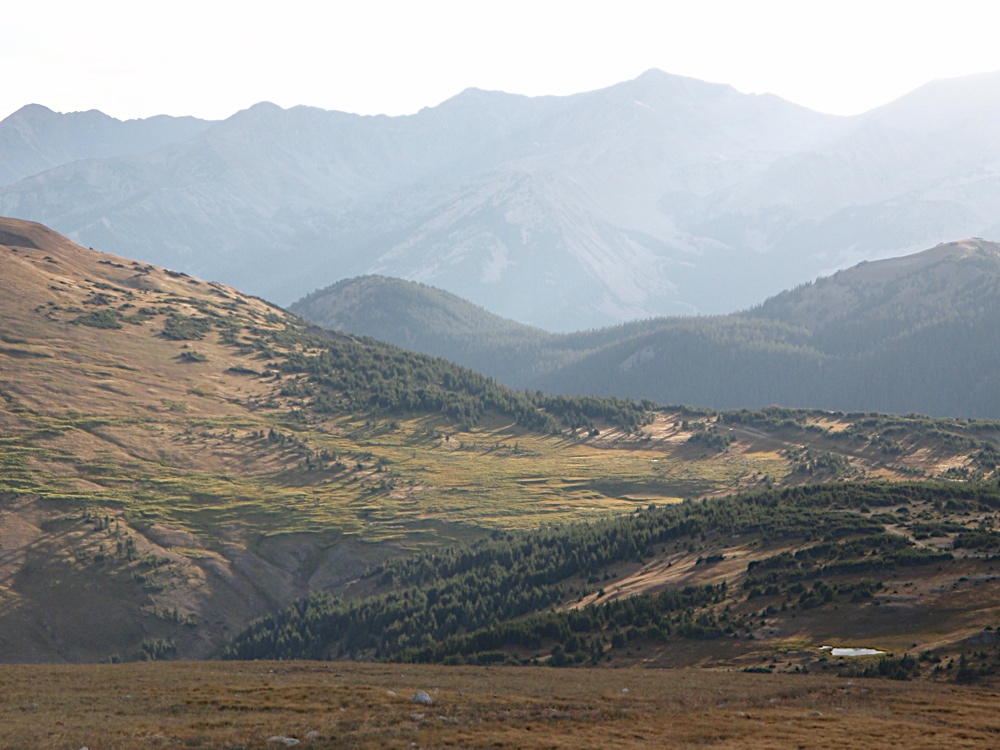 considered, I don't mind wind; it's a nice reminder of being in the mountains. But I don't always hear so well, and high wind doesn't help, especially when it sets a jacket to flapping and clapping til it sounds like my head's stuck in a dryer full of potato chips and crumpled newspaper. If my backcountry ski buddy yells "Watch me while I drop this cornice!" and I hear "Watch TV with a bowl of corn-nuts!" it does neither of us any good. Any guy who spends time in the backcountry with his lady knows the power of the phrase: "I'm cold, let's go." You miss hearing that message and you suddenly have things to worry about that rival collapsing cornices.
It's for this reason that I was especially grateful for the R2. Somehow, this thing kept me comfortable despite the wind and chill temperature, and I could still hear. My head was still in the dryer, but someone had taken out all the newspaper and potato chips. It was a revelation. I guide/teach a bit in the summer and the reality is that the need to communicate increases in direct proportion to the level of exposure – a wind-hammered arête is usually the place where I most want to hear what someone's yelling at me. Until I gave the R2 a try, it never occurred me how much I could improve my situation by simply wearing a quieter fabric (Thank you, Captain Obvious). I can't honestly tell you how it achieves it, but this latest version of the fabric seems to be more breathable and more wind-resistant at the same time. I stayed dry, but without the knifed-through feeling that came with the earlier version of the fabric. To the passing birds I say, "beset me with your chill no more!"
The improved feel of this perfectly tuned breathability, combined with pocket design that works flawlessly with a pack, and I've reconsidered the R2. It's earned a spot in the quiver as a stealth outer layer for trips that don't happen in the combined cold & wet.
[Above – some of Colorado's high country. Photo: localcrew]