Patagonia T-Shirt Art Exhibit
/
March 12, 2008
1 Min Read
/
Design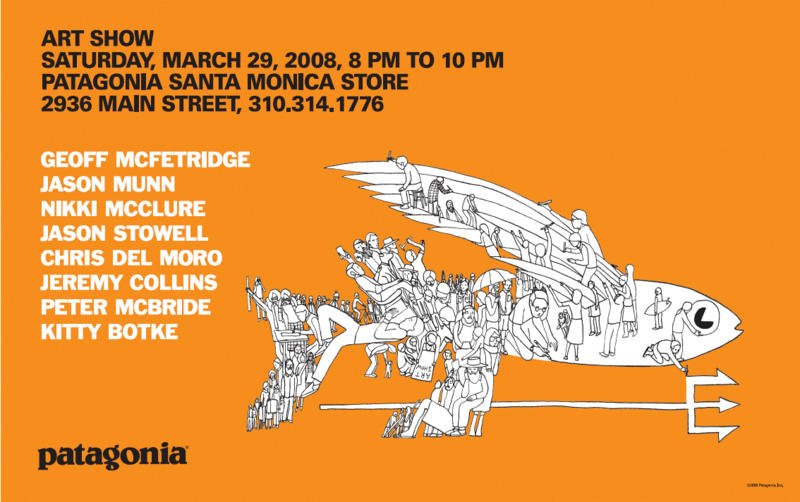 If you live in the Los Angeles area, or happen to be passing through, join us at Patagonia Santa Monica on Saturday March 29 from 8-10 pm for an art exhibit by the talented group whose designs grace some of our T-shirts. These professionals – who also work in pen and ink, handprints, oils, paper cutting and other mediums – include Geoff McFetridge, Jason Munn (portfolio), Nikki McClure (portfolio), Jason Stowell, Chris Del Moro (portfolio), Jeremy Collins (portfolio), Peter McBride (portfolio) and Kitty Botke. Some of them will be on hand to meet and chat about their work. We'll be serving refreshments and their art will be available for purchase. For more information, phone the Santa Monica store at (310) 314-1776.
Incidentally, Geoff McFetridge created the wonderful Cleanest Line masthead you see at the top of this page. Thank you Geoff! He also did the artwork for our popular surf mini-site Bend to Baja.
[Flyer artwork by Geoff McFetridge]
Update: Fixed incorrect date and Jason Munn T-shirt.