One Lap at a Time
Matthew Tufts
/
August 28, 2020
/
9 Min Read
/
Snow
An eclectic band of Argentine locals cultivates a grassroots backcountry ski community in one of the world's most unforgiving mountain ranges.
The woman I pulled up beside on the skin track chuckled something in Spanish, but between my limited vocabulary and heaving breaths, I understood very little. A few steps up, the bartender from the previous night, a long-haired fellow with a thick mustache, stood to the side and proffered help in accented English.
"She said, 'You're with the fastest team in Chaltén.'"
I stopped, leaned into my poles, laughed, caught a breath, pondered a Spanish reply and watched the figures ahead of me gaining in distance. If I waited any longer, I didn't know which team I'd be with. I settled for a shrug, smile and quick "Sí." My newest friends had broken trail to set the uptrack for the lot of us and still outpaced everyone. Maybe if I'd drank more maté during that car ride … My thoughts trailed off and I fell into a familiar slide-click-glide routine.
Shaded cyan seracs offered my sweat-drenched eyes a reprieve from the blinding white of the reflecting southern sun. The glacier rolled above us, and the face sharpened into a featured fin—sharklike. I thought of all the partially submerged tiburones (sharks) down below, and the gouges an ill-timed deep turn might leave. Why did I only bring carbon skis to the wind-scoured end of the world? I focused on gliding back to conversational distance with my partners. That was why: to keep up with the fastest team in Chaltén. To understand a ski community, you need to look at how the highest performers interact with the fledglings.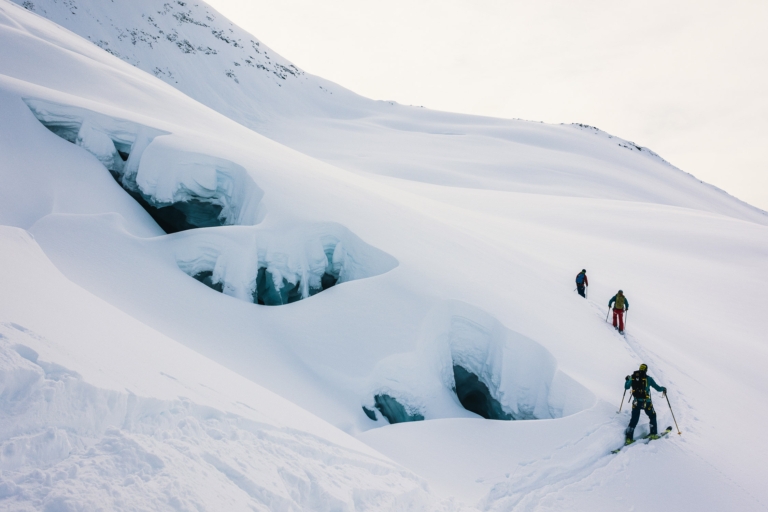 Between long pre-dawn approaches, skin track mediations and all the empanada-filled downtime volatile Patagonian weather affords, I had a lot of time to ponder what I hoped to find. I sought a local story—one unadulterated by the industry's intrepid professional darlings, corporate sponsors and clichéd narratives about a bunch of heli-assisted shredders finding themselves in the spirit of winter. But what I found wasn't a story insofar as a movement: a crew of locals—30 more or less—who, against all odds, cultivated a grassroots ski community of insane shredders, amateur go-getters and (much to my surprise) a lot of folks just learning how to ski in one of the most inhospitable environments on the planet.
To say there's a reason skiing isn't popular in El Chaltén would be a gross understatement—there are at least a dozen. Violent, unpredictable weather regularly ravages the alpine; climate change-induced snow line recession and sparse subalpine forests render storm skiing a wishful fantasy; lift access is hours away in any direction, and far more if you're seeking more than a community hill; the terrain is objectively hazardous, riddled with no-fall zones, crevasses, cornices and wind slabs; the minimum approach will set you back hours before reaching the snow line, and it's all uphill from there. It's a high-risk, low-reward game.
And yet, the El Chaltén ski community endures, not in spite of the region's topographical and climatological complications, but rather because of them. It boasts an approach to growth that's starkly distinctive from the traditional ski industry model and intrinsically emblematic of the community's character.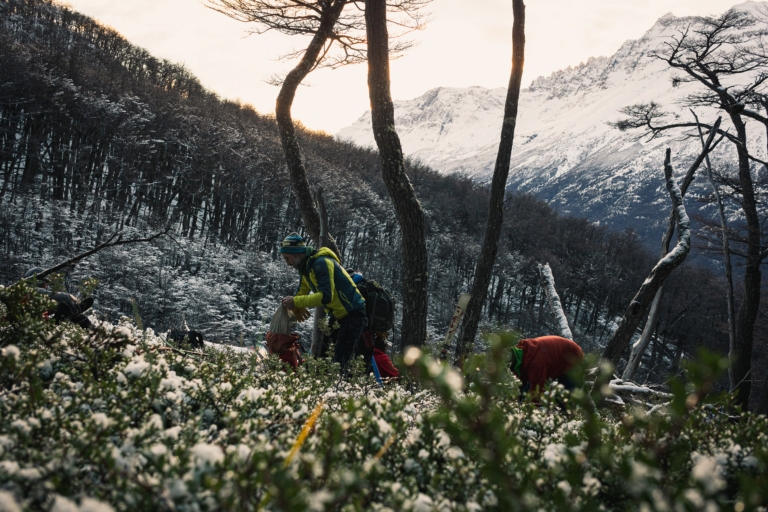 "There's nowhere like here," said Max Odell one afternoon as we piled into his pickup on the road to Lago del Desierto. "Most of these people learned to ski here, out in the backcountry." When Odell, an Argentine guide who grew up in Crested Butte and Bariloche, moved to El Chaltén permanently in 1997, skiing was virtually nonexistent, besides the occasional climbing party utilizing skis on the Southern Patagonian Icefield (the access point for the west face of Cerro Torre and other high-profile objectives). The odds didn't deter Odell, however, and he set off—typically solo—pioneering winter descents throughout the region's vast alpine environment.
Over the years, an increasing number of individuals who moved to El Chaltén for the climbing season made the village their permanent home. The ski community (if it could be called that yet) was still generally a party of one, but it was clear there were a lot of folks with tacit mountain sense and no winter outlet besides indoor bouldering and fickle ice climbing. Odell and a small handful of other local guides and skiers saw an opportunity.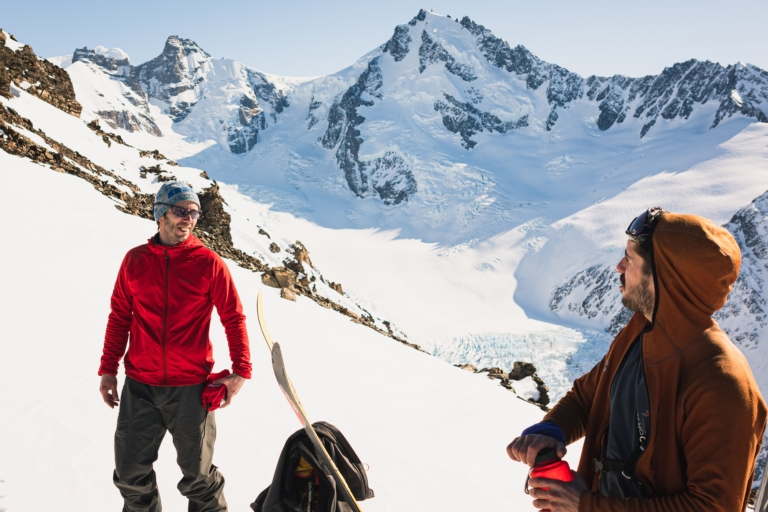 "If I can teach them to ski, then I have new partners," Odell told me after returning from a full day of portering supplies for a winter climbing objective. In concept, it was simple: Through Odell's mentorship, locals could expand their arsenals of alpine skills; he, in turn, would gain an array of ski partners from an eclectic smattering of climbers and hikers. In practice, the grassroots education of skiers in El Chaltén was a radical departure from ski industry norm, fraught with obstacles.
While the most conspicuous signs of climate change in the region are starkly visible in the receding toes of the Torre and Piedras Blancas glaciers, particularly in the high-tourism summer months, the environmental crisis complicates an already difficult path for the ski community. Low snow accumulation in forested subalpine slopes in recent years (2020, so far, proving to be a rare exception) effectively pushes skiers of all abilities into complex, often glaciated, alpine terrain, further sharpening a steep learning curve.
Moreover, insufficient snow at tree line has a pronounced effect on the overall number of skiable days in Chaltén. With storm skiing effectively nulled in the alpine, an elevated snow line limits ski potential to high-visibility, low-wind days—something both climbers and skiers are well aware comes at a premium in the mercurial Roaring Forties. It's far from the most accommodating environment for beginners.
If we acknowledge commercial skiing as a notoriously insular community predicated on privilege, backcountry skiing is often considered the inner sanctum of Valhalla. But there's a distinct irony to the exclusivity of an activity rooted in human power on public land. At its core, backcountry education prescribes years of resort access followed by a subconscious yet intentionally curated partner selection predicated on similarity: similar skill level, similar risk threshold, similar background in skiing, even similar personality type—all in the name of avoiding risk and conflict in an inherently dangerous activity. It goes without saying that safety is imperative and the value of preparedness should not be diminished; but when did we confuse capable with homogenous?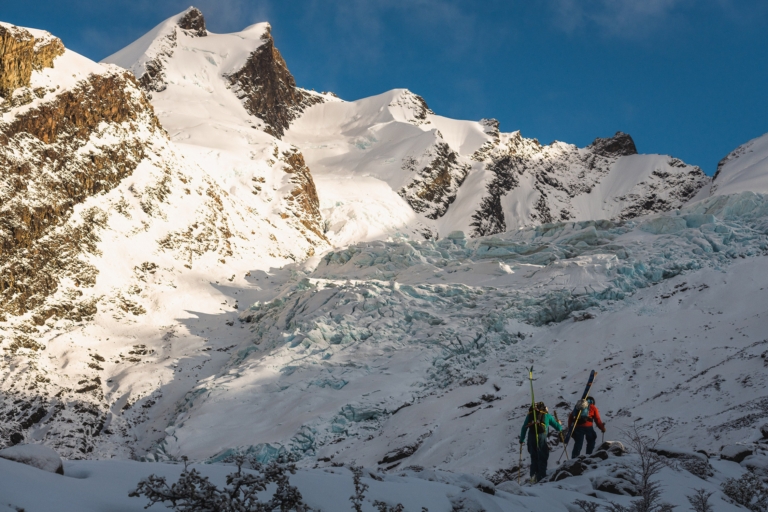 Odell had just returned from a deep mission into Los Glaciares National Park with one of his latest "disciples"—the pair skied a new 45-degree face near the massif. "His form isn't the best, but he's strong and enthusiastic," Odell said of his local partner with a smile. "He's more than capable."
For many, touring into technical, complex terrain without standard instruction and resort experience sounds not only intimidating but also like reckless negligence. But that view fails to consider a lot of the locals' intangible mountain skills, which wouldn't necessarily present themselves on the controlled slopes of exclusive lift access. Here, less energy is spent eyeing up partners for uniform experience, and more focus is given to the collective goal of getting outside in the winter.
"They have an understanding of the mountain because they've been in steep places," said Santi Guzman, one of El Chaltén's most talented skiers, of locals diving into the sport in the backcountry. Guzman is sponsored by multiple North American brands in the snow-sports industry, spending chunks of the austral summer in the States and splitting his austral winters between his home in El Chaltén and Bariloche, where he coaches for Argentina's national freeride team. "They know how to use a rope, a harness; they know how to rescue themselves, they're in shape—all those things make them suitable for learning how to ski the backcountry way better than my first experience as a ski resort skier," said Guzman. "I had good technique and skiing tools … [but] these guys know how to get out of their comfort zone."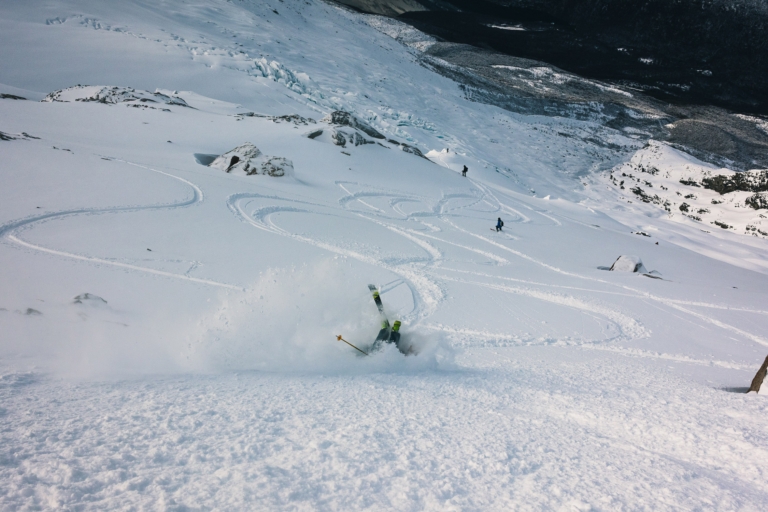 It's clear the majority of beginner skiers in El Chaltén aren't taking on the region's most intimidating lines. They embrace the process. Surging local interest has led to very affordable beginner and intermediate multiday courses, taught by the next generation of local guides, centered around a new community­­—and a funded, sustainable, minimal-impact Refugio constructed below Cerro Creston (the first of its kind built for ski-specific use in southern Patagonia). Perhaps more than anything, it's this egalitarian focus on fostering the next generation of skiers regardless of skill, age or economic background that continues to grow the community against the odds.
"In Argentina, skiing is a sport of the elite—it's expensive," said Laura Iriarte, an English teacher at the local high school. She explained that it would cost more than a month of her salary to take the family skiing with lessons for just two days at the resorts near Bariloche. Her predicament echoes an exclusionary story that reverberates far beyond the Southern Hemisphere. "But that's not the case here in Chaltén. Anyone can ski. I'll get old equipment, then I'll let you borrow it so you can learn. It's the only place like that in Argentina. Ski touring is free."
Iriarte grew up outside Argentina's metropolitan capitol, the daughter of a carpenter and a teacher. Skiing, however, has been a product of Iriarte's past dozen years in El Chaltén's backcountry. She's not alone in that endeavor—Iriarte estimates that more than half the local ski community learned in Chaltén's backcountry, one hard-earned lap at a time.
"It's harder [to learn], but it's happening," said Santi Guzman. "And if these guys are learning how to ski here at 30 years old, there's going to be a next generation when their children get skins and stuff—it's going to evolve and get better, for sure."
Guzman owns Fresco, a local bar renowned among alpinists in the austral summer. Long after the disappearance of high-season crowds, a distinctly local clientele filters into the small, warm bar, the small ski community's customary aprés destination. It's an eclectic group of individuals—kids wait on housemade pizzas, a skier excitedly shows a climber a photo of an ice formation seen from the road, several guides converse about family with a local in paint-stained canvas coveralls. My limited Spanish still picks up a variety of dialects. "Nobody is from here," the bartender once told me. "Everyone is an immigrant." He's not hyperbolizing. El Chaltén is Argentina's youngest town, officially established in 1985. In many ways, it's still in its adolescence. The population continues to swell rapidly as newcomers seek tourism-fueled economic opportunity, but the municipality is geographically constrained, set between the national park and two braided rivers that border private land. The public-private land distinction prevents El Chaltén's sprawl as it tries to accommodate increased tourism traffic and a surging local population—an issue that pits maintaining El Chaltén's rural charm against increased infrastructural needs. The same questions are heating up in insulated mountain towns across the American West.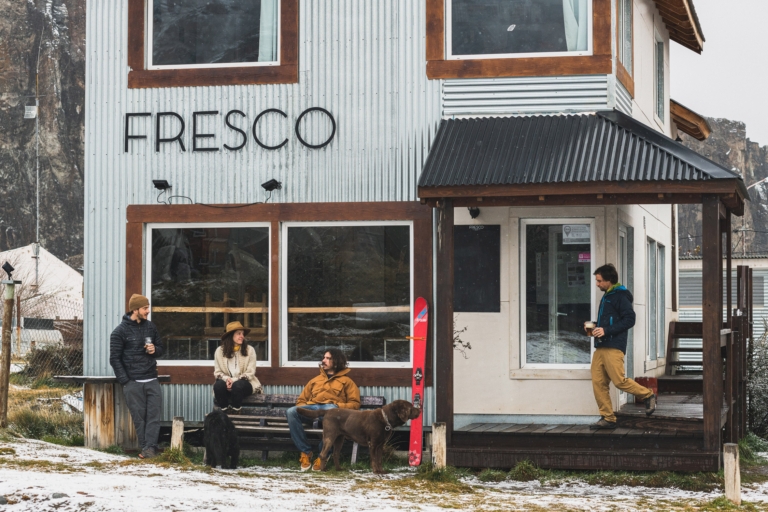 One of the locals I skied with had a baby on the way. There's no maternity center in town, so local children are born several hours south at El Calafaté's hospital—perhaps that's why they say nobody is truly local. One mother told me El Chaltén "has all the advantages of a rural town, but benefits from a largely international culture that, typically, only cities afford." Kids can run free and everyone knows their neighbors, but an influx of diverse tourism teaches them to be grounded and grateful for where they grew up.
Looking around the bar, I saw skiers like Guzman, Odell and the trio of guides I frequently accompanied sharing knowledge, beer and, perhaps most importantly, encouragement with an eclectic assortment of folks who may have never skied in another locale. I watched a young boy trace his fingers down a pinned photo of a local peak—making incontrovertible S-turns down the face. Perhaps nobody is technically born in El Chaltén, but the small village is the birthplace of grassroots backcountry skiers.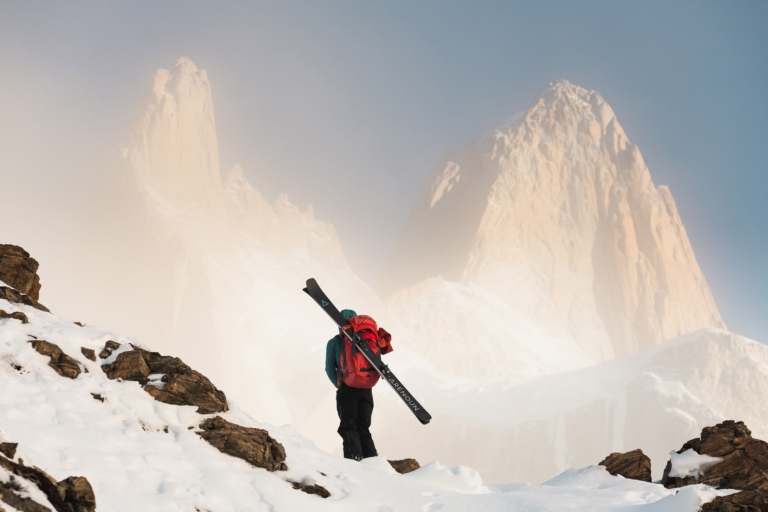 **This story is adapted from a larger feature, "How Good It Can Be: Grassroots Lines in Southern Patagonia," which will run in The Ski Journal, Vol. 14.2, in October 2020.**