"Biomimetics: Design by Nature" in National Geographic
/
April 13, 2008
2 Min Read
/
Design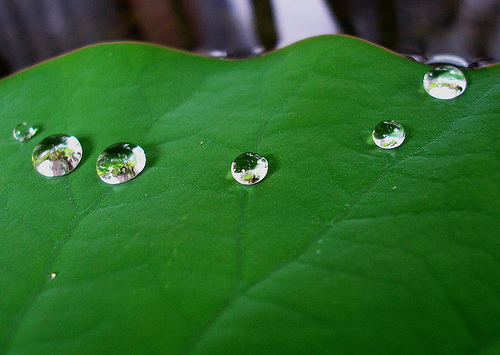 For those skeptical business types who wonder why we need toconserve wildlife habitat and diversity, you might be interested in the article Biomimetics: Design by Nature in this month's National Geographic. It's about how species living in the natural world around us are increasingly inspiring modern product inventions and innovations.
[Could mimicking the lotus leaf eliminate the need for DWRs on rain shells? Photo: tanakawho (CC)]
The biomimetics "movement," as the article calls it, has gained momentum in recent years, with engineers, architects, medical researchers and others turning to whales, raptors, toucans, porcupines, lizards, moths, beetles, termites and even phytoplankton for ideas for new products – from cell phone screens and paint to lifesaving water collecting devices and anticounterfeiting tools.
The article's author, Tom Mueller, points out that it's not easy turning nature's complex innovations, evolved over thousands of generations, into useful modern tools. That's why scientists who have studied and marveled over the gecko'sability to run up walls and the abalone's Kevlar-strength shell have failed to unlock all their secrets.
Reasons range from the short-sightedness of industry to the difficulty in coordinating arange of diverse disciplines, but the main reason is simply that, "from an engineering standpoint, nature is famously, fabulously, wantonly complex."
Developments in science and technology, from the development of electron and atomic-force microscopes to high-speedcomputers, show that some of nature's riddles can be unlocked with time – a good argument for preserving species for future generations.
The eye of a 45-million-year-old fly trapped in amber and preserved in a museum inWarsaw, Poland, for instance, inspiredinnovations being used in solar panels today.