Keeping the Commuting Spirit Alive
They say it takes about 30 days to form a new habit. It's been about 30 days since we got rolling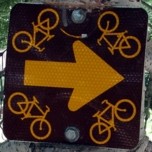 with our Bike to Work Week festivities, so it's time to check in: How y'all doing with that new habit of rolling through the sunny summer mornings on your way to the daily grind?
Having trouble staying motivated? A friend recently sent us a link to a very handy little tool that just might help keep the stoke alive. Check out the Gas Savings Calculator at www.commutebybike.com. Living overseas? Complementary Brit site www.quickrelease.tv offers the calculator with appropriate calibratrions for litres and displays cost savings in pounds sterling. Fancy that.
The best part: this little tool breaks your savings down to daily, weekly, and yearly levels. By my calculations, each day of riding to work is worth TWO day's worth of free coffee. Ride on.