Honorary Haenyeo
Archana Ram
/
June 17, 2020
/
8 Min Read
/
Surfing
Kimi Werner takes a journey to Jeju Island for lessons in motherhood, culture, diving and providing from South Korea's "women of the sea" aka the haenyeo.
"Motherhood was something I put off for a long time. I didn't know what the future would hold for my career. As a public figure and athlete, would those opportunities all go away? The world doesn't seem to embrace how fucking badass motherhood is."
It's hard to blame Kimi Werner for her doubts. Over 15 years, the Maui-bred freediver has built an impressive career that has taken her spearfishing off every continent and in every ocean, earned her sponsorships with nearly a dozen brands (including Patagonia) and won her the title of National Spearfishing Champion. She's built a career where her office is the ocean, her supplies are her body and a spear, and the core requirement is accepting risk. But when Kimi got pregnant last year at 39, those anxieties about advancing a career while balancing a family were just like any working mom's. And for Kimi, freediving is nonnegotiable.
"Diving is my thing," she says. "That's where I feel the most at home. I need freediving to breathe. But all of a sudden I have a baby inside of me, and I don't see any other pregnant women freediving. I wondered if I was doing the right thing."
Kimi, who now lives on O'ahu, polled doctors and read articles, but no one she found had firsthand knowledge of whether it was safe to dive while pregnant. She felt that those who had an opinion weren't helpful. "They told me I was depriving the fetus of oxygen, but when I'm in the water, I feel the most connected to my body and baby. When I hold my breath, I've never felt so full of oxygen. I trust myself, and every time I come out of the water, I feel happier and healthier."
But to be a mother is to worry, she says. That's when Kimi thought of the haenyeo. For centuries, these women from South Korea's Jeju Island have freedived for abalone, sea urchin, octopus and other seafood to provide for their families and villages. Kimi first heard about the haenyeo during a fundraiser dinner at her home 15 years ago, when one guest—Korean poet Ishle Yi Park—asked mid-dinner if she could recite a poem. What came next was a deeply personal piece about feeling shame that her family smelled like fish. It wasn't until she learned about the haenyeo of Jeju that something shifted within the poet. She had become proud of who she was, proud that her home smelled of fish.
"I didn't know other women existed in the world like me," Kimi explains. "To hear this poem paying tribute to these sea women who fed their families that way—I instantly felt that I wanted to find out more about them."
Records of haenyeo, or "women of the sea," date back to at least 1629, but the story of how women overtook this arduous trade some 400 years ago is murky. Some say they had to step up when their husbands were sent off to war in the 17th century; Kimi heard that they really took it on during the Japanese occupation of Korea as a way to avoid taxes levied on men; and still others say it was inevitable: Women can better withstand the icy water.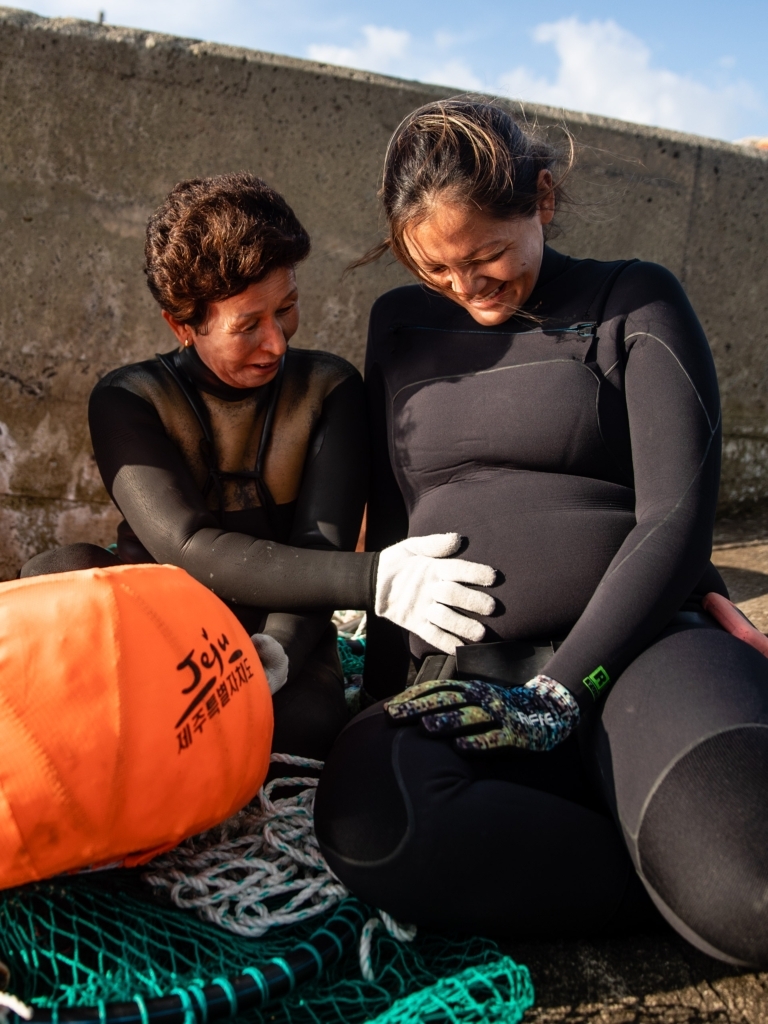 Korean society often viewed them as second class, but now it's easy to see the haenyeo as a self-sufficient sisterhood. They continue diving, now well into their 70s and some even in their 80s. Several years ago, researchers claimed that the oldest haenyeo was 92 years old.
Kimi's career has taken her from the Arctic to Greece to New Zealand and everywhere in between, so it wasn't hard to put out feelers to dive with the haenyeo. But nothing came together. Kimi didn't push it either—until she became pregnant.
The haenyeo, she felt, were essentially the only ones who could answer her questions from experience. Research led her to stories of haenyeo who, for complex reasons, had gone into labor on their boats or even in the water—so they must have kept diving during their pregnancies. "But so many of the articles weren't going deep enough or the lucky person who got to interview them didn't get diving," she says. "I wanted a more intimate understanding."
Kimi got her chance last October. Her friend, filmmaker and past collaborator Nicole Gormley revived a previous conversation about paying a visit to Jeju.
"For the first time in my life, I was so down to stay at home. I had turned down trip after trip last year—Nicaragua, Norway, Fiji. Then I said, 'Actually, there's one place if I were to have the opportunity, I would want to do it right now more than ever.'"
A week later they were packing their bags.
Her goal was to get in the water with the haenyeo, even for just a moment. Instead, Kimi got invited to two days of work. Their journey, intimate moments with a small group of haenyeo and lessons from the experience are chronicled in the upcoming film short Lessons from Jeju.
"They get asked all the time for interviews or to be in films, and they're not interested—they have work to do," Kimi explains. "But they took a tenderness to the fact that I was an expectant mother. They called me their Hawaiian haenyeo."
Day one started at 8 a.m. at the haenyeo's bulteok, a stone-walled house by the ocean where they hang their gear, bathe, eat and nap. Some even get there before sunrise for more time together.
"Where I'm from, people say it's not smart to dive while pregnant," Kimi told the haenyeo through two translators, one to translate the Jeju dialect to Korean, another for Korean to English. "Once they understood, they all started laughing. 'It's OK! It's OK! The only hard part about diving while pregnant is putting on fins.'"
From the bulteok, a small boat picked up the haenyeo for five hours of nonstop diving. Kimi knew from past experiences that meeting your heroes can sometimes just mean disappointment. So she mentally prepared. It's fine if they don't dive as well as the articles say, she thought.
"Holy crap, I couldn't even keep up with them," Kimi says. "They might hobble on land, but the minute the haenyeo touch the ocean, you'd think they were sea creatures or Navy SEALs. They swim 40 feet down through ripping currents for a very active minute. All I could see were their fins in kelp beds before they'd shoot back up with handfuls of horned conch in their nets, then go back down over and over again. My style is to move slowly, waiting for fish to come to me. But the haenyeo taught me a faster flow that I didn't know was possible."
Above the ocean surface, Kimi heard something like a pod of dolphins. She recognized it as the sumbisori, a whistle-​like gasp of air that helps the haenyeo recharge their breath. Kimi had read about it in the novel The Island of Sea Women and earlier in the day had asked them about it.
"It involves forming an overbite with their lips and breathing in before sighing this high-pitch whistle out. In the water, their expressions look like pure relief when they do it, as if they're expelling their exhaustion and fueling up for their next dive. When you hear the group doing it together—each in her own tone and pitch—the whistles sound like an eerie yet beautiful chorus."
As soon as they're back on the boat, they sort through nearly 66 pounds of conch each, dividing what they'll sell and what they'll take home. (The haenyeo implement harvest seasons that allow species to rest and reproduce. This time of the year, horned conch was on the menu.) Back in the bulteok, they share a warm meal and loud conversation and laughter. Years of diving have done a number on their hearing.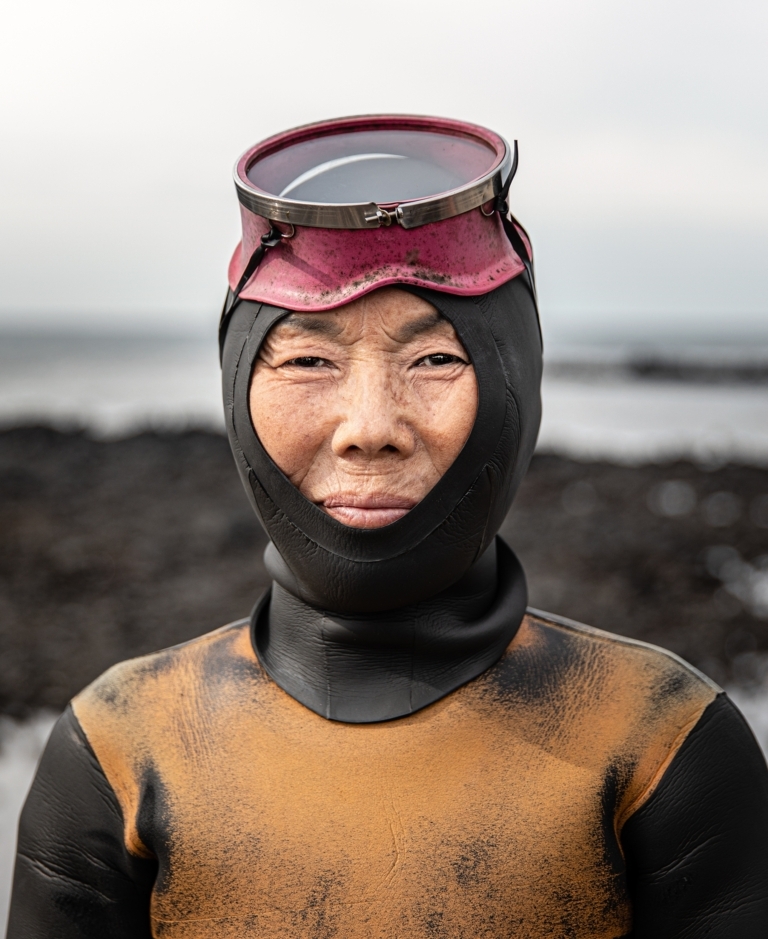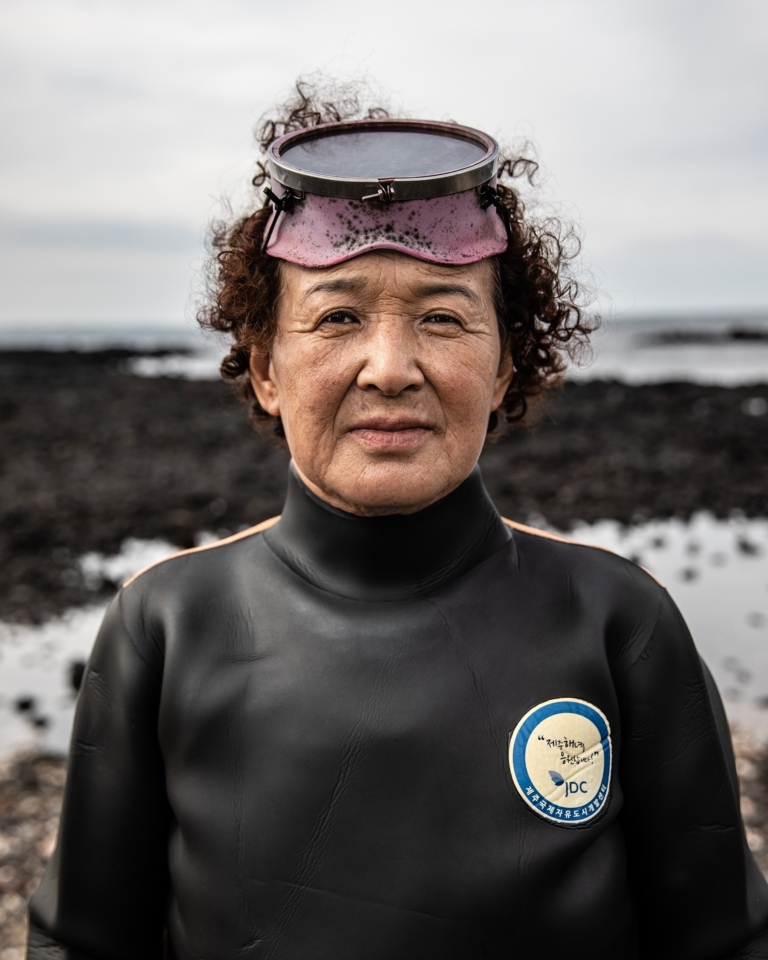 "Even though historically some people would make them seem like lower-class citizens, they laugh about it. There's such a sense of pride that comes from being a haenyeo. It meant you were strong, made your own money and could take care of yourself and your family. You had a tribe of support at all times. That's what I love. They have a 'fuck that' mentality. I've never looked forward to those wrinkles more in my life."
But the women Kimi met are considered some of the final generation. In the 1960s, there were more than 26,000 haenyeo. By 2015, they numbered only 4,000 or so. There are some preservation efforts: A museum opened on Jeju in 2006; a school was established in 2007; and the haenyeo joined UNESCO's Representative List of the Intangible Cultural Heritage of Humanity in 2016. But researchers predict the tradition could fade within a decade. Industrial fisheries are taking over. Their children are seeking big-city careers. Climate change is rapidly affecting harvests. And some haenyeo don't want to pass down the tradition.
"They told me, 'You don't have to suffer like us. We did this because we had no other choice.' And I try not to over-​romanticize things. They told me stories about those hard days: no rice, no coffee, no clean water to wash cloth diapers. So they'd take their boats to another island [to get resources]. It's painful but they represent resilience—doing what you need to do to take care of your family. The ocean gives them this power."
Their stories took Kimi back to her own childhood. Growing up on Maui without much money, her father went spearfishing to put food on the table. When she took it up at 24, she recalls that her father was initially dismayed. That changed once he saw the joy and recognition it brought her. "He understood that I could take the gift he gave me and create a hybrid version for the modern world. It also helped to see me in magazines," she laughs.
For Kimi, these old-school methods align with ahupua'a, Hawai'i's ancient system of dividing land into vertical districts from mountains to oceans, with each district sharing food from their regions to sustain huge communities. The haenyeo and memories of fishing with her dad showed Kimi that those lessons in taking only what you need and being an accountable part of our ecosystem still have a place in our world.
"It's not going to look exactly the same as it did in the past, but those values can still thrive. I think that's how nature is designed, for communities to take care of each other and be connected to their resources."