I was born in January, in a one-room schoolhouse on a sheep ranch in Montana. Four months later we moved to Alaska, where my parents built a cabin in the woods with a swing and trapeze for me; for years, the only commute I knew was by dogsled. We ate salmon, duck or moose for dinner, with potatoes or cabbage from our root cellar, and blueberries for dessert—all things we'd hunted or foraged or grown. This is how I grew up: eating food from the Alaskan bush. Even though we left, my mom continues to grow a big garden and my dad still hunts and fishes.
In my 20s I became a Patagonia climbing ambassador. For 10 years, I lived on the road, in a truck, van or an old Airstream, migrating with the climbing seasons and cooking on a tiny stove, with friends or alone. In 2012, my climbing partner and I slept on the summit of Cerro Fitz Roy after establishing a new route on the south face. In Argentina, such accomplishments are celebrated with local grilled lamb and everyone bringing their own knife to the asado, hunting and foraging South American style.
A few years ago, on a rest day in the Tetons, I went fishing with Yvon Chouinard. He packed us a lunch—sourdough bread, an apple, hard cheese and three tins of mussels, whose recipes he needed to approve for a new Patagonia Provisions project. "These little bivalves are the best source of protein in the world," he claimed. We started talking about food.
"You know," he said, "Regenerative Organic (RO) agriculture is the number one thing humans can do to combat global warming."
"What?" I was amazed and confused. "I thought I was supposed to be saving public lands!"
"Yes, that too," he said. "But we all have to eat three times a day. Healthy soil and Regenerative Organic farming can sequester carbon from the atmosphere and reverse climate change."
He told me to read The Soil Will Save Us. Eventually I did, learning that "the billions of microorganisms in a tablespoon of soil take the carbon dioxide that plants pull from the atmosphere and turn it into life-giving soil carbon."
Yvon's new mission was intuitive. I already knew that nature likes balance. Foxes keep the rabbit population in check so that rabbits don't eat all the carrots. Mycorrhizal fungi deliver nutrients to plant roots in exchange for sugars. They also help aerate the soil, which increases water retention, and decompose leaf litter, rock and clay into phosphorus, iron and other usable micronutrients. If we alter this balance with pesticides and fertilizers, the soil becomes lifeless. For me, it's indisputable that fish from clean water and vegetables from clean soil taste better. But over years of climbing, I also learned how much better it made me feel to eat organic eggs for breakfast and a kale salad once a day—or have bread, cheese, apples and carrots or almonds and leftover salmon on the wall. I wanted wild essential fuel: wild like I'd grown up knowing, wild like we all evolved with. But finding organic farm stands and lovingly raised meat after a huge day of climbing was often impossible in places like the backwoods of Kentucky or rural Utah.
I did plant my own garden to fill the spaces in between. Then I promptly left for expeditions to Iran and Spain, to Kenya and Chile. Climbing is an unconventional way to see the world, but it's also one that forces a unique intimacy with the community around you. What I wanted when I wasn't at home was a way to find not only healthy food but also an opportunity to forge deeper relationships with the places I traveled to climb.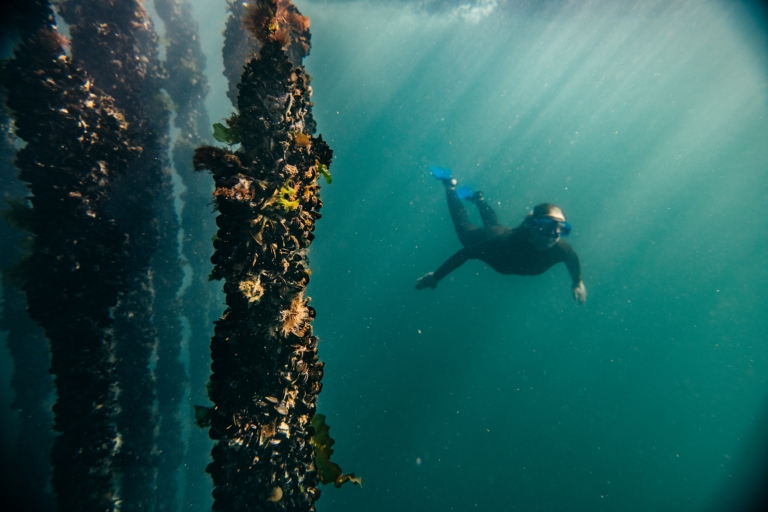 In Spain, I met the family who raises the Patagonia Provisions® mussels. The Pérez Lafuente family welcomed me to their home, situated near a mythical mountain range with a golden big wall of limestone called Picu Urriellu in the Picos de Europa. I learned over many beautiful meals with the family that mussels evolved to live at the tide's edge, a world of constant change. And that they're incredibly resilient. They feed on tiny phytoplankton and filter the water, making it cleaner for all other beings. In the 13th century, humans slowly began to farm native mussels in the cold Atlantic waters of Galicia, Spain. As the World Wars began, so did the high demand for canned foods, and a huge industry sprang up around cultivating, canning and shipping seafood. The Pérez Lafuente family has been in the seafood business for four generations and were the first in Europe to specialize in organic production. Over the generations, they have watched weather patterns change and warm. They expressed their gratitude for the resilient little bivalves that love cold water and support this community that depends on them.
As a way to bring these experiences home and inspire climbers to connect with local and organic food growers, I joined forces with Linda Tyler and Julie Faber to found Farm To Crag. We created a map of local food, farmers markets and farm stands near destination climbing areas and started offering community gatherings where climbers could cook and eat together while learning about their food. The mission is to make it easy to find local, organic, seasonal foods wherever you travel to climb and to connect more deeply with the communities nearby. The more farmers I meet, the more I want to highlight farming as an art form.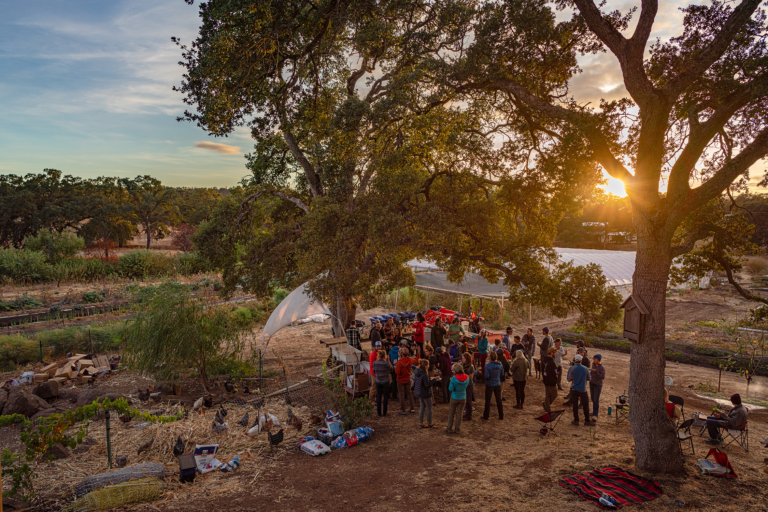 In October of 2019, we held our first Farm To Crag gathering at the Raw Roots Farm in Catheys Valley, a short drive from Yosemite Valley. We cooked, ate and climbed together. We learned about soil science and the carbon cycle from Professor Rebecca Ryals. Cofounder and functional nutritionist Linda Tyler spoke about the nutrient density of healthy plants leading to wellness and taught us to make sauerkraut in a space as small as the back of a van. We also weeded, built, harvested and prepped beds with a fresh layer of compost, and we left with a promise to do something about what we'd learned—a promise we wrote on postcards painted with a heart-shaped carrot at the base of Half Dome.
It has been an interesting path from dogsleds and my mom's garden to a biology degree doing experiments with leafy greens and elk populations to the nomadic life of a professional climber and planting a garden of my own. I now have a much deeper respect for organic farmers, for Regenerative Organic agriculture, for soil health and for nature's balance (and sometimes lack thereof—my kale has aphids). Obviously, I love to climb, and I love to eat. But I've learned that love alone is not enough. We must put our money where our mouths are and support Regenerative Organic agriculture, the natural process that will simultaneously feed our mind, body and soul as it reverses climate change. If we change the way we eat, food can be a form of activism.
As climbers, we have the unique opportunity to positively impact the health of these places—our soils, our earth, and our bodies—every time we eat. Join our community at farmtocrag.org.