Down from the Mountains
Josefine Ås
/
August 5, 2020
/
4 Min Read
/
Snow
A French mountain guide's move to become a permaculture farmer.
"There's no doubt. I have become a man who lives at the foot of La Meije's north face, by the Romanche River where my vegetables now grow." This is Jean Charles Bonsignore's pepeha, a way of introducing himself based on a Maori concept: This is my mountain, this is my river.
Avid skier, patroller, rope access worker, climber, mountaineer and a devoted river angler, Jean Charles Bonsignore's passion for the mountains runs deep. However, after many rewarding years of ski patrolling at the mythical freeride destination of La Grave in the French Alps, the French-Sicilian moved down the valley to pursue his longtime dream of simple living and holistic farming through permaculture. Bonsignore (which means "good man" in Italian) moved from just shy of 6,000 feet to 2,500 feet on the outskirts of Le Bourg-d'Oisans. There he inhabits almost 4 flat acres of land, bisected by the Romanche and framed by high alpine mountains.
"When I came across the Maori way of introducing yourself, it meant so much more to me than presenting myself as a ski patroller in La Grave, a rope-access worker or a mountain rescuer," says Bonsignore. "When we take a step away from judging who we are by what we've done or do, our roots and the nature we belong to become the stronger message."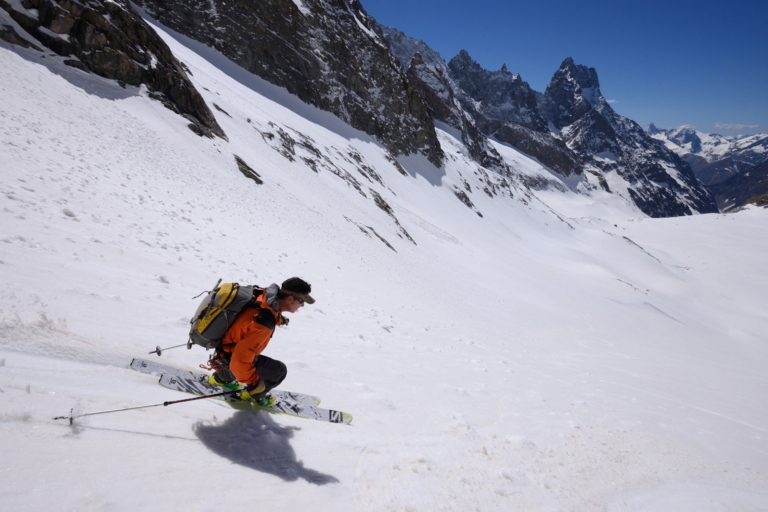 He's refurbished a 260-square-foot mobile home as his cozy dwelling. Bonsignore's mountain equipment is still around, but most days his mountaineering boots are put aside in favor of a good pair of working boots as he spends his days learning about the soil and creating the best possible environment for growing vegetables.
"I've never been a materialist and always dreamed of living outdoors with few things," says Bonsignore. "Living here with my gardens, I found my place. A way to live in our society on my conditions and with my convictions. I work the land in solitude. I am starting to understand who I am, and I'm cultivating my intuitive relation to nature."
When Bonsignore first heard about permaculture a few years ago, it rekindled his longtime dream. A British couple living in France with 86 acres of permaculture cultivation attracted his attention. He saw their farm, how nature was thriving and how it was encouraged. Permaculture for Bonsignore is about trying to understand where nature wants to go, accompanying it on its journey and giving it a push in the right direction. Trying to understand how the water functions in an area. Trying to accept everything in nature and adapt to it. It's not about modifying; it's about adapting—kind of like being a human in the mountains on skis.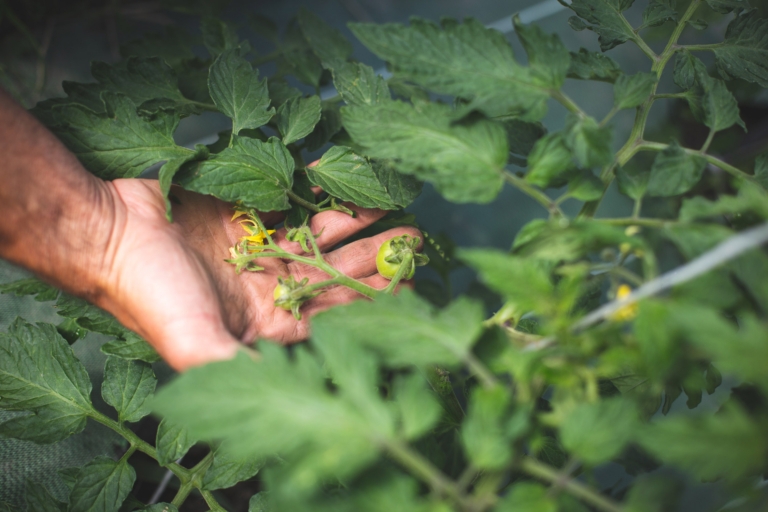 "Permaculture is about incorporating everything, and not fighting against something that does not seem beneficial from the start," he says. "We can learn and then realize that the part of nature you don't want can be valuable for other reasons. This approach really helps in everyday life as well. We learn to accept that everyone is different, and that's a benefit."
Bonsignore's work as a ski patroller in the high mountains also supported this mindset—patrollers study weather and snow conditions intensively, and at a wild ski area like La Grave, they learn to adapt to the elements. Ski patrollers in La Grave are there to advise other mountain people, not to point fingers or to make anyone do things their way. "In the mountains, or in farming, I do not want to tell others what to do, I just hope to offer guidance."
Farther down the valley, the lands of Le Bourg-d'Oisans are still in a mountain environment. There are several factors to consider when growing vegetables in the mountains, including temperature and light. Bonsignore has looked into techniques and approaches from places like northern Maine, where he sees a lot of similarities with weather patterns and terrain. His season starts in early March and finishes at the end of November. The daylight hours in late autumn and winter are limited and greenhouses are used for part of the year because of low temperatures. Bonsignore leaves wild uncultivated areas on the land, so that worms and other insects do not need to eat his salad for nourishment.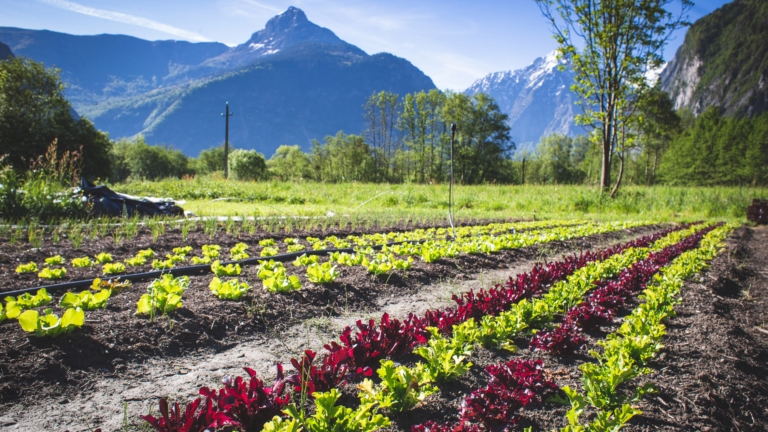 The Soreiller and the Temple Ecrins mountain huts take Bonsignore's produce during the summer season, so his guide friends and visiting mountaineers reap the benefits of his new work. The Saturday food market in Le Bourg-d'Oisans helps complete his circle, and he also sells his produce at the local market in La Grave, as well as to organic food stores and to restaurants in the area. "I wanted to produce healthy, clean food, to sell it to others and to live off it. When I leave this land, it should only have changed for the better, to a nurtured and more fertile soil."