Listen to "The Pugilist" Dirtbag Diaries Podcast Episode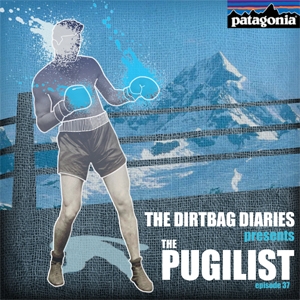 Patagonia ambassador Kelly Cordes steps into the ring this week for another round with Fitz Cahall and the Dirtbag Diaries:
"Fantasies happen from a safe distance. It's one thing to say you want something, even convince yourself of it. It's another thing all together to stand under a 3,500-foot nightmare you've feared for 15 years and try to actually climb it," writes climber and writer Kelly Cordes. At a quick consideration boxing and alpinism have little in common. Ponder it for a second and you might see the similarities. After years in the ring and even longer in the vertical life, Kelly certainly does. Each challenges its practitioner to accept fear. A boxer's opponent can deal out pain and defeat, and when you put it in that light, a mountain isn't all that different. Today Kelly presents a story about the biggest fight of his life and embracing the mythic choss pile that has haunted him since his early days of climbing.

Listen to "The Pugilist"
(mp3 – right-click to download – contains some expletives)
For more from Fitz, visit the Dirtbag Diaries or slide open the door to the recently updated Tin Shed. For more from Kelly, pull up your silky shorts as high as they'll go and jab your way over to his fantastic blog.