Changing the Fabric of Our Lives
Can a cotton T-shirt really help stop the climate crisis?
The dead bird was a final straw for Muleshoe, Texas, cotton farmer Jimmy Wedel. His father had been helping him plant a field of cotton when he spotted a pheasant's nest. An avid birdwatcher, the elder Wedel decided to skip a few rows to avoid the nest. The next morning, the two men found the mother bird dead near the nest. Despite their efforts to protect her, she'd been poisoned by the field's insecticide.
"It was the perfect storm of three things coming together," Wedel recalls. "I was concerned about the wildlife; I was concerned that the chemicals weren't working as well as they could; and I really hadn't made any money." The costs were just too high for the price he'd fetch. And it made it harder to sleep at night. Wedel decided to transition his cotton to organic in 1993, despite the fact that organic cotton was a novelty—then, and even today.
Cotton is the world's most popular natural fiber. Around 25 million tons are produced worldwide every year. But conventional cotton remains a dirty business. It's responsible for 16 percent of insecticide use, despite only using less than 3 percent of the world's farmable land. And over the past 25 years, all those harsh chemicals have made US agriculture almost 50 times more toxic to honeybees and other beneficial insects.
Additionally, most conventional cotton is engineered to withstand herbicides, often made from the carcinogen glyphosate. The runoff from these toxic chemicals pollutes our rivers and lakes, and produces dead zones in the ocean. It even enters our food supply.
Wedel knew he was a part of this toxic cycle and decided to make a change.
"Around 10 to 15 years in, I got to where I didn't like dealing with chemicals," Wedel recalls.
He decided to transition his farms to organic and helped form the Texas Organic Cotton Marketing Cooperative, where today he serves as president and supplies organic cotton to companies, including Patagonia. "When the whole world tells you, 'No, you can't, you can't,' we said, 'Yes, actually, you can.'"
Meanwhile, in 1994, the Patagonia board of directors was grappling with similar concerns when they decided to take the risk and put a $20 million bet on organic cotton.
"If we continue to make clothes with conventionally grown cotton, knowing what we know now, we're toast anyway," our founder, Yvon Chouinard, said. "Let's do it; let's go organic."
We went 100 percent organic by 1996, knowing full well that there wasn't yet a large market for it. But having an environmentally driven mission was incongruous with being part of the problem, explains Helena Barbour, Patagonia's vice president, global sportswear. "We took a really hard look in the mirror and realized some very significant changes needed to be made." The decision was costly, time consuming and required rethinking supply chains. But it was the right thing to do. So, we set forth three goals: to sell the line successfully, to encourage growth within the organic cotton farming sector and to influence the apparel industry to use organically grown cotton.
Twenty-four years have passed, and while we achieved the first goal, the second and third remain more aspirational. Even with our commitment, the larger cotton industry has remained unchanged at less than one percent organic. Few apparel companies have followed suit. As a result, most of the cotton we wear and sleep on is still grown with harsh chemicals using environmentally destructive processes. Our transition to organic cotton, though, has made a difference: for us, the farmers and the soil. But more work must happen to move the needle toward organic—to push for necessary change. The health of the planet and its people depend on it.
Beyond One Percent
"It's time to ask what we can do to promote and scale up the use of organic fiber in the apparel industry," says Barbour.
"This is about way more than what we can do as one company. We can, and should, do more to help increase the demand for organic cotton."
Getting the world beyond this less than one percent organic cotton market is not an easy undertaking. It takes around three years for farmers to get their crops certified as organic when transitioning from conventional practices. Without certification, many organic growers must sell their crop as conventional cotton and, therefore, can't fetch an organic premium. Farmers struggle financially, often lacking sufficient credit access, land titles or collateral in the eyes of commercial banks. Consequently, they may seek assistance from informal and often unscrupulous lenders. Within that time period, crop failure and added labor costs can make or break their business. For some farmers, there's simply not enough incentive. That is, unless they have support.
To help more conventional farms transition to organic cotton, we're financially backing farmers and buying their crops during these transitional years through a program in Peru called Cotton in Conversion. Peru is the leading producer of organic cotton in Latin America. By supporting the farmers during these transitions, we can help increase the overall supply of organic cotton in the market.
"It's great to work in a company where we can try to point the ship and create change," says Barbour. "I would really like to think that, as we all become more aware of going organic in our food, we will also wake up to using more organic fibers in our clothing."
Regenerative Organic: Beyond Less Harm to More Good

It was hot and humid when we first arrived in India in October 2018 to see firsthand who and what we were working with. Unlike other cotton farms we'd toured, the fields appeared to be in a state of chaos.
But on a closer look, we saw intent. Where on a conventional farm rows are separated by soil, we saw marigolds, lentils, chickpeas and vegetables growing between and around the field of orange-pink blossoms of early cotton. There was life. You could literally pick up a vegetable amid the cotton plants and eat it right there.
But more than that, these additional crops had a purpose. They were there to help maintain fertile and pest-free topsoil, naturally adding nitrogen and potassium to the soil. They were effectively replacing fertilizers and drawing carbon back into the soil. They were also there to increase the livelihood of subsistence farmers and their families.
This was going beyond organic. Regenerative organic finds solutions within nature: It rehabilitates soil, respects animal welfare and improves the lives of farmers.
"Organic cotton is just the beginning," says Rachel Kepnes, Patagonia's manager of supply chain social responsibility, farms and special programs. "Regenerative organic is about resilience in the face of the problems that arise."
In 2018, Patagonia partnered with Dr. Bronner's and the Rodale Institute to form a coalition called the Regenerative Organic Alliance, a team dedicated to setting standards and certification for the practices of regenerative organic agriculture—the outcome of which is the Regenerative Organic Certification (ROC). The approach is not meant to overwrite existing organic standards but instead to help support farmers, ranchers, brands and nonprofits harness regenerative organic practices.
Among the first 18 global pilot programs was a Patagonia initiative dedicated to growing cotton on more than 150 small-scale farms working toward regenerative organic certification in India, the world's largest producer of cotton.
"We were hoping that the additional cover crops and intercrops would produce more income for the farmers," says Kepnes. "We were also hoping that the improved soil health would help the farmers be more climate-resilient, keeping their farms healthy through various weather events related to climate change."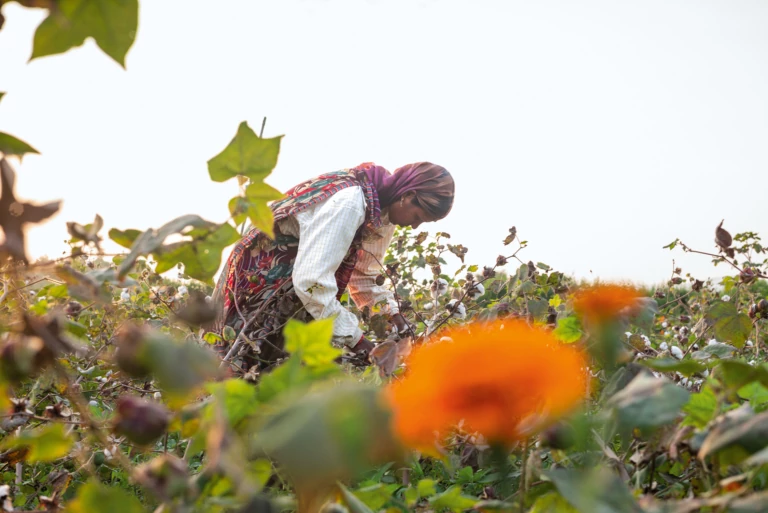 Within the next year, these farmers were able to produce enough cotton for our first line of Regenerative Organic Certification Pilot Cotton T-shirts, available now.
"Small and midsized farms around the world are suffering from a commodity-based model dominated by large agricultural interests that leverage everything against the farmers," says Elizabeth Whitlow, executive director at the Regenerative Organic Alliance. "We're going to change this by offering an alternative path to these farms with our newly launched ROC program.
"We're rewarding farmers for adopting regenerative organic practices that build healthy soil and communities," Whitlow adds. "Our goal is to disrupt the current paradigms of extractive, industrialized agricultural systems that pollute our water and air with cancer-causing pesticides and cause unprecedented erosion of topsoil."
What will success look like? If the farmers whom Patagonia supports can help improve the health of the soil and increase crop productivity, we stand a chance of reversing the loss of soil, while keeping farms and farmers healthy.
"Soil organic matter (carbon-rich topsoil) has very serious benefits," explains Stephanie Karba, an environmental researcher at Patagonia. "It stabilizes the soil itself and reduces erosion. If you increase soil organic matter by one percent, the soil has the ability to hold more than 20,000 gallons of water. Any increase in organic matter will help the soil retain more water."
There's even hope that this method of farming could contribute to addressing the climate crisis itself. Healthy, undisturbed soil also has the potential to draw down excess carbon from the atmosphere. This process, called carbon sequestration, occurs as follows: During photosynthesis, plants extract sugars from carbon dioxide. Soil draws sugars from the plants' roots and feeds nearby bacteria and fungi. Those microorganisms, in turn, transform soil minerals into nutrients that benefit the plants. They also convert sugars into organic matter that can trap carbon for up to centuries.
Some evidence exists that this process might make a real difference by capturing more carbon than other methods of farming. Land-based climate solutions could help deliver a third of the greenhouse gas reductions needed by 2030 to keep the world on track to the meet the goals of the Paris Agreement, per the United Nations' Intergovernmental Panel on Climate Change (IPCC). In the end, whether or not farming cotton for T-shirts can help solve the climate crisis won't diminish its importance.
"ROC is creating a pinnacle of agricultural practices," says Elissa Foster, Patagonia's senior manager of product responsibility. "It's asking what is the best that a farmer can do? It's a path that is driving conversation in the industry and hopefully inspiring farmers and brands to think about how agriculture can benefit the climate crisis we're experiencing right now."
This story is from the February 2020 edition of the Patagonia catalog.