Carving Space for More Black Surfers
/
June 29, 2021
5 Min Read
/
Surfing
Building positivity, inspiration and purpose out of a racist encounter in Los Angeles.
Warning: This article contains offensive and harmful language.
At 5 a.m. on a cool February morning in North Hollywood, Los Angeles, surfers Justin "Brick" Howze and Gage Crismond packed their car with surfboards and wetsuits and made the 40-minute drive into Manhattan Beach. They paddled out at the Manhattan Pier, a popular surf spot in Los Angeles' South Bay where the combination of the spot's highly trafficked waves and the occasional overly aggressive surfer can result in surfing's ugliest behavior—verbal altercations, splashing, physical fights and hate speech. That morning, Brick and Gage were the only Black surfers in the lineup, as usual.
While paddling back out, Brick accidently ended up in another surfer's line, ultimately ruining his wave. "I was instantly like, 'Yo, my bad,'" says Brick. "And the guy got mad and puffed his chest out on me, but we worked it out and he ended up apologizing later. It was all good. Then out of nowhere this third-party guy paddled up and started yelling, 'Get the fuck of out here. Go back to Bruce's Beach where you belong, donkey.' He kept calling me the N-word and Gage a faggot."
"I didn't believe what he was saying," continues Brick. "I tried to be super peaceful about it."
Brick and Gage picked up surfing during the pandemic and, at the time, were surfing together almost daily. "What started as a hobby in August 2020 quickly turned into a lifestyle," says Brick, who wasn't about to let some racist asshole ruin surfing for him. The 24-year-old producer and creative director—who has DJed for Childish Gambino; produced music for artists like Travis Scott, Kehlani and Buddy; played Coachella Valley Music and Arts Festival; and, last May, debuted his solo single "The Start," described as a surfing love story—was already finding creative ways to address racism.
On the north side of the pier, Brick and Gage remained in the lineup and continued surfing. "There were 10 or 15 people there, white people. They just watched this man call me the N-word over and over, and nobody said a single word," Brick says.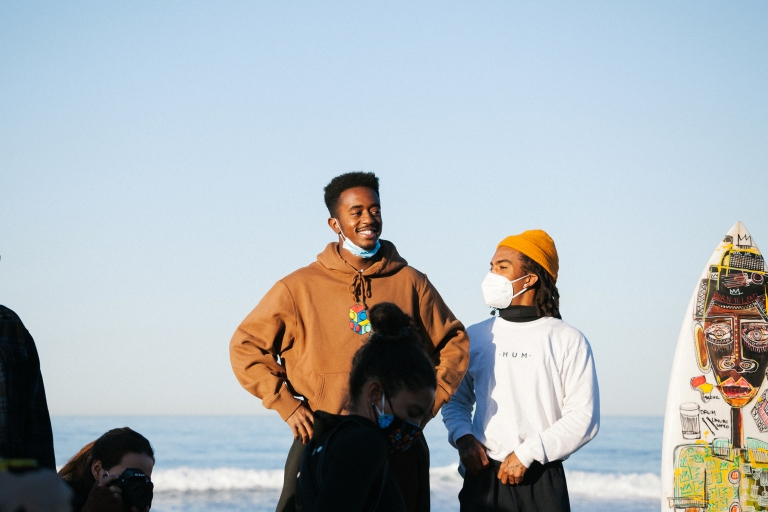 At the time of the Manhattan incident, Brick, Gage and Tre'lan Michael (not present during the incident) were already building a community of Black surfers, which led to them start a surf-and-arts collective called Black Sand that they describe as their "vision of the diversified future of surf." "Tre'lan's taught me everything I know about surfing," says Brick. "He's part of our collective, and our roles in it are ever-changing."
Following the racist incident, Black Sand hosted a Peace Paddle to reset the tone and show the surfing community that peace and inclusivity are the best ways to combat hate. The turnout was huge. "The most beautiful thing ever was to see so many Black people surfing together," Brick says.
The success of the Peace Paddle affirmed the group's mission to strengthen allyship within the surfing community and open doors for future Black surfers to participate. "The number one problem that I've recognized is the hate speech and violence that happens in the water," says Brick. He's experienced similar discrimination while playing other white-dominated sports like hockey; this incident, however, brought a new purpose to his surfing journey. "When we named our collective Black Sand, I'd written 'built from destruction' beneath it because black sand comes from volcanic eruptions and material, and black-sand beaches are an anomaly," Brick says. "It's crazy that the event in February brought a deep sense of truth to what we had created."
Black Sand seeks to build a community of Black surfers, help them through the intimidating beginner's stage and inspire other people of color to take up space where they feel liberated. "We all share the same struggle and find the water so healing," says Brick. "Everyone deserves a right to give surfing a try." Additionally, they want to help reinvent surf culture. "There aren't many [people] in this space who look like us. We have guys like Mikey February, Kaniela Stewart and Wesley Santos, but if you look around for Black surfers being represented in the mainstream surf world, you have to dig."
Along with rallying Black surfers and allies in the water, the group has found ways to give back to their local BIPOC surf community. They released two shirts on their website with 100 percent of the profits going toward BIPOC and youth surf organizations—Color the Water, Textured Waves, Surf Bus Foundation, Black Surfers Collective and more—that donate surfboards, provide ocean transportation and surf lessons to youth in lower-income communities of color and are helping create much needed representation in the sport. They've sold through their inventory twice. They've also recently partnered with OHANA Surf Club and are helping take lower-income BIPOC youth surfing and to the beach. "We're taking on more of mentorship role there," says Brick. "It's a four-week program, and we want to be there to share our experience and be part of the Black representation in surfing."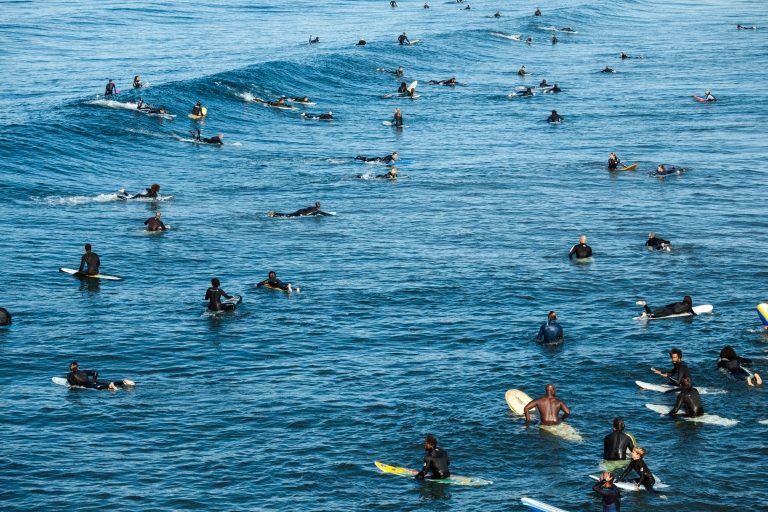 Brick acknowledges the fact that eradicating racism in a space where it was once normalized is lifework. "Massive changes don't occur overnight. So, we'll continue to push this image of us out and maybe inspire the next great Black surfer," he says. "This is long-term. Surfing is a new world for me, I can acknowledge that, but you have to have a voice in the communities you're in and relate to."
"Black Sand's whole mission is to set the tone," Brick continues. "Our behavior is going to be what shifts the culture, and sometimes that's as easy as just saying good morning in the water. It's been great seeing the surf community quite literally evolving over the course of the year. Where we're at right now is good. We're getting the chance to tell our story the way it was meant to be told and not through the lens of some hater-ass dude. Black Sand was not created from that event—it was created from a place of love and hope."