Buffalo Spirit
Chris White Eagle
/
October 19, 2022
/
6 Min Read
/
Food
Indigenous people once shared a deep bond with the Plains bison. To revive that connection, a Cheyenne River Sioux community leader is leading by example and teaching his knowledge to others.
Trigger warning: This story contains images of butchered buffalo. 
My dad was a butcher—that's initially what drew me to this line of work. I've worked all over the state in butchery, and I've been with Wild Idea since around 2011. I started off steak cutting and worked my way up through every position. I know how to break down a buffalo start to finish. Chuck roast, brisket, flatiron, shank: I've cut and prepared it all. Buffalo is tougher to cut than cattle because the muscles are denser, but I enjoy the challenge. Like with a plate steak: You have to go through the spine, take off the arm and take out the paddle bone—and while you're doing it, you have to make sure you ain't messing up the meat. It's hard work!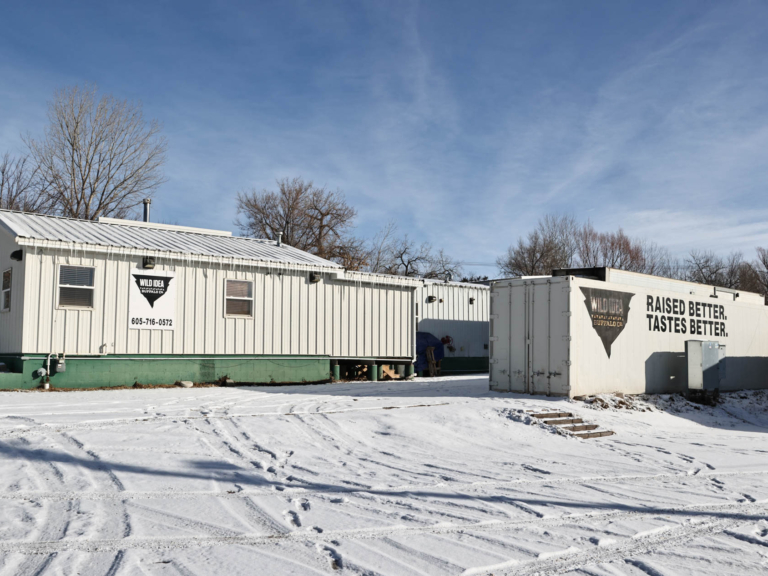 I also work with buffalo because it goes back to our people. We are Buffalo Nation. These animals helped feed us then and can still feed us now. Buffalo provide other benefits, too. I'm an urban Indian, and I remember the first time I picked sage. I was a teenager—this was a long time ago—and I just pulled it out by the roots. That really killed the plant. I was corrected by an Elder: "Chris, what are you doing? You need to use scissors." We do that so it grows back [stronger]. The buffalo know this. If you watch them, they don't eat all the way down into the roots of the grass, just to the top of the soil. They help restore the land.
I'm at a point in my life where if I don't like or respect a place, I won't work for them. I've stuck around in large part because Wild Idea lets buffalo do what buffalo do: roam free. No feedlots or antibiotics. Here, they don't crowd them up, and they don't feed them corn or soybeans—the buffalo are 100 percent grass-fed. Also, I stand behind the company's humane harvesting, which is done in the field while they're grazing. They're not hauling live animals off in semis, and there isn't any stress or suffering.
My work gives me the chance to train our young Native men to be butchers and learn a trade. Two of them are my sons. It allows me to bring opportunity back to our people.

Last fall, we did a traditional buffalo hunt. I run a teen center on the north side of Rapid City, South Dakota, and I literally had 46 kids out at the ranch, along with 18 adults. We got up at 4:30 in the morning, drove out there and had a ceremony—we got to listen to prayer songs. We formed a big prayer circle and smudged everybody, and then we did the hunt.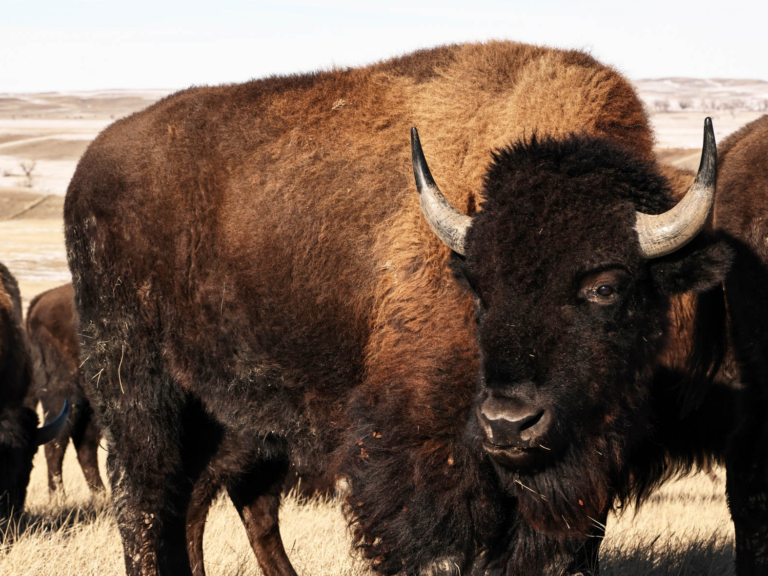 When we found the herd, one of the bulls—a kola (friend)—kept presenting himself and making that low buffalo rumbling. He'd just stand there, outside the herd.
Us adults were trying to keep the kids quiet. They all started pointing and saying, "Look at that one buffalo!" They were so excited. Meanwhile, the medicine man was singing the whole time.
The bull went back into the herd, but we could still hear him rumbling. The third time he came out, that's when the harvest team took him. The rest of the herd stayed calm.
We skinned the bull there in the field. I broke down the whole animal to teach the kids. The young girls in our group wiped the buffalo down with sage. We took every part of the buffalo, even the hide—the kids are going to make drums out of it for a fundraiser. It was very, very spiritual. We left nothing but a blood stain on the prairie. We took everything.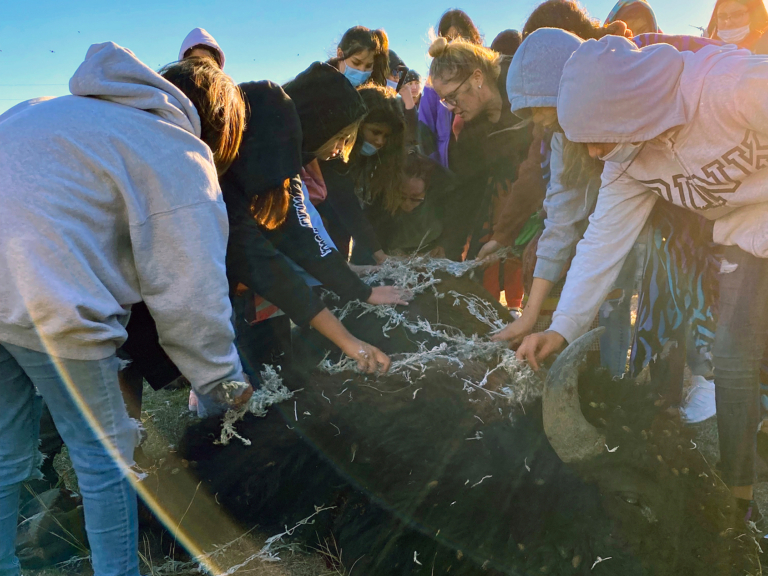 When I tell people in our community about the hunt, they're like, "Whoa!" They're just blown away. And it blows their minds that the ranch owners are white. As Native people, we don't come across that many white people who are actually open-minded [about Native practices]. The thing is, all of this should be normal.
Here on the north side of Rapid City, we've always dealt with racism and still do today. On top of that, we've had to deal with losing our culture and our language, and the fact that urban Natives don't always get to witness the spirituality part of being Native. We don't fit within the white world because we're Native, yet we can't fit in on the rez because we're what you'd call "McDonald's Indians."
My dad was a Sun Dance leader, from Northside, like me. One year during the Sun Dance, he had a vision to bring our culture back to Northside. He did it for years through his Wambli Ska (White Eagle) Drum & Dance Society. He started off with just his CD player at the back of the Woyatan Lutheran Church. It got big enough to where they were doing powwows down at the civic center—at least a dozen drums, with 300 to 400 dancers. A couple thousand people came through at the big ones. My dad never got grant money; he never got donors. It was all out of pocket. He ended up passing away four years ago of a heart attack.
When my dad passed away, I was working two jobs—at the plant and at the Club for Boys, as the coordinator for the older boys. So I already had experience working with youth before I stepped in to run the Wambli Ska Society. We've still got the drum and dance society part of it, but now it's based on basketball and the other programs we provide. We've got a regalia-making room in there. We've got a little gym and even a recording studio. We also have a food bank. Every night, the kids come in and get a meal. We serve anywhere from 76 kids, which is the lowest number I can remember, to 126 kids every single day. Having this center, having resources and options—it's important, especially for our people.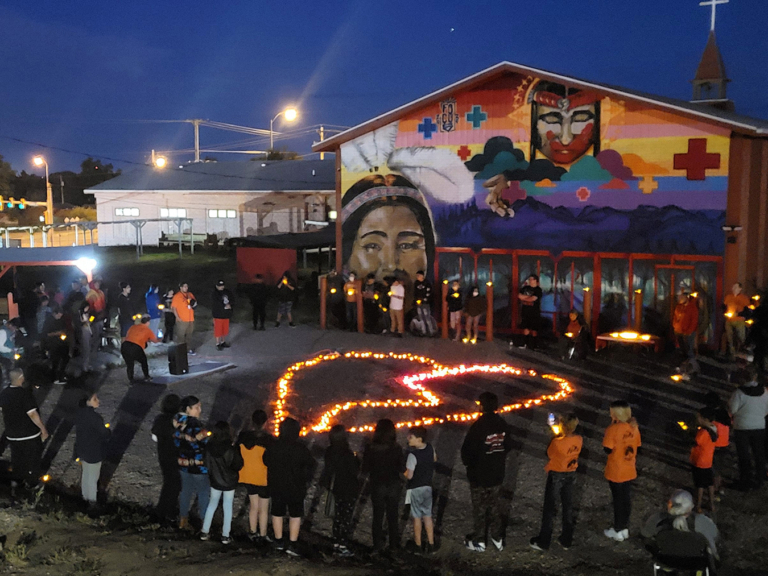 It's why I'm glad I can work at a place that provides both a job-training program for Native people and the chance to hunt. We can give the next generation access to opportunities and our culture, like in the field with that bull. I'm there with these young kids trying to teach them how to break down the animal. I could do the whole process from start to finish myself, but instead I'm able to give them the chance to participate and to learn—that's the key. I was in their shoes when I was a young man, and I know the harsh realities of the life that we live. Working with the buffalo here, and alongside these kids, reminds me that there's hope.
Patagonia Provisions uses Wild Idea buffalo to make their Buffalo Jerky and Buffalo Links. Learn more at patagoniaprovisions.com.
---