A Pandemic Can't Stop MeWater
Morgan Williamson
/
March 29, 2021
/
6 Min Read
/
Surfing
How a nonprofit that takes San Francisco kids surfing expanded its work in 2020.
Almost 900,000 people live in the near 48-square miles making up San Francisco, California, a mix of cultures, wealth and classes closed in by water in almost every direction. The city has three coasts, two parts muffled by the Bay, the other unobstructed to the Pacific Ocean's most powerful swells. Yet, plenty of the city's near-million residents, have never been to the coast, or learned to swim—a prevalence attributed in part to the city's history of systemic racism.
Eddie Donnellan has spent his entire life surfing in and around the San Francisco region. In 2015, after working in residential treatment care for 22 years, he and his childhood friend Tim Gras founded the MeWater Foundation, a nonprofit with a goal to "educate, inspire and empower youth and families through the magic of Mother Nature." Among the foundation's work is a program designed to give young people more exposure to the beaches and waters around their hometown.
"My childhood wasn't the greatest, and surfing brought me so much that I knew these kids could benefit from getting in the water," Eddie says about the inspiration behind MeWater. "Some of these kids have a view of the Bay but have never been to the beach. There are color barriers, predominantly white and Black, trust barriers and racial issues involved, but it started with the simplicity of getting kids to the beach."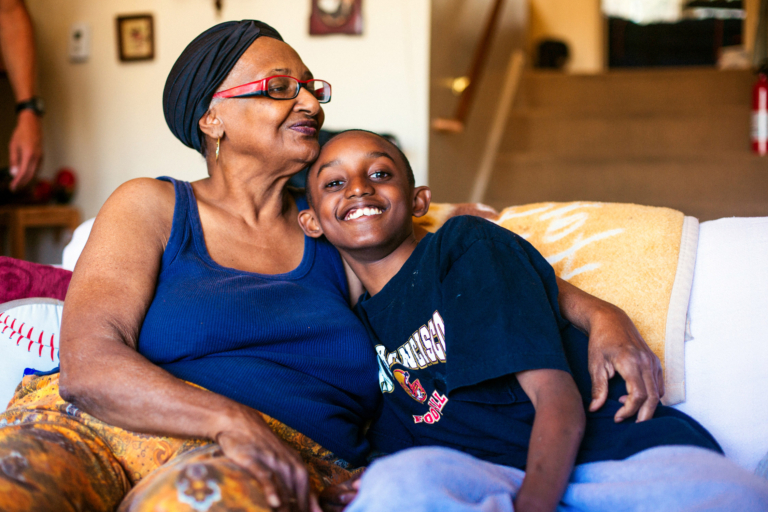 Anthony Sowell and his grandmother Shirley Sowell live in Hunters Point, on the southeast side of San Francisco. It's close to the coast, but Anthony had little experience with the ocean. That is, until he turned seven, and met Eddie at a Kinship program, which offers aid to extended family members raising children that aren't their own.
"Eddie introduced himself and said he took kids surfing," Anthony says. "I didn't know how to swim, but I thought that sounded cool. So, he brought me to Pacifica, and we went surfing. At the end of the day, I was like, 'Dang, this is already over,'" Anthony says with a laugh.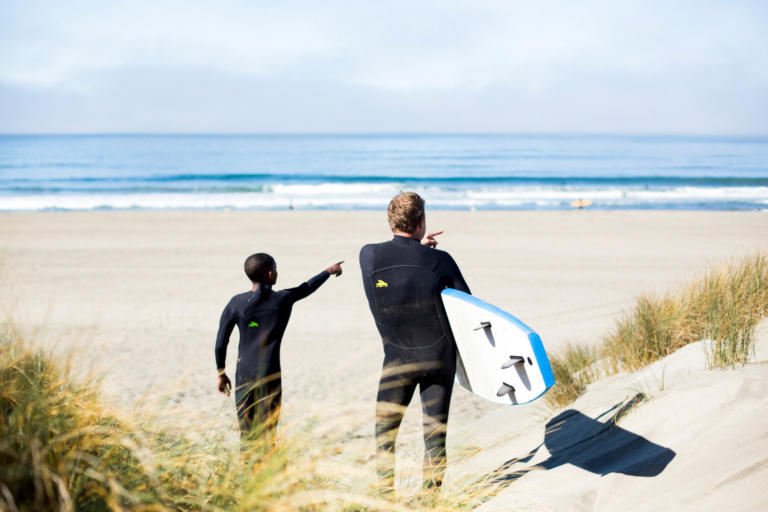 ​Today, Anthony is still involved with the group and has watched it grow considerably. What started with a half-dozen kids in borrowed wetsuits is now a network that spans over 400 families, all over the city. The curriculum is a loose mix of ocean awareness, plastic pollution awareness and marine biology, followed by beach cleanups, but the core goal is simple: Go surfing, share stoke and get kids excited about the ocean.
"It's about getting everyone down to have a day at the beach, getting in the water and having fun," Eddie says.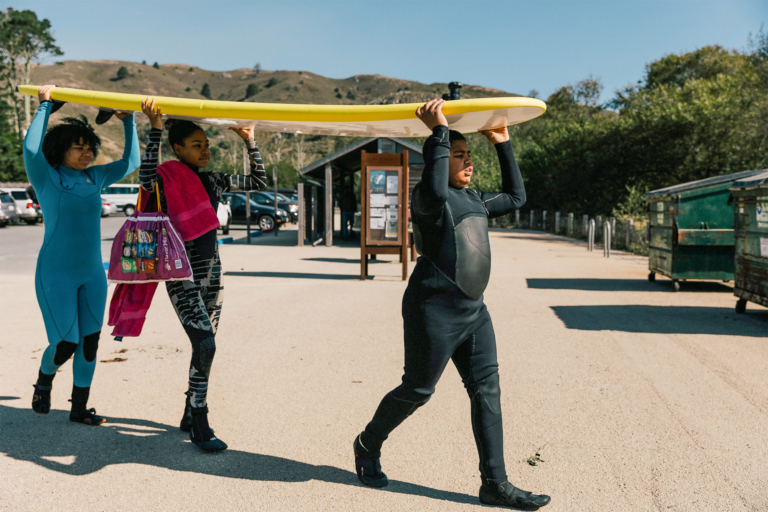 The experience can be as much about developing trust as surf skills or education. Like many of the MeWater surfers, Anthony has felt the effects of systemic racism in San Francisco and the police department firsthand. "The reason I happen to be raising Anthony is that his father was killed by police when he was 6 months old," Shirley says.
Eddie and Tim are both white and so are a lot of the volunteers—as such, there can be an understandable distrust among new surfers. "When some of the kids show up, you can tell that they haven't had many positive experiences with white people," Eddie says. "They might act like, 'I don't trust this dude,' and we're like, 'Alright, let's get that wetsuit on and see how we go.'
"Eight out of 10 times, those same kids are who you can't pull out of the water at the end of the day."
Eddie's worked in nonprofits for most of his career; he and Tim have spent the past two decades working together at the Edgewood Center for Children and Families, an organization specializing in trauma-informed care and running outdoor summer camps. At the beginning of 2020, it looked like Eddie's dream of putting all his time into the MeWater Foundation could become a reality. Then, the pandemic hit.
"MeWater isn't just about surfing. It's about keeping your families and friends safe and sound."
As many nonprofits were forced to shut down, MeWater adjusted. The risks of taking kids surfing during the pandemic were significant—especially considering that many participants, like Anthony, live with grandparents and immunocompromised family members—so Eddie started packing up his van with food and necessary supplies and heading out to the neighborhoods of the MeWater community. "It was a quick pivot," says Eddie. "We knew we weren't going to be able to take kids surfing for a while, so we thought, let's figure out something different. We raised a lot of money, did some back-to-school stuff, Patagonia donated 50 backpacks. That's where the idea for the food drive started."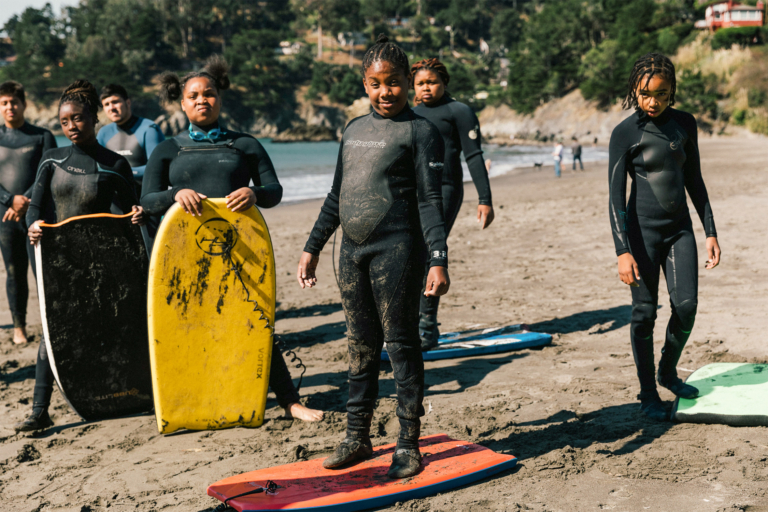 "Eddie started bringing us over pizzas and stuff to keep us full, so we didn't have to leave the house," Anthony says. "During Thanksgiving, I helped Eddie deliver a couple hundred turkeys. Then for Christmas, we did a gift drive. Eddie took us and some other kids down to a workshop to get Christmas gifts at a foodbank down in the Projects. It's shown us that MeWater isn't just about surfing. It's about keeping your families and friends safe and sound."
Eddie says they'll get back to surfing once the kids are back in school full-time, but for now, the food drive is here to stay. He's even linked up with some of the neighborhoods' local foodbanks and drop-off centers. "It's added a whole other component to our organization," he says. "It's such a necessary thing, especially as a lot of the nonprofits have had to shut down."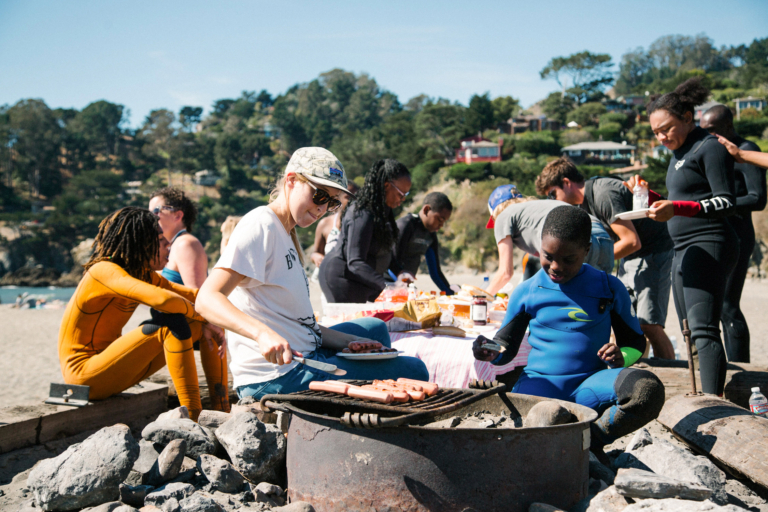 As for Anthony, the program has helped shape his trajectory into adolescence. He says MeWater can give kids new experiences, skills and help them stay out of trouble. "MeWater has broadened Anthony's horizons past football and baseball and stuff like that," says Shirley. "Since Anthony doesn't have a dad in his life, Eddie has come in as one of his father figures, of which he has a few. I got him into playing soccer, tennis, basketball and other sports, but surfing has given him a more open range. Now he's getting ready to do the [Dr. Martin Luther King Jr.] Oratorical Festival speech contest that he's been doing since kindergarten. He's a seven-time first-place winner."
The Dr. Martin Luther King Jr. Oratorical Festival is an annual competition held in Oakland where children from all over the Bay Area in grades pre-K–12 come to compete. "This year, my speech is on the people who were killed: Trayvon Martin, George Floyd, Breonna Taylor, the Black Lives Matter protests and police brutality. So, I'm going to speak to that from my experience of losing my dad."