A New Surf Culture
Stephanie Vermillion
/
May 20, 2021
/
6 Min Read
/
Surfing
This Great Lakes surfer never felt represented in the surf scene, so she created a new surf culture of her own.
The swell roared, crowds cheered and momentum grew as Robin Pacquing approached her first wave on Lake Ontario. At least, it felt that way. It was 2005, and Pacquing, a Canadian surfer who'd chased waves in Hawai'i and Tofino, BC, had yet to tackle the surf off the shores she grew up exploring.
"It felt like the biggest wave in the world," Pacquing said, laughing. "But, it was maybe ankle-high surf." And that cheering section? It was a lone dog walker, excitedly celebrating Pacquing's victory from Ontario's Mississauga waterfront.
Symbolically, this wave was everything for Pacquing. It sparked her lifelong journey with surfing, and that journey ultimately shaped today's Great Lakes surf culture. "For me, that moment was life changing," she said.
Pacquing, the daughter of Filipino immigrants, had long adored the world of surfing. She binge-watched Baywatch and pored over surf magazines as a teen. But, like most media consumed during her childhood, Pacquing never felt represented. "I'm short, stout, brown, not tall or blonde—that's just my genetics," she said. But Pacquing kept on surfing, and her heritage became her reason to paddle out. "I knew surfing had Indigenous roots with Hawaiians and islanders," she said. "While I'm not from the Philippines—I was born and raised in Canada—my roots are there. I felt like that was my only in, and that's why [surfing] felt OK."
Pacquing learned to surf at Waikiki beach in 2000. She was 20 during that first lesson and spent subsequent years plotting to move near the ocean. But when she uncovered the secret world of Great Lakes surfing in 2005, her life calling took shape. She practiced religiously, made a name for herself and used that experience and esteem to cultivate the very thing she'd lacked growing up: a diverse and inclusive surf culture.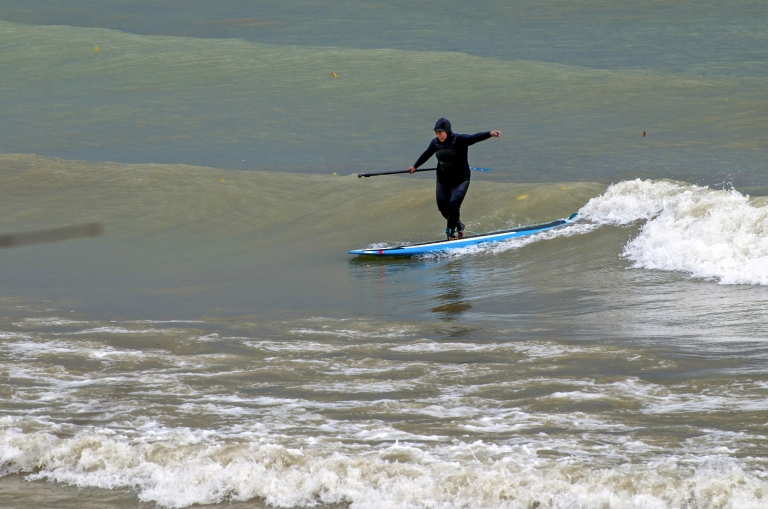 It's tough to change a deep-rooted culture in established surf meccas like California and Hawai'i, and surf norms are notoriously slow to adapt. Up until the 1990s, women made up a small fraction of the surf population. And into the 2010s, the media largely objectified and hypersexualized female surfers rather than celebrated their skill and athleticism in the water. Today, the landscape's different: Women make up between 20 to 30 percent of the surf world and dedicated female surfers have rallied for landmark changes, including the World Surf League announcing prize-money equality in 2019.
Meanwhile, back in Pacquing's home in Oshawa (near Toronto), and across the Great Lakes region, surfing is still relatively new. That's not to say surfers haven't been catching waves here for decades. They have, and documentaries like Unsalted: A Great Lakes Experience make that clear. But Great Lakes surfing has always been more word-of-mouth, like a secret society. Only recently, through social media and articles in both surf magazines and media outlets such as The New York Times, has the unexpected sport become more mainstream.
"It's like the final frontier for surfing," Pacquing said of the Great Lakes surf scene. "The idea of actual surf doesn't exist here. There's zero expectation, and that breeds this culture of stoked people making do with what they have."
Pacquing's early adoption of Great Lakes surfing and the region's pure, raw enthusiasm for it were the perfect ingredients for a new and welcoming surf culture. In 2014, she and Canadian artist and surfer Lisa Parkes dreamed up the idea of Lake Surfistas, a grassroots group that inspires women of all abilities to surf, SUP (stand-up paddleboard) and SUP surf across the Great Lakes. They launched the kind of community Pacquing could've used as a teen, with a 30-person beach day event on Lake Erie that October. Today, the group has over 1,000 members of all ages, identities and ethnicities.
"A lot of the women entering the scene weren't young like we expected," Pacquing said. "They were women of means. They had careers. They were moms, or they were not moms. A lot of us were just out of relationships and redefining ourselves. You don't have to be super pro or rad, sponsored, whatever. You've just got to love it."
Pacquing, who alternates between surfing, SUP surfing and SUP takes this love of sport seriously. She's a World Paddle Association-certified SUP instructor; the first Asian-Canadian member of Wyldewood Surf Club, one of the Great Lakes' oldest surf institutions; and a certified surf judge with the International Surfing Association. She's also going on a streak of over 80 consecutive months surfing at least once per month on the Great Lakes.
This is no doubt an impressive resume but being renowned in the Great Lakes surf community is only part of Pacquing's story. The other half is a lesson in perseverance and a reminder that self-acceptance is a never-ending process, even for established surfers.
"I haven't always been positive about my body, ever since I was a little girl," she said. External forces like the media and peers weren't the only factors at play. "I was called taba (fat) often by my family," she said. "If you are familiar with Filipino culture, then you'll know being called names like this were damaging but also given with love and endearment."
Body-image struggles and naysaying filled Pacquing's life during a foundational time: adolescence. "I was hindered in sports because I was asthmatic, and I had teachers who told me that I couldn't play sports because of who I was and what I looked like," she said. "In the sixth grade, I wanted to try out for the tennis team. I had a teacher who outright said, 'No, not you.'"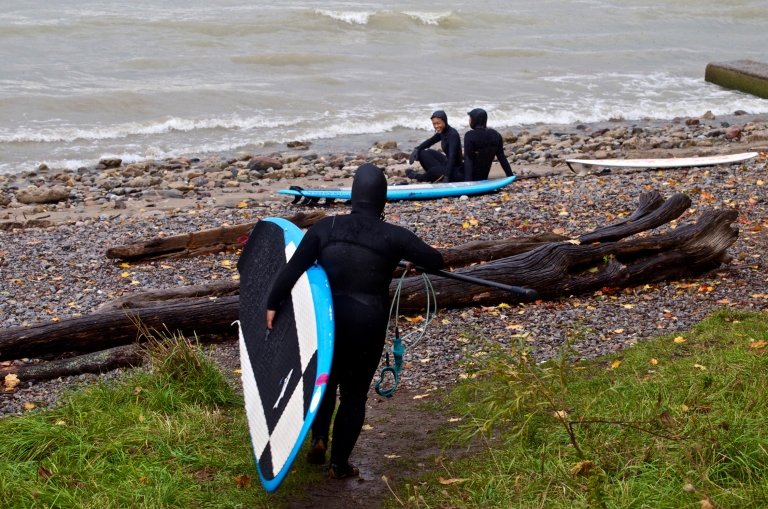 Pacquing listened to her teacher; she learned music instead. But her love for the Great Lakes and outdoor adventure persisted, thanks largely to her father who embraced and introduced his children to Canada's outdoor pursuits like skiing. "My dad just threw himself into it," she said. Pacquing's parents immigrated to Canada from the Philippines in the early 1970s. Connecting with nature was integral to her childhood. "They instilled in my brothers and me that we needed to be outside and in order for us to really feel like we belonged in this country, we needed to be part of the land," she said.
When Pacquing had that transformative first Lake Ontario surf in her mid-20s, it helped change her mindset. "I had been considering moving out of the country to live by the coast but learning about Great Lakes surfing is one of the reasons I stayed," she says.
By staying in Canada and spearheading a surf movement, Pacquing proved the naysayers wrong. But one critic lingered: herself.
Pacquing's body acceptance wavered throughout her 20s and 30s. She was in her surfing prime, but like so many athletes and women, idealized portrayals of other women's weight and images made her self-conscious of her own. Now, having just turned 40, Pacquing is overcoming many of these esteem and self-worth issues. But that doesn't make body acceptance any easier.
"Seeing how my body has changed from when I first rode a wave 20 years ago to now, it's heaps of difference," she said. "My muscle memory is better now, but the speed and ferocity, my tolerance to cold—I'm feeling that. This is something I've been personally dealing with for a long time. Instead of focusing on weight or image, though, now it's like, 'Can I feel good in the body I'm in? Can my body move the way I want it to move?'"
Her friends and fellow surfers across Lake Surfistas, the very people she motivated to start surfing, are now helping her navigate this journey. "Some of us [in Lake Surfistas] are in our 40s and 50s," she said. "Seeing the life experience of those who are older than me is like a window of what to expect."
And, as Pacquing learns to embrace her body in this new decade of life, she often forgets just how many young, underrepresented surfers she's encouraging by simply doing what she loves.
"We have so many younger women who have much more energy than I have, but it's inspiring because some of them have come up to me to say, 'You opened the door, so I don't feel so hindered. I feel welcomed because you did it,'" Pacquing said. "If I helped make this community feel a little more comfortable, then amazing. I've done what I'm supposed to do."