Vanquished: Kelly Cordes Chases a Fleeting Ice Route in His Own Backyard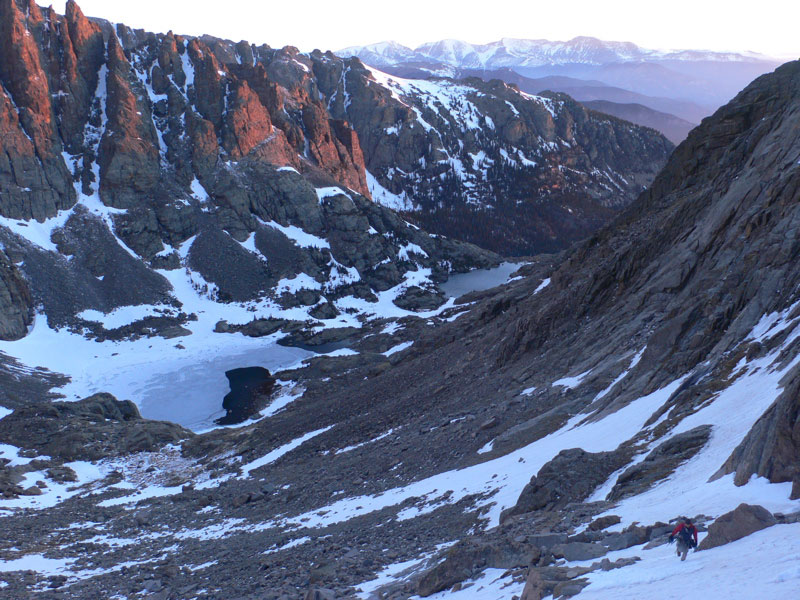 Sometimes you don't have to travel to Pakistan for a meaningful alpine experience. Our good friend and product tester, Kelly Cordes, who's also the senior editor of The American Alpine Journal, has been on "The Chase" in his own backyard looking for ephemeral melt/freeze lines. Says Kelly, "It's staggering to think about how many hours of time I, and others, spend on recon missions, carrying the gear around pursuing some rumor, studying maps and weather forecasts and scheming, etc. [The Chase] certainly applies to surfers as well, from what I gather,  probably skiers too, finding the right stash and right conditions." Today, Kelly shares with us the ups and downs of The Chase and how, with some local knowledge and little luck, it can pay off.
Since moving to Estes Park eight years ago, I, like every ice and alpine climber around, have fantasized about a route called Vanquished. Every fall and every spring, Rocky Mountain National Park climbers whisper about fleeting smears of ice and patterns of precipitation, temps, wind and sun. Ice will form and disappear within 24 hours. Rumors and notions circulate like conspiracy theories. The Chase begins.
My theories rarely pan out, no matter how hard I try to convince myself. At best I calculate about a 4:1 ratio of "taking the gear for a walk" to succeeding on the Park's alpine treasures, but I've emptied my abacus on Vanquished.

For me it starts with low-investment, "just a little exercise," trail runs and ski tours – but always with my binoculars and with ulterior motives. If I see something, I call a friend and ask, "Hey, wanna carry packs full of climbing gear around the Park?"

More than anything, you just have to go.

I love the process. Vanquished isn't cutting-edge or even that big –probably 700 feet of climbing to the top of the route, and at least double that to the summit or summit ridge. But local gems sometimes carry such mythical status, and you invest so much, that you don't really care.

Steve Su (a.k.a. A Boy Named… and Secret Asian Man for his being a humble, low-key hard man) and I had done a couple of alpine mixed routes in the Park in the last half of May, when Vanquished wasn't there. And then everything seemed to melt out and everyone went rock climbing.Still we wondered, maybe Vanquished will form…

On Sunday, June 1, in a short-sleeved T-shirt I alternately skied, carried my skis, and post holed (ahhh, the joys of Spring) to Sky Pond and glassed the route. Small snow patches fed the scooped-out shaded face. Remnants of ice clung to the upper half, and water ran down the bottom. Damn, missed it again.

Two days later, the 12,000-foot forecast called for a brief snap of snow and nighttime lows below 30. Ahhh, the joys of Spring.

I studied my photos again, called Steve and agonized over what day would be best – too early and it's not there, too late and it's gone.It's a three-hour approach, I was under deadlines and shouldn't be missing even an hour of work, and Steve works, goes to grad school and has a family.

So I called the master. Duncan Ferguson, chief field tester for Patagonia, knows more about melt-freeze mixed climbing in the Park than anybody. In the 70s and 80s he was one of Colorado's most prolific all-around climbers and a true maestro of ephemeral ice and mixed. Even today, when locals find some smear in the Park, the saying goes, with a respectful smile and a shrug, "Duncan probably did it."Through the phone I read him the weather forecast, asked his advice and took notes.

June 7 was our day. But the afternoon would get warm so we had to be fast. And early. I utterly despise early starts. I skipped my nightly margarita ritual, got a 40-minute nap before rising at 12:10 a.m.,meeting Steve at 1, hiking at 1:45, reaching the base three hours later and killing an hour waiting for sunlight. It's a rare and notable day that my lazy ass gets to a route too early, but there's a first time for everything and I'd chased Vanquished for eight years. We didn't want to miss it.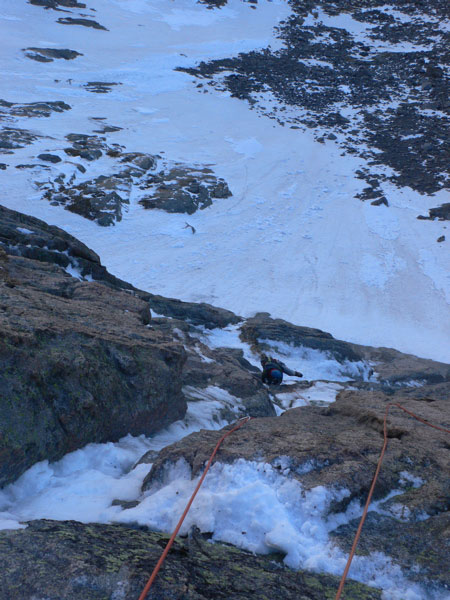 Steve following a good mixed section low on the route. The crux of the route came well below, probably only 30 feet up, a 70-degree slab that would be a cruise with ice but felt hard with crampons frictioning on the wet rock. Were the entire route perfect, though, it just wouldn't be the same.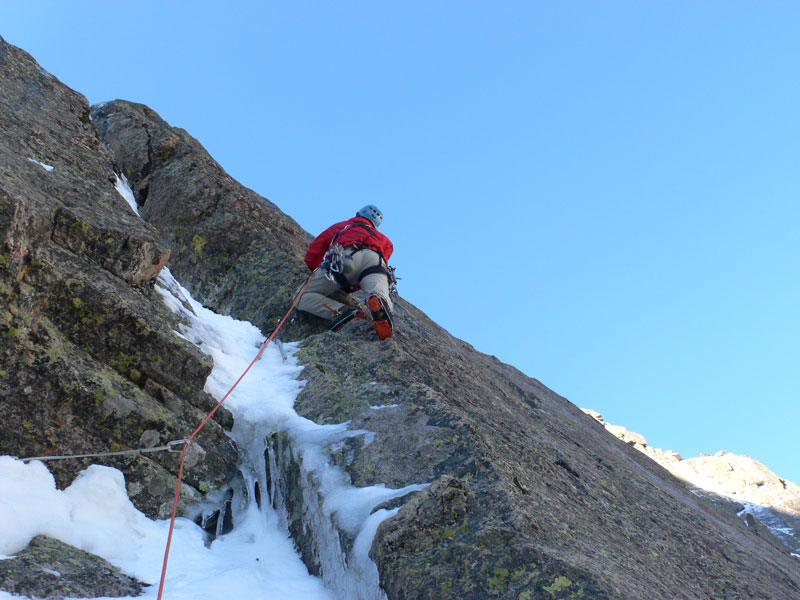 Steve searches for rock pro before groveling into a sn'ice (sugary snow-ice) chimney on the rarely forming route.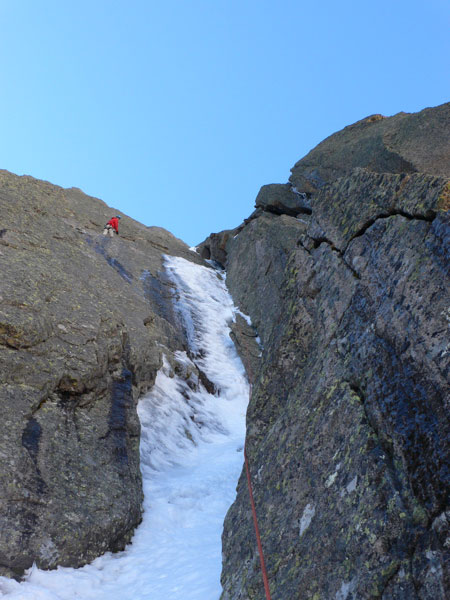 Steve belays after leading a phenomenal stretch of melt-freeze ice.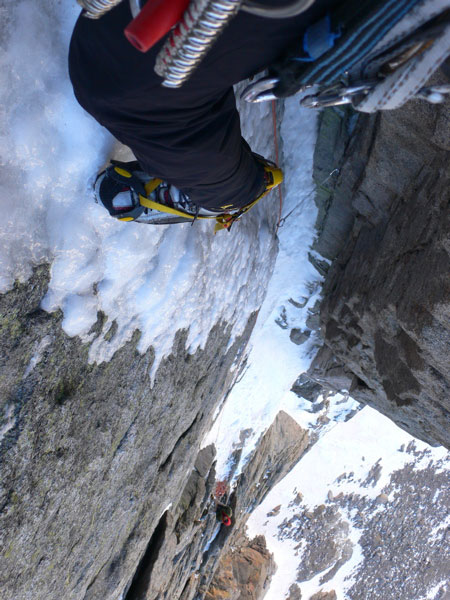 Still on phenomenal melt-freeze alpine ice, and below the final sketchy stretch of the route, I took a break from giggling to snap a photo of a smiling Steve Su and the "too good to be true" climbing below.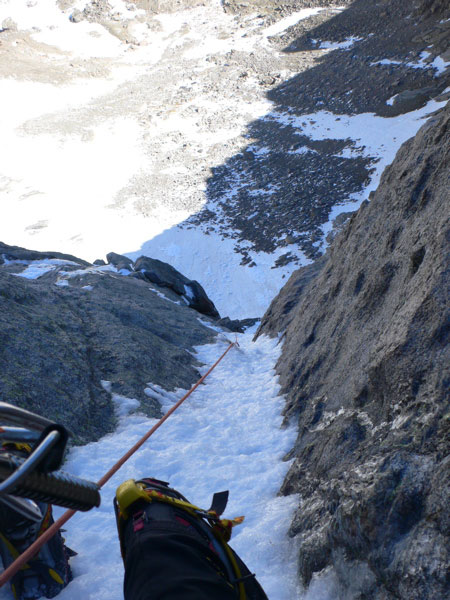 The final stretch of the route proper, where the narrow runnel alternated between super-cruiser-fun (white stuff = good névé) and terrifying (white stuff = worthless sn'ice, which, of course, always appeared when there was no protection).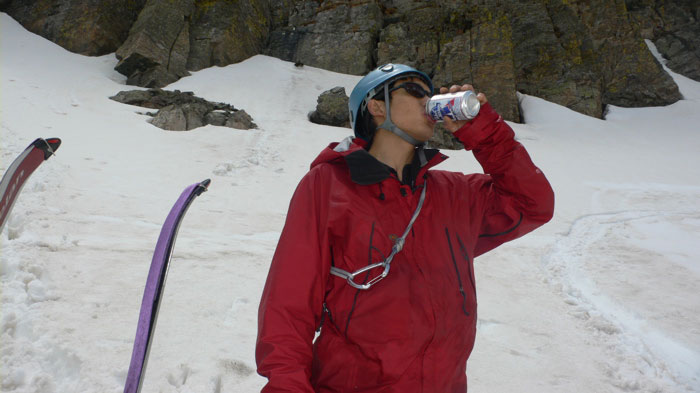 The Secret Asian Man back at the skis after climbing Hallett Chimney the week before. That day on Hallett's, our friends Doug and Weasel One started up the route an hour or so after us, and, as they knew we were heading up, they'd carried in cold beers and left them for us in the snow – never mind that it was still morning when I took this shot, because good days, friends and PBR are all important.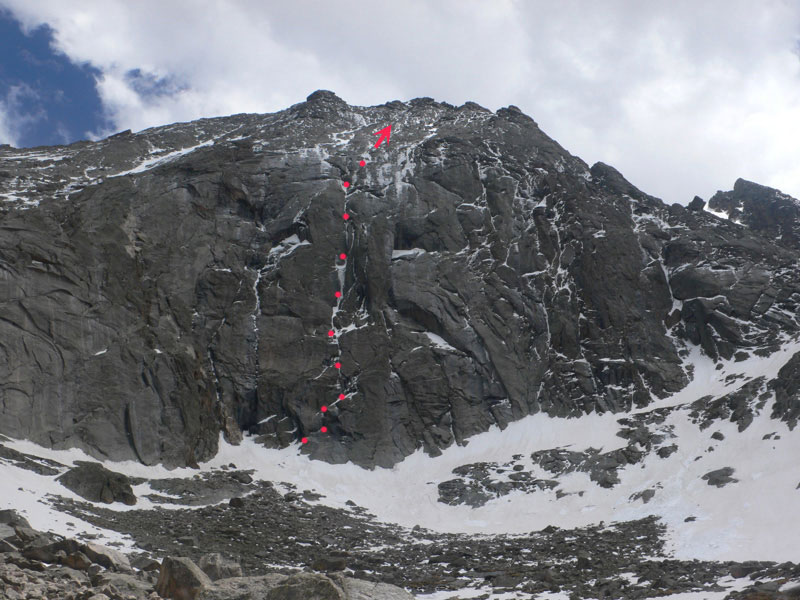 Vanquished, on the north face of Powell Peak in Rocky Mountain National Park, as seen on our hike out after the climb. It's not the longest or most difficult climb, and it wasn't even a very big day, but there's something to be said for appreciating your own backyard. Besides, I love The Chase – and the result proved worthy, too, as it's certainly the best mixed climb I've done in RMNP, or even in Colorado. I'd love to climb it again…
All photos © Kelly Cordes