The Unridden
Kosuke Fujikura
/
26 Jun 2020
/
4 Min Read
/
Surfing
If you don't get what you came for, be sure to enjoy the ride.
In March 2015, Kohl Christensen took Yusei Ikariyama for his first surf at Waimea Bay. For years after, Yusei hounded Kohl through broken English and lots of emojis to come surf the typhoon swells that hit the reefs of Japan's Amami Islands, where he lives. Waimea had opened a world of possibilities for Yusei, and he looked to Kohl to be his mentor and partner in exploring the unridden monsters that broke at home.
So, when Typhoon Hagibis formed in the western Pacific in October 2019, it was go time. We booked flights, jetted to the airport and barely made it onto Amami Island before the storm peaked and shut down all incoming and outgoing flights. Almost as soon as we exited the terminal, Yusei had Kohl and me in tow, chaperoning us to his home—a convenient ten-minute ride from the terminal. That first evening came with worry. While the waters surrounding Amami Island radiated a magnificent electric blue—unlike the murky green waters of Chiba or the neon glow of Tokyo typically associated with Japan—the swell hadn't arrived as we'd anticipated; it was flat.
That night, Kohl and I laid our heads in the back half of Yusei's property, in the space where he and his wife now spend their nights after managing their shop, Cannen Surf, that now occupies the other half of Yusei's home.
The next morning, we woke to a jetlag alarm clock and drip coffee mixed with ghee and collagen peptides, our version of bulletproof. Kohl did a yoga flow on a tatami mat. Yusei watched from across his at the time half-constructed surf shop through a crack in the door before finally joining our big wave leader. Following the morning rituals, we hopped into Yusei's Toyota HiAce and drove to a parking lot on a hill overlooking his local break. Waves poked up off the outer reef.
Suddenly, yesterday's worry turned into an enthusiastic dash: wetsuit on, board waxed, paddle out—fun waves, but not the subterranean draining tubes we'd come for.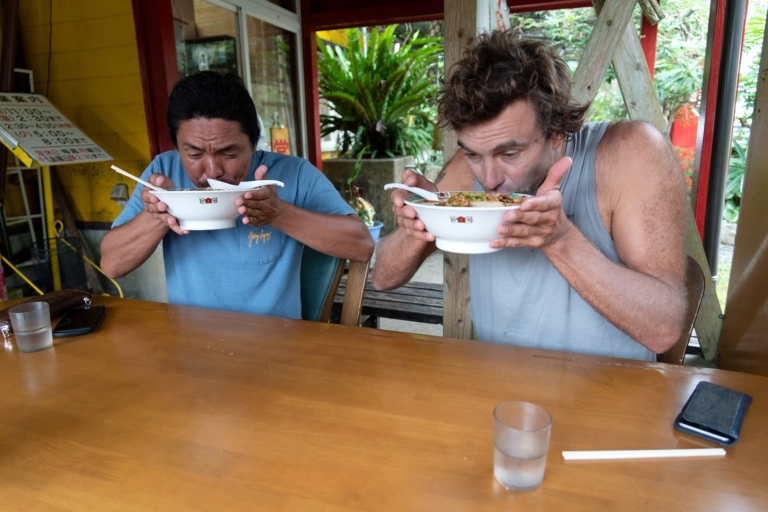 Our main objective was a slabby A-frame that breaks deep inside a bay on the opposite side of the island. Yusei had been looking at the wave for years, but no one had taken a crack at it. The following morning, the swell peaking, we arrived at our destination. The bay rumbled, slowly coming to life.
"Maybe we just paddle out and go look at it?" Kohl asked. "Check check?"
"Mmm, yeah! Check one time," Yusei replied.
The surf quickly filled in. You could see it ribbing across the bay, tearing through the coastline until finally doing its thing at the slab. It broke with a Nias-like right and a spitting almond-eyed left. The wave tripled up on itself, forming a torrent of whitewash and clay. A series of rocks emerged in the foreground, promising to punish a botched takeoff. Kohl's hands slowly moved up and down, miming what it would be like to wrangle one: critical drop, bottom turn, highline without getting pinched? Yusei went to the other side to check the right. After a couple of sets the guys paddled toward the rocks to look at the beast head-on.
Finally, Kohl broke the silence.
"Yusei, you have three kids," he said, reluctantly. "I have two. If I were in my twenties I would freakin' go for one of these right now." We had no ski, no safety backup. We were on our own.
"Yeah, Kohl, sorry. I no try this time," Yusei agreed.
The guys paddled in and we all left to find lunch, Kohl yipping in the back seat. "God, I wanted to fuckin' pack one of those!" Looking at the photos later that evening we were still buzzing at the thought of the unridden waves. "Got some oohs and ahhs from the crowd on that one," Kohl laughed.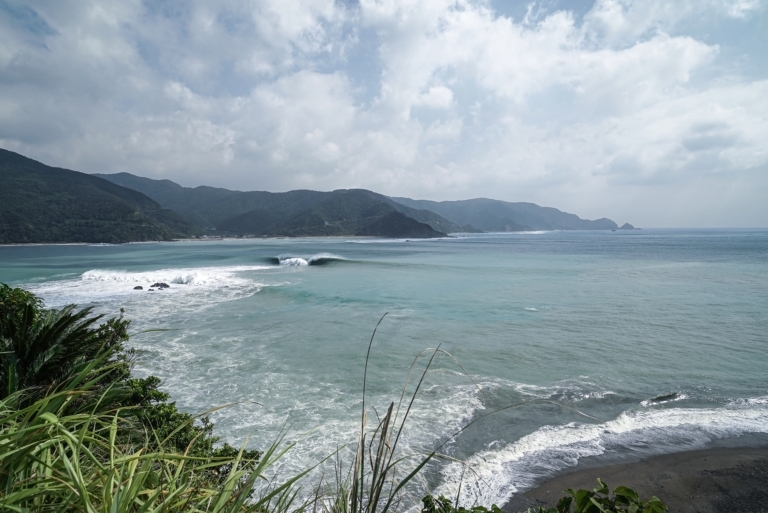 "I'm chicken boy, yeah?" Yusei reflected.
"Yeah, me too," said Kohl. "We got humbled. That frustration, right? It's hard to swallow your pride. I think you need to be humbled on occasion to have perspective. We definitely got that. And that's the nature of typhoons, you never know what you're gonna get. Mother Nature's the boss. We're just guests."