Kimi Werner, Léa Brassy and Liz Clark: Sea Sisters
The Best Times Are About Friends, Not Perfection
It had been four years since Liz Clark, Léa Brassy and I first spent time together, on a sailing trip through the Tuamotus. We knew we'd found something special from the moment we met, and we've stayed in touch ever since.
We're all very individual women and adventurers—Liz is a surfer, sailor and writer; Léa is a surfer, freediver and all-around badass; and I'm a freediver and spearfisher—but one thing we have in common is that we hustle our hearts out for the goals and causes that are important to us. Since that first trip, we'd all been busy with travel, books and passion projects, but as good as those things can be, sometimes we need to be reminded to step back and just slow down. That's what the three of us were hoping for when we planned to get together again. We wanted to take a break to just enjoy the ocean together, sailing, freediving and sharing waves.

But it didn't quite work out that way. When we met up in Tahiti, Liz was sick and out of action. Léa and I played in a few waves and got a dive in, but we felt constantly pulled back to check on Liz. Before long I got sick too, and instead of being in the ocean, our days were mostly spent lounging, smashing herbs and roots into medicinal teas, and sharing the best medicine of all, laughter.
That, in fact, was the best aspect of the trip. Instead of what we were doing, it was just being together that mattered. Our relationship truly feels like a sisterhood—though we're different and don't always agree on everything, we support each other wholeheartedly and simply love each other so much. Léa's presence makes any situation better, and she's always shown me the value of hard work and constant contribution; Liz, with her way of owning her truth and sharing what's important to her, teaches me to expand my compassion and never stop learning. She's a vegan and I'm a hunter, but I love how we can respect each other's ways—I'd cook vegan meals for her, then she'd giggle as the resident kitty pawed at freshly speared fish I carried through the door to cook up for the rest of us.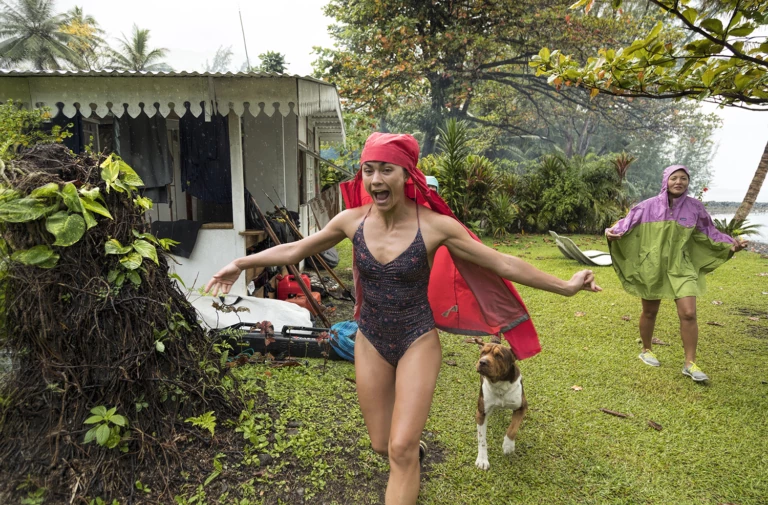 So much of our society seems to be striving toward a fraudulent idea of perfection, but I've learned through the years that the only way to feel whole—and to authentically connect with others—is to be true to yourself and just be who you are. I think that's what has made us so comfortable as friends and why it was so good to be together again. We see the quirks in each other, we let our quirks be seen, and before you know it, we're laughing until it hurts.
We stayed sick until the last day of the trip, but I honestly wouldn't change it for the world. The time spent in conversation, but mostly just giggling like little kids, was just what we all needed. I guess our bodies had to pull the plug to make our stubborn, busy souls finally give in and slow down for once. It was perfectly imperfect, in the best possible way.
This essay was featured in the 2019 Patagonia May Catalog.