Food Closer to Home
/
24 Aug 2007
3 Min Read
/
Food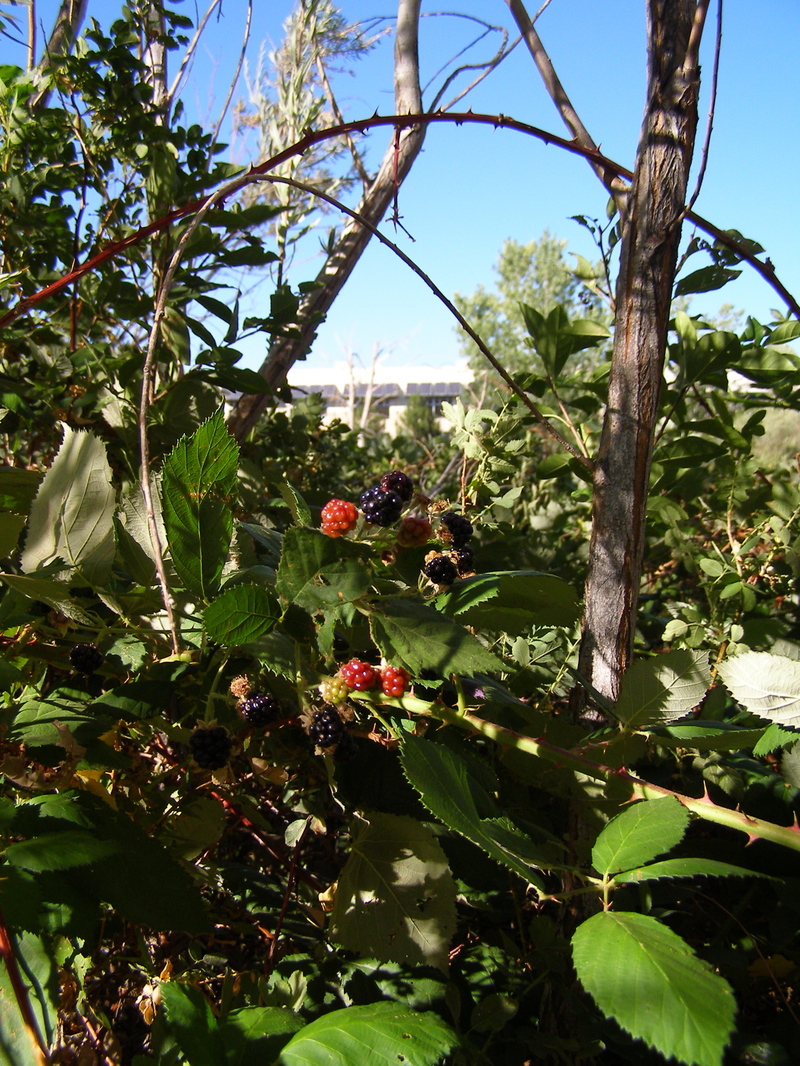 A couple of weeks ago, we had nice conversation about organic garlic, grown in China and purchased here in the USA. Although the garlic was indeed flavorful, the distance it traveled to reach my plate left a bad taste in my mouth.
Fortunately, the wild blackberries around Reno are ripe. It seems fitting not only to go pick them, but to spend a bit of time thinking about the miracle of local wild food. If biking or walking to the farmers market is a way to steer our economy back down to Earth, gathering wild foods is a way to bring the Earth back into our homes.
[Notice those solar panels on the building in the background. Yep, that's Patagonia's Reno hub. There's people looking out of those windows right now, wishing there were over here eating more blackberries. Photo: localcrew]

In the spirit of wild berry season, here's a little musing from Mr. H.D. Thoreau on the subject of plucking wild berries. Sing it, Henry:
"Live in each season as it passes; breathe the air, drink the drink, taste the fruit, and resign yourself to the influences of each. Let these be your only diet drink and botanical medicines. . . . Grow green with spring–yellow and ripe with autumn. Drink of each season's influence as a vial, a true panacea of all remedies mixed for your especial use. . . . Drink the wines not of your own but of nature's bottling–not kept in a goat- or pig-skin, but in the skins of a myriad fair berries." – from the essay "Huckleberries"
Can we all go pick wild foods? Yes and no. Doing so is an ancient activity that was formerly a central part of communities(think, Salish gathering blackberries in the Pacific Northwest, Paiuteand Shoshone gathering pinyon pine nuts all throughout the Great Basin and Eastern Sierra). We've entered an age where so much of our world istoo fragile to bear the weight of our collective attention. So,our wild findings–if they are to literally feed us–must be closely guarded secrets. We're steered by our world's ownweight into little private corners. Those corners are indeed treasured,and necessary on a deeply personal level.
But are we missing something? Shouldn't these activities still be partof a community, not closely-kept secrets?
Some folks up in Portland, OR have an interesting idea of how to go about this. For more info, check out this website: Urban Edibles. Perhaps we can still stay connected to wild traditions that sustain us, our spirits, our communities. We can still live in the seasons as they pass and taste the fruit. It just takes a little searching.
Our food may travel thousands of miles to address economies of scale, but the distance these wild berries are about to travel–from hand to mouth–addresses an economy of spirit.
[Wild blackberries, immediately before becoming wild blackberry daiquiris. Yum. Photo: localcrew]