Battling Weeds and Nurturing Bats with Moreton Bay Coastcare in Australia
Sarah Sweeny
/
3 Apr 2009
/
6 Min Read
/
Activism
Today's post is from Sarah Sweeny, a project coordinator in the creative services department at Patagonia headquarters in Ventura. In January and February, Sarah volunteered for two months with the nonprofit environmental organization, Moreton Bay Coastcare in Brisbane, Australia. What follows is an account of her internship, sponsored by the Patagonia Environmental Internship Program, which gives employees up to two months salary and benefits to work on behalf of environmental causes worldwide.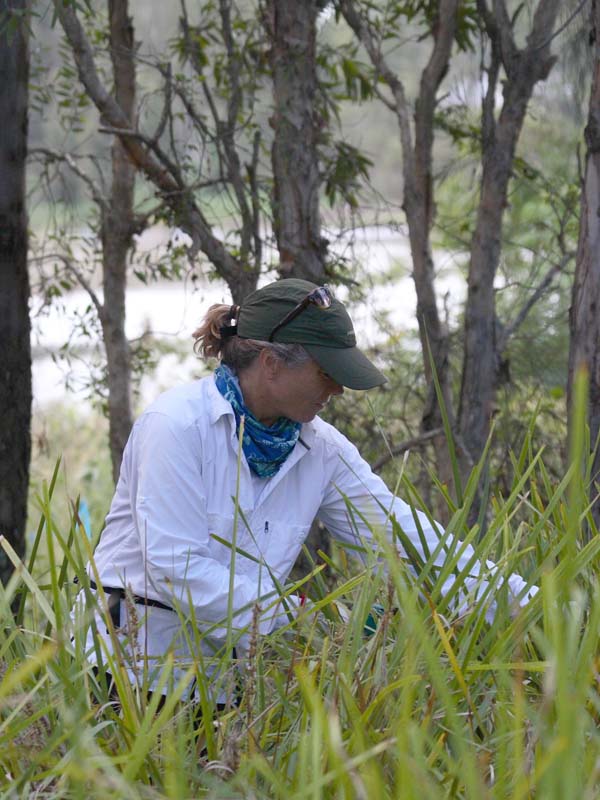 [Sarah pulling weeds at Dowse Lagoon. Photo: Janet White]
I wanted to do a marine-based internship that would take me somewhere distant. I had traveled in Australia 20 years ago and had a desire to go back and spend more time on the coast. A bit of Web research led me to Moreton Bay Coastcare (MBCC), a grassroots volunteer organization that works on wetlands, creeks and estuaries around the small coastal community ofShorncliffe, Australia.
Shorncliffe is a suburb of Brisbane, on Australia's northeastern coast. It has a wetland system that serves as important habitat for native plants and migratory animals. Wetlands help to control flooding and improve water quality by filtering and purifying pollutants and other foreign materials. MBCC monitors, restores and rehabilitates both land and water affected by development and pollution.
I came across this poster at the Brisbane Airport, which showed one of the big reasons for MBCC'sexistence. The humanized cranes, à la Star Wars, demonstrate the region's strong desire to build infrastructure and bring industry. Unfortunately, it's been at the expense of nature and the low-lying wetlands are the first to go.
If you view the linked map of the Shorncliffe area, above, you can see most of the remaining wetlands and estuaries in the Brisbane area. You can also move the map south to see how the airport has paved over quite a bit of the mangroves and how the Brisbane Port expansion has extended the port more than a mile into the bay. I took a boat ride out to Moreton Island, passing the expansion area on the way out of the harbor. Workers drop a boundary of rocks around the area they are claiming, pump out the water and add soil to the rock enclosure until they have a platform. Then they pave the newly expanded land for cranes, shipping containers and parking. Silt from the infilling has covered a formerly sandy beach nearby. Invertebrates that are food for migratory shorebirds have undoubtedly been buried.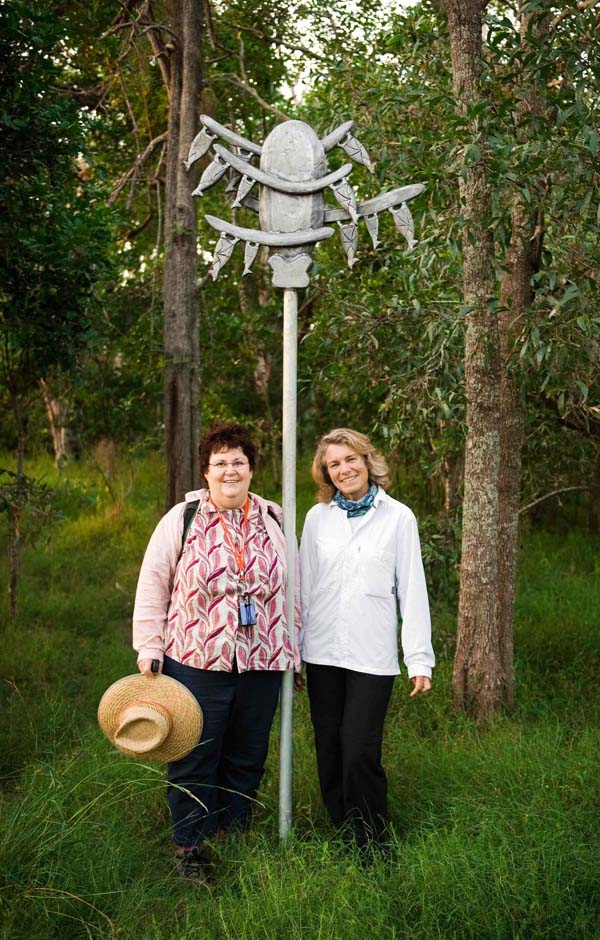 [Photo right – Sarah (right) and Jennifer Singfield, president of Moreton Bay Coastcare, next to a fruit bat totem that symbolizes aspects of Aboriginal culture in the Boondall Wetlands. Photo: Ian Wilkinson]
During my two months in Australia, I worked with Jennifer Singfield, president of MBCC. A daily coffee
infusion from the industrial cappuccino maker Jen's husband Chris had recently purchased kept us hopped up and raring to go.
A typical week included helping to organize MBCC's participation at World Wetlands Day, creating brochures, pulling out invasive plants, working on the group's Web site and the daily care and feeding of baby bats.
Bat Care
Bat care was my first and favorite job. In addition to all the work Jen does for Moreton Bay, she's a member of Bat Rescue, Inc., and raises orphaned baby fruit bats. This involves hand feeding and caring for the little guys for about two months until they can be released into the wild. The bats ate infant formula several times a day until we could wean them to chunks of fruit.
Two of the bats, Boris and Baldrick, were a constant source of entertainment. One of them climbed the stairs one night and poked at Jen's foot until she woke up. We were never sure what to expect when we came downstairs in the morning, and after Boris' walkabout, we always checked underfoot before descending the stairs. The bats would always let us know it was feeding time by screeching "in stereo" while their bottles were being warmed. We knew it was time for them to live in the wild when one of them did a fly-by over the dinner table and landed on one of the guests' heads. (Not everyone loved the bats as much as we did!)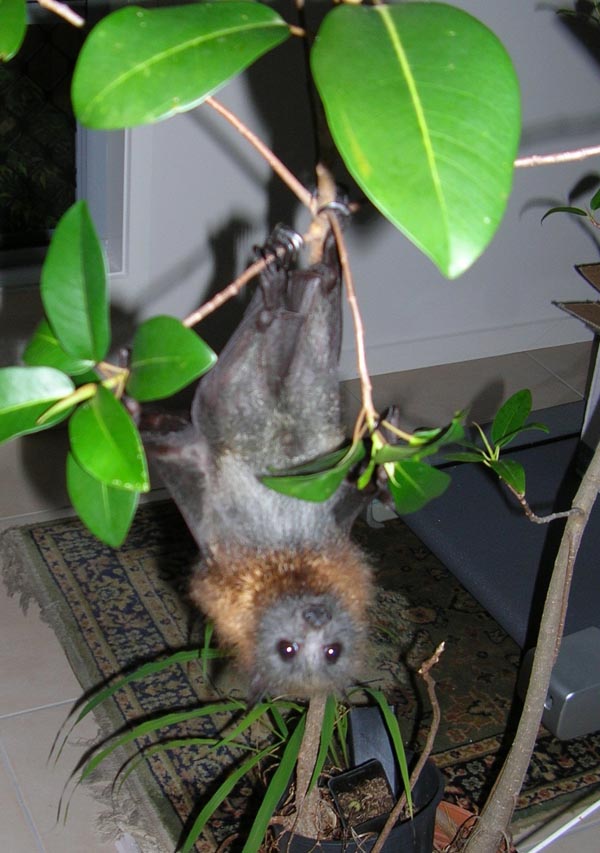 [Boris, one of two baby bats Jennifer raised before releasing them into the wild.]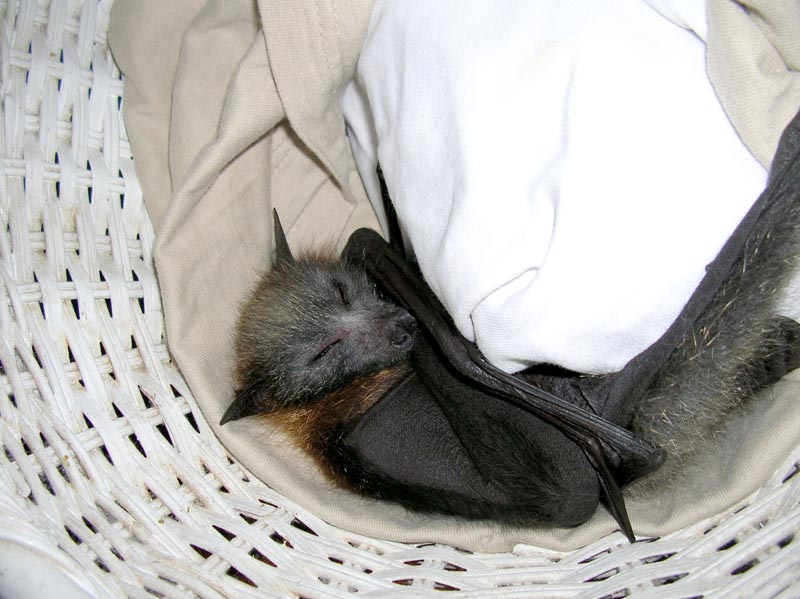 [Bats are nocturnal, so their days were usually spent resting.]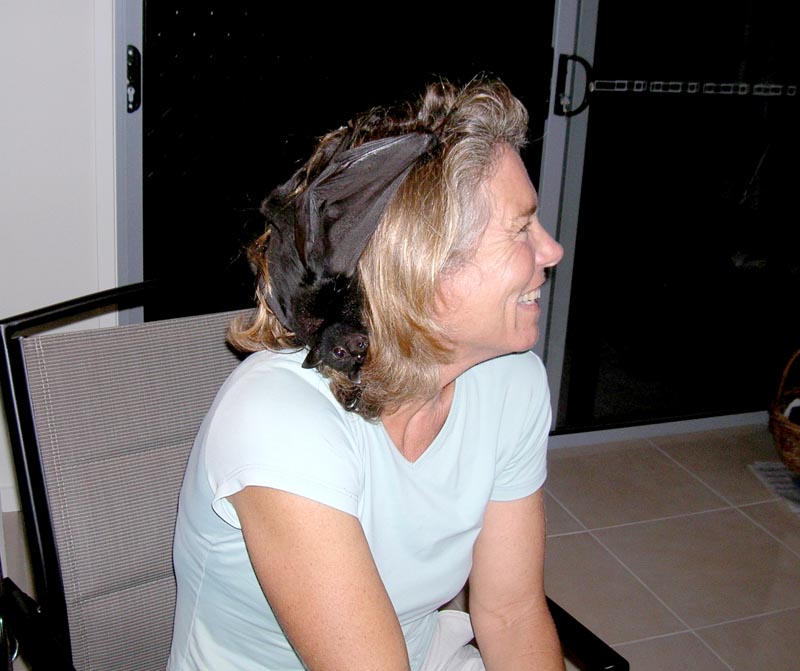 [Baldrick came in for a landing on my head one evening.]
Environmental Weeding
As mentioned above, one of my regular tasks involved removing invasive weeds. Jen scheduled weeding sessions with her
regular volunteers at least once a week in three areas of wetlands
where invasive weeds are smothering native plants. The work inspired a
haiku.
Moreton Bay Coastcare
We pull weeds every Wednesday
Most days, the weeds win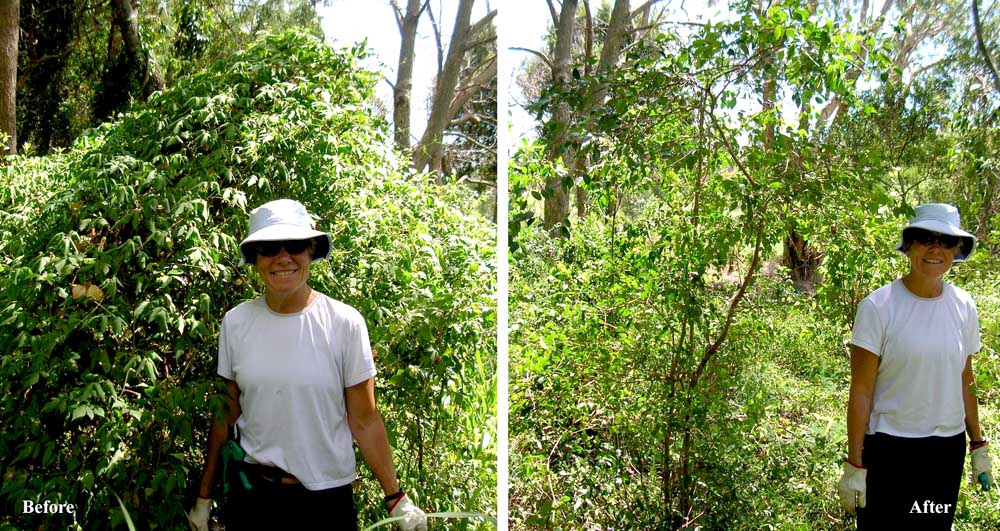 [Me, before and after pulling weeds off of a struggling Lilly Pilly tree. I went back a month later and the tree seemed to be doing okay without its coat of weeds.]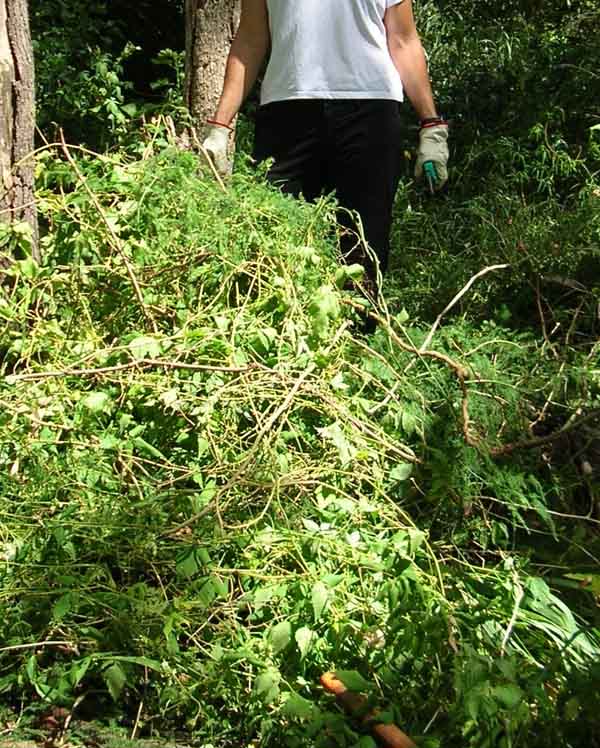 [Weeds I removed from the Lilly Pilly tree.]
Saltmarsh Monitoring
Twice a year, Moreton Bay Coastcare conducts a study of a nearby saltmarsh, and I was able to participate in one of these sessions. There is a "control" area and another area (pictured) that's being rehabilitated after it was used as a motorbike course for a number of years. We checked species composition, plant health, soil composition and local fauna to see how the rehabilitation site was doing. The morning we showed up, we were thrilled to see about 30 kangaroos that would not have been around had the motorbike riders (also known as "hoons") were still "hooning" in the area.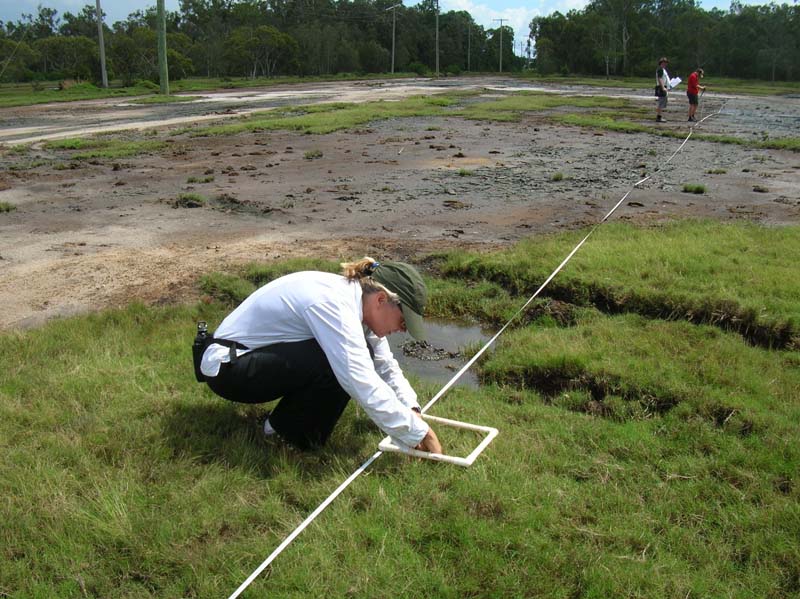 Shorncliffe reminded me a lot of Ventura, where I live. It's largely working-class with a comfortable charm, and has yet to be discovered by the trendy set. I lived with Jen and her family during my internship, which made our workflow easy. Most days were devoted to desktop publishing in Jen's superb home office, where we spruced up MBCC's promotional materials hoping to attract new members. The website is up, and we created brochures and posters as informational pieces. The frequent cappuccinos and a nearby pub made my living situation even more exceptional!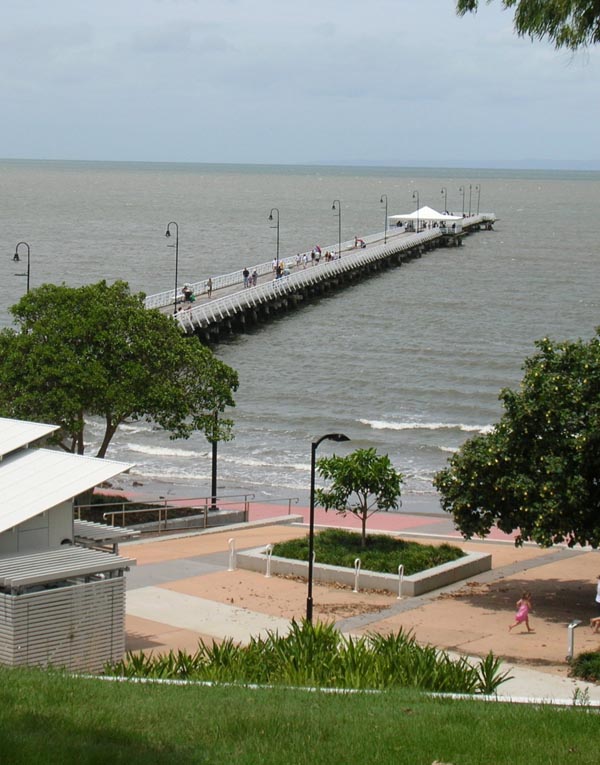 [Photo above: Shorncliffe Pier, a block from the Singfield's home. Moreton Island is barely visible in the distance.]
In order to keep this post short enough to keep my readers from nodding off, my editor kindly suggested that I cut out a few hundred words. If you are interested in reading more, please visit my personal blog I wrote during my internship at http://www.endless-summer-09.blogspot.com.