All photos by Francisco Gangotena
I've been going to Chaupi Molino, the organic ranch owned by Francisco "Pacho" Gangotena and his wife Maritza "Lili" Rubio, since I was 7 or 8 years old. Their children, Wali, Panchito and Camila, and I grew up running among the vegetables, breathing dry air from the Andean corridor and experiencing all the aromas and color that the earth has to offer. Our families shared (and still do) the desire for a different way of living, so I was raised surrounded by ideas and worldviews that didn't fit with what was traditional in those days. One of those ideas was cultivating food and sharing it with community.
Since those days, I've continued to visit the ranch. The greens that grow on the land have fed my life, nutritionally, of course, but also by teaching me what it means to challenge the status quo.
What Pacho and Lili created here, just a few miles from Quito, Ecuador's capital, is a revolution: an agricultural revolution, a cultural revolution and a revolution for the senses. Here, agriculture is done as it was during ancient times, and it's happening at a much bigger scale now that their whole family is involved. Yet the project still remains faithful to its commitment to community.
Early in their careers, Pacho and Lili worked for different NGOs that supported farmers, reforestation efforts, water and women-focused projects. They soon realized that the ancient farming methods were getting lost and the crops were full of chemicals that damaged the soil—and that those probably weren't good for people either. "We started this ranch almost 40 years ago as an act of rebellion, as we saw the beautiful Andean family-based agricultural system disappearing," Pacho explains. He's been telling me about how the system they developed had a cultural, environmental and social impact. "Little by little, the government, the institutions and the loan payments that Native people had to acquire in order to buy farms that originally belong to them began to change the way agriculture was done. Then, while working on the land, we witnessed how monoculture was being promoted along with all of those [negative] external elements."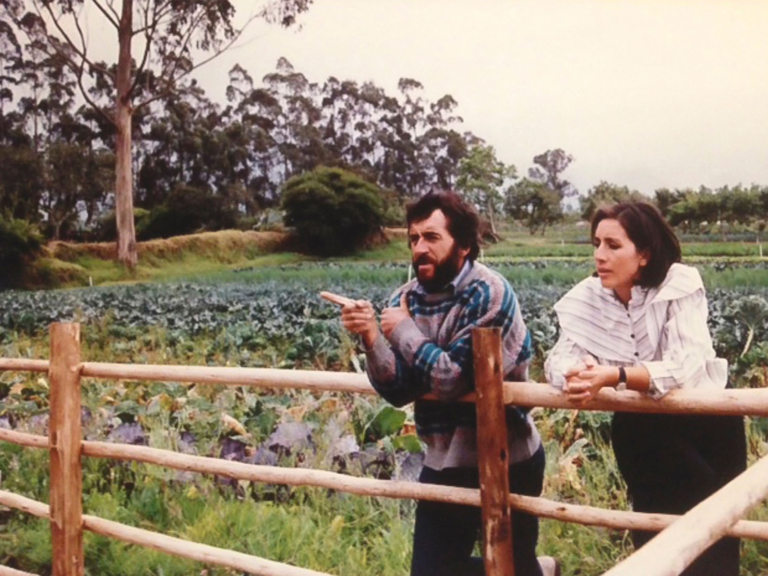 In the '70s and '80s, agriculture was driven by the government, but Pacho and Lili decided to learn about organic agriculture anyways. They wanted to prove that returning to ancient ways that heal the soil, instead of squeezing out its last drops of life, was possible. "We proposed a return to ancient agriculture, and the answer was, im-po-ssi-ble. So, we started the ranch. It was a way to demonstrate that going back to ancient traditions and having an independent agricultural system was achievable," says Pacho.
The dream was to fight what they identified as an injustice. Why remain silent when facing an agricultural model that damaged the soil and didn't provide for the community? How could they help people live healthier without making more money? They started to experiment with the soil, searching for natural methods.
The ranch started small, and making it to the local markets of Quito wasn't easy. Lili remembers arriving with their truck to set up a stall and getting looks of contempt from the others. But after years of constant work and sharing their knowledge, they gained the trust and respect of customers and other farmers in the area.
Today, Chaupi Molino covers almost 10 acres, and the farm grows more than 40 varieties of vegetables and creates 20 other products. They sell their produce and products to neighbors, specialty shops and small local restaurants where their tomatoes, broccoli, zucchini, pesto and well-aged cheese complements entrepreneurs and chefs looking for the freshest flavors. They also sell produce twice a week in a small corner of the city, where neighbors have access to them at fair prices.
Their farm and organic values are a legacy that Pacho and Lili are passing on to their children. Wali—the youngest child and current ranch manager—feels strongly about monocrops of corn or other crops in fields near Chaupi Molino. When observing those perfectly arranged farms focused on profit rather than feeding a community, she recalls something her father always says: "Our healthy land, full of bugs."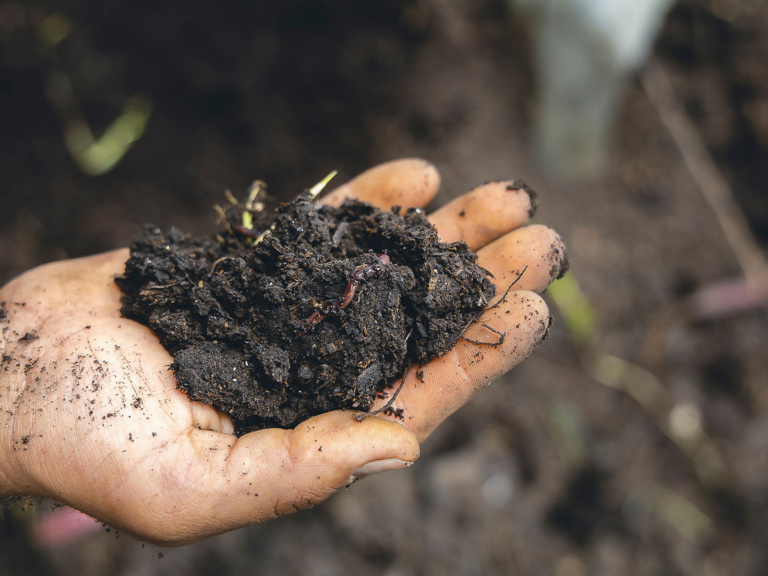 "We have two little grandchildren, and we are terrified by the future they were inheriting," Lili told me. "We are trying to get the most people involved in the production of greens without agrotoxics precisely for the sake of humanity and the planet, which cannot keep resisting these levels of pollution."
Pacho and Lili know that the only way to achieve victory for the future is by growing the movement. Their children were raised on the land, and today, each family member has a role. But they have also put in significant work to spread their message beyond the ranch.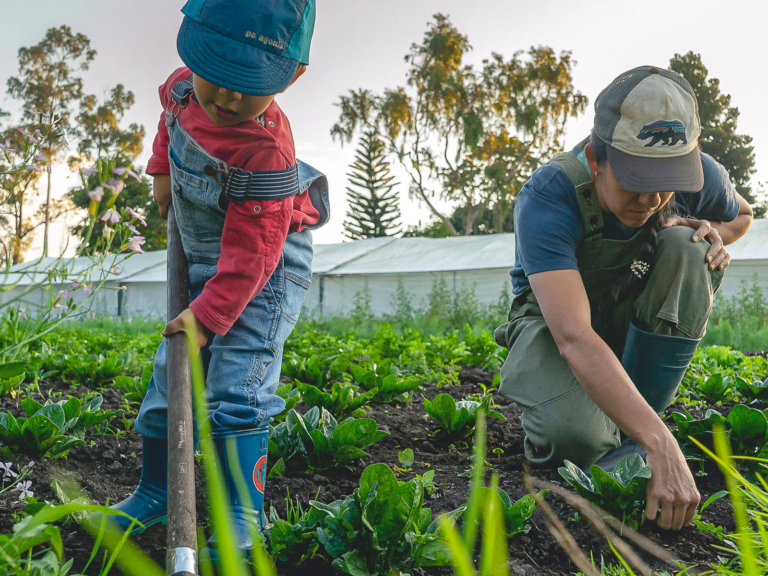 "I think it is immensely important, this knowledge," says Pacho. "We think it is important because Native farmers have their hands tied to a system that force them to buy external [chemicals to grow crops]. People have to go back to ancient knowledge that's been adapted and modified to current days for biological, sustainable and organic agriculture. I think we must encourage experiences, and experiences are felt through the senses. Farmers and Natives have to see this is possible and that the tools needed are very simple."
Once a year, Chaupi Molino organizes an open fair for anyone who wants to visit the ranch and learn about their work. It's an opportunity to share what they've learned on their organic agriculture journey. Pacho and Lili also host workshops and talks for individuals, groups or universities that show an interest in regenerative methods.
Their efforts to grow this movement seems to be working. Today, thousands of farmers, neighbors and even a good number of international followers have been inspired by the Gangotena-Rubio family's persistence and love for the land. Some have even been inspired to grow their own farm or vegetable garden and follow a different lifestyle. And for those that want to learn, Pacho and Lili have always been generous, opening their doors to teach about their 100 percent natural processes and what Pacho calls an "alliance methodology" between bugs and soil.
To me, Pacho, Lili and their children are more than neighbors and friends—they are a great source of inspiration. They are proof that perseverance on the basis of principle can create change. Thanks to them, I've learned that rebelliousness is a good quality, and that it can be expressed in countless ways. We can be rebels, despite our profession and in all kinds of daily actions. If our perspective is authentic and generous, the result of those actions will not fail and can contribute to a fairer and kinder world. I've heard Pacho say many times, "I'm a rebel. Let agronomists see my soil. It is full of life. There is nothing they can say to me." And it's true: There is nothing they could say about his soil because it has been cultivated in the way nature always intended. And that is what the ranch has always fought for after all these years.

Our relationship with the land and the way we feed ourselves is directly intertwined with the environmental crisis and and the most vulnerable populations on our planet. Chaupi Molino is inviting us to be part of a movement toward regenerative agriculture and stewardship. It's an invitation to be a rebel and to leave a positive impact on the planet.
If you want to learn more about Chaupi Molino and Pacho and Lili's work, visit them at fincaorganicachaupimolino.com