Nevada's Darkest Treasure: Its Skies
Shaaron Netherton
/
22 oct. 2018
/
5 min de lecture
/
Activisme
The Massacre Rim towers 1,000 feet above Long Valley in the vast reaches of northwestern Nevada. As with most hikes in this part of the world, getting to the top requires picking out an unmarked route, being flexible and overcoming obstacles.
Halfway up, after skirting yet another talus field, sharp chirping barks alert you to a colony of pika within the basalt boulders. At a cleft in the rim cap, there's a cairn constructed of very large rocks. From the cairn, the 100,000-acre lost world of the Massacre Rim Wilderness Study Area fills your view. There's an overwhelming feel of unending space.
As night falls, the view gets even better, for Massacre Rim is one of the darkest places in the American West. There is little or no light pollution in any direction. On a moonless night, you can hardly pick out constellations due to the sheer number of stars. It's the place to discover the awe-inspiring Milky Way and the faint shadows cast by our galactic center. As such, Massacre Rim WSA is being considered by the International Dark-Sky Association as an official Dark Sky Sanctuary.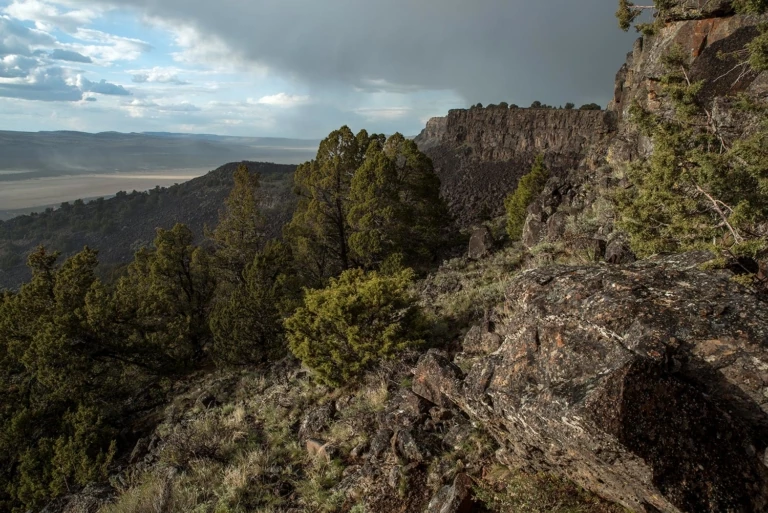 Dark skies are one of those natural resources we tend to take for granted until it's too late, and the stars at night carry information about the origin of our ancestors' greatest artistic and scientific achievements. We are only now beginning to understand how important dark skies are for the health and welfare of wildlife populations, whether it's for the important clues needed for accurate migration navigation, or the crucial balance between the nocturnal interactions of predators and prey. "The key to intelligent tinkering is to keep all the parts," Aldo Leopold noted, and that's why we're working so hard to keep these areas intact—and dark.
Across the West, our public lands are under siege, but in Nevada, especially, the pressure to open public land to grazing and extractive industries has, in a weird twist of fate, become a partisan issue.
The Silver State has the most public lands managed by the Bureau of Land Management (BLM) outside of Alaska, as well as the biggest national wildlife refuge outside of Alaska and the biggest national forest outside of Alaska. These public lands are Nevada's greatest treasure. Whether you are from congested urban areas or are fortunate enough to live in wide-open rural landscapes with public lands as your "backyard," these areas benefit all terrestrial beings—and maybe even a few who aren't. Nevada also hosts the nearly three-million-acre Nevada Test and Training Range, home of Area 51 and the nearby Extraterrestrial Highway.
Nevada is also the driest state and one of the most urban states with a majority of the population in the Las Vegas or Reno/Carson City regions. How we manage the water and wilderness greatly impacts these population centers.
Also known as the "Battle Born State," Nevada has often served as ground zero for battles over public land, whether it is aristocratic "claims" to public lands by Sagebrush Rebels and the Bundy family or corporate demands for exploitive or consumptive use of public lands for mining and development. The political battle lines used to be drawn more between states' rights advocates and the federal government. Today, it's more of a confrontation between the rural, largely conservative populations generally based on traditional economies like mining and ranching, and the growing urban populations employed in gaming and entertainment and, more recently, technology (think Tesla and Switch) who value public lands more for recreation.
This rural-urban divide is driving the partisan divide on public lands. A Republican-controlled state legislature in 2015 passed a resolution, SJR1, that federally controlled public lands in Nevada be turned over to the state with the proposal Nevada would sell off big chunks of public lands to pay for their management. In 2016, Congressman Mark Amodei (R-NV) was poised to introduce that resolution as a bill into Congress when he ran into a buzz saw of opposition from Nevada sportsmen and outdoor enthusiasts. In 2017, the Democrat-controlled legislature voted to rescind SJR1. The outcome of this November's elections is expected to have an immediate impact on this tug-of-war.
Earlier this year, Senator Dean Heller (R-NV) tugged harder, too: He asked rural county commissioners to pass resolutions that would help him get rid of wilderness study areas (WSA) located within the boundaries of their counties. These BLM-managed wilderness gems still awaiting designation are some of Nevada's best remaining wildlands. While many WSAs have been officially designated as wilderness in Nevada, there are still 63 remaining scattered across the state totaling about 2.5 million acres. (To date, Senator Heller has not introduced his bill to remove protection from WSAs due in part to a groundswell of opposition.)
Along with statewide public land debates, the controversy over public land protection is playing out at the county level in Washoe County, home of the Reno/Sparks population base. Washoe County is long and skinny, stretching from Lake Tahoe to the Oregon border and from California to Black Rock City just to the east (for those knowledgeable of Burning Man geography). The northern half of the county is wild and beautiful, with only one paved road, a two-lane highway running from Gerlach, Nevada, to Cedarville, California. Within this wild realm are 600,000 acres of BLM-managed WSAs with some of the best and most intact greater sage-grouse habitat in the West.


In Clark, Lincoln, and Nye counties, the U.S. Air Force has asked to cull 301,000 acres from the Desert National Wildlife Refuge to expand its testing range. (Roughly half of that refuge is already under military control; the proposal will require congressional approval.) Much of the area in question, as the Las Vegas Review-Journal notes, was originally placed under protection in 1936 as bighorn sheep habitat.
These wildlands are caught up in the broader public lands debate—those in ranching and mineral exploration who want to see less government control over their operations on public lands and those who see intact public lands as our future. Washoe County is proposing to eliminate protection for over 70 percent of these WSAs in an ongoing public lands bill process.
Protecting Massacre Rim and other Nevada wildlands from development is a labor of love. I've been working to protect Nevada's WSAs for nearly 40 years now. Each of these areas has its own hidden and magical places, and it would be a travesty for our future generations to allow even one of them to be destroyed by development. We're doing all we can to see that doesn't happen.